This post is sponsored by the National Peanut Board. I received compensation, but all opinions and content are my own.
Thai Peanut Chicken Tacos are the best recipe to happen to Taco Tuesday – and every day!
Thai Peanut Chicken Tacos are quick, easy, and about to become your favorite tacos!  They are made with juicy, marinated Thai Chicken in a luxurious savory, sweet and spicy peanut butter sauce then piled with fresh and crunchy Pineapple Broccoli Slaw all cocooned in a flour tortilla.  These Thai Chicken Tacos are nutritious, customizable, make ahead friendly and a tantalizing texture and flavor explosion in every deeply satisfying bite.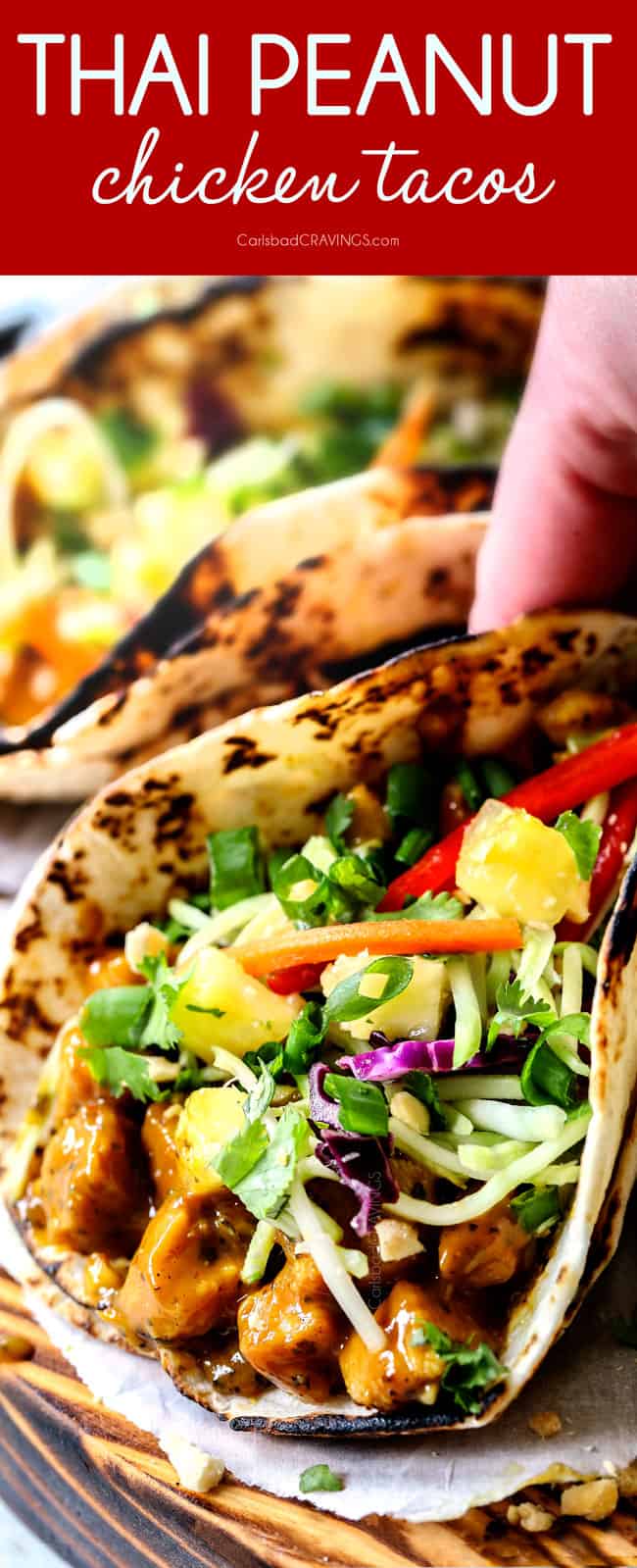 Thai Tacos
I am giddy to bring you this Thai Peanut Chicken Tacos recipe! They are truly spectacular and not a recipe to skip. In fact, when I made them for my mom, she gushed, "these are restaurant quality," and "truly amazing Jennifer!" And you too, will find them truly amazing.
The ingredient list is a little lengthy, but the chicken tacos are deceptively simple – just look at the directions! Simply marinate chicken while you prep your pineapple slaw, stir fry chicken, add peanut butter, assemble and EAT. Asian fusion never tasted so good!
Peanut Sauce
These Thai Chicken Tacos are born out of my love of Thai food, tacos and everything peanut butter. I have always loved peanut butter – from plain spoonfuls, to peanut butter and jelly, to smoothies, to cookies and everything in between. I love how peanut butter is versatile, affordable and can be added to meals and snacks for a tasty, nutritious boost. But my favorite way to devour peanut butter? In peanut sauce!
Thai food with peanut butter is my FAV; from my Thai chicken Lettuce Wraps, Thai Pineapple Chicken, Thai Chicken Satay. Thai Chicken Pineapple Satay, Thai Orange Peanut Chicken, Thai Chicken Pizza, Thai Peanut Coconut Chicken and on and on.  In every recipe, the peanut butter sauce steals the show every time.   It transforms everything it touches into magic, including this Thai Peanut Chicken Tacos recipe!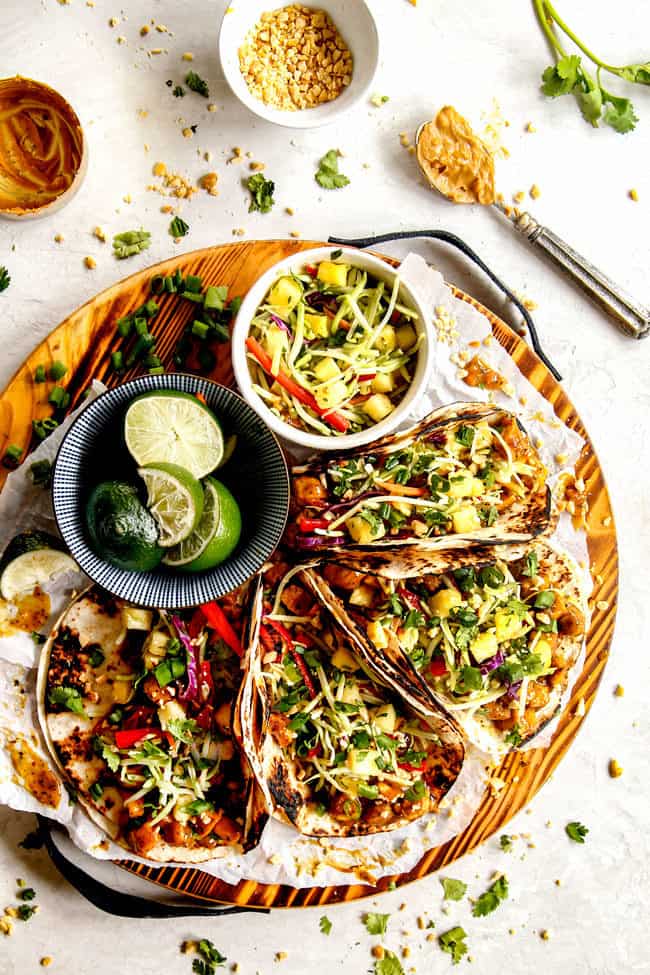 Ingredients for Peanut Sauce
The star of these Thai Chicken Tacos is definitely the peanut butter sauce. Thai food is all about the balance of sweet, savory, salty and sour and this sauce is perfection. Its complex, multi-dimensional layers of flavor give the chicken its rich, savory depth and is what makes these tacos utterly addictive. To make the peanut sauce (which doubles as the marinade – winning!), you will need:
soy sauce:  grounds the sauce.  Please use low sodium soy sauce so your sauce isn't too salty. 
brown sugar:  adds sweetness to balance the soy, lime juice and fish sauce. You may need more or less brown sugar depending on personal preferences.
fish sauce: I promise fish sauce will not be detectable or make your Thai Chicken Tacos taste fishy!  It simply adds the balance of savory and salty flavor.  You may substitute fish sauce with soy sauce. 
lime juice: you may use fresh or bottled lime juice.
ginger: adds a warm spicy, almost pepper taste.  You only need 2 teaspoons freshly grated ginger so feel free to use ¾ teaspoon ground ginger instead.
garlic:  garlic makes everything better!  You can use more or less garlic depending on your garlic love.  You may substitute the fresh garlic with 1 teaspoon garlic powder.         
dried basil: basil is quintessential to Thai cuisine. It adds a layer of savory, peppery and slightly minty flavor.       
ground coriander: adds a toasty, lemony citrus flavor that I use to mimic lemongrass.
turmeric: adds gingery, punchy, earthy undertones.
Asian chili sauce:  customize the spice level with sriracha or Asian hot chili paste to taste.  If you aren't sure how much to add, you can start with less then stir in more at the end if needed. If your peanut chicken is missing something, it is probably heat! 
peanut butter: peanut butter adds a nutty earthiness and creaminess that marries all the ingredients together, because peanut butter makes everything better!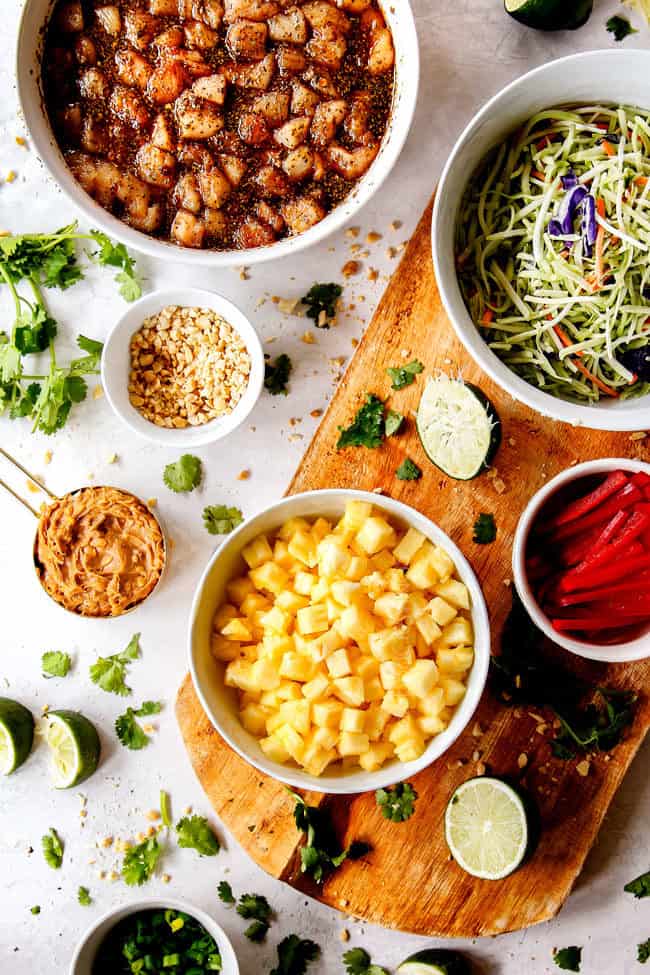 WHAT CHICKEN IS BEST?
The chicken in these Thai Chicken Tacos is essentially the vehicle to shovel the delectable peanut butter sauce into your mouth, because, again, it is all about the sauce.
For the chicken, I use diced chicken breasts but you can also use diced chicken thighs, or even ground chicken. If using ground chicken choose dark meat because it is more flavorful.
Do I have to use chicken? I prefer chicken because it is more mild in flavor and really lets the peanut sauce shine but you may also use ground pork, turkey or even tofu.
What Toppings for Thai Chicken Tacos?
Every taco recipe needs crunchy toppings to create the brilliant tapestry of texture and flavor The Pineapple Broccoli Slaw for these Thai Chicken Tacos is fresh, tangy, bright and the ying to the robust creamy peanut sauce's yang. It is so refreshing, I guarantee you will be eating it with just a fork. To make the easy slaw, you will need:
fresh pineapple
packaged broccoli slaw
red bell pepper
green onions
cilantro
lime juice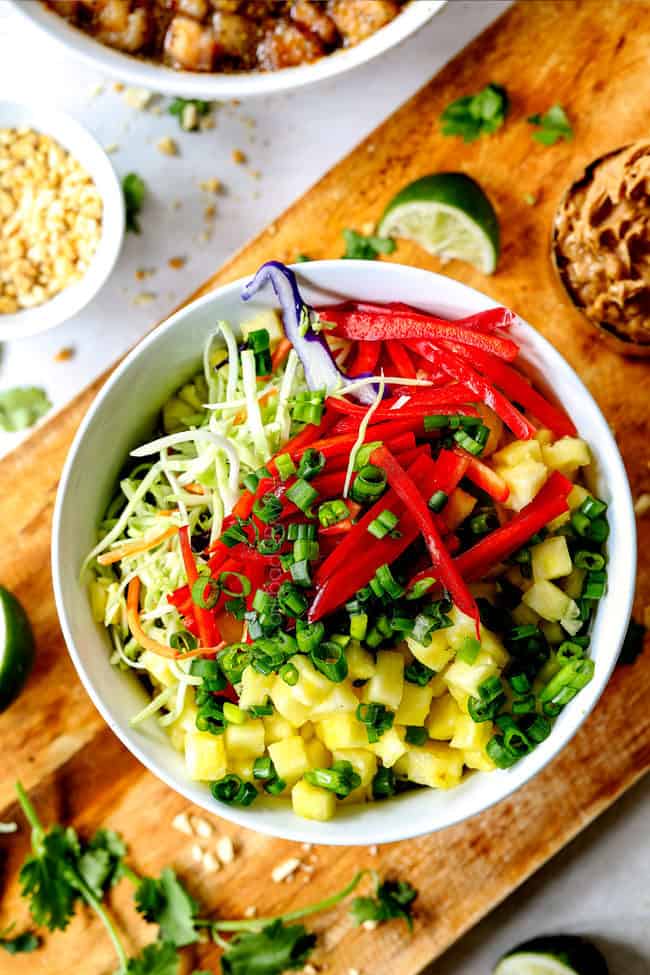 recipe variations
You can also make a slaw with any of the above and/or:
shredded cabbage
carrots
snow peas
bean sprouts
red onion
mangos
You can even purchase pre-packaged slaw and simply add pineapple. The point is to create a crunchy, sweet and tangy slaw, so no matter what veggies you use, add either chopped pineapple or mango. Their juicy sweetness is necessary to cut through the rich, savory peanut sauce to achieve sweet, tangy, salty, savory, creamy, crunchy perfection.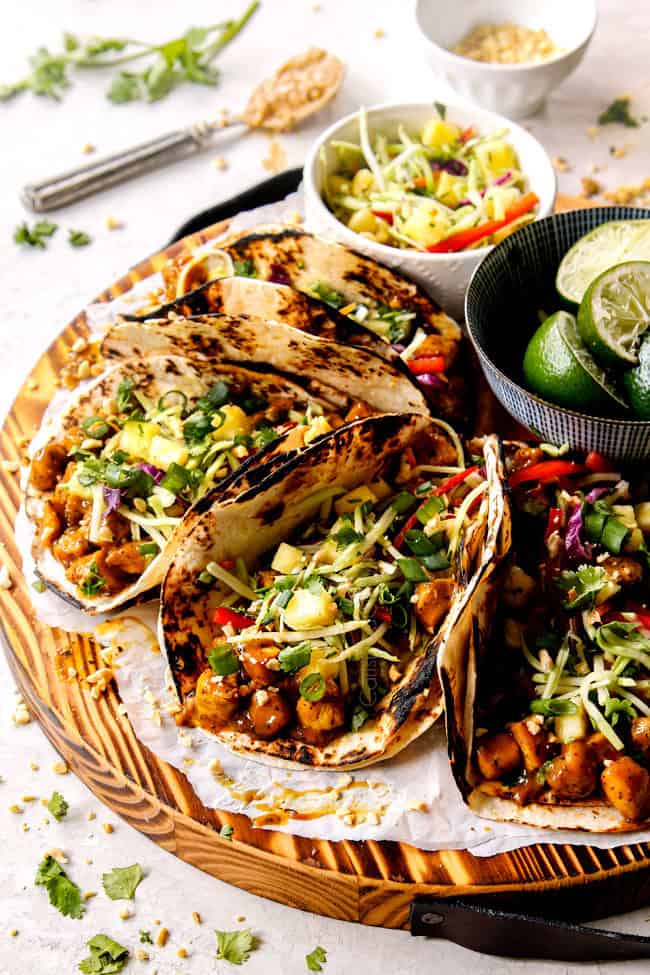 How to make Thai Chicken Tacos
The explosion of flavor from these unbelievably delicious Thai Chicken Tacos comes by marinating the chicken for 30 minutes in soy sauce, brown sugar, lime, fish sauce, basil, garlic and ginger – you will be amazed at the flavor bursting from your chicken in just 30 minutes! The chicken is then sautéed to juicy perfection and smothered in peanut butter.
The creamy, savory, salty peanut chicken is complimented by bright, refreshing pineapple slaw that you chop and toss together while your chicken is marinating.
Finally, pile your chicken in soft tortillas, garnish with crunchy peanuts and zesty cilantro and sink your teeth into flavorful bliss.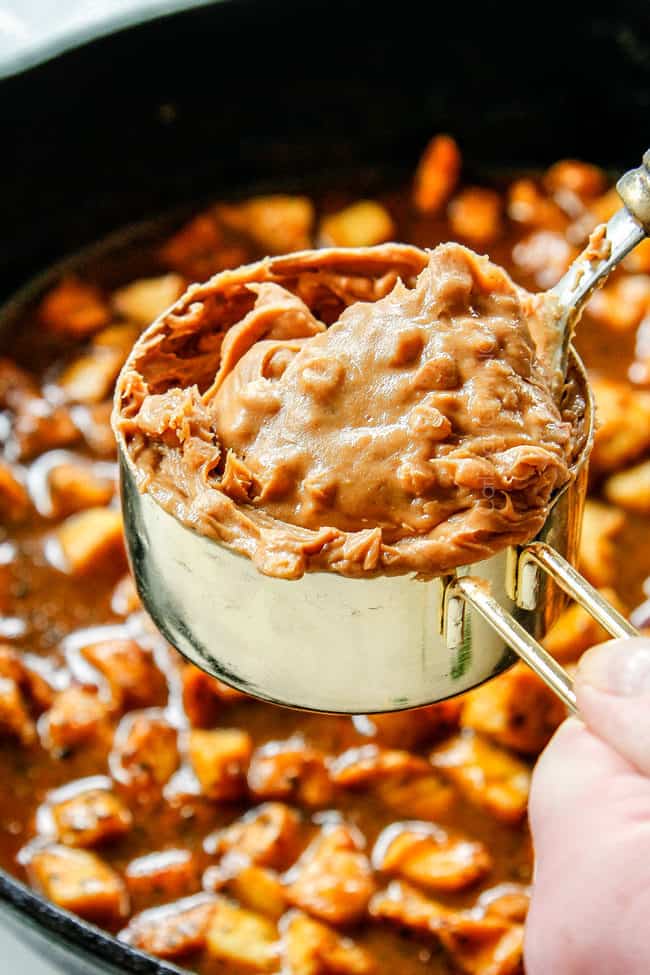 CAN I MAKE THAI CHICKEN TACOS AHEAD OF TIME?
Yes! You can marinate the chicken up to 12 hours in advance and chop up all your veggies and store them in separate airtight containers. At dinner time, all you have to do is cook the chicken, stir in the peanut butter and toss the slaw together- it will take you less than 15 minutes!
HOW TO STORE AND REHEAT thai TACOS
Storage: transfer peanut chicken to an airtight container. Store in the refrigerator for up to 4-5 days.
Microwave: transfer chicken to a microwave safe plate and cover with a damp paper towel to keep it from drying out. Microwave at 30 seconds intervals until warmed through.
Skillet: Heat chicken in a nonstick skillet until warmed through. Take care not to overcook the chicken or it can become dry.
WHAT SHOULD I SERVE WITH THAI CHICKEN TACOS?
You can serve Thai Chicken Tacos with plain rice or low carb cauliflower rice as they are already bursting with flavor. You can keep the veggies simple with stir-fried veggies roasted veggies. Because remember, it is all about peanut sauce. Thank you peanut butter, thank you.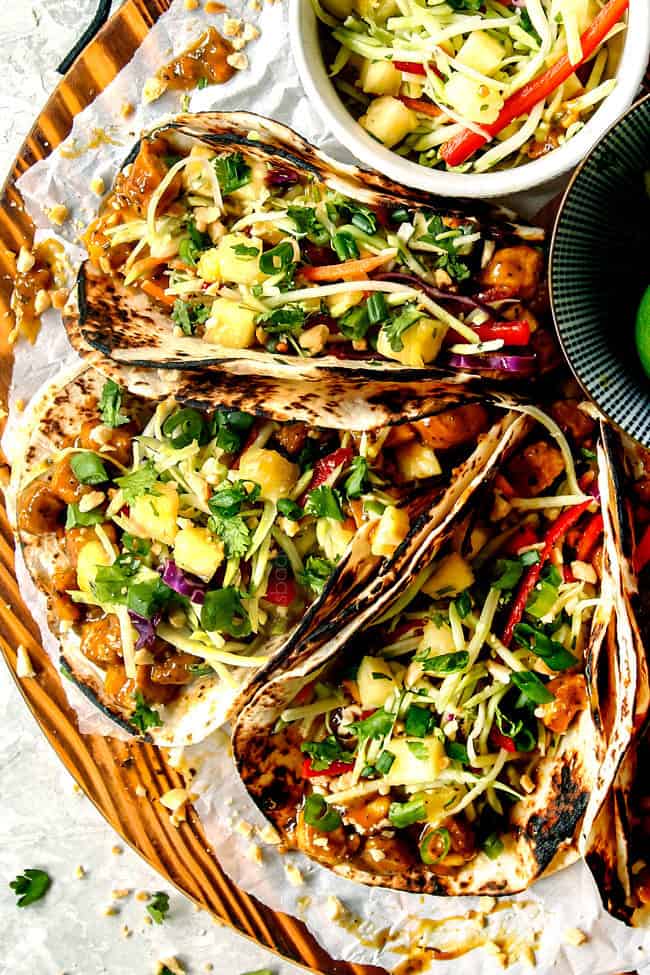 Want to try this Thai Chicken Tacos RECIPE?
Pin it to your CHICKEN or DINNER Board to SAVE for later!
Find me on Pinterest for more great recipes! I am always pinning :)!
©Carlsbad Cravings by CarlsbadCravings.com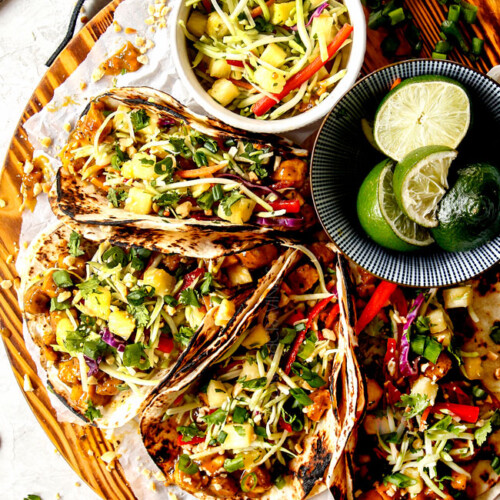 Thai Chicken Tacos
Thai Peanut Chicken Tacos are quick, easy, and about to become your favorite tacos! They are made with juicy, marinated Thai Chicken in a luxurious savory, sweet and spicy peanut sauce then piled with fresh and crunchy Pineapple Broccoli Slaw all cocooned in a flour tortilla. These Thai Chicken Tacos are healthy, customizable, make ahead friendly and a tantalizing texture and flavor explosion in every deeply satisfying bite.
Save This Recipe To Your Recipe Box
You can now create an account on our site and save your favorite recipes all in one place!
Ingredients
Tacos
2

pounds

boneless skinless chicken breasts or thighs

chopped into bite size pieces

1/2

cup

crunchy peanut butter

8-10

taco size flour tortillas

1/4

cup

crushed peanuts

chopped cilantro

to taste

Freshly squeezed lime juice

to taste
Pineapple Slaw
2

cups

chopped fresh pineapple

3

cups

packaged broccoli slaw

1/2

red bell pepper

thinly sliced

1/3

cup

chopped green onions

1/4

cup

loosely packed cilantro

chopped

1

tablespoons

rice vinegar

1

tablespoon

lime juice
Instructions
In a large bowl or freezer bag, whisks the Thai Peanut Chicken marinade ingredients together. Add chicken and marinate at room temperature for 30 minutes.

Meanwhile, chop ingredient for Pineapple Slaw, add to a large bowl and toss to combine. Cover and refrigerate until ready to use.

When ready to cook, heat 1 tablespoon olive oil/coconut oil in a large nonstick skillet over medium heat until hot and rippling. Add chicken and marinade and cook until completely cooked through and sauce thickens slightly. Remove from heat and stir in crunchy peanut butter until well combined.

To serve, spoon chicken into desired amount of tortillas and top with Pineapple Slaw, chopped peanuts and additional cilantro, lime juice and

Asian chili sauce

to taste.
Notes
Make Ahead:  You can make the Thai Peanut Chicken and Pineapple Slaw ahead of time and store separately in the refrigerator.  When ready to serve, gently reheat chicken in a skillet and drain off any excess juices from the slaw.  
Did You Make This Recipe?
Tag @CarlsbadCravings and Use #CarlsbadCravngs
Leave a Review, I Always Love Hearing From You!
Carlsbad Cravings Original