One pan, 30 minute Sticky Thai Peanut Orange Chicken baked in one of my favorite sweet, salty, savory, spicy sauces ever.   You are going to  fall in love with the flavors and ease of this dish!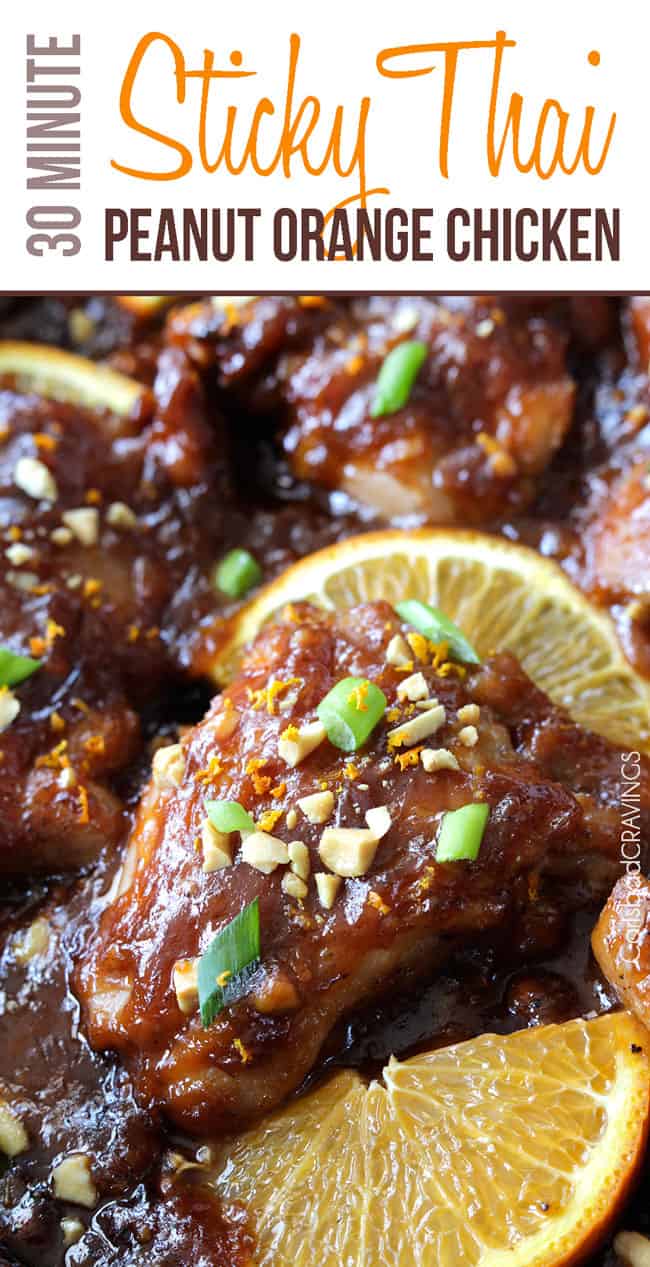 I hope you all had a fabulous Easter!   Once Easter hits I feel like summer is here in a flash. But I love spring. I want to bottle up the 70 degree weather with a slight breeze, the blooming tulips and bursting strawberry fields so I can enjoy them year round.
You know what else I want to bottle up and never let go?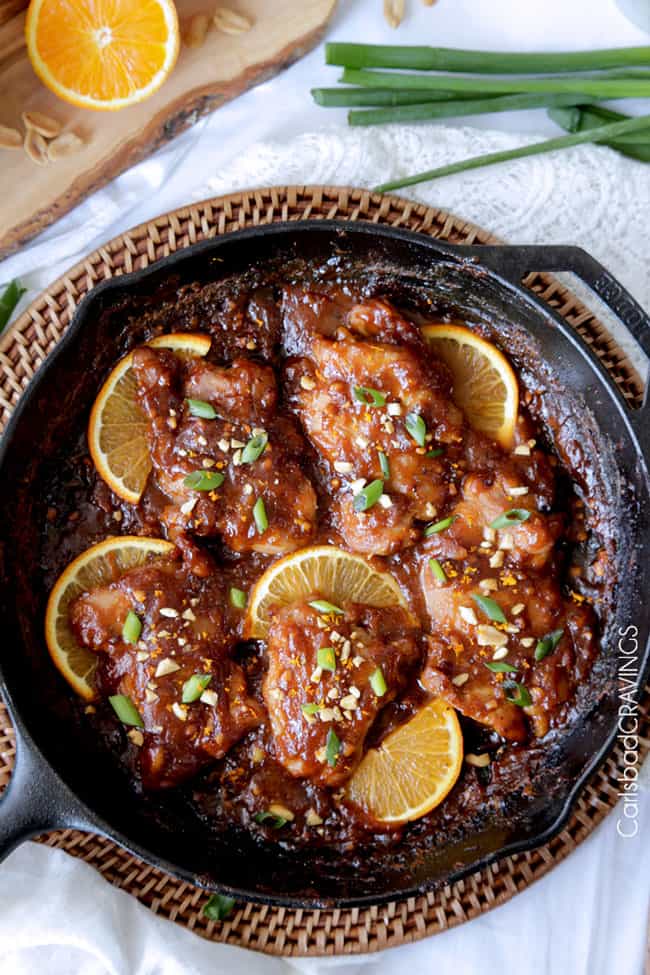 This Sticky Thai Peanut Orange Sauce.
Oh.
My.
Yummy.
I am so in love with it.   So much that even though I just made this chicken last week, which normally means I would add it to my "archive" and post it weeks from now, I interrupted my recipe schedule just to bring you this Thai Peanut Orange Chicken today.  I just can't wait for you to fall in love with it like me!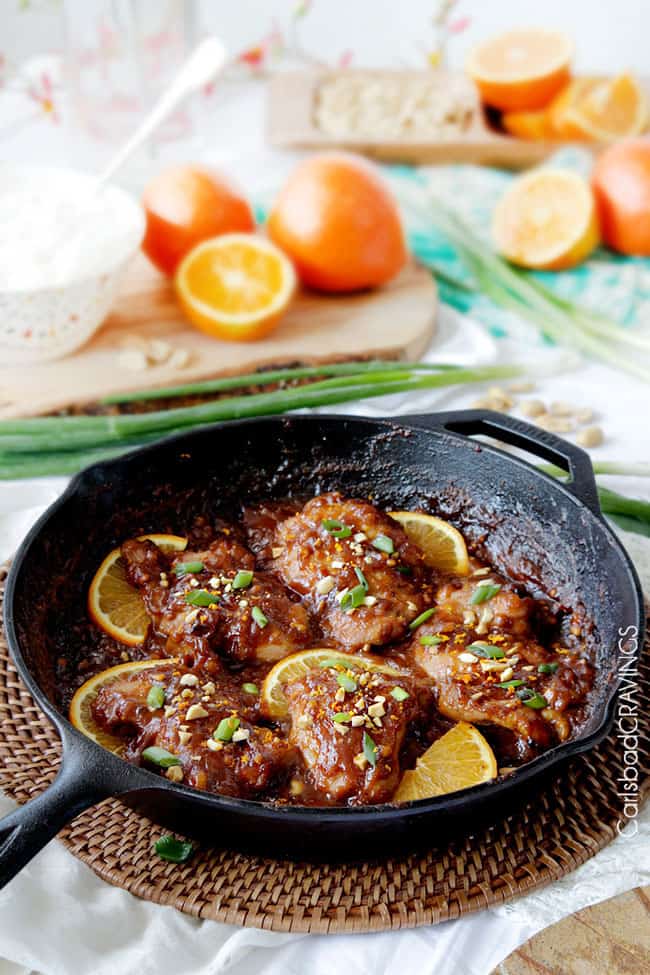 By simply whisking together soy sauce, brown sugar, orange juice, orange marmalade, peanut butter and splashes of  ketchup, vinegar, fish sauce and Sriracha, a rich, nutty sauce with an orange flair is born.  Pour this over your chicken that has been rubbed in  ginger, garlic, onion, paprika and cumin and  you won't be able to stop craving this chicken.  
Guaranteed.
And don't worry.  I know you will be wanting more sauce, so there is extra peanut orange sauce to smother over rice.  Or just eat plain.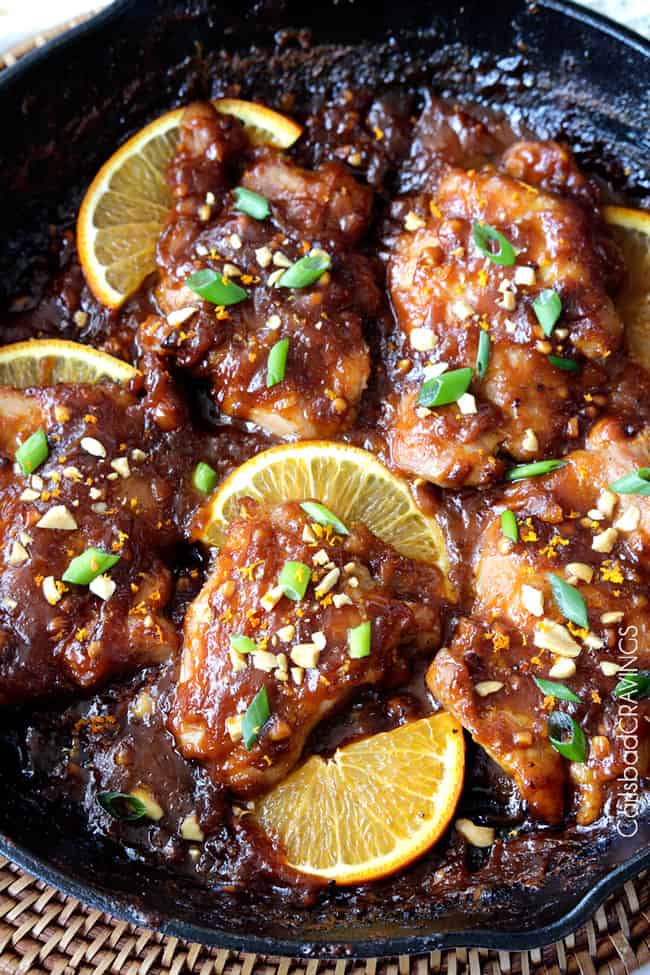 One pan and 30 minutes stand between you and this Sticky Thai Peanut Orange Chicken.   You know what to do.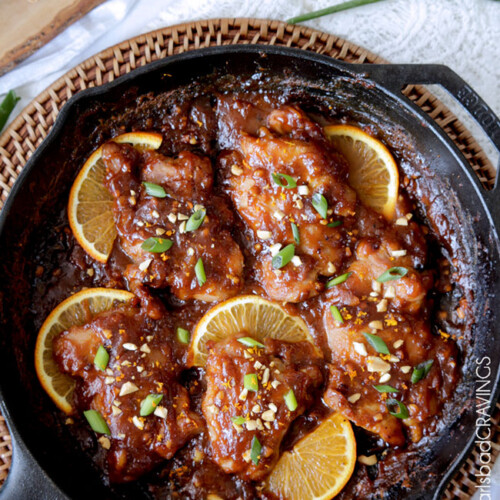 Sticky Thai Peanut Orange Chicken (30 Minutes)
Ingredients
6

boneless skinless chicken thighs
Rub
Sticky Thai Peanut Orange Sauce
Garnish
Chopped roasted peanuts

green onions

orange zest
Instructions
In a medium bowl, whisk together sauce ingredients. Set aside

Preheat oven to 400F degrees.

Mix Rub Ingredients together in a small bowl and rub all over chicken.

Melt 1 tablespoon butter in a large oven proof skillet over medium high heat. Add chicken and sear 2-3 minutes per side or until browned. Remove chicken to plate.

Add sauce and simmer 1 minute, scraping sides of pan to deglaze. Add chicken back to skillet, and spoon some sauce over chicken. Bake 8- 12 minutes or until chicken is cooked through depending on thickness.

Garnish with desired toppings and serve over rice.
Notes
*I prefer thighs because they are oh so tender but you may substitute boneless, skinless chicken breasts but make sure they are pounded THIN. Adjust baking time accordingly.
**I use 3 tablespoons then sprinkle a little brown sugar on the top after baking - so good!
Did You Make This Recipe?
Tag @CarlsbadCravings and Use #CarlsbadCravngs
Leave a Review, I Always Love Hearing From You!
Carlsbad Cravings
©
Original
NEVER MISS A CARLSBAD CRAVINGS CREATION: