NO BAKE Strawberry Parfaits AKA all the fresh and creamy taste of strawberry cheesecake without all the hassle (and perfect for Father's Day) with layers of buttery amaretti (almond) cookie crumbs, fresh sliced strawberries, sweetened strawberry puree and lusciously creamy no bake cheesecake filling. You won't believe how delicious OR how easy these are!
Strawberry Parfait RECIPE Video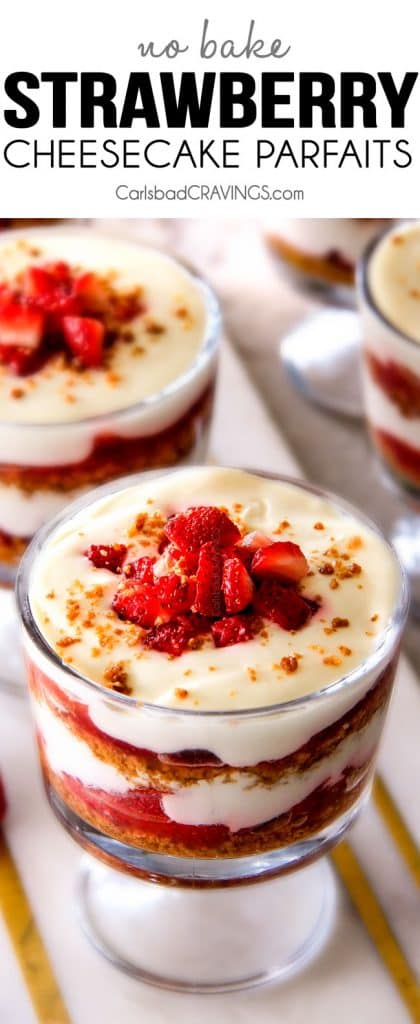 Both Patrick and I loooooooved these No Bake Strawberry Cheesecake Parfaits! We ate them all. every. single. one of them. Call us pigs, or call these No Bake Strawberry Cheesecake Parfaits spellbindinlgy irresistible. Granted, we didn't eat them all at once, but almost. And oh how they called to us when they were just sitting in the refrigerator. It's like they couldn't wait to be eaten. And we were happy to oblige.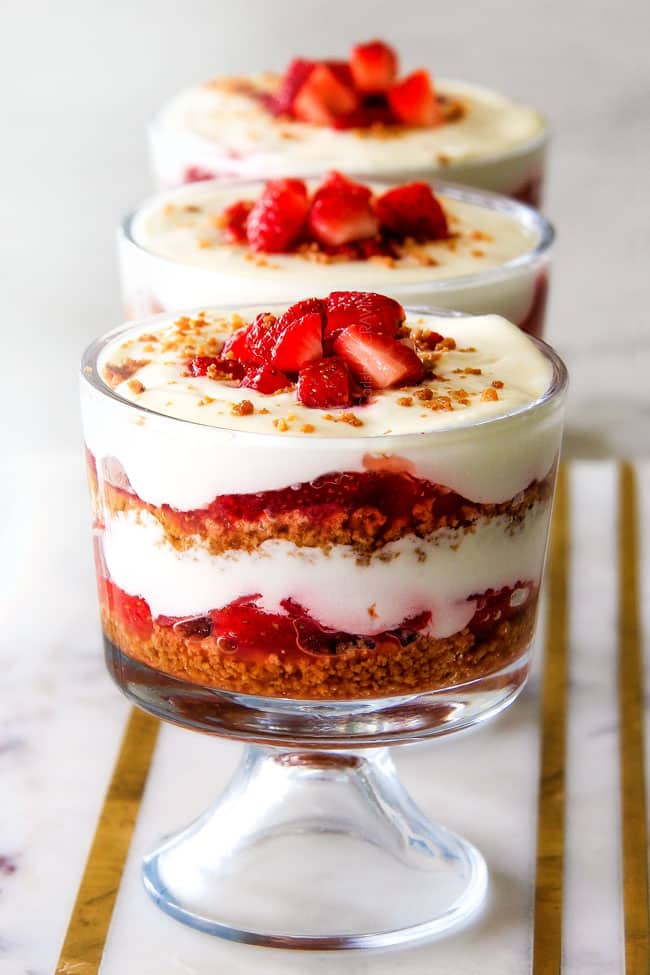 These No Bake Strawberry Cheesecake Parfaits, with their layers of buttery amaretti (almond) cookie crumbs, fresh sliced strawberries, sweetened strawberry puree and lusciously creamy no bake cheesecake filling are impressively beautiful, but require minimal effort. They are a wonderful make-ahead dessert, travel friendly, no bake, crowd pleasing, and take minutes to throw together (besides maybe slicing strawberries which you can do ahead of time) .
This dreamy, creamy twist on strawberry cheesecake can be assembled in any individual containers you have on hand, even plastic cups work :). The layers are very forgiving, so really any size works too, but I recommend clear containers if you have them, because these Parfaits are just so pretty with their contrasting layers. So let's get layering!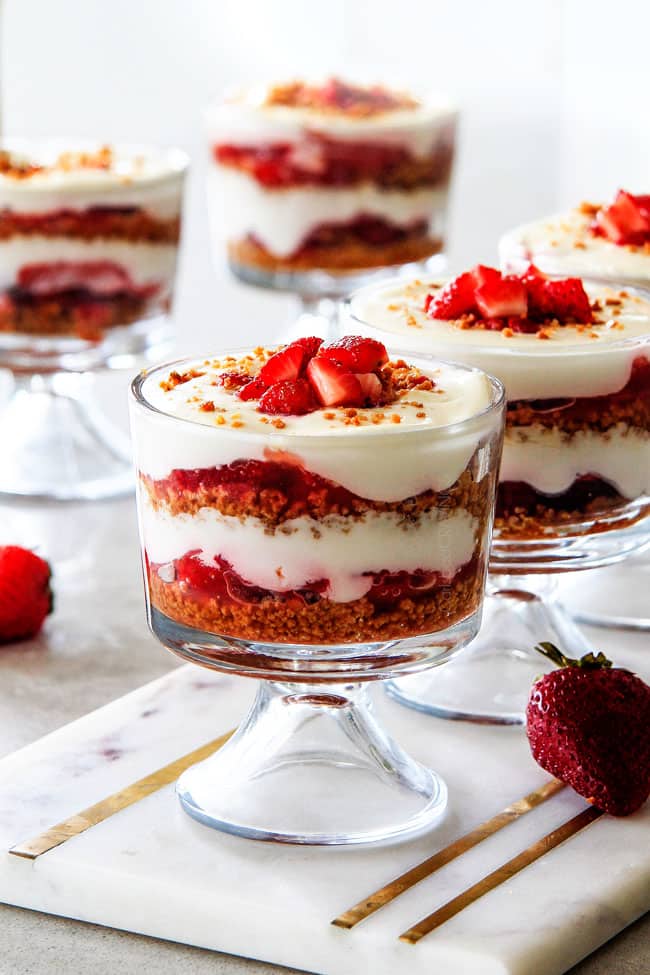 These No Bake Strawberry Cheesecake Parfaits start with Amaretti, meaning almond (not related to the liquor), cookie crumbs. I highly recommend Amaretti cookies over any other cookie. They have a wonderfully subtle almond flavor with an irresistible fresh crunch that perfectly compliments the sweet-tart berries and velvety cheesecake. They also are a crunchier cookie, so they retain their satisfying texture after the Strawberry Cheesecake Parfaits are refrigerated, whereas graham crackers, etc. have a tendency to soften quite a bit.
Next you layer your sliced juicy strawberries, followed by yours strawberry puree made of strawberries, sugar and lemon juice. This hidden layer of deliciousness is the secret ingredient to these Strawberry Cheesecake Parfaits that you won't find in other recipes. Its unifies each bite with wonderfully concentrated sweet strawberriliciousness.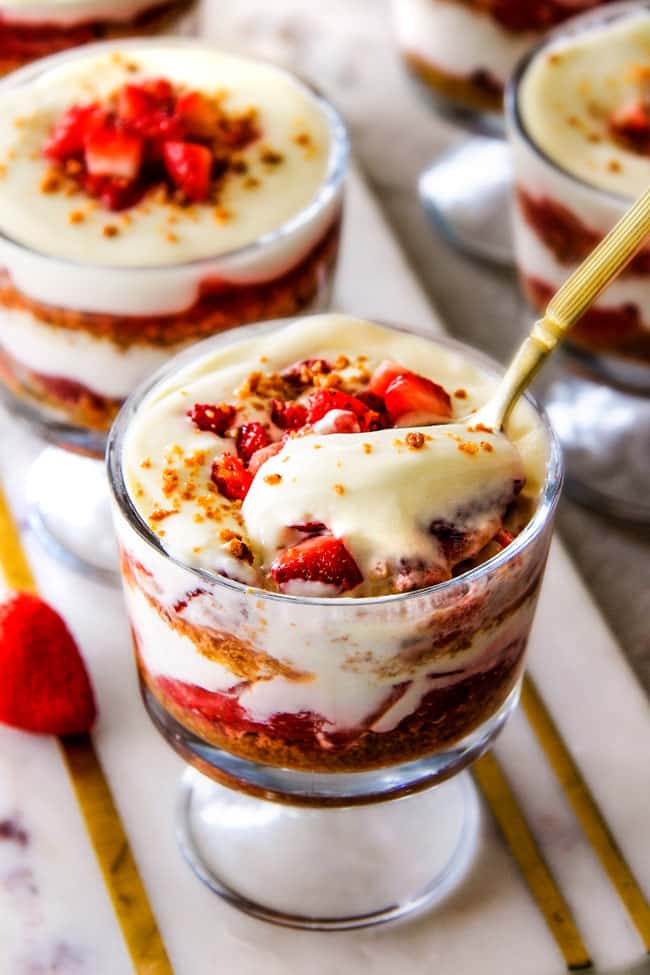 Finally, we top our strawberry puree with our silky no bake cheesecake of cream cheese, powdered sugar, lemon juice, vanilla, sour cream and heavy cream. The sour cream and heavy cream add a depth of volume and lusciousness and make the cheesecake soooooo creamy! You will be eating the filling with a spoon. Repeat the layers and refrigerate for a few hours as the No Bake Strawberry Cheesecakes call to you. They want to be eaten. by you. now.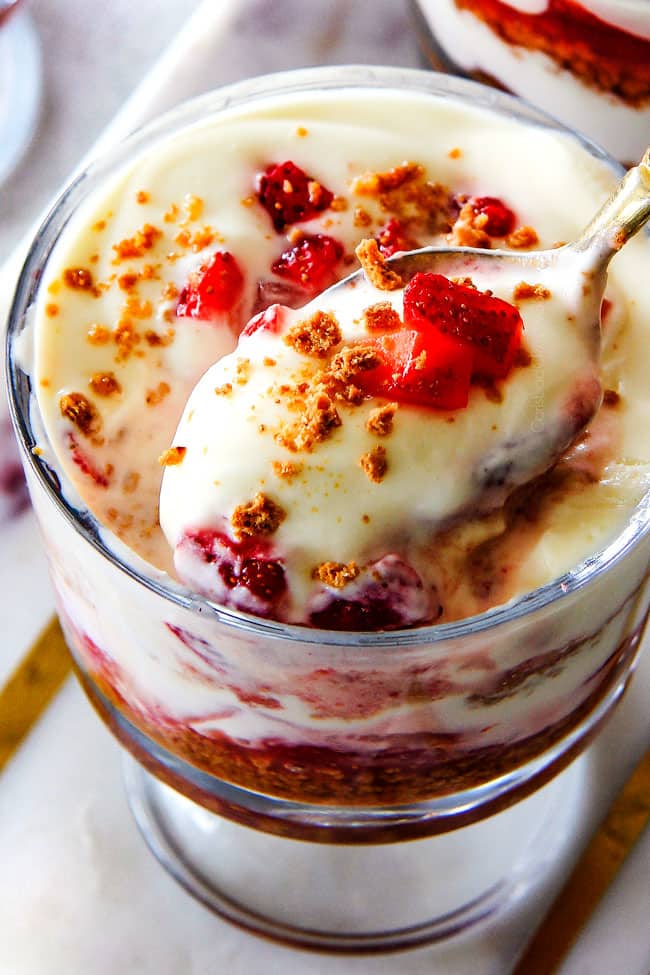 As you dig into your tall glass of deliciousness, you will be tempted to never make a traditional cheesecake again. ever.
LOOKING FOR MORE CHEESECAKE RECIPES?
Want to try these No Bake Strawberry Cheesecake Parfaits?
Pin them to your DESSERT, SUMMER or ENTERTAINING Board to SAVE for later!
Find me on Pinterest for more great recipes!  I am always pinning :)!
©Carlsbad Cravings by CarlsbadCravings.com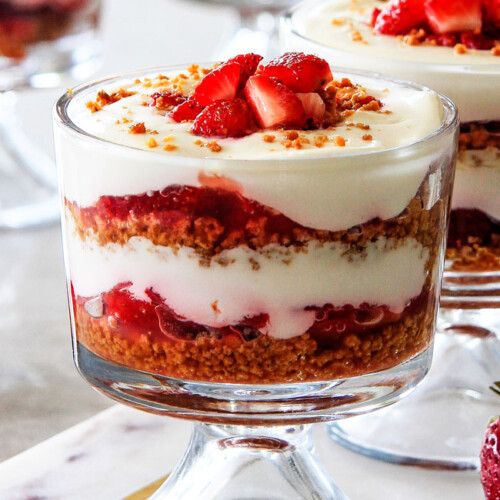 No Bake Strawberry Cheesecake Parfaits
Save This Recipe To Your Recipe Box
You can now create an account on our site and save your favorite recipes all in one place!
Ingredients
Cookie Layer
2 1/2

cups

amaretti (almond) cookies*

2

tablespoons

butter, melted
Strawberry Layer and Puree
2

pounds

strawberries, sliced

1/4

cup

granulated sugar

1

teaspoon

lemon juice
Cheesecake Layer
2

8 oz.

blocks cream cheese, softened

1 1/4

cups

Powdered sugar

1

tablespoon

lemon juice

1

tablespoon

vanilla extract

1/2

cup

sour cream

3/4

cup

heavy whipping cream
Instructions
Cookies
Use food processor or rolling pin to crush cookies (they do not need to be fine). Remove 1 tablespoon for garnish. Add remaining crumbs to a medium bowl and stir in butter until well combined. Set aside.
Strawberry Puree
Divide out 1 ½ cups sliced strawberries and add to food processor along with ¼ cup granulated sugar and 1 teaspoon lemon juice. Process until smooth. Set aside.
Cheesecake
Beat cream cheese until very smooth, about 1 minute. Add powdered sugar, vanilla, and lemon juice and beat until smooth, about 2 minutes. Add sour cream and heavy cream and beat on medium high until smooth, thick and fluffy, about 3-5 minutes.
Assemble
Spoon 2 tablespoons cookie crumbs into 6 parfait glasses (or whatever glass/dish works for you). Top with ¼ cup strawberry slices, 1 tablespoon strawberry puree, ¼ cup cheesecake; repeat layers. Garnish with reserved cookie crumbs and diced leftover strawberries. You may have strawberry puree leftover which you can drizzle over just before serving.

Chill for 1-2 hours. You can refrigerate longer but just be aware that the cookies will soften more.
Notes
Don't miss the "how to make" recipe video at the top of the post!
*Please don't substitute! These cookies and their subtle almond flavor and crunchy texture MAKE these parfaits!  I used Lazzarone Amaretti Cookie Snaps (happened to pick them up at world market) and they were heavenly.
Did You Make This Recipe?
Tag @CarlsbadCravings and Use #CarlsbadCravngs
Leave a Review, I Always Love Hearing From You!
Carlsbad Cravings© Original