Sweet and Spicy Baked Orange Chicken Tenders are marinated and smothered in the most tantalizing sweet heat orange sauce you can't even imagine! You will crave this chicken over your favorite Chinese orange takeout!
I try and pace myself in sharing too many sweet and spicy recipes. Its hard. Hard when all I want to do is smother chicken in ooey, gooey, mouthwatering different concoctions of sweet heat like my Sweet and Spicy Honey Dijon Glazed Chicken I shared last week or my all time favorite Skinny General Tso's Chicken. I could live off sweet and spicy chicken, especially because all my sweet and spicy chicken recipes are baked and not fried. And your palate wouldn't even know it. It would be too busy loving, savoring, being hypnotized by the multidimensional flavors and wanting more…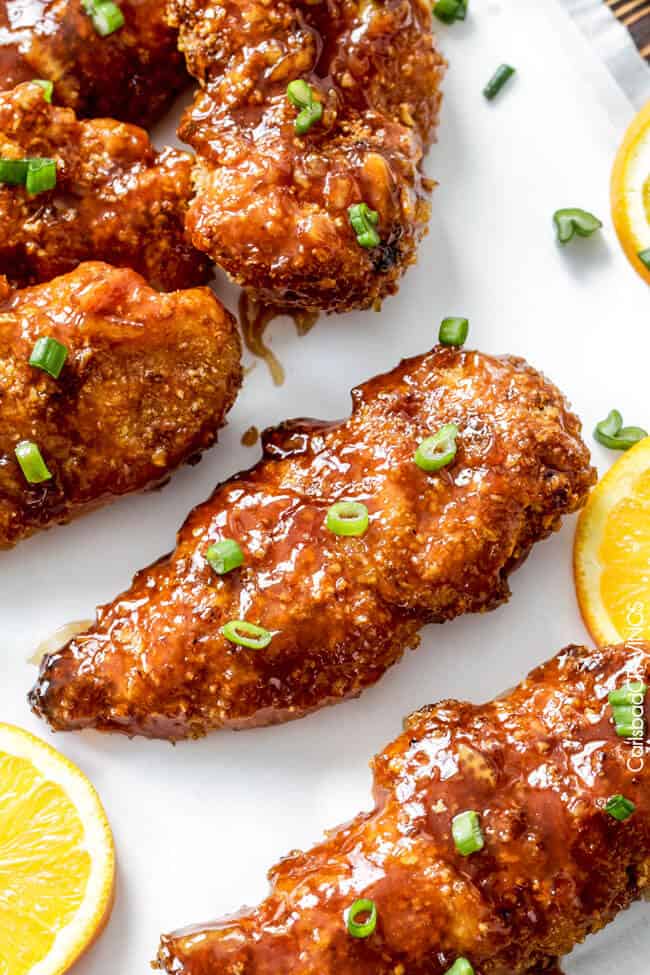 I'm already wanting more…More hypnotic Baked Orange Chicken Tenders. They are bursting with flavor by being marinated in a sweet and spicy (but not too spicy) orange sauce which doubles as the tantalizing sticky Orange Glaze later. This is one of my favorite methods of cooking – to reserve some of the marinade, whisk it with cornstarch and it instantly becomes your glaze – double the flavor WITHOUT double work!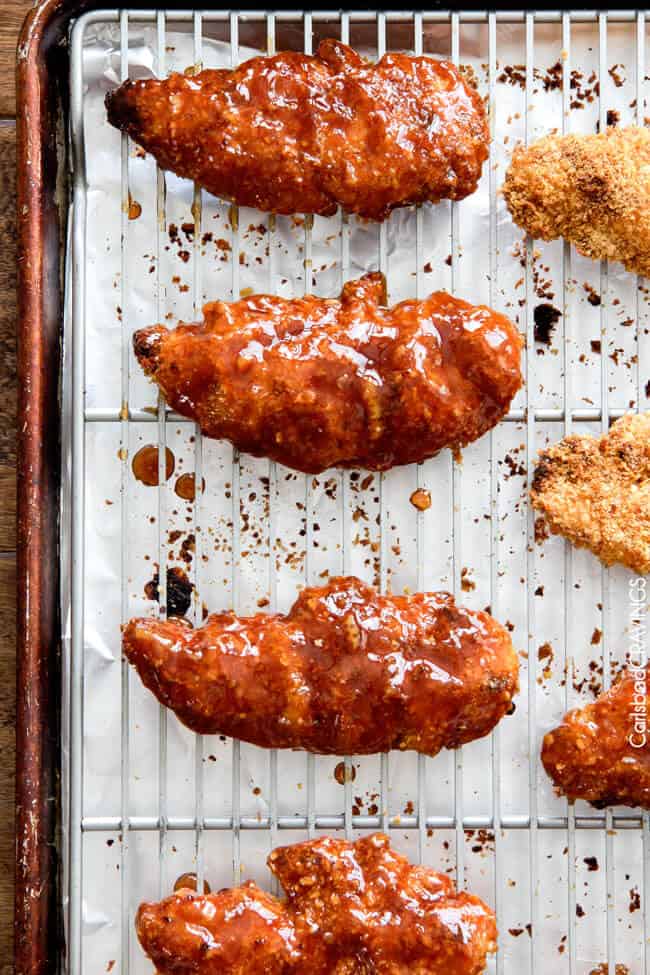 After marinating, you dredge your chicken in flour, then a mixture of browned panko and crushed cornflakes. I love the flavor and texture combination of seasoned panko with cornflakes – it just adds an undeniably dimension of delicious BUT if you don't want to buy cornflakes just for this recipe (but believe me you will make this again and again), you can substitute the cornflakes with more panko and it will still be delicious – just maybe missing the undeniable dimension of delicious 🙂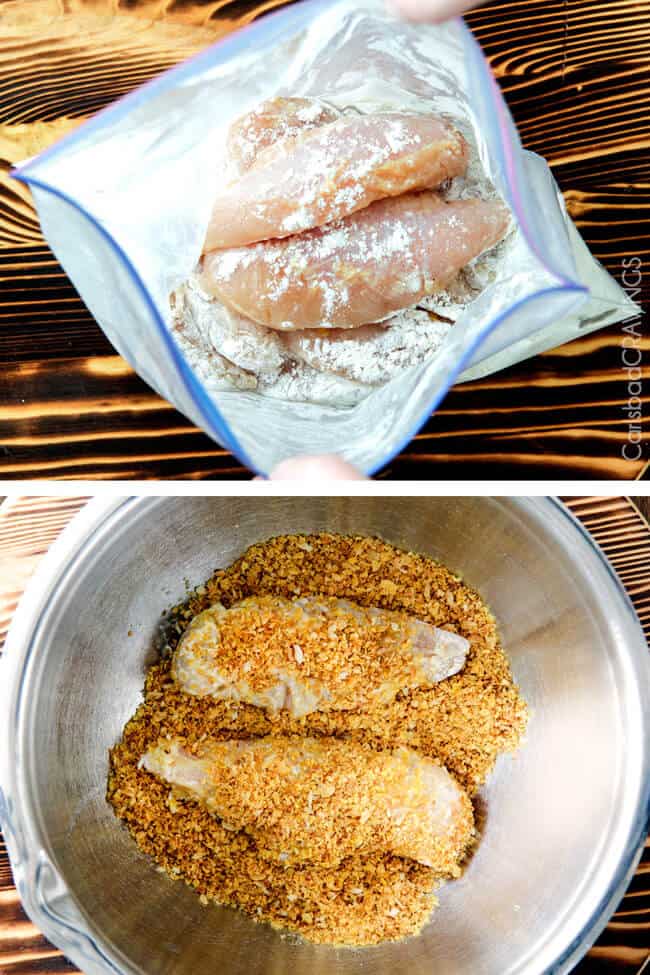 You then bake your chicken tenders for about 20 minutes while you heat your Orange Glaze.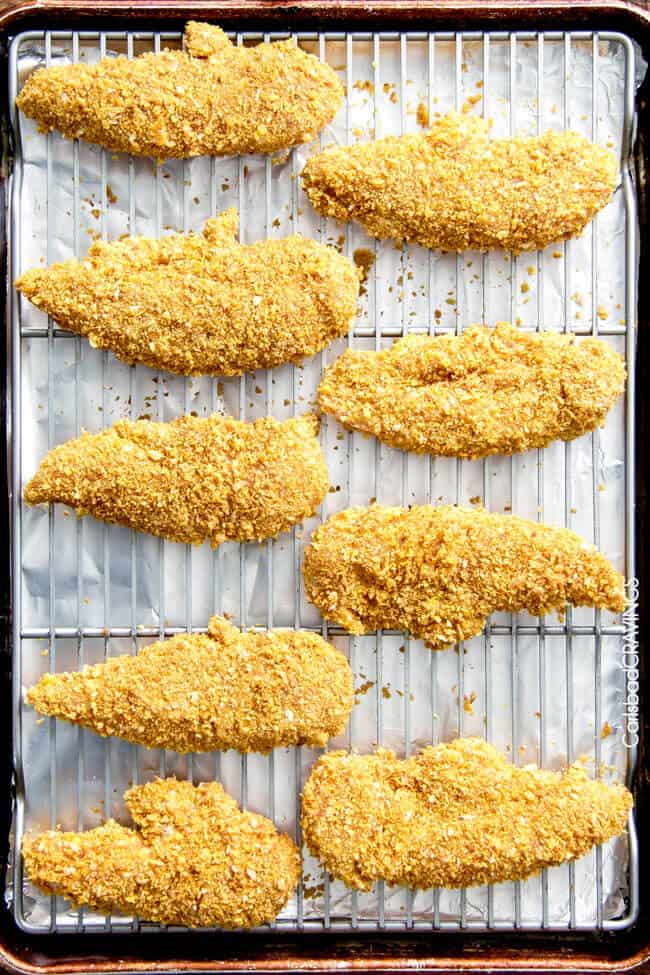 The to-live-for Orange Glaze is a harmonious concoction of orange juice, orange marmalade, brown sugar, and splashes of lemon juice, sriracha, hoisin sauce (like Asian BBQ sauce), ginger, garlic, etc. Are you drooling yet? I am. This ingredient list might seem a bit lengthy but keep in mind, you are simply whisking the ingredients together to create this tantalizing Glaze.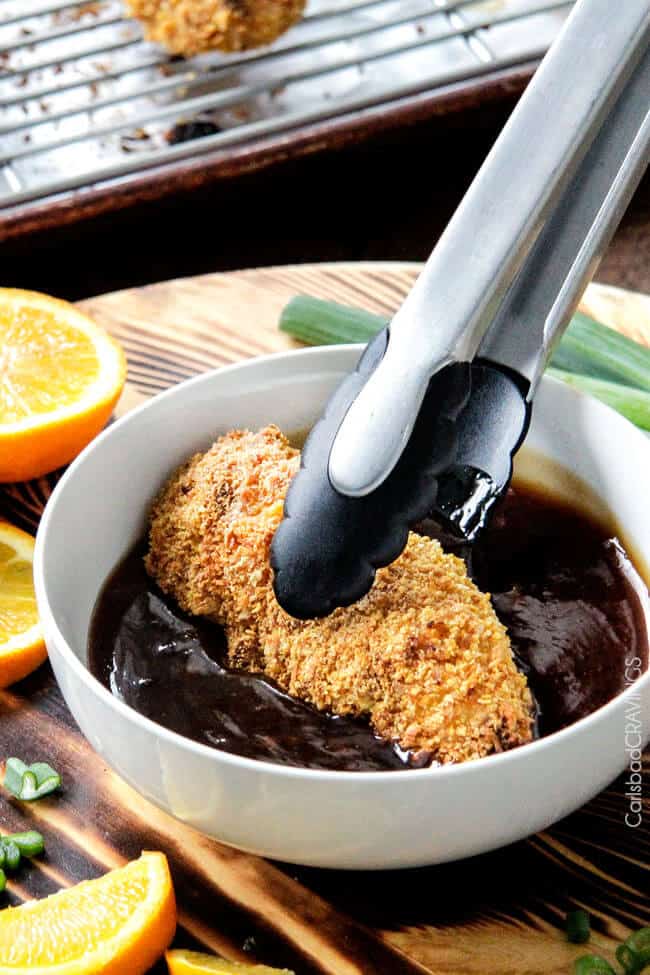 After the Glaze simmers and thickens for just a minute or so, you bathe each chicken tender in the sticky sweet heat. You can use tongs as shown, but honestly, I just use my fingers – because then I can lick my fingers when I'm done. Somehow cooking is just more fun that way…and more delicious.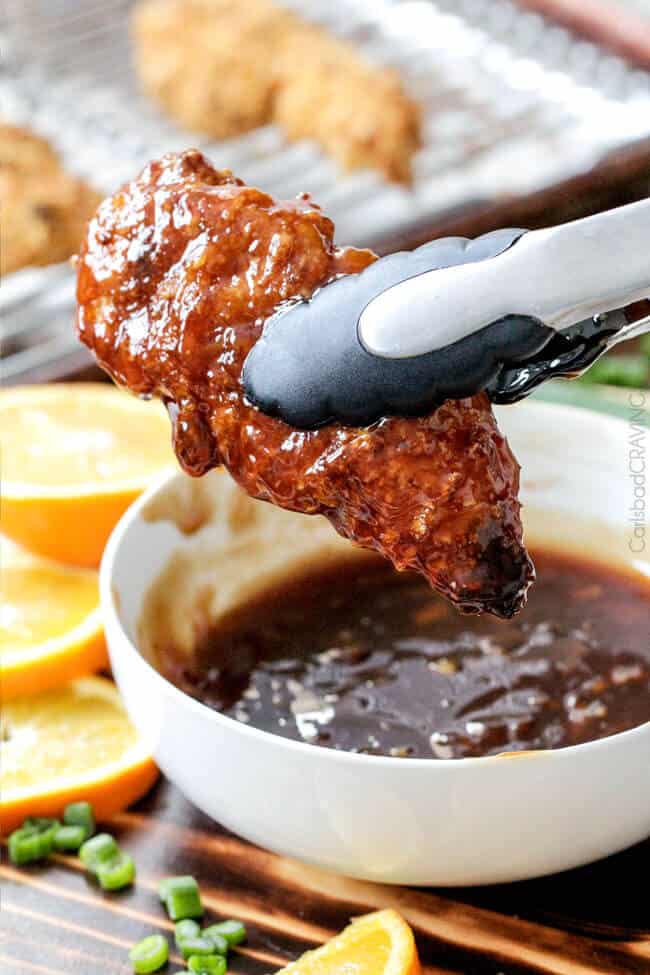 After you coat your chicken in sauce you are going to want to eat them right away – I mean of course you are going to want to eat them right away, but the sooner you devour them, the firmer the breading will be. That being said, they are still incredible with softer breading. As in Patrick ate all the leftovers and if you knew Patrick, he doesn't do leftovers unless they taste just as AH-mazing the next day.
These are amazing any day.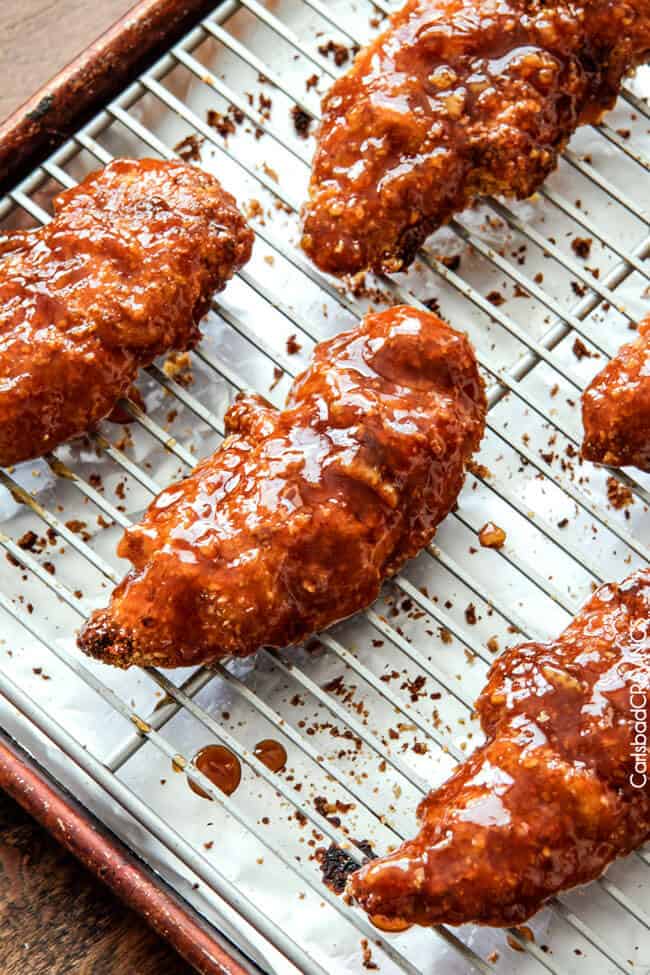 So say goodbye to your favorite takeout Orange Chicken and hello to lick-your-fingers, lick-the-plate, lick-the-bowl worthy BAKED Orange Chicken Tenders. hypnotically delicious…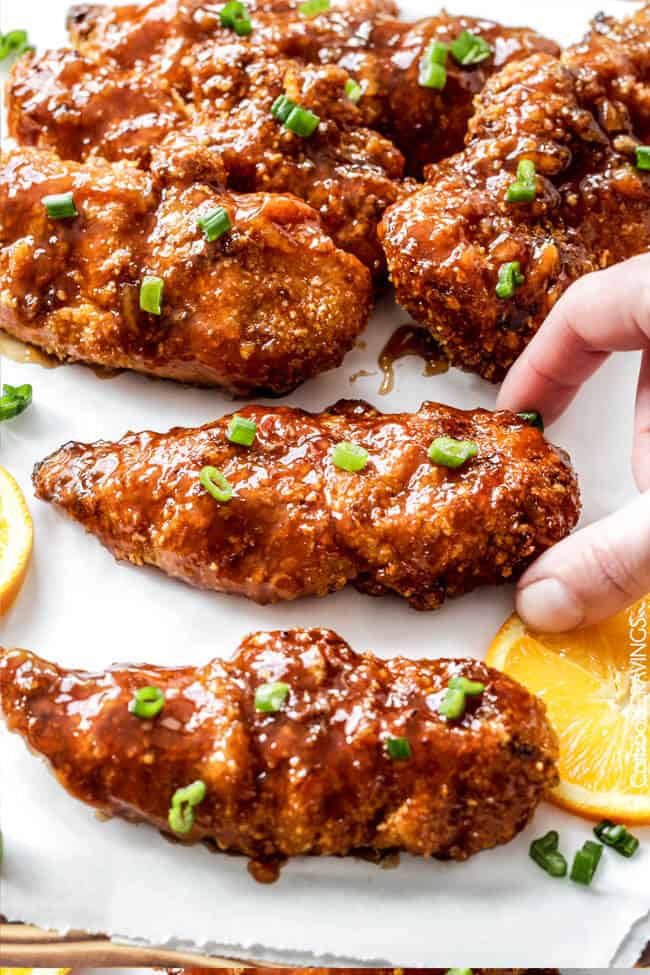 Looking for more chicken recipes?
Want to try these Baked Orange Chicken Tenders?
Pin them to your ASIAN, CHICKEN OR DINNER Board to SAVE for later!
Find me on Pinterest for more great recipes! I am always pinning :)!
©Carlsbad Cravings by CarlsbadCravings.com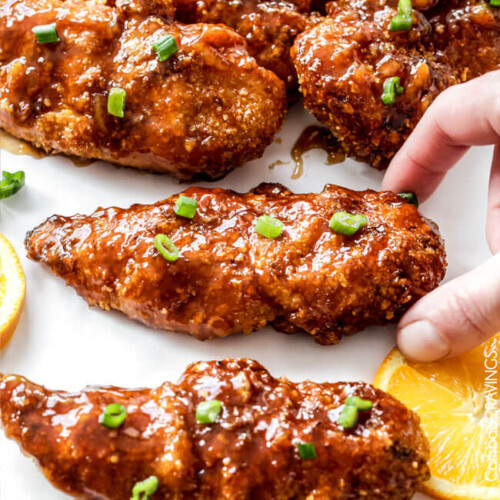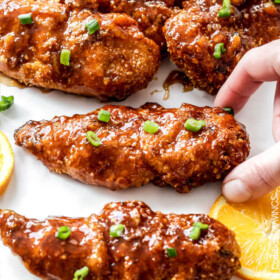 Sweet and Spicy Baked Orange Chicken Tenders
Save This Recipe To Your Recipe Box
You can now create an account on our site and save your favorite recipes all in one place!
Ingredients
8

chicken tenderloins

(about 1 ½ pounds)

1

tablespoon

olive oil
Orange Marinade/Glaze
1/2

cup

orange juice

1/3

cup

orange marmalade

(regular, not sweet)*

2

tablespoons

lemon juice

1/2

cup

packed brown sugar

2

tablespoons

quality hoisin sauce

(like Lee Kum Kee or Kikkoman)

2

tablespoons

red wine vinegar

1

tablespoon

low sodium soy sauce

1/2-1

teaspoon

Sriracha/Asian hot red chili sauce

1/2

tsp EACH

salt, garlic pwdr, ginger pwdr,onion pwdr

1

tablespoon

cornstarch
Instructions
Whisk the Orange Marinade/Glaze ingredients together in a medium bowl. Add ⅓ cup to a large freezer bag with 1 tablespoon olive oil. Add the chicken and marinate 60 minutes up to overnight in the refrigerator. Refrigerate reserved Glaze separately.

Melt ½ tablespoon butter in a large skillet over medium-high heat. Stir in panko and continue to cook and stir until browned. Remove from heat. (You can do this while your chicken marinates or days before and store in an airtight container.)

Preheat oven to 425 degrees F. Line a baking sheet with foil then top with a wire baking rack. Spray rack with nonstick cooking spray. Set aside.

Line up your breading station: Add flour to a large freezer bag. Whisk milk and eggs together in a bowl or shallow dish. Mix panko, ground cornflakes, ½ teaspoon salt, ⅛ teaspoon pepper and ½ teaspoon garlic powder in a large bowl.

Remove chicken from marinade and pat dry with paper towels. Add chicken to flour and toss until evenly coated. Working with one chicken tender at a time, remove from flour, shake off any excess then coat in milk/egg mixture and drain off any excess. Roll chicken in panko/cornflakes, pressing to adhere. Shake off any excess and place on wire rack. Repeat until all chicken tenders are breaded.

Bake for 20 minutes at 425 F degrees or until chicken is cooked through. Broil until golden. Let cool for 10 minutes while you prepare your Glaze.

Add reserved Glaze to a medium saucepan and bring to a boil while stirring. Reduce to a simmer until slightly thickened, stirring occasionally. Remove from heat. Using tongs, dip chicken in Glaze to coat then return to baking rack or individual plates. Garnish with orange and green onions if desired.
Notes
Cooking time:  Total cooking time does not include marinating as that will vary upon individual.
*Orange marmalade: Bitter or Seville marmalade is traditional and won't have a special label, sweet orange marmalade made using Valencia, navel, or similar oranges can also be found, but it will be called out as "SWEET Orange Marmalade." If you can only can only find sweet orange marmalade then reduce the sugar in the recipe by 1-2 tablespoons. 
**Cornflakes:  You measure out 3 cups cornflakes before you grind them I use my food processor and pulse until the size of panko crumbs. You can place cornflakes in a freezer bag and crush with a rolling pin. You can substitute cornflakes with additional panko for a total of 1 ¼ cups panko and brown panko with 1 tablespoon butter.
Crispy factor:  The less time you wait between coating the chicken in the glaze and eating, the crispier it will be. That being said, the chicken has a wonderful texture but is not overly crispy.
Did You Make This Recipe?
Tag @CarlsbadCravings and Use #CarlsbadCravngs
Leave a Review, I Always Love Hearing From You!
Carlsbad Cravings© Original