Decadent Fluffy S'mores Pancakes with butterscotch and chocolate chips riddled in every graham cracker pancake bite all smothered with intoxicatingly delicious marshmallow syrup make a super fun breakfast, brunch or even dessert! These easy pancakes will have everyone begging for s'mores S'mores Pancakes!

I have missed you guys! I just got back from vacationing with my family at Lake Powell and 8 days without internet (my posts were pre-scheduled) and while I loved every second, I also loved coming home to all your wonderful, kind, encouraging comments, so thank you!
While Lake Powell is my idea of the perfect summer vacation, s'mores have to be my idea of the perfect outdoor summer treat. So in honor of upcoming National S'mores Day on August 10th, I bring you S'mores Pancakes (to add to favorites S'more Cookies, S'more Caramel Bars)!
I am updating a version of S'mores Pancakes that I made about two years ago that while delicious were not as fluffy as these beauties – seriously these are SO melt in your mouth fluffy! I adapted my favorite fluffy pancake recipe from allrecipes.com but instead of using milk and vinegar I straight up used buttermilk (although you are welcome to use the homemade substitution, directions in recipe) and then I swirled in graham cracker crumbs and chocolate chips into the pancake batter. The key with fluffy pancakes is to let the batter sit for 10 minutes and not to over stir. You basically want to just moisten the ingredients.
Left alone, these chocolate chip graham cracker pancakes would be delish, but then I got crazy and added BUTTERSCOTCH chips. And delicious pancakes transformed into the most incomprehensibly delicious pancakes I have ever eaten in my entire life. No joke. These chips make these pancakes. You can substitute the butterscotch chips for chocolate chips if you have to but seriously, the butterscotch chips with the chocolate chips are divine.
Butterscotch and chocolate in every bite…
And we haven't even talked about the marshmallow syrup yet. Sweet, velvety smooth marshmallow syrup. We are pretty much best friends. Think drinkable, pourable, velvety marshmallows. And get giddy. To make your easy marshmallow sauce, mix up some marshmallow fluff and water and you have creamy heaven in 30 seconds – that's it!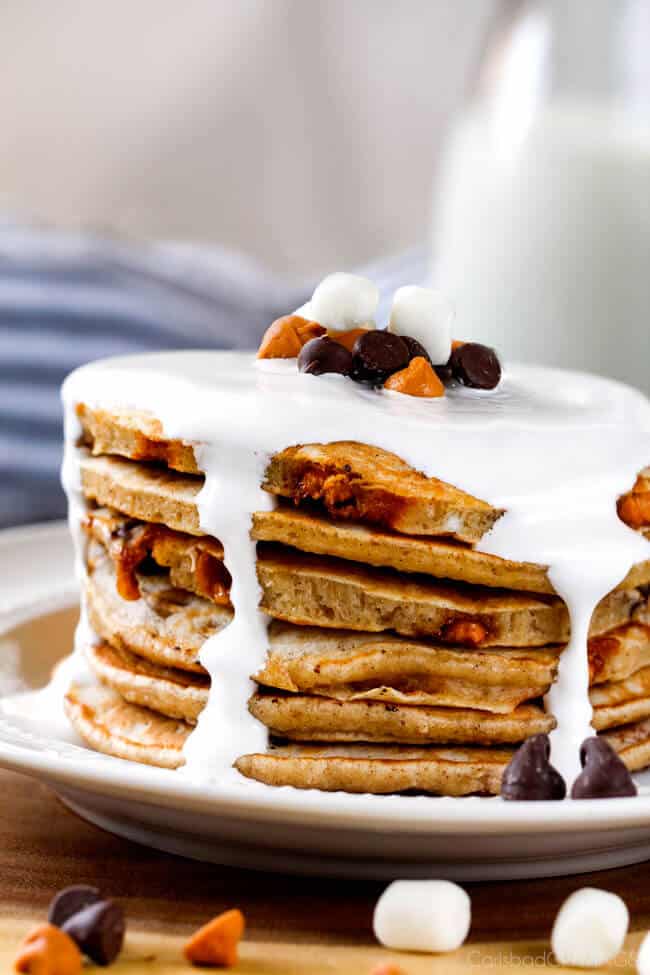 Mix up your pancake batter, and you have Fluffy S'more Pancakes with Marshmallow Syrup in another 10 minutes or 20 if you let your batter sit for optimum fluffiness. And I vote for optimum fluffiness.


Happy almost National S'mores Day with Fluffy S'mores pancakes! Now please go stuff your face with forkfuls of butterscotch, chocolate, graham cracker, marshmallow syrup riddled bites AKA s'more deliciousness than you thought possible!
Looking for more breakfast recipes?
Want to try these Fluffy S'more Pancakes?
PIN THEM TO YOUR BREAKFAST OR DESSERT BOARD TO SAVE FOR LATER!
FIND ME ON PINTEREST FOR MORE GREAT RECIPES!  I AM ALWAYS PINNING :)!
©Carlsbad Cravings by CarlsbadCravings.com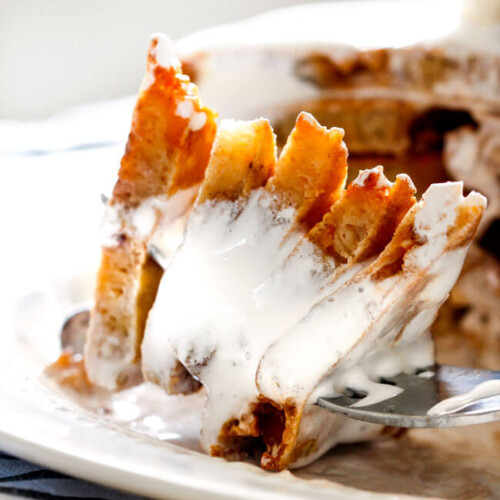 Fluffy S'mores Pancakes with Marshmallow Syrup
Save This Recipe To Your Recipe Box
You can now create an account on our site and save your favorite recipes all in one place!
Ingredients
Dry Ingredients
Wet Ingredients
1

cup

buttermilk

*

1

egg

2

tablespoons

butter, melted

1/2

teaspoon

vanilla
Marshmallow Syrup
1

7 oz. jar

marshmallow fluff

(approx. 1 cup)

2

tablespoons

water
Instructions
In a medium bowl, whisk together all of the Dry Ingredients. In a separate large bowl, whisk together the Wet Ingredients. Stir the Dry Ingredients into the Wet Ingredients just until combined/moistened. Don't overmix, the batter should be lumpy! (overmixing makes flat, dense pancakes). Let batter sit 10-15 minutes at room temperature.

Meanwhile, make the Marshmallow Syrup by adding the marshmallow fluff and water to a medium bowl and microwave for 15 seconds. Stir until smooth. For a thinner syrup, stir in additional water.

Heat a nonstick skillet or griddle over medium heat. Pour batter using a ¼ cup measuring cup; wait until bubbles form, then flip and cook an additional 30-60 seconds or until pancake is cooked through. Serve with Marshmallow Syrup.
Notes
*If you don't have buttermilk, then substitute "homemade buttermilk" by adding 2 tablespoons white vinegar to a 1 cup measuring cup. Fill the the remaining cup until full with milk. Let sit 5 minutes before using.
Did You Make This Recipe?
Tag @CarlsbadCravings and Use #CarlsbadCravngs
Leave a Review, I Always Love Hearing From You!
Carlsbad Cravings Original updated from my August 2014 post