These Strawberry Pancakes are swirled with a delectable cheesecake filling and topped with homemade strawberry toppings. This is the BEST pancake recipe!
Easy Strawberry Cheesecake Pancakes = cheesecake filling + pancake dry ingredients + fresh strawberry syrup = cheesecake for breakfast!
Strawberry Pancakes (with Cheesecake Filling!)
Happy spring! Can you believe spring is officially here?! It has been feeling a lot like spring around here, actually more like summer, with last week in the high 80s at the coast – perfect beach paddle board weather (pic here – I actually had to unzip my wet suit down the back while paddling because it was so hot with it on).
So with it feeling like spring, I thought we should celebrate with a taste of spring. And does anything taste more like spring than fresh strawberries? How about strawberry cheesecake pancakes?
I saw a recipe for cheesecake pancakes on Betty Crocker in which you slice the cream cheese into thin slices and freeze it overnight then speckle it in the batter. I loved the idea of cheesecake pancakes but I didn't want to meticulously slice my cream cheese. More importantly, I didn't want to wait for the cream cheese to freeze so I decided to create cheesecake filling in the batter itself and Strawberry Cheesecake Pancakes were born. It was a joyous occasion.
Think cheesecake filling. Cream cheese, vanilla Greek yogurt, sugar, vanilla and a splash of lemon juice. I could drink this stuff.
Think pancakes. Flour, milk, salt and baking soda and baking powder mixed with your cheesecake filling. Think 4-ingredient Strawberry Syrup (this stuff is divine, just sayin'). Fresh strawberries, sugar, lemon juice and vanilla smothering every crevice of your soft, cheesecake pancakes.
Think delicious. Think easy. Blend the cheesecake ingredients in a blender. Whisk in dry ingredients. Prepare as regular pancakes while your strawberry syrup simmers.
Think Strawberry Pancakes.
Strawberry Pancakes Ingredients
I've broken this recipe into two sections: the cheesecake filling ingredients you whiz up in a blender, and the dry ingredients that get added in last. To make the strawberry topping for the pancakes, I used my trusty strawberry syrup recipe.
Here's what you'll need to make this strawberry pancake recipe:
Cream cheese: Should be softened to room temperature before being added to the blender.
Vanilla Greek yogurt: Plain Greek yogurt can be used too, just make sure to add an extra splash of vanilla extract to make up for it.
Lemon juice: Brightens up the cheesecake filling and rounds out the pancakes.
Eggs: Helps bind everything together.
Granulated sugar: You need some sweetness to balance out the tangy cream cheese and lemon juice.
Vanilla: Use the real stuff for the best flavor.
Milk: Add a little more milk if you prefer thinner pancakes.
Butter: Unsalted or salted butter will work.
All-purpose flour: I've never made these with whole wheat flour, but I'm sure you could do half and half, if desired.
Salt: Balances out the sweetness of the batter.
Baking powder and baking soda: Helps the strawberry pancakes rise and makes them super fluffy.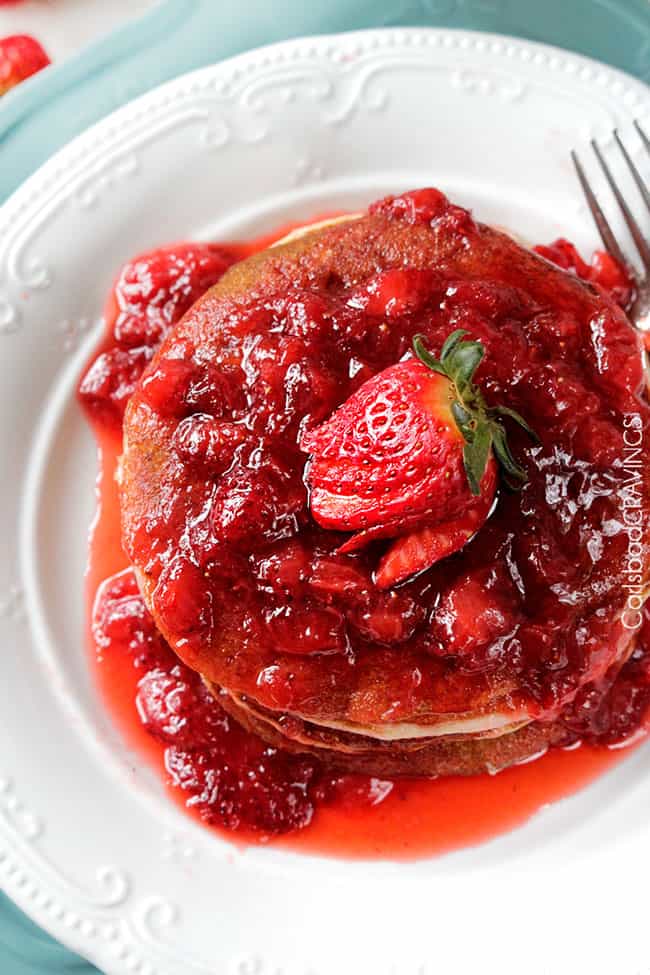 How to Make Strawberry Pancakes
These strawberry cheesecake pancakes are a breeze to make!
To a blender, add the cream cheese, yogurt, lemon juice, eggs, sugar, vanilla, milk, and melted butter.
Blend until smooth, then pour into the bowl with the dry ingredients.
Mix until just incorporated.
Heat a lightly greased large nonstick skillet over medium heat.
Pour pancakes by the ¼ cup of batter onto the skillet, and cook until bubbles appear on the surface. Flip with a spatula, and cook until browned on the other side.
Top with strawberry pancake syrup and dig in!
Tips for the Best Strawberry Pancakes
Don't over mix! If there's one tip to achieve fluffy strawberry pancakes, it's to not over-stir the batter. Excess stirring develops the gluten in the batter and makes the pancakes tough, instead of light and fluffy.
Let the batter rest. Let the batter rest for 5-10 minutes before making the pancakes. This is a pancake game changer! It allows the gluten in the batter to relax which results in fluffier pancakes. Take care, however, that you don't let it rest any longer because the baking powder will lose efficacy.
Use the right spatula. You need a thin spatula that will adeptly slide under the delicate pancakes without getting caught on the edges. It also needs to be long enough to cradle the whole pancake. For this purpose, I love my fish spatula. It is made for flipping delicate fish and its long, thin, delicate shape is also perfect for flipping pancakes!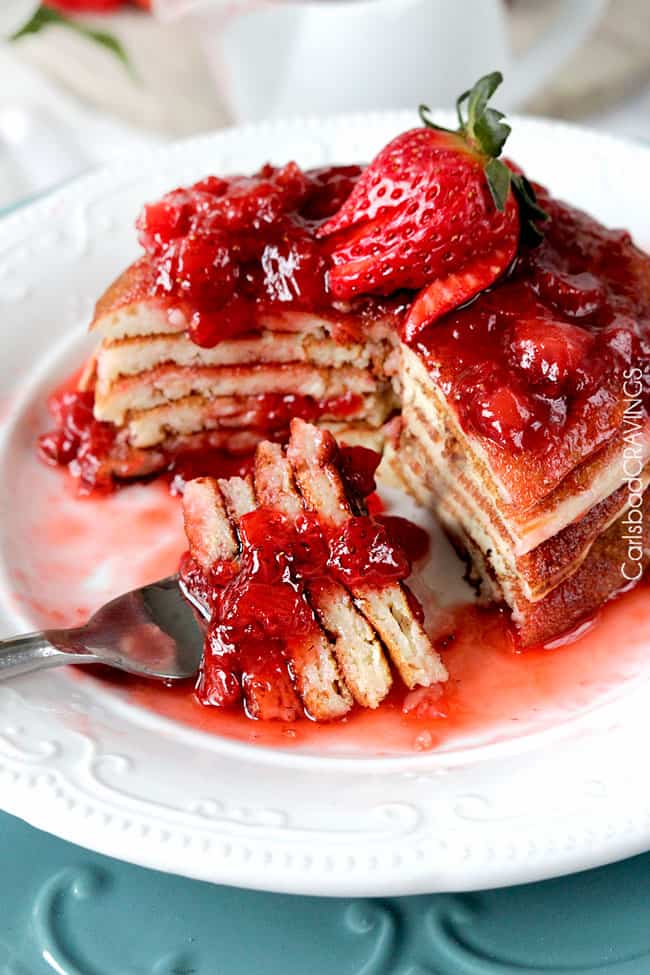 Recipe Variations to Try
This cheesecake pancake recipe can be used as a springboard for many variations. Here are a few of my favorites:
Add berries. Fold in 1 to 1 ½ cups strawberries into the pancake batter or place berries directly onto the pancakes once ladled on the griddle.
Add chocolate chips. Consider adding chocolate chips for the classic strawberry-chocolate combo.
Add jam. Swirl 2-3 tablespoons berry jam directly into the batter for pockets of berry flavor.
CAN I MAKE PANCAKE BATTER AHEAD OF TIME?
The easy answer is "no" due to the leavening agent baking powder. The baking powder starts to do its job the second it gets mixed in with the wet ingredients and will lose its efficacy over time.
That being said, you can still make your pancake batter ahead of time. You can either whisk your dry ingredients and wet ingredients separately and keep them in separate airtight containers (refrigerate the wet) and just combine in the morning.
HOW To STORE PANCAKES
Let pancakes cool completely.
Line them in an airtight container or plate. If stacking pancakes, place parchment paper in between layers.
Tightly cover with lid or foil and refrigerate for up to three days.
HOW TO REHEAT PANCAKES IN THE MICROWAVE
Transfer 1-4 strawberry pancakes to a microwave-safe plate in-between two sheets of paper towel.
Microwave on high for 15 to 20 seconds for one pancake or 45 seconds for 2 -4 pancakes. Microwave for 60 seconds for 5 pancakes.
Eat pancakes immediately so they don't become tough or and chewy.
HOW TO REHEAT PANCAKES IN THE OVEN
Reheating strawberry cheesecake pancakes in the oven is effective for large batches and provides the best texture.
Preheat oven to 350 degrees F.
Spread the strawberry pancakes on an ungreased baking sheet in an even layer so they aren't touching.
Cover the baking sheet tightly with foil.
Bake for 5-10 minutes. Pancakes are done when they are completely warmed through.
CAN YOU FREEZE Strawberry PANCAKES?
Yes! These pancakes freeze very well. You can make a big batch, eat what you want, then freeze the leftovers for on-the-go breakfasts or fun dinners or an instant snack so no one ever feels hangry.
HOW TO FREEZE PANCAKES:
Line cooked pancakes on a baking sheet so they aren't touching.
Once the pancakes are completely cool, place the baking sheet in the freezer for 30-60 minutes or until pancakes are solid.
Place pancakes in a freezer bag. Alternatively, you can skip steps 1 and 2 and place parchment paper in between each pancake before placing in a freezer bag.
Squeeze out as much excess air as possible to prevent freezer burn.
Freeze for up to 2 months.
HOW TO REHEAT FROZEN PANCAKES
You don't need to thaw your Lemon Ricotta Pancakes before reheating. They will taste just as good either microwaved or baked from frozen.
Microwave:
Place up to 5 pancakes on a microwave-safe plate.
Microwave for 20 seconds per pancake.
Repeat as need until warmed through.
Oven:
Preheat oven to 350 degrees F.
Line pancakes in a single layer on a baking sheet.
Cover tightly with foil.
Bake for 10 minutes or until warmed through.
What to Serve with Strawberry Cheesecake Pancakes
These strawberry pancakes can be served different every time! Here are some options:
Strawberry syrup: is what I prefer using for this recipe.
Store bought berry syrups: you can also purchase excellent store-bought berry syrups for an easy, tasty shortcut.
Jams: strawberry, blueberry, blackberry, or raspberry jams are delicious.
Maple syrup: pure maple syrup is a win, or try mixing it with 2 teaspoons lemon zest for every ½ cup syrup.
Fresh fruit: top the pancakes with fresh fruit such as blueberries, strawberries, raspberries, bananas, mangos and/or pineapple.
Powdered sugar: fresh fruit pairs particularly well with a dusting of powdered sugar.
Lemon curd: sweet tangy lemon curd and berries for sweeter tanginess. You can purchase store-bought lemon curd or make your own like the recipe in my Lemon Blueberry Cake.
Whipped cream: lightly sweetened whipped cream with berries for a lighter spin.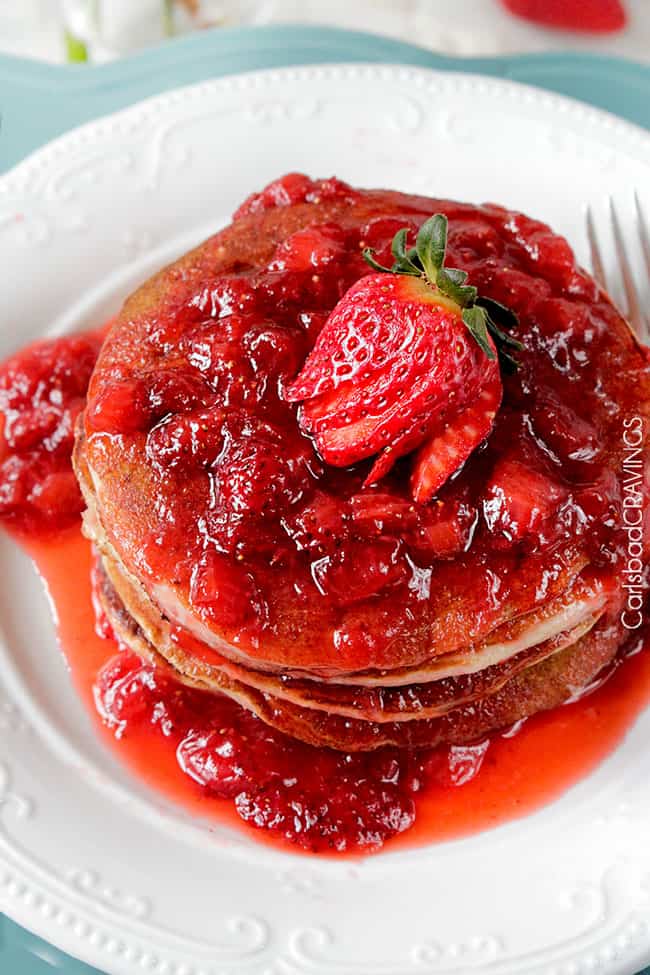 Looking for More Homemade Pancake Recipes?
Looking for More Easy Breakfast Recipes?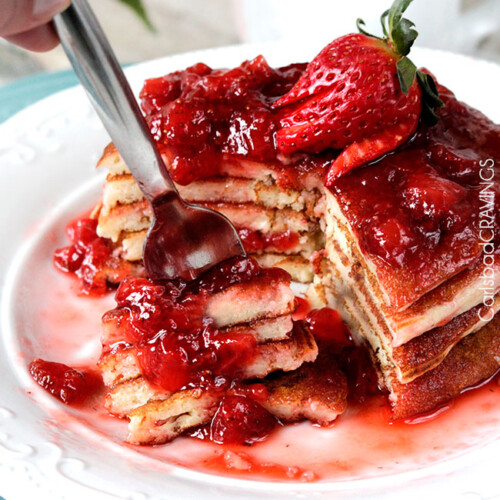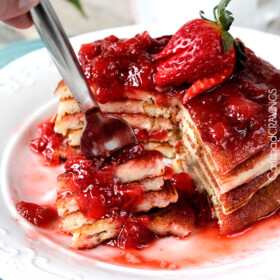 Strawberry Cheesecake Pancakes
Save This Recipe To Your Recipe Box
You can now create an account on our site and save your favorite recipes all in one place!
Ingredients
Cheesecake Blender Ingredients
8

oz.

cream cheese, softened

1

cup

vanilla Greek yogurt

1

tablespoon

lemon juice

2

eggs

1/4

cup

sugar

1

teaspoon

vanilla

1 ¼ - 1 1/2

cups

milk

(depending on how thick you like your pancakes)

2

tablespoons

butter, melted
Dry ingredients
2

cups

flour

1/2

teaspoon

salt

2

teaspoons

baking powder

1

teaspoon

baking soda
Instructions
Prepare Fresh Strawberry Ingredients according to recipe.

While syrup is simmering, add Cheesecake Blender Ingredients to blender and blend until smooth.

In a large bowl, sift together Dry Ingredients.

Pour the Cheesecake Blender mixture into the Dry Ingredients and whisk just until combined. Do not over mix - there should be small lumps. (If you like thinner pancakes, thin with more milk as desired, being careful not to overmix).

Heat a lightly greased large nonstick skillet over medium heat. Pour pancakes by the ¼ cup of batter onto the skillet, and cook until bubbles appear on the surface. Flip with a spatula, and cook until browned on the other side.

Top with Fresh Strawberry Syrup.
Did You Make This Recipe?
Tag @CarlsbadCravings and Use #CarlsbadCravngs
Leave a Review, I Always Love Hearing From You!
Carlsbad Cravings© Original
NEVER MISS A CARLSBAD CRAVINGS CREATION: