This simple Pecan Crust recipe is perfect for any kind of pie! The crust can be made as a no-bake crust, or it can be baked.
Easy thick, buttery, NO FAIL Brown Sugar Pecan Graham Cracker Crust with only 4 ingredients is perfect for every pie! You need this in your dessert back pocket!
Graham Cracker & Pecan Crust
I really wish "dessert back pocket" was a literal thing. Yum. Anyhoo, it's November which means it is officially PIE TIME!
At our Thanksgivings every year, we stuff ourselves with turkey, potatoes, rolls, green beans, etc. to the point of a food coma. We are all so full that we have to wait for dessert. Now that's full. A couple hours later when our stomach muscles can move again, we begin the pie feast. The best kind of feast.
So in eager anticipation of pie feasting, I bring you this Brown Sugar Pecan Graham Cracker Crust that you need in your life! It is no fail, SO easy and delicious, goes with almost any pie, way better than store bought and made extra special by the addition of nutty pecans all balanced by the butter and brown sugar.
Now, I usually don't like crust enough to just eat it plain – but I was literally eating this homemade graham cracker crust with pecans straight out of my food processor. Soon you'll taste why…
This Brown Sugar Pecan Graham Cracker Crust is begging to be filled with anything your heart desires and your mind can dream up!
This pecan crust is so good and so easy you will be making pies before and after Thanksgiving! Life as it should be.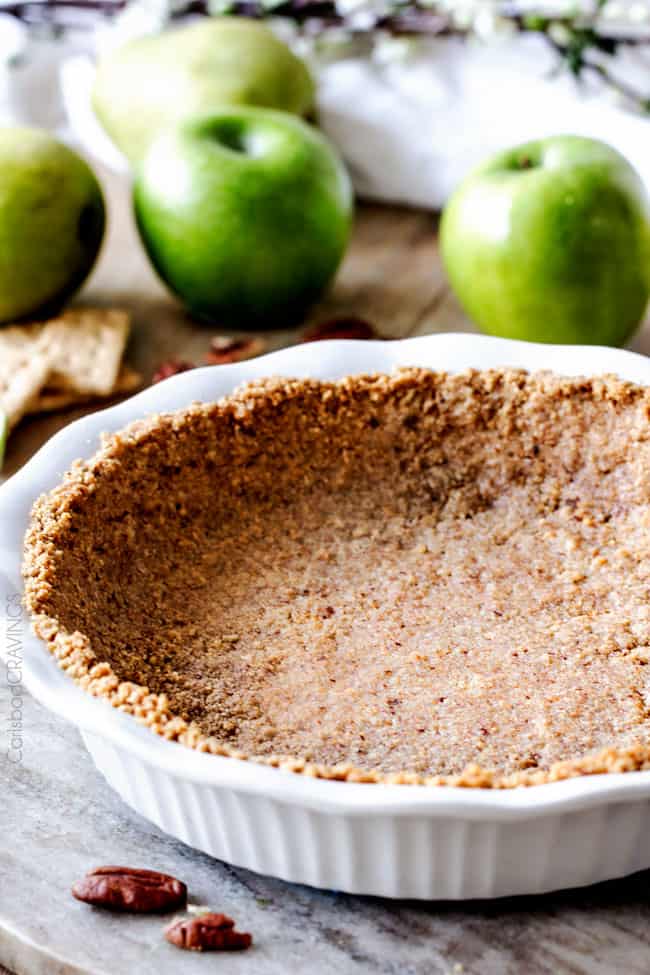 Pecan Crust Ingredients
This can be made as a no bake graham cracker crust, or as a traditional baked graham cracker crust. Either way, the ingredients list is the same:
Graham crackers: You'll need to use 6 whole sheets of graham crackers, which is roughly 1 cup of crumbs.
Pecans: Use raw, unsalted pecans for this easy graham cracker crust recipe.
Unsalted butter: I prefer using unsalted butter in my baked goods so I can control the amount of salt in the recipe.
Brown sugar: Brown sugar works nicely in this recipe because it sweetens the crust and adds a slight molasses flavor.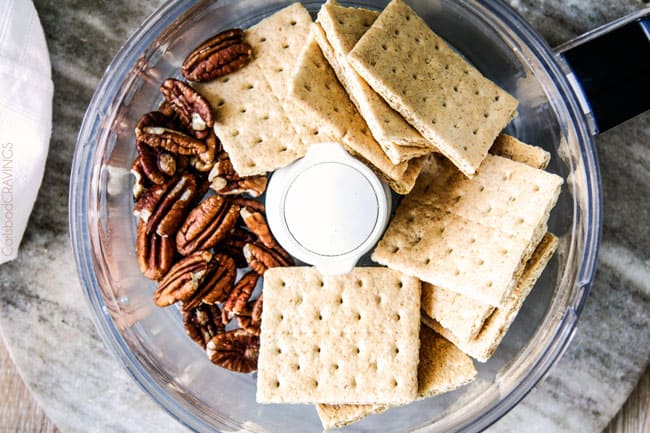 How to make Graham Cracker Pie Crust
To make this easy, 4-ingredient pecan crust, simply add your pecans and graham crackers to your food processor and pulse until coarsely ground.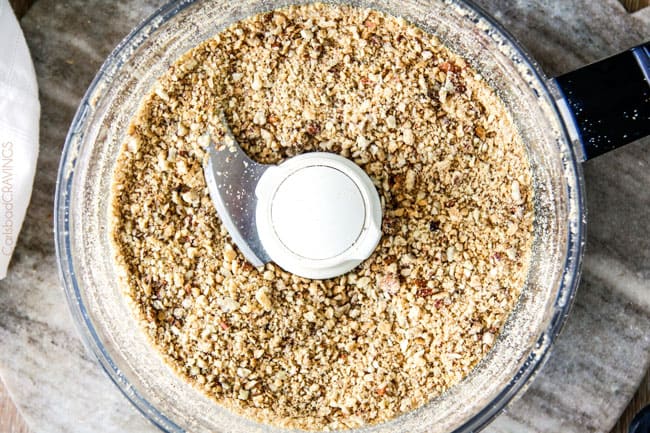 Add in your butter and brown sugar and process until pecans and graham crackers are finely ground and the butter and brown sugar are completely incorporated.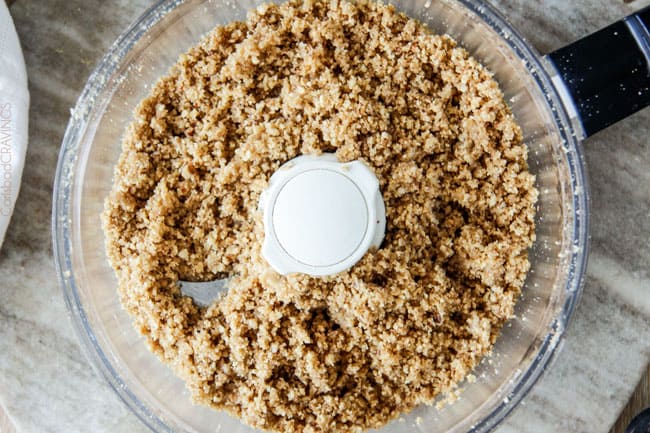 Then pour into your pie pan.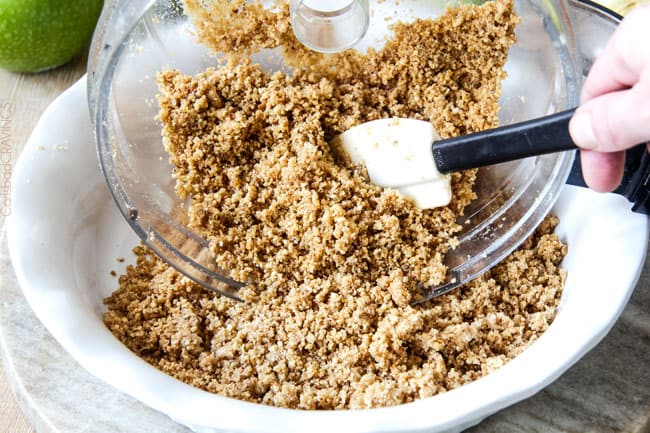 Next, press your pecan/graham cracker mixture firmly into the bottom and up the sides of your pan. I like to use the bottom of a measuring cup to compact the bottom.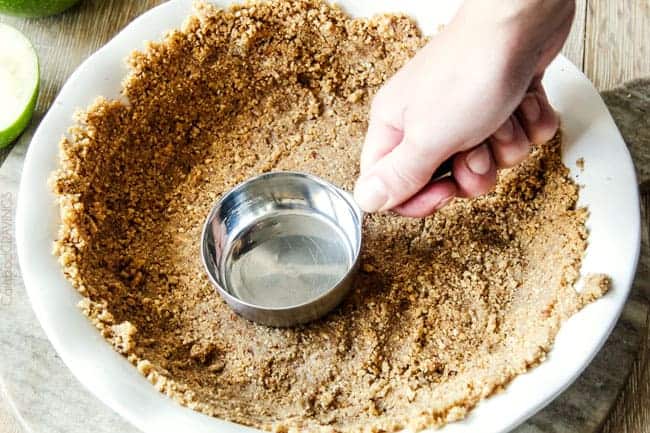 And I like to use my knuckles as an edge guide for the top of the crust.
And voila!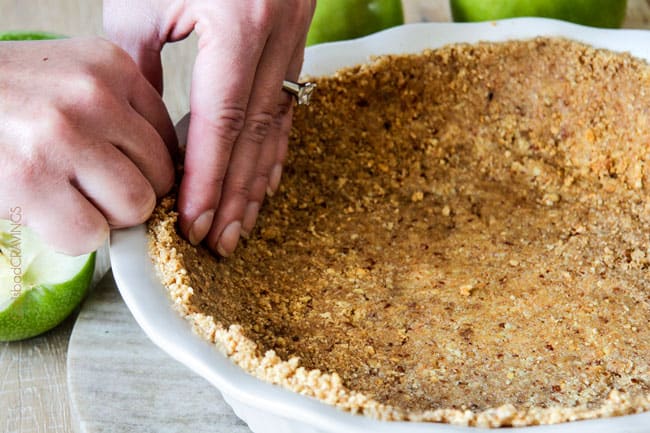 Graham Cracker Pie Crust Tips
Use fresh graham crackers: Don't use stale graham crackers to make this pecan pie crust recipe. You want the crumbs to be crispy so the pie crust has a nice texture.
Buy pre-made crumbs: If you don't have a food processor, you can also buy pre-crushed graham cracker crumbs at the grocery store.
Use unsalted butter: I almost always add salt to my desserts to enhance the flavor and balance out the sweetness. However, I always use unsalted butter since different brands contain different amounts of salt!
Pecan Graham Cracker Crust Recipe Variations
Make it gluten-free: This graham cracker-pecan crust can easily be made gluten-free by using your favorite gluten-free graham crackers.
Use different nuts: I love making this homemade graham cracker crust with pecans, but pistachios, walnuts, or another neutral nut can be used too.
Use flavored graham crackers: Depending on the dessert you're making, you could experiment with using flavored graham crackers to make this pecan crust. Chocolate or cinnamon graham crackers would taste great with the pecans!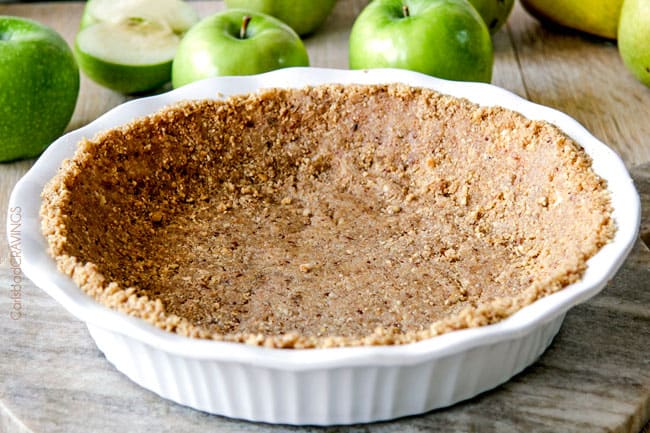 How to Store a Pecan Crust
If storing just the graham cracker-pecan pie crust, you'll need to cover it with plastic wrap and refrigerate it (if no-bake) or leave it on the counter (if baked). One you add the filling, the way you store the entire pie will be determined by what the pie is.
Can I make graham cracker pie crust in advance?
Yes! You can completely prepare the homemade graham cracker crust 24 hours in advance of filling and cover with plastic wrap.
Can I freeze graham cracker pie crust
Yes! Cover the homemade graham cracker crust with a few layers of plastic wrap (press tightly to the crust) and freeze for up to 3 months. To thaw, place on your counter overnight.
Graham Cracker Pecan Pie Crust FAQs
Does a graham cracker crust need to be pre baked?
A graham cracker crust doesn't need to be prebaked if being used for a no-bake dessert. Instead, simply chill the crust in the freezer for one hour or in the fridge for two hours. If baking the pie, a graham cracker crust needs to be prebaked to prevent it from becoming soggy when the filling is added and warmed. It also enhances the crust's flavor with a subtle toasty note, improves its stability for neat slicing, and acts as a moisture barrier to maintain its texture.
How do you make graham cracker crust not soggy?
To prevent a graham cracker crust from becoming soggy, prebake the crust for about 10-12 minutes before adding the filling so it becomes firm. Additionally, you can brush the cooled crust with a thin layer of melted chocolate or egg white to create a moisture barrier. Finally, if your pie or dessert filling is particularly wet, you can refrigerate the crust for a short time before filling it to further enhance its stability.
Why won't my graham cracker crust set?
If your graham cracker crust is not setting properly, there could be a few reasons for this issue:
1. Insufficient Baking Time: Make sure you prebake the crust long enough. The crust should turn slightly golden and feel firm to the touch when it's ready.
2. Too Much Butter: Using too much melted butter in the crust mixture can lead to a soft and greasy texture. Be sure to measure the butter accurately.
3. Inadequate Pressing: When pressing the crumb mixture into the pie dish, ensure it is evenly and firmly packed to create a solid base.
4. Filling Temperature: If you're adding a hot or warm filling to the crust, it can soften the crust. Allow the filling to cool slightly before pouring it into the crust.
5. Chilling: After prebaking, allow the crust to cool completely at room temperature or in the refrigerator before adding the filling. This helps it firm up.
6. Moisture from the Filling: Some pie fillings release moisture during baking, which can soften the crust. To combat this, you can brush the cooled crust with a thin layer of melted chocolate or egg white to create a moisture barrier.
7. Type of Graham Crackers: The type and brand of graham crackers you use can affect the crust's texture. Ensure you use traditional graham crackers, not overly soft or moist ones.
What happens if I put too much butter in my graham cracker crust?
If you put too much butter in your graham cracker crust, it can have several negative effects on the crust's texture and overall result:
1. Sogginess: Excess butter can cause the crust to become overly greasy and soggy. It won't hold its shape well, and it may not set properly, leading to a messy or unstable base for your pie or dessert.
2. Crumbly Texture: While butter is essential for binding the graham cracker crumbs, too much butter can result in a crumbly and loose texture that doesn't hold together when sliced or served.
3. Difficulty Handling: An overly buttery crust can be challenging to work with when pressing it into the pie dish. It may not adhere well, making it more challenging to create an even and firm crust.
To avoid these issues, it's crucial to follow the recipe's recommended measurements for both graham cracker crumbs and butter. If you accidentally use too much butter, you can try to balance it by adding more crumbs until you achieve the desired texture.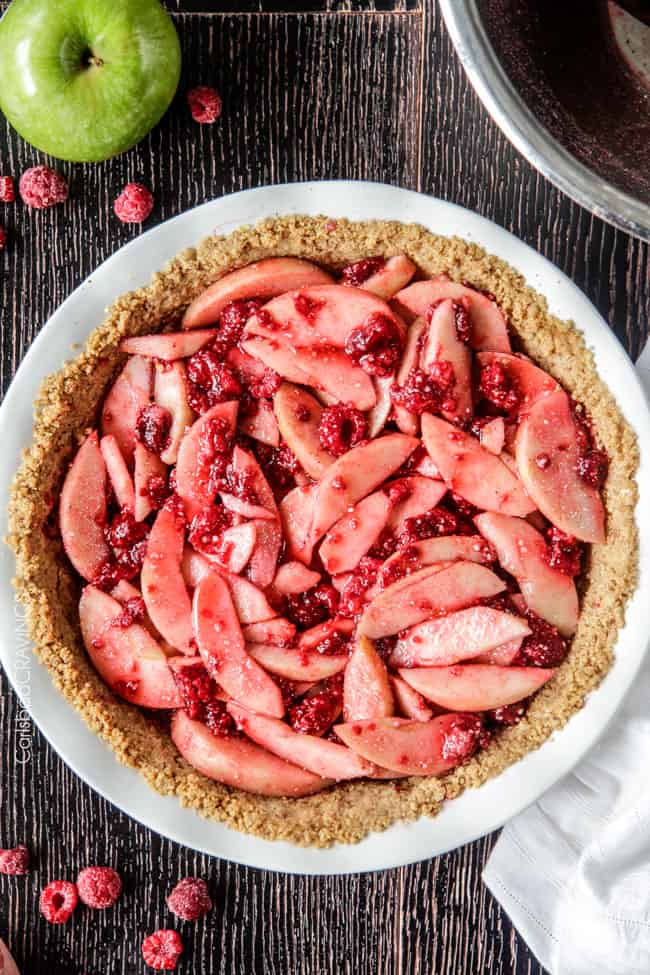 Looking for Easy Pie Recipes?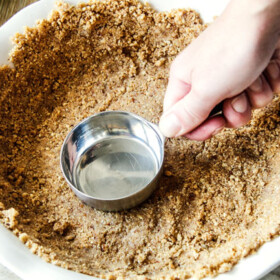 Pecan Crust Recipe (Graham Cracker Pie Crust for Cheesecake)
Save This Recipe To Your Recipe Box
You can now create an account on our site and save your favorite recipes all in one place!
Ingredients
6

whole rectangle graham cracker sheets

(12 small square graham crackers) (1 cup crumbs)

3/4

cup

pecans

6

tablespoons

unsalted butter, melted

1/4

cup

brown sugar, packed
Instructions
Add graham crackers and pecans to your food processor and pulse until coarsely ground. Add sugar and butter and continue to process until finely ground and completely combined.

Press mixture into the bottom and up the sides of a 9-inch pan. (If using for a cheesecake, only press firmly to the bottom and NOT up the sides of springform pan). Press the mixture firmly until compact, using your fingers as an edge guide.

For a NO BAKE Dessert Pie, chill Crust in the freezer for one hour or chill in the refrigerator for 2+ hours. For a BAKED PIE, bake Crust at 350 F degrees for 10 minutes. If crust puffs up, press down with the back of a measuring cup.

Let the Crust cool completely before filling and returning to the oven with your pie filling (you can place in the refrigerator to speed cooling process along).

You can completely prepare the Crust 24 hours in advance of filling and cover with plastic wrap to make your pie making even easier!
Did You Make This Recipe?
Tag @CarlsbadCravings and Use #CarlsbadCravngs
Leave a Review, I Always Love Hearing From You!
Carlsbad Cravings Original