Smothered BUFFALO Chicken Baked Burritos AKA "skinny chimichangas" are restaurant delicious without all the calories! stuffed with the BEST buffalo chicken and then baked to golden perfection and smothered in most incredible Creamy Lime Ranch Sauce! Your family will go crazy over these!!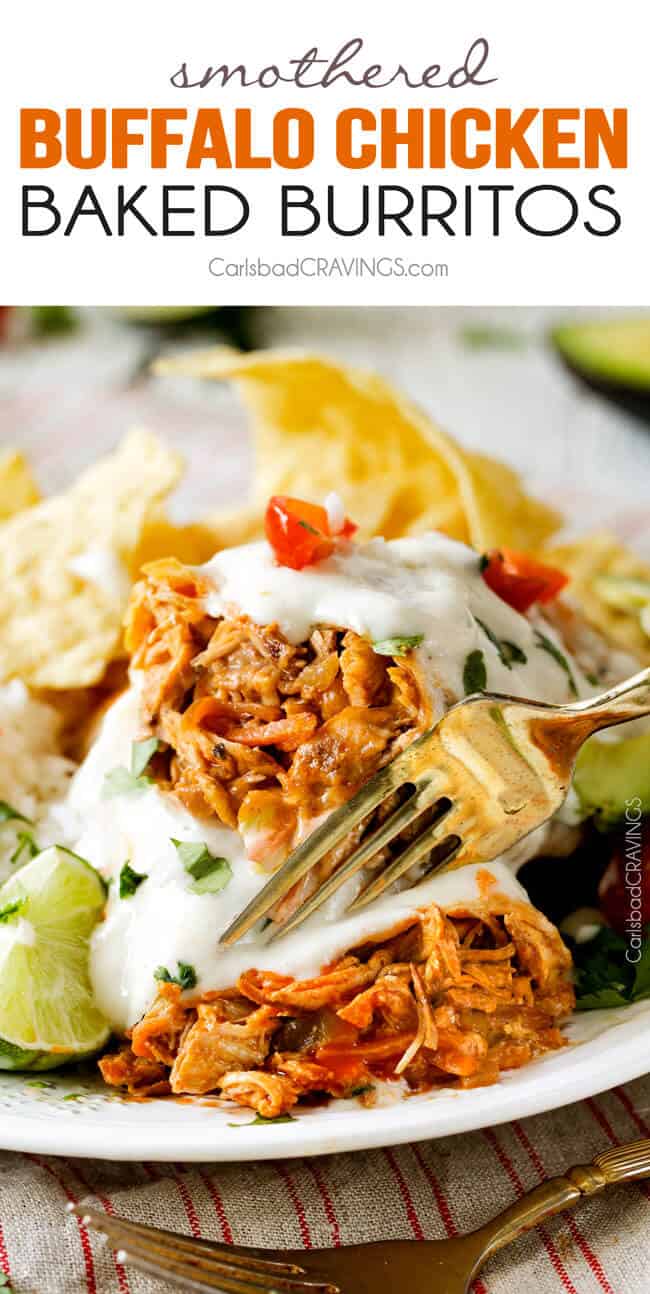 Before there was my extremely popular Smothered Baked Chicken Burritos with Cheesy Green Chili Sour Cream Sauce there were these extremely delicious Smothered Buffalo Chicken Baked Burritos. Because every food is better when its smothered.
When you smother an already delicious food with an equally or exceedingly delicious sauce, something magical happens – the delicious food becomes even more delicious as the complimentary sauce coats and blankets and slips into the nooks and crannies transforming every crevice of food into a small taste of heaven.
Like Thai Pineapple Peanut Chicken Satay smothered in the most incredible pineapple peanut butter brown sugar sauce…
Like Chipotle BBQ Chicken Salad smothered in the most tantalizing 5 Minute Tomatillo Avocado Ranch…
Like Slow Cooker BBQ Ribs smothered in to-live-for homemade sweet, spicy, tangy barbecue sauce…
Like Toffee Pecan Cake smothered in the most velvety, so-delicious-you-will-want-to-drink-it homemade caramel sauce…
The list goes on and on and on…
These Smothered Buffalo Chicken Baked Burritos with Creamy Lime Ranch Sauce are no exception. The chicken is first marinated in hot sauce (I use Frank's), lime juice and an array of spices, then simmered in the bath of juiciness until tender enough to shred.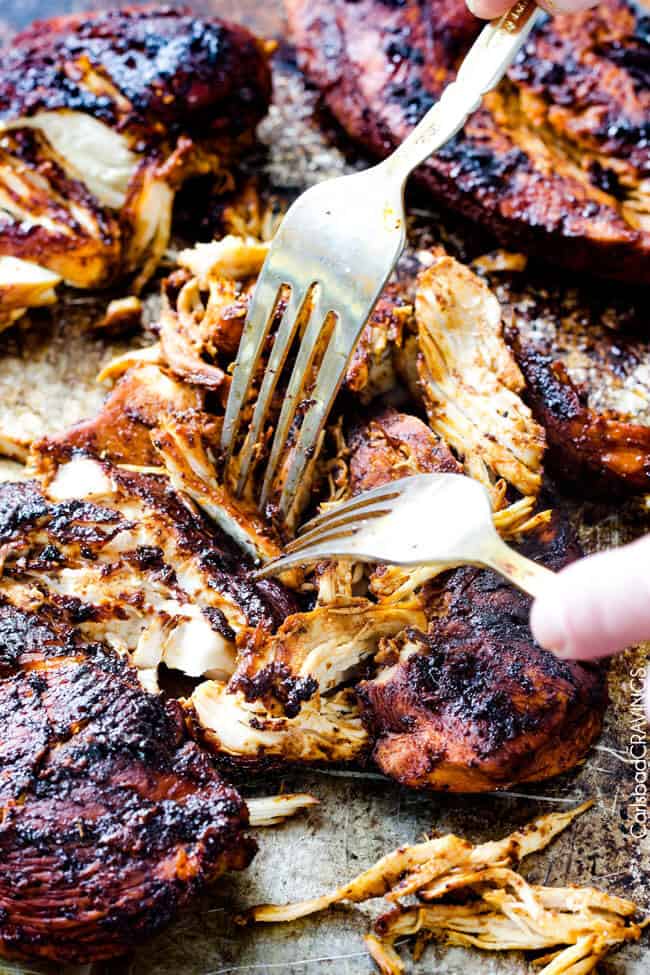 The crazy tasty shredded chicken is then combined with sauteed carrots, onions, celery, green chilies, sour cream and hot sauce for a creamy spiced filling with a huge depth of flavor (you can completely control the heat by adding less hot sauce).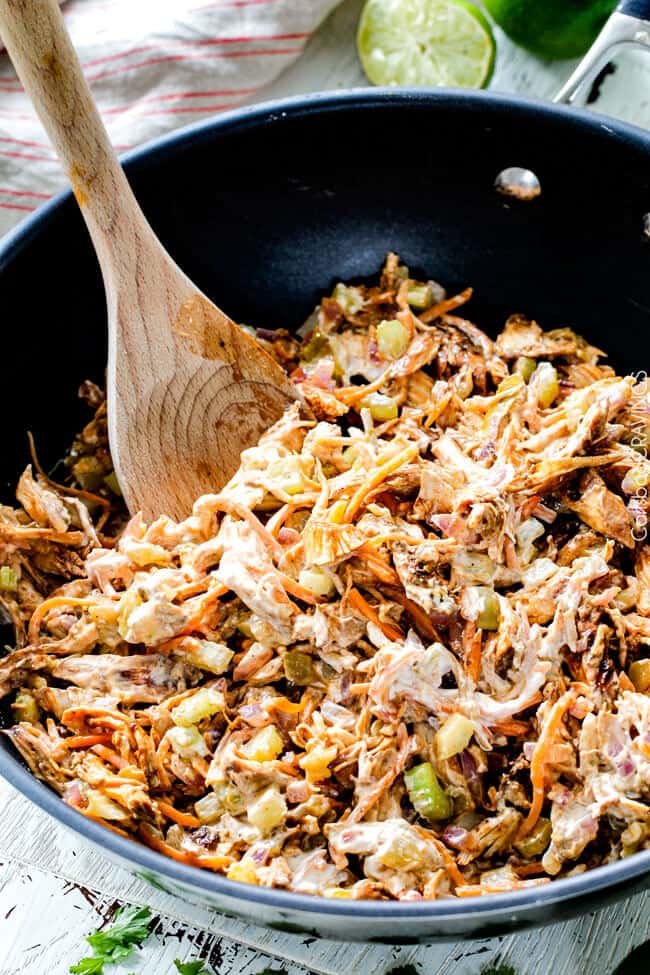 The burritos are then rolled, brushed with olive oil and baked until crispy golden brown, ready for the moment we have all been waiting for…
The burritos are then smothered with Creamy Lime Ranch Sauce for a fresh, tangy creamy hug to to you taste buds. So good. So right. So waiting for you to make ASAP!!!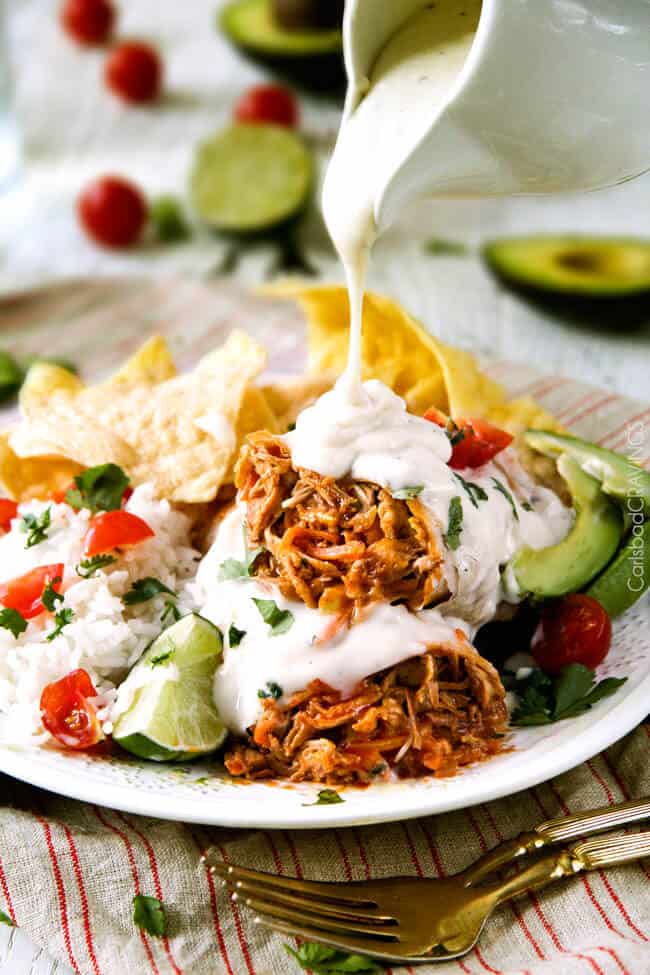 Everything is better when its smothered.
Looking for more burrito recipes?
WANT TO TRY THESE SMOTHERED BUFFALO CHICKEN BAKED BURRITOS?
PIN THEM TO YOUR MEXICAN OR CHICKEN BOARD TO SAVE FOR LATER!
FIND ME ON PINTEREST FOR MORE GREAT RECIPES!  I AM ALWAYS PINNING :)!
©Carlsbad Cravings by CarlsbadCravings.com
Smothered Buffalo Chicken Baked Burritos with Creamy Lime Ranch Sauce
Save This Recipe To Your Recipe Box
You can now create an account on our site and save your favorite recipes all in one place!
Ingredients
6

burrito size flour tortillas

(raw if you can)*
Chicken Buffalo Marinade
1 1/2

pounds

Chicken

(3-4 chicken breasts)

1/3

cup

Frank's hot WINGS Sauce

NOT their original hot sauce**

1

tablespoon

lime juice

1

tablespoon

brown sugar

1

tsp EACH

salt, chili pwdr, cumin, paprika, garlic pwdr

1/2

tsp EACH

onion pwder, dried oregano, pepper
Burrito Filling
1

tablespoon

olive oil

1

cup

matchstick/shredded carrots

***

2

stalks celery, chopped

1/2

red onion, chopped

1

4 oz. can

mild chopped green chilies,

1/3

cup

sour cream

2-4

tablespoons

hot sauce depending on your heat preference

or more

2

cups

Monterey Jack cheese
Creamy Lime Ranch Sauce
2

tablespoons

butter

2

tablespoons

olive oil

1/4

cup

flour

2

cups

chicken broth

1/2

cup

sour cream

3

tablespoons

dry Ranch seasoning

(1 packet)

2-3

teaspoons

lime juice

1/2

teaspoon

cumin

Salt and pepper to taste

Hot sauce to taste

(optional)
Optional Toppings
cilantro

Matchstick carrots

Tomatoes

Avocados

Blue cheese crumbles
Instructions
Whisk together marinade ingredients in a freezer bag and add chicken, turning to coat. Marinade for 2-24 hours (the longer the better!)

To easily cook and shred the chicken: Heat 1 tablespoon olive oil in a large nonstick skillet over medium-high heat until hot and rippling. Add the chicken breasts (and any extra marinade) and cook for 3-5 minutes, or until golden brown on one side. Flip the chicken over, then add 1 cup of chicken broth or water to the skillet. Cover and reduce heat to medium and simmer 15-20 minutes or until chicken is cooked though and tender enough to shred, adding additional chicken broth/water if the liquid evaporates too quickly. Remove chicken from skillet and let rest 5 minutes before shredding.

While the chicken is cooking and resting, prepare burrito filling. Heat 1 tablespoon olive oil in a large skillet. Add onion and carrots and sauté for 4 minutes. Add celery,

green chilies

and garlic and sauté an additional 2 minutes or until carrots are crisp-tender. Shred chicken and add to filling. Stir in ⅓ cup sour cream and hot sauce to taste until well combined.

Preheat oven to 400 degrees F. Line a baking sheet with foil and add a baking rack on top. Prepare burritos by adding a heaping ½ cup filling to each tortilla (uncooked if using raw tortillas), top with desired amount of cheese and roll up burrito style. Place burritos on the baking rack and brush both sides lightly with olive oil or spray with nonstick cooking spray. Cook for 18-20 minutes or until golden. Broil to desired crispiness, flip over and broil the other side until golden.

Meanwhile, prepare Sauce by melting butter in olive oil in a medium saucepan over medium heat. Whisk in flour and cook, stirring constantly for 3 minutes. Reduce heat to low then gradually whisk in chicken broth. Bring to a boil then reduce heat and simmer 2-3 minutes, or until slightly thickened. Stir in sour cream, ranch seasoning, lime juice, cumin, salt and pepper to taste. Add hot sauce to taste and additional lime juice if desired. (optional).

To serve, top burritos with Creamy Lime Ranch Sauce and desired toppings.
Notes
*Raw tortillas are found in the refrigerated section (I buy mine at Costco). They are thinner so they bake and crisp beautifully!
**SEE BELOW for more recipes using Frank's Hot WINGS sauce.
***I buy a bag of matchstick carrots and use them for filling and topping
Did You Make This Recipe?
Tag @CarlsbadCravings and Use #CarlsbadCravngs
Leave a Review, I Always Love Hearing From You!
Carlsbad Cravings© Original