Easy Pear STRUDEL was never this easy or delicious!
This Strudel is going to blow your mind! Apples or pears are sauteed with brown sugar, lemon juice, nutmeg and cinnamon then wrapped in a store-bought phyllo dough that is flaky, buttery and fool proof! This streamlined approach to making strudel is quick, easy, convenient and DELICIOUS! It eliminates the fear of making strudel and the hours!
Easy Strudel
I have a secret weapon that's about to be not-so-secret anymore.
Another recipe to unleash when you want your partakers to sing your praises as the best baker around. Another recipe that tastes gourmet, and looks gourmet but with premade phyllo dough, this Strudel couldn't get any easier!
Is strudel German or Austrian?
Before we dive into this easy strudel recipe, let's talk strudel. Where does it come from?
Most people think that strudel is a German dish, however, it was created in Vienna, which is in Austria. The Viennese are the ones who made this dish famous with their delicate and flaky, thin layers of dough and sweet, tart apple filling.
The German confusion could be from its name as strudel is a German word. In Middle High German strudel means, "whirlpool" or "eddy" which describes the flaky layers of pastry surrounding the filling.
So, we know strudel was created in Vienna, but was it created in Vienna when it was controlled by Bavarians or the Germani tribes that Germany gets it name from? We do know strudel gained popularity with the Habsburg Empire during the 18th century which was divided between 3 sons, so which son can we attribute strudel too? We may never know…
German, Bavarian, Austrian, or Habsburg all have some ties to Strudel depending on who was in power and what the boundary lines looked like at the time – which is a big question mark. I know the maps that hung in my elementary classroom have changed so much in Europe over the years. And if you go back in time further it changes more and more. One thing that doesn't change and that we can all agree on – strudel's classic layers of YUM!
Now for some trivia. What do Texas and Vienna have in common? They both officially love Strudel! Apple strudel is the national dish of Austria, and also is the official state pastry of Texas.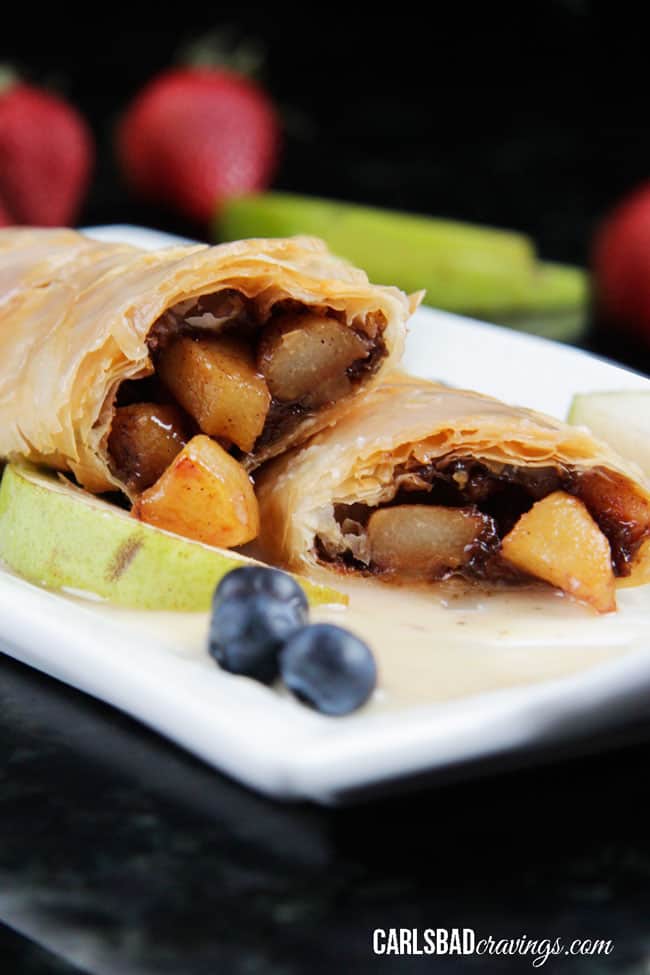 WHAT IS THE DIFFERENCE BETWEEN PIE, STRUDEL, STRUESEL, TART, AND BAKLAVA ?
Strudel, pie, streusel, tarts and baklava are all yummy and can be made with the same basic list of ingredients but there are a few differences:
Strudel: a dessert in which the dough is wrapped entirely around the filling, most commonly sauteed apples, and baked on a sheet. No crust here as it is an egg dough that is rolled paper-thin.
Pie: this dessert is baked in a pan, can have topping/crust or not. The crust is very simple made with flour, fat and water and does NOT incase the filling on all sides like a strudel, but it can be on the top and bottom.
Streusel: although it sounds similar to strudel, it is completely different. Streusel is a crumb topping, it is not a dish but an ingredient for a dish.
Baklava: is the Mediterranean version of strudel with a flaky outer layer with delicious sweet insides. Fillings are based on the region, so very heavy on nuts, dates, and is held together by a thick syrup.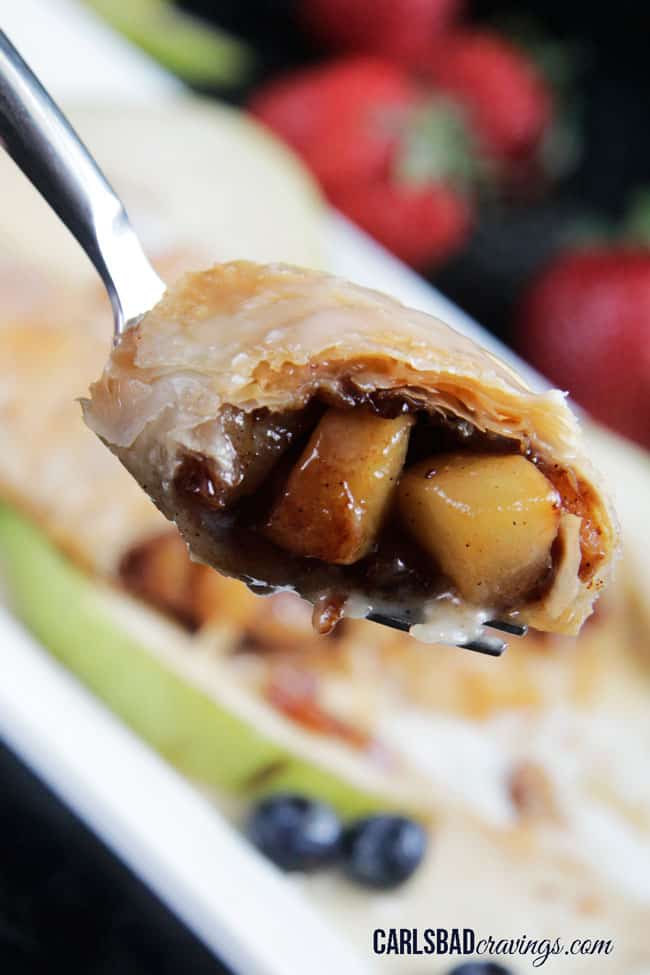 The Best Strudel Filling
This Strudel recipe can be served as a dessert or special occasion breakfast (thank you Pillsbury Toaster Strudel for making it acceptable to eat strudel for breakfast!) and is stuffed with cinnamon, vanilla, brown sugar, butter sauteed pears. Yes, they are as outrageously delicious as they sound.
To achieve such an addicting filling, I experimented with quite a few filling combinations – apples and cinnamon, peaches, adding berries, adding nuts, chocolate, etc., but I found in the end, simple cinnamon pears was my absolute favorite. Its all this strudel needs to be deadly delicious!
That being said, feel free to customize this strudel recipe with YOUR favorite filling to make apple strudel, cherry strudel, nut filled strudel, apricot strudel, raisin strudel, etc.
Easy Strudel Dough
As equally impressive as the tantalizing strudel filling is how easy the dough is! The tender pears are rolled in phyllo dough (premade!) which is then brushed with butter and baked until golden, flaky and crispy.
Ah, phyllo dough. My best friend. How did we not meet until recently? What a shame! I feel like so many years wasted!
If you have never used phyllo dough before, please don't wait! These paper-thin sheets of dough stacked on top of each other create the most perfect buttery, flaky, melt-in-your-mouth forkfuls of pastry that you'll think you're dining at an countryside cafe in Austria (the birthplace of strudel).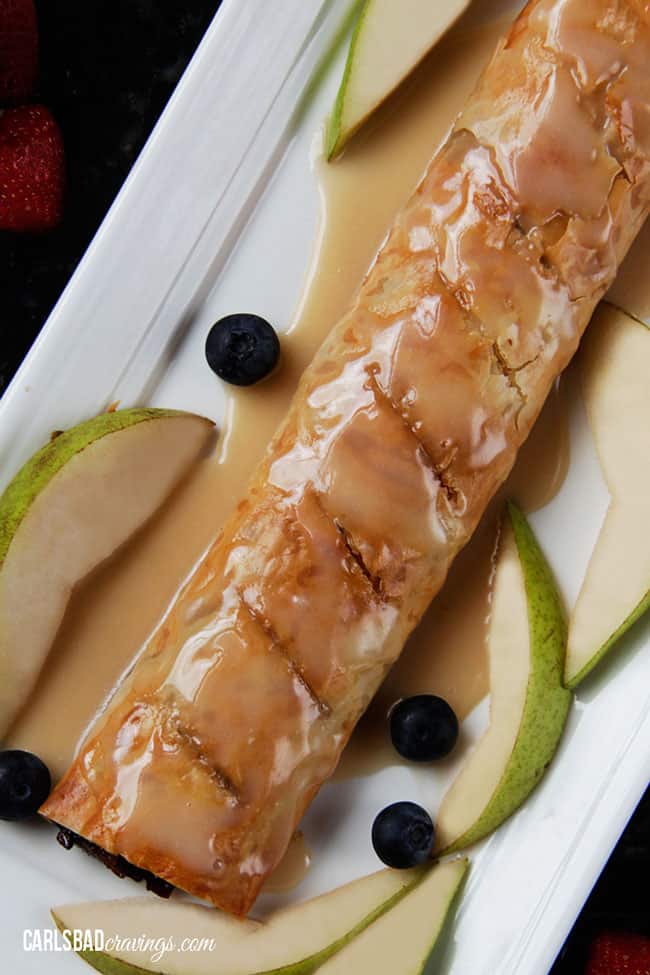 Glaze for Strudel
Beyond the warm cinnamon pears and buttery flaky phyllo, this strudel recipe gets better…again.
The entire strudel is bathed in a silky vanilla glaze. Heaven I tell you. Pure heaven AND its heavenly easy! To make the vanilla glaze, simply whisk together powdered sugar, milk and vanilla extract – how easy was that?
The Vanilla Glaze can also be made ahead of time and refrigerated until ready to use.
How To make Strudel
And just when you didn't think this strudel recipe could get any better, it gets better, again!
This Cinnamon Pear Strudel has to be one of the simplest desserts to prepare! Yes, easier than my Layered Caramel Pecan Toffee Ice Cream Crumb Cake and just as easy as my 5 Ingredient Chocolate Lava Cakes!
To make strudel, simply saute the pears or apples until tender, wrap them in phyllo dough, brush with butter and bake! Top with a 3 ingredient glaze – and you and your partakers can be downing your strudel before anyone has time to witness any evidence!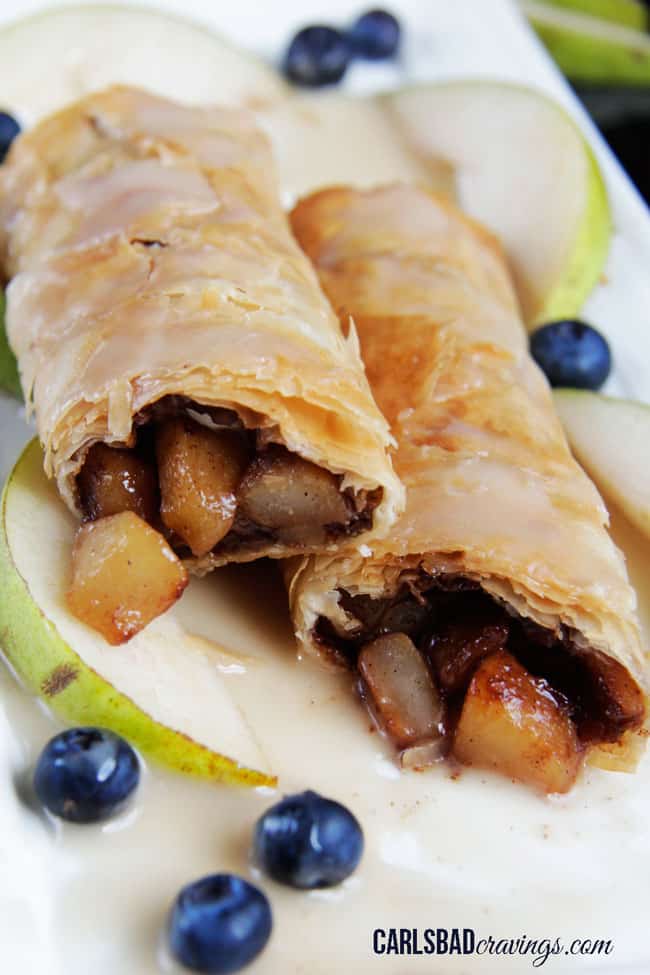 TIPS FOR MAKING STRUDEL
Saute the apples or pears until very tender. Most of the liquid should be evaporated at this point, but if not, remove the filling with a slotted spoon so you don't get any extra moisture.
Take time to chill the filling otherwise it can melt through the phyllo dough.
Be sure the phyllo dough is completely thawed. Do this in the refrigerator overnight. Take the dough out of the fridge about 30 minutes to 1 hour before use. This will help it to not tear or be brittle when working with it.
When assembling the phyllo dough, you can work on parchment paper directly on the pan you'll bake the strudel on. This prevents from having to move the pastry once assembled, and risk breaking the dough. It also helps with clean up!
Work fast so that the phyllo does not dry out and begin to break. Only work with one phyllo sheet at a time. Cover the rest of the sheets in a kitchen towel as you work, to help with drying out.

Roll the filling up tightly in the dough so you don't have any air pockets.

Use a rimmed baking sheet in case the filling leaks.

Place the seam is down as indicated in the recipe to help it from bursting open.
Score the dough into 1-inch portions using a serrated knife, so the steam won't build up and explode. Take care not to completely cut through the strudel.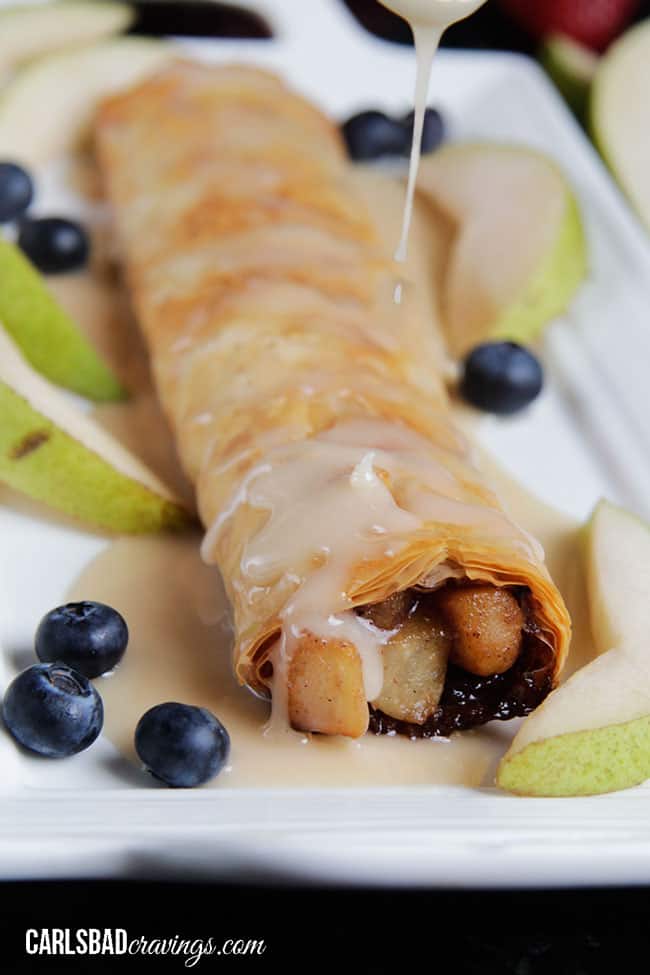 CAN STRUDEL BE MADE AHEAD OF TIME?
Strudel tastes the best hot right out of the oven, when the filling is warm and the dough is crispy. If you make the strudel ahead of time, the dough can get soggy. So, instead of making strudel entirely ahead of time, I suggest preparing the filling for a quick-assemble strudel that will taste the very best!
You can prepare the filling completely in advance and store it in the fridge for 3 to 4 days in an airtight container and then assemble and bake the day of.
Another option is to make completely and bake to 70 percent doneness. Cool completely and store in the fridge then in 2 to 3 days remove from the airtight container in the fridge and finish cooking.
CAN I FREEZE MY STRUDEL?
Yes, freeze away! The dough will not be quite as flaky, but will still be delicious.
To freeze strudel, make, bake and completely cool before freezing. Wrap well with plastic wrap and store in the freezer for up to 2 weeks. You do not have to thaw before baking. Pull the strudel straight from the freezer and bake from frozen until completely warmed through.
How long does apple strudel last?
Strudel can be be kept in an airtight container or covered in plastic wrap on the counter for up to two days and after that it should be refrigerated. It will last an additional 3 days in the refrigerator.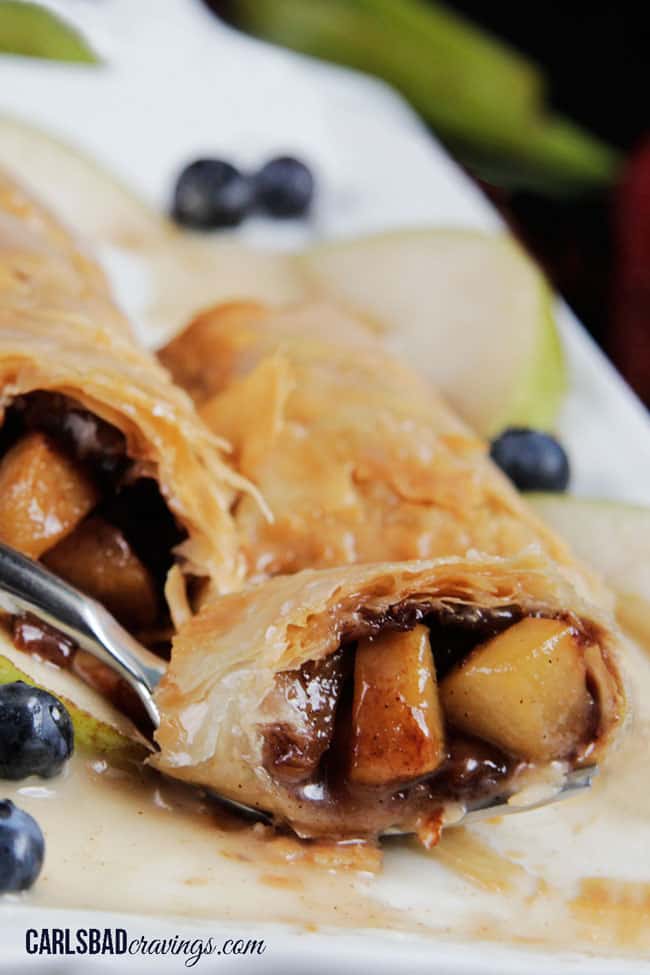 Cinnamon Pear Apple Strudel. Your very own deadly delicious secret weapon guaranteed to rescue you from even the toughest critic.
Eat with caution because once you start, I KNOW you won't be able to stop!
Guten Appetit!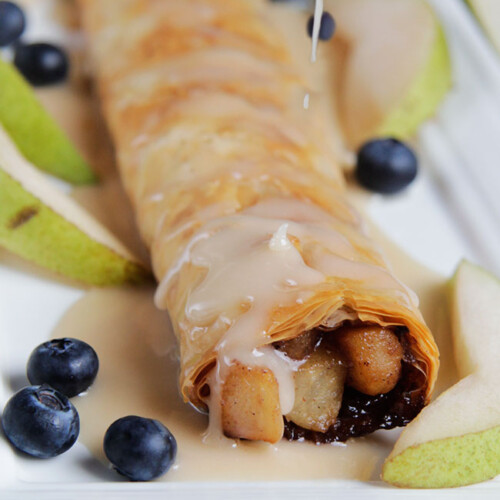 Easy Strudel with Vanilla Glaze
Strudel was never this easy or delicious! This Strudel recipe is going to blow your mind!  Pears or apples are sauteed with brown sugar, lemon juice, nutmeg and cinnamon then wrapped in a store-bought phyllo dough that is flaky, buttery and fool proof!  This streamlined approach to making strudel is quick, easy, convenient and DELICIOUS!  It eliminates the fear of making strudel and the hours!  Most importantly, this strudel recipe is irresistibly delicious!
Save This Recipe To Your Recipe Box
You can now create an account on our site and save your favorite recipes all in one place!
Ingredients
Pear Strudel
4

tablespoons

unsalted butter, divided

3

large D'Anjou pears, peeled, and diced

may substitute apples

1/4

cup

brown sugar, packed

1/2

teaspoon

lemon juice

1/2

teaspoon

ground cinnamon

1/4

teaspoon

ground nutmeg

8

sheets phyllo dough
Vanilla Glaze
3/4

cup

powdered sugar, sifted

2

tablespoons

milk

1/2

teaspoon

vanilla extract
Instructions
Melt 2 tablespoons butter over medium heat in a large skillet. Add pears, brown sugar, lemon juice, cinnamon, nutmeg and cook 8 to 10 minutes or until pears are very tender and almost all liquid is evaporated, stirring occasionally. Spread mixture on small rimmed baking pan or large plate and refrigerate for 15 minutes to cool (this can be done up to 2 days in advance).

Preheat oven to 400 degrees. Line your counter with parchment paper to create a work surface for the phyllo. Melt remaining 2 tablespoons butter in the microwave.

To create one large surface of phyllo, place a stack of 4 phyllo sheets on the parchment paper. Make a second stack of 4 more phyllo sheets and place it next to the long edge of the first stack, overlapping the the first stack by about an inch.

Mound the cooled pear filling along one of the long sides of phyllo dough. Roll up like a jelly roll and transfer the parchment with strudel to a rimmed baking pan.

Brush strudel with melted butter. Score the dough into 1-inch portions using a serrated knife, but do not cut completely through the strudel. Bake 20 minutes or until golden brown.

Meanwhile, make the vanilla glaze by whisking the Vanilla Glaze ingredients together in a medium bowl.

Slice strudel and serve warm with glaze drizzled on top.
Notes
*Phyllo dough can be found in the freezer section of the grocery store
Did You Make This Recipe?
Tag @CarlsbadCravings and Use #CarlsbadCravngs
Leave a Review, I Always Love Hearing From You!
Adapted from Foxes Love Lemons