Caramel Stuffed Brown Sugar Cookies are incredibly soft and chewy and infused with nutty brown butter and topped with sea salt!  
Brown Sugar Cookies + Salted Caramel Cookies = Caramel Stuffed Brown Sugar Cookies AKA the BEST cookies ever with no chilling time required!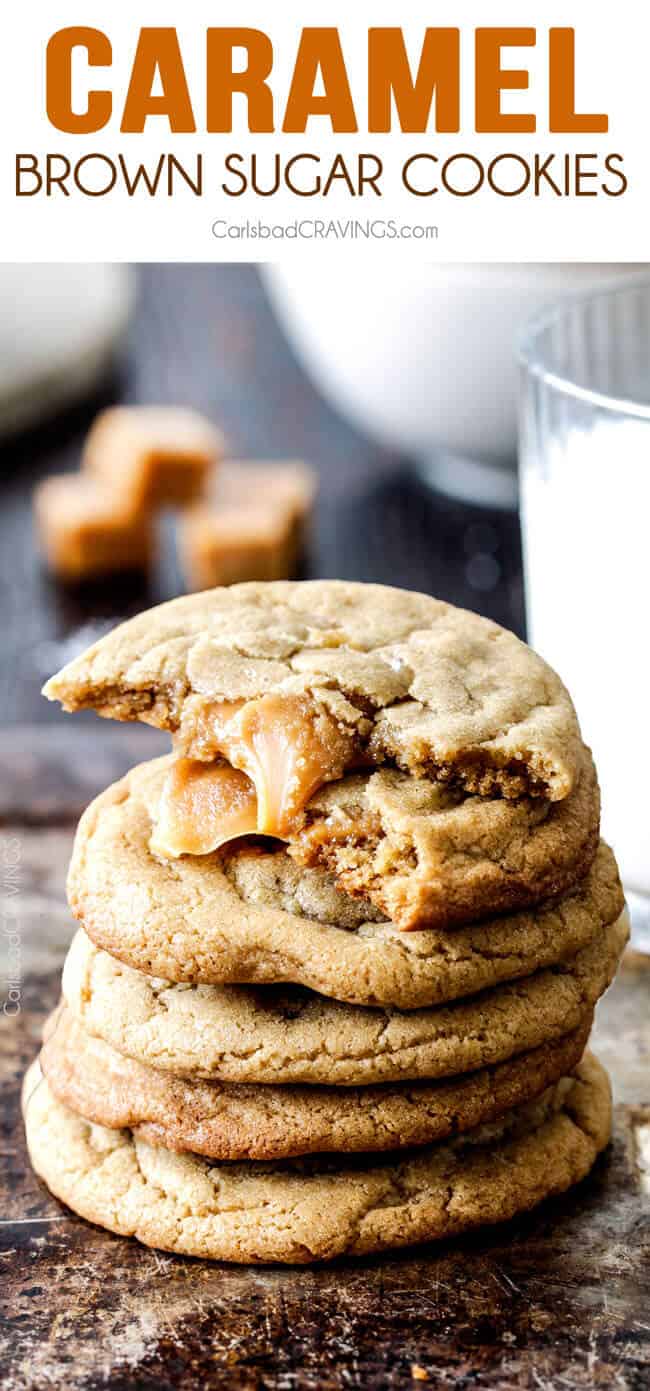 This past Christmas, I made chocolate cookies stuffed with caramel, sprinkled with sea salt and dusted with powdered sugar – oh. my. yum. I have been craving salted caramel cookies ever since. The only down side to these cookies was the dough had to chill for a few hours and when you have plates and plates of goodies to get out the door – or you just have a mad craving for salted caramel cookies – waiting three hours can be torturous.

So I decided to stuff my favorite ever (no chilling required) Brown Sugar Cookies with caramel and I think Kiwi's response does my own elation justice: click HERE
These caramel oozing Brown Sugar Cookies rank right up there with my S'mores Cookies (aka Patrick's favorite cookie) and my Nutella Cookies AKA my other favorite cookie. They are soft, chewy, sweet and salty and get even more ridiculously delicious with each bite of soft caramel.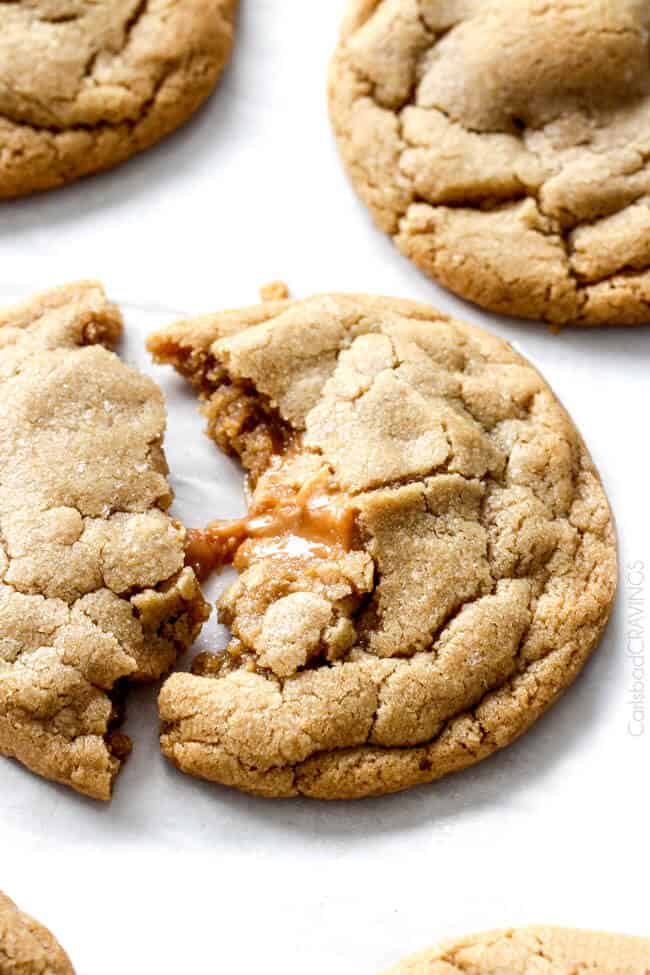 How to Make Brown Sugar Cookies with Caramel
These insanely soft Brown Sugar Cookies stuffed with caramel start with nutty brown butter – you know, just to make them even more delicious and because melted butter = a chewier cookie…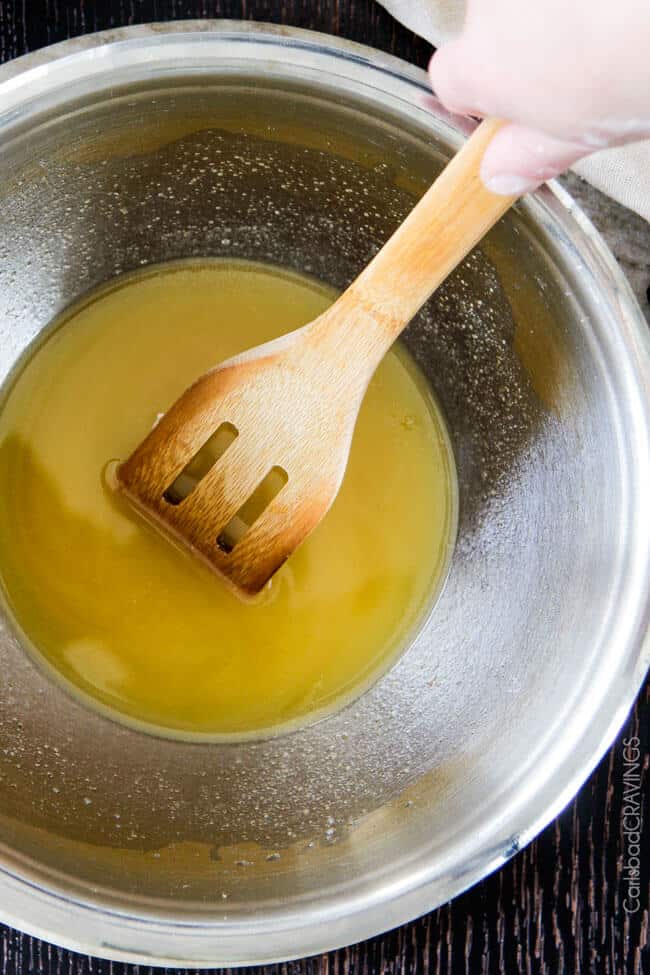 You then proceed to whip up your cookie dough as usual, but the use of brown sugar adds an additional depth of chewiness, richness and oomph of brown sugar flavor – perfect for cocooning soft, melty caramel.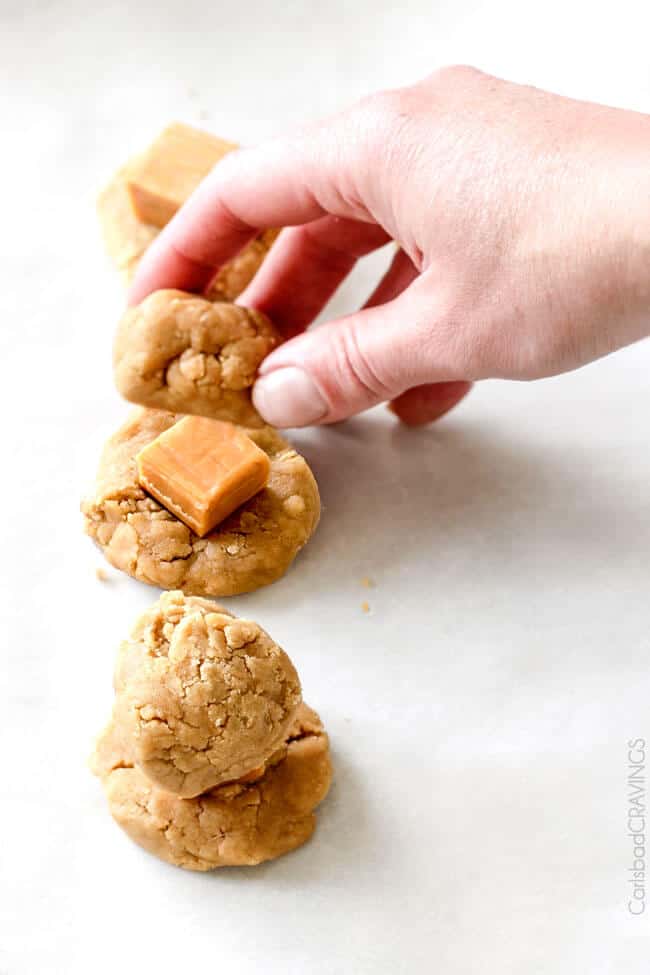 To make the caramel surprise inside, you simply sandwich a soft caramel in-between 2 tablespoons of cookie dough, pinching the edges and squeezing into a ball.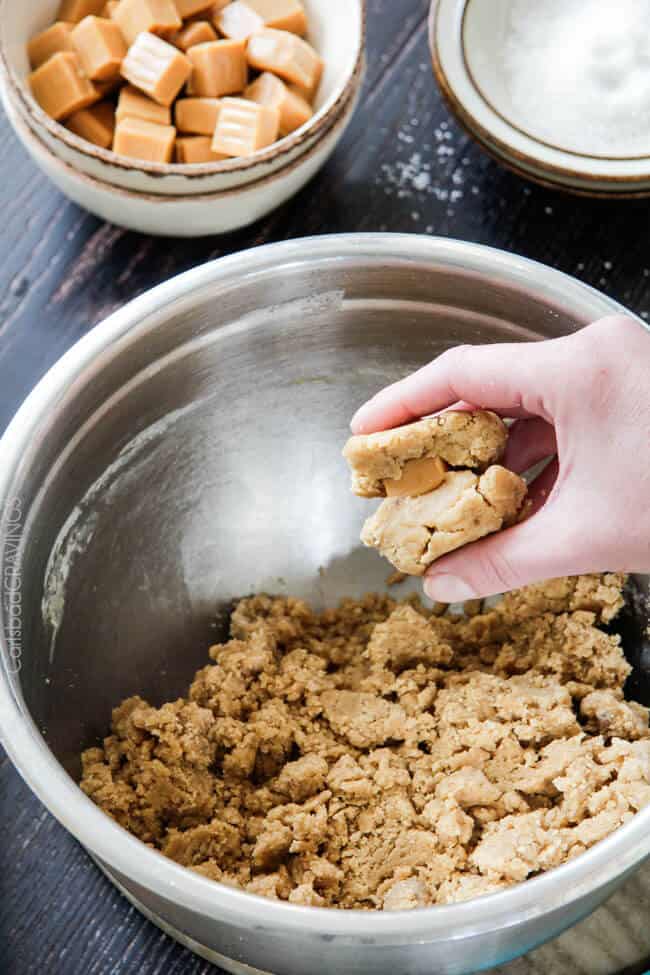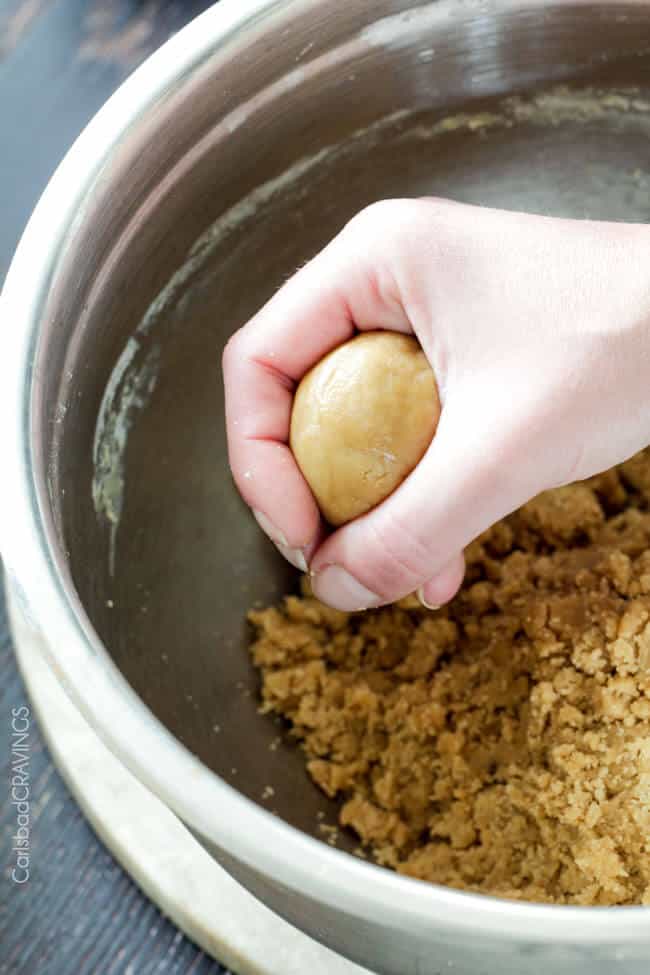 You then sprinkle the dough with sea salt and bake for approximately 12 minutes. The Brown Sugar cookies will seem soft but let them cool for 5 minutes on the baking sheet to slightly firm up and you will have the softest, chewiest cookies ever…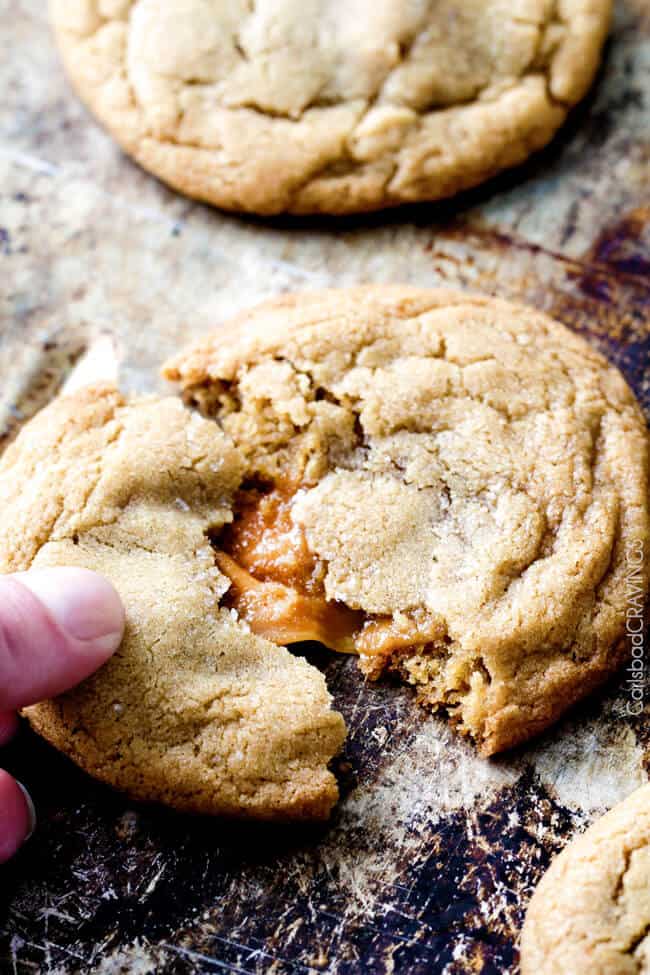 With brown butter, caramel and sea salt.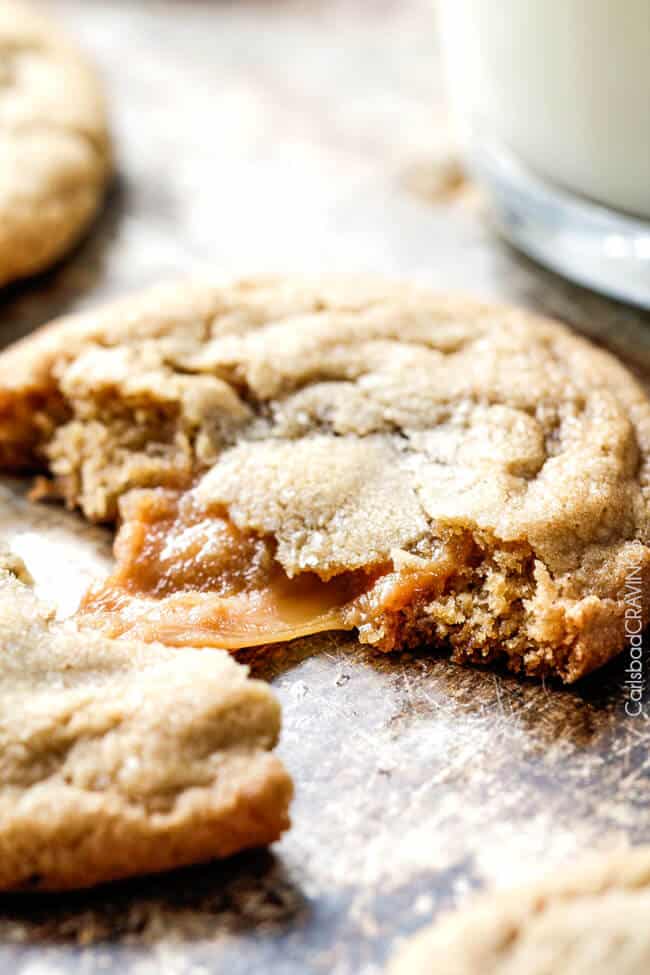 And you too will be pawing for the very last salted caramel cookie…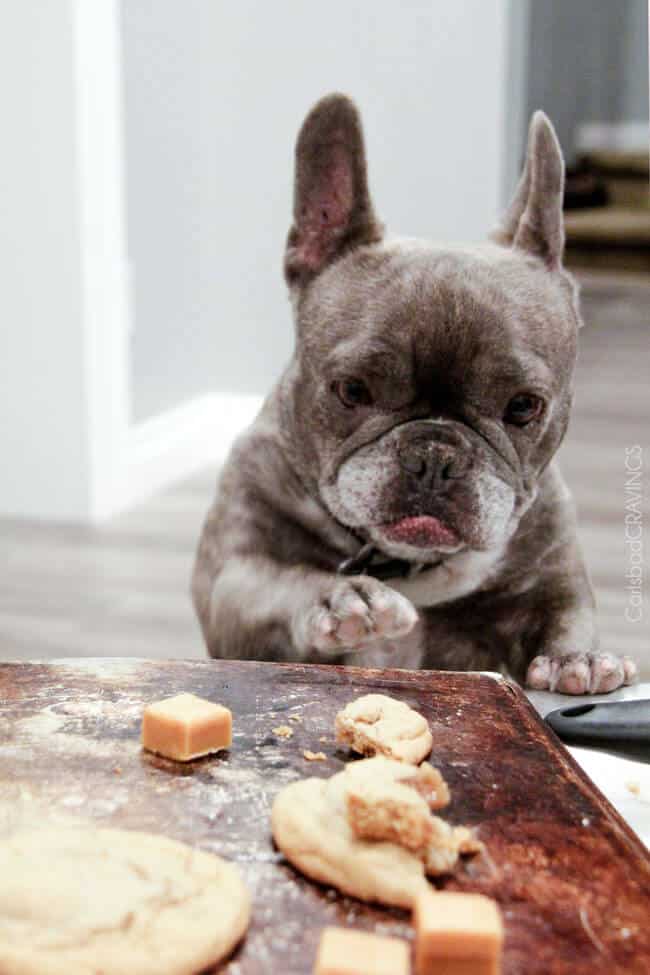 Caramel Stuffed Brown Butter Sugar Cookies with no chill time. Because when you get a craving for caramel stuffed cookies – you need them now.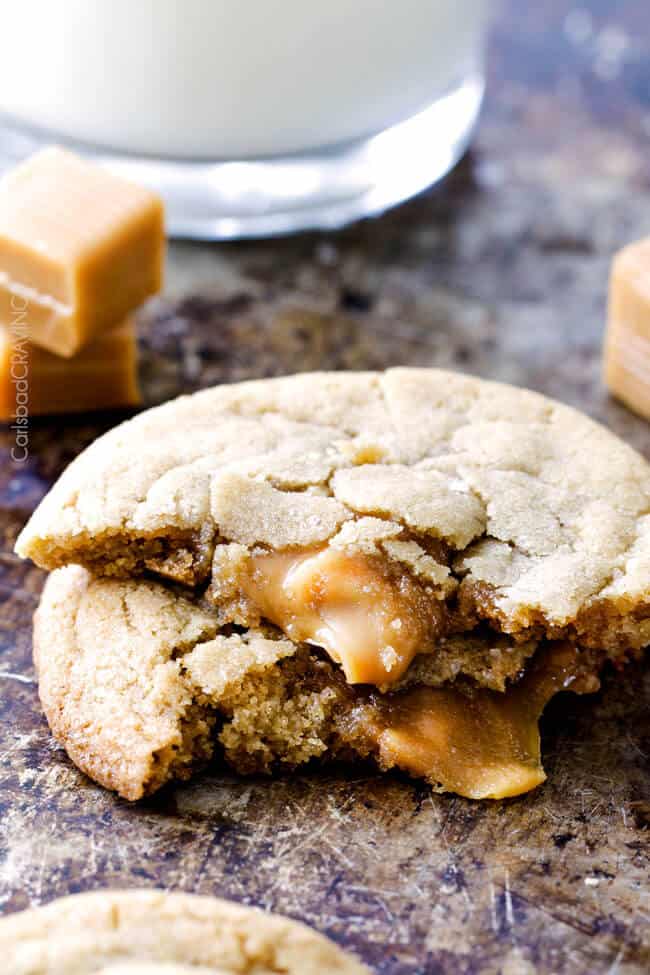 Looking for more Cookie Recipes?
WANT TO TRY THESE CARAMEL STUFFED BROWN SUGAR COOKIES?
Pin them to your Dessert or Cookies Board to SAVE for later!
Find me on Pinterest for more great recipes!  I am always pinning :)!
©Carlsbad Cravings by CarlsbadCravings.com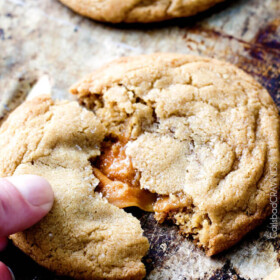 Caramel Stuffed Brown Sugar Cookies
Caramel Stuffed Brown Sugar Cookies are incredibly soft and chewy and infused with brown butter and topped with sea salt!  Best cookies EVER and no chill time!
Save This Recipe To Your Recipe Box
You can now create an account on our site and save your favorite recipes all in one place!
Ingredients
14

tablespoons

unsalted butter, divided

2

cups plus 2 tablespoons

AP flour

1/2

teaspoon

baking soda

1/4

teaspoon

baking powder

1 3/4

cups

packed brown sugar, medium or dark

1/2

teaspoon

salt

1

large egg

1

large egg yolk

1

tablespoon

vanilla extract

20-24

soft caramel candies

(I use Kraft)

sea salt
Instructions
Melt 10 tablespoons butter in a 10-inch skillet over medium-high heat. Continue to cook and stir constantly until butter is dark golden brown, 1 to 3 minutes. Transfer browned butter to a large heatproof bowl. Add remaining 4 tablespoons butter (chopped) and stir until completely melted; set aside to cool.

Meanwhile, preheat oven to 350 F degrees. Line 2 baking sheets with parchment paper or non-stick mats. Set aside.

Whisk flour, baking soda, and baking powder together in medium bowl; set aside.

Add brown sugar and salt to bowl with cooled butter and whisk until combined. Add egg and yolk and vanilla and mix until combined. Add flour mixture and mix just until completely combined.

Scoop 1 tablespoon of cookie dough and place a caramel on top. Add another tablespoon of dough on top of caramel, pinch edges of dough around caramel and roll into a ball. Repeat until all remaining dough is gone.

Place cookies on prepared baking sheets 3 inches apart and sprinkle with sea salt. Bake at 350 degrees F 11-13 minutes until barely golden (they will seem underbaked). Let cool for 5 minutes before transferring to cooling rack.

Store leftovers in an airtight container for up to 7 days. I like to microwave cooled cookies for 10 seconds or so for softer caramel.
Did You Make This Recipe?
Tag @CarlsbadCravings and Use #CarlsbadCravngs
Leave a Review, I Always Love Hearing From You!
Adapted from Cooks Illustrated Magazine: Best Desserts Ever, Brown Sugar Cookies, page 88