Super easy (make ahead!) Bruschetta Cheese Ball takes just minutes to whip up and is always a total show stopping appetizer! Loaded with fresh tomatoes, sun-dried tomatoes, fresh basil, Parmesan, mozzarella and garlic and herb cheese then rolled in crispy panko breadcrumbs all served with toasted baguette slices = irresistibly delicious!
This Cheese Ball recipe post is a sponsored conversation written by me on behalf of Boursin® . The opinions and text are all mine.
CHEESE BALL RECIPE VIDEO
You guys are in for a treat a cheesy, creamy, tangy, garlic and herb, tomato bursting, palate pleasing treat!
I have always loooooved Cheese Balls and Logs from my Bacon Ranch Cheese Ball to my Garlic Herb Cheese Log to my Cranberry Pistachio Cheese Log and I've always loooooved cream cheese Bruschetta – AKA smothering my toasted baguette slices with cream cheese then piling with tomatoes, fresh basil, etc. so I decided to play matchmaker and marry my two loves to create a simply irresistible flavor bursting Bruschetta Cheese Ball!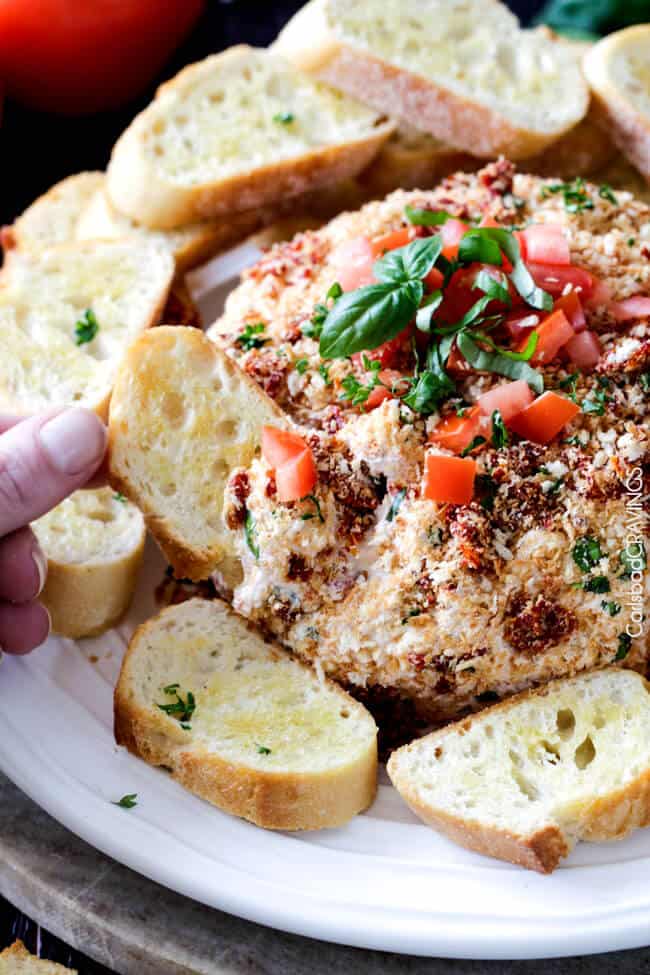 This Bruschetta Ball is quite possibly the best way ever to consume bruschetta AKA bruschetta cocooned with velvety cheese…drool. It makes the perfect crowd pleasing appetizer any time of year, but I find it especially festive for Spring (think Easter celebrations!) with its fresh tomatoes and fresh basil. Its also a favorite appetizer of mine to bring to special occasions or any occasion, really, because not only is it crazy delicious and crazy easy, its a make-ahead appetizer which means its 100% stress free entertaining – And that makes me giddy!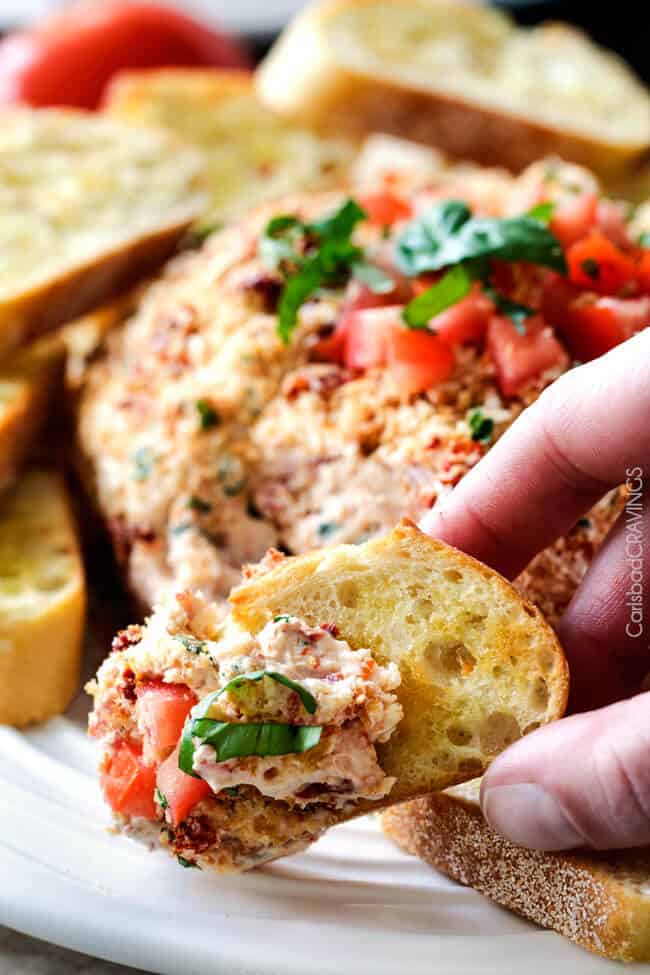 To make this Bruschetta Cheese Ball, whip together your cream cheese, sour cream, mozzarella cheese, Parmesan cheese, fresh tomatoes, sun-dried tomatoes, fresh basil, a dash of balsamic and your secret ingredient, Boursin® Garlic & Fine Herbs Cheese.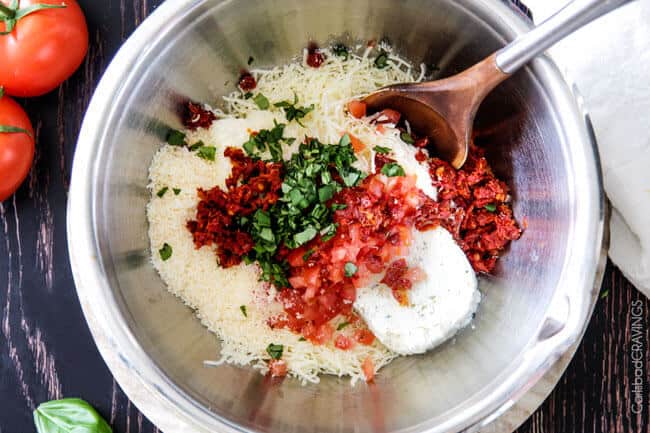 If you have never tried Boursin® Cheese, you are going to fall in love – Boursin cheeses simply make everything 1000x better, including this Bruschetta Cheese Ball and are so good you can eat them plain! The world's first variety of Boursin® was created in 1957 in Normandy by Francois Boursin who was inspired by a long-standing traditional dish, fromage frais (fresh cheese), in which guests mixed their own seasoned cheese from a bowl of fine herbs. The expert cheese maker introduced his own line of flavored fresh cheeses and Boursin® Garlic & Fine Herbs was born.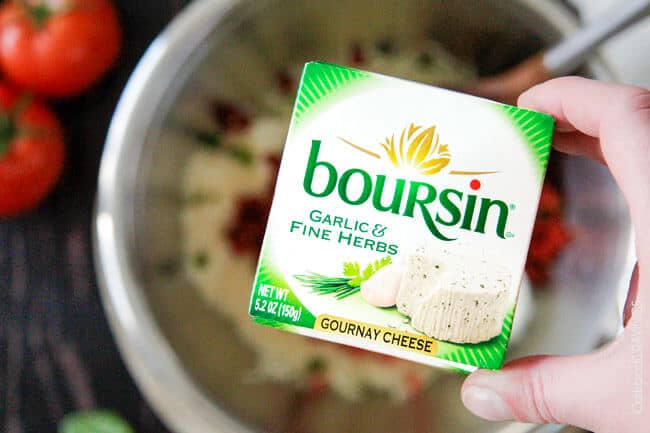 Today, Boursin® cheeses can be found in 35 countries across five continents. You can now purchase Boursin® cheeses at Walmart (located in the cheese bunker by the deli) for substantial savings over specialty stores (approximtely $1-$1.69 less than other retailers), which I love to do, especially because I like to stock up on this favorite cheese so I can always be ready for any occasion with this Bruschetta Cheese Ball or my other absolute crave-worthy make ahead (or instant) Party Trick, my 3 Ingredient Best EVER Bean Dip, starring Boursin® Monterey Jack and Spicy Pepper Cheese Dip! It is out of this world delish, or as the title suggests, the "Best EVER" Bean dip! View this recipe HERE.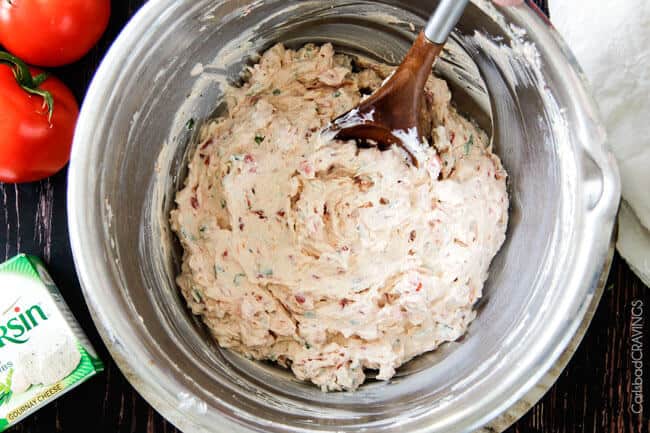 Now back to this Bruschetta Cheese Ball. After you have mixed your ingredients together, you drop the cheese mixture onto a large piece of plastic wrap and roll it up tightly into a ball. Don't worry about it being perfect – you can reshape it later – then let it harden a bit in the the freezer for 1-2 hours or in the refrigerator until you are ready for it.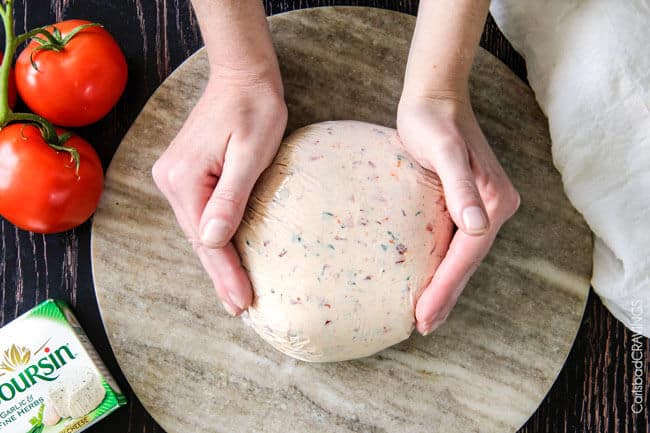 Meanwhile, you are going to toast your bread-like coating of panko in some butter then stir in some sun-dried tomatoes and fresh basil.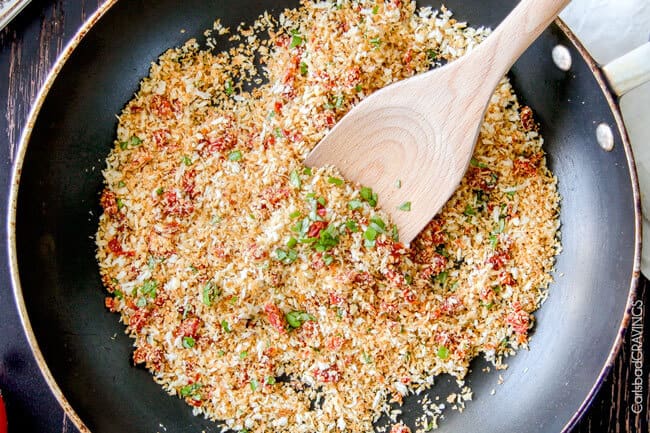 Then to truly make this Cheese Ball taste like Bruschetta, you toast baguette slices by brushing with olive oil, flipping over then baking for 6-8 minutes, just until the edges begin to golden. These tasty morsels themselves require self control to stop munching plain, let alone smothered in silky, bruschetta cheese.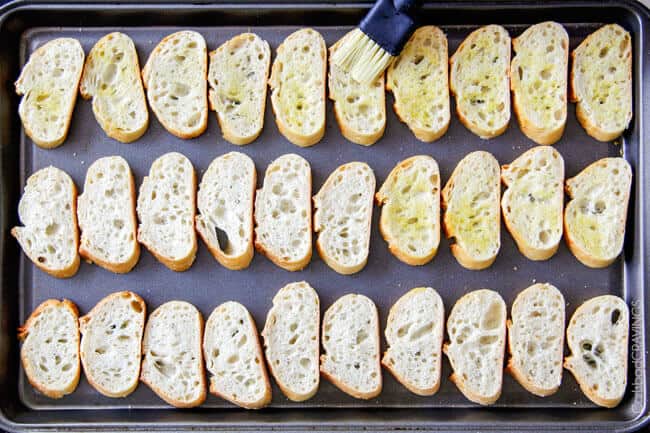 Finally, when the Bruschetta Cheese Ball has hardened slightly, roll it in your panko mixture, garnish with some fresh tomatoes and basil and savory, herb and tomato infused, tangy, creamy bliss is ready to be devoured in one sitting. Seriously, you won't be able to stop snacking on this cheesiness!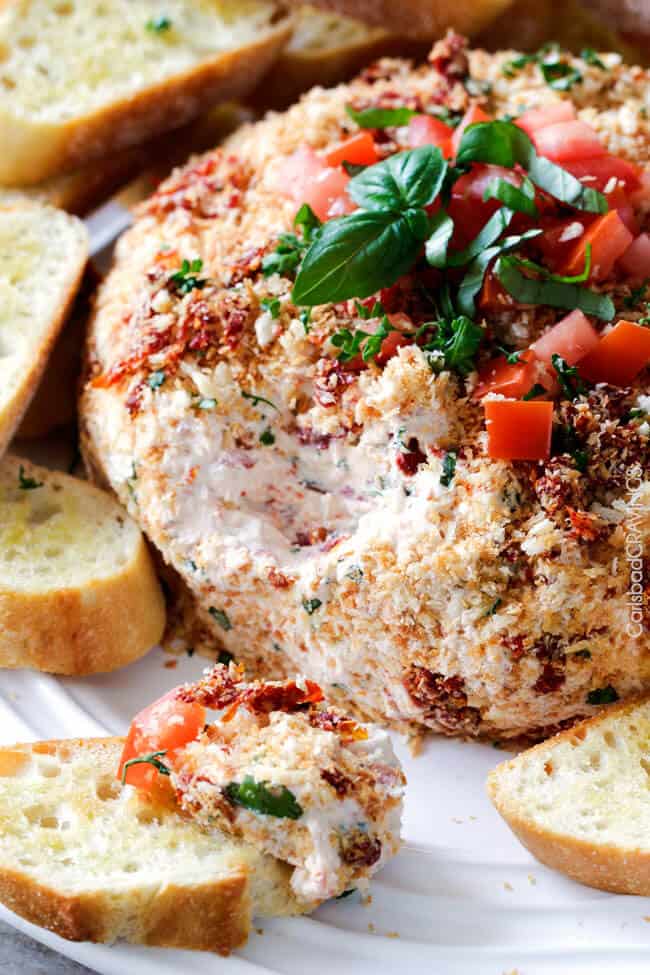 LOOKING FOR MORE PARTY APPETIZERS?
Let's eat!
You might also like these appetizers:
Want to try this Bruschetta Cheese Ball?
Pin it to your appetizer or holiday Board to SAVE for later!
Find me on Pinterest for more great recipes! I am always pinning :)!
©Carlsbad Cravings by CarlsbadCravings.com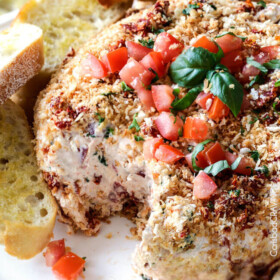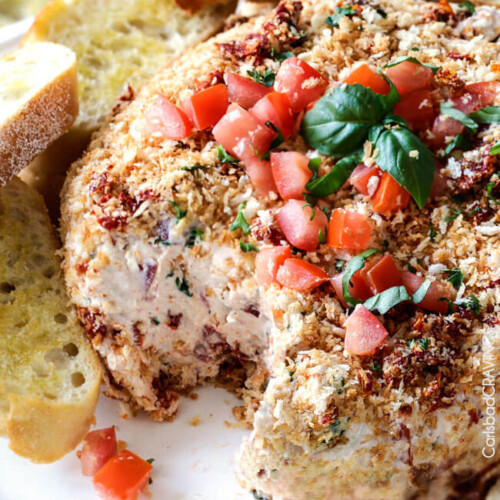 Bruschetta Cheese Ball
Servings:
12
-16 servings
Save This Recipe To Your Recipe Box
You can now create an account on our site and save your favorite recipes all in one place!
Ingredients
Cheese Ball
1

5.2 oz.

Boursin Garlic & Fine Herbs Cheese

1

8 oz. brick

Cream Cheese

at room temperature* (See NOTE)

1/4

cup

sour cream

1

cup

shredded mozzarella cheese

1/2

cup

freshly finely grated Parmesan cheese

2

Roma tomatoes, chopped

with seeds and flesh removed**

1/2

cup

sun-dried tomatoes (packed in oil),

chopped, rinsed, dried***

1/2

cup

basil leaves, chopped

1

tablespoon

balsamic vinegar

1/4-1/2

teaspoon

garlic powder

1/4

teaspoon

crushed red pepper flakes

1/4

teaspoon

salt

1/8

teaspoon

pepper
Panko Sun-Dried Tomato Coating
3/4

cup

panko breadcrumbs

1

tablespoon

butter

3

tablespoons

sun-dried tomatoes, diced, rinsed, dried**

3

tablespoons

basil leaves, chopped
Garnish
1

Roma tomato, chopped (more or less)

1

tablespoon

fresh basil, chiffonade (more or less)
Dippers
1-2

baguettes

sliced into ½ " slices***

crackers
Instructions
Cheese Ball: Add all of the Cheese Ball ingredients to a large bowl and mix with a spatula until well combined. Drop mixture onto a large piece of plastic wrap, cover tightly, and shape into a ball. Freeze for 1-2 hours or chill in the refrigerator for 2 hours up to 24 hours (VERY BEST after 24 because the flavors meld).

Panko- Sun-Dried Tomato Coating: While the cheese ball is chilling, prepare Coating by melting butter in a medium skillet over medium heat. Stir in panko and continue to stir constantly until panko is golden. Cool completely then stir in sun-dried tomatoes and basil.

Assemble: When ready to serve, remove cheese ball from freezer/fridge, roll in toasted panko mixture, pressing to adhere, until evenly coated. Garnish with fresh tomatoes and fresh basil. Serve with baguette slices and crackers (optional).

Baguette slices: Preheat oven to 425 degrees F. Line 1-2 large baking sheet with baguette slices. Brush top sides of slices with olive oil and flip all the slices over so the olive oil is SIDE DOWN on the baking sheet. Bake for 6 to 8 minutes or until slightly golden around the edges.
Notes
Total Time does not include chilling as this will vary upon individual.
DO NOT microwave cream  cheese to  soften it or it will be too soft and hard to form into a ball.
You just want the firm outer part of the tomato so when you cut your tomatoes, scoop out the inside flesh and seeds so all that remains is the firm part – we don't want the extra moisture in our cheese ball. After you chop your tomatoes, pat them dry once more with a paper towel
Measure the sun-dried tomatoes, then rinse them and squeeze them dry before chopping.
You can either prepare 1 baguette and supplement with crackers (or Garlic Parmesan Pretzel Crisps are amazing!!) or prepare 2 baguettes and not use crackers/pretzels.
This Bruschetta Cheese Ball also makes an incredible spread for sandwiches.
Prep Ahead
The cheese ball can be chilled without the coating for 24 hours.  
For the crispiest make-ahead coating, toast the panko and store it in an airtight container for up to 1 week.  Chop the tomatoes and basil up to 24 hours ahead of time and store in separate containers in the refrigerator.  Combine the coating ingredients right before coating the cheese ball. 
Did You Make This Recipe?
Tag @CarlsbadCravings and Use #CarlsbadCravngs
Leave a Review, I Always Love Hearing From You!
Carlsbad Cravings© Original