This Bean Dip has only 3 Ingredients and is the easiest and tastiest bean dip you will ever make!  
This Bean Dip Recipe is utterly addictive and shockingly easy – it takes less than 5 minutes to make! It is mega creamy and fiesta flavorful. Usually I am skeptical when a recipe has so few ingredients but I promise this Refried Bean Dip delivers a huge explosion of YUM! It is perfect for an after school snack, movie night, parties and Game Day. You need this bean dip recipe in your back pocket of your party pants!

Refried Bean Dip Recipe
I have a confession. As a kid, I used to at spoonfuls of cold refried beans. As a college student, I used to create homemade Refried Bean Dip by layering refried beans, taco seasoning, sour cream, and cheese then microwaving until bubbly delicious. As an adult, I face plant into this outrageously delicious Refried Bean Dip. Because, while black beans seem to get most of the love, to me, it is all about pinto beans, especially when it comes to irresistible creamy perfection.
This Bean Dip recipe is made with creamy refried beans, Boursin® Monterey Jack and Spicy Pepper Cheese Dip. and sour cream. You can pick up the ingredients once and you'll be ready to make the best bean dip at a seconds notice. And it will disappear almost as quickly because everyone loves this Refried Bean Dip from children to teenagers, to adults to grandparents.
Another fabulous aspect of this easy Bean Dip recipe is that you can serve it hot or cold so it is mega convenient and still spectacular even as it cools down. I personally like the bean dip cold, but I would like it any way it is served because it is just SO GOOD!
Best Bean Dip Recipe
I like to think all of Carlsbad Cravings recipes are really flavorful from my Guacamole, Queso Fundido, Cheesy Chili Dip, Queso Verde Corn Dip, and Jalapeno Popper Dip. If a recipe needs an extra spice – I am going to add it, even if it means the ingredient list gets a little longer – because your foodie experience is worth it! So for me to post a 3 ingredient Bean Dip recipe and to go a step further and claim it as "the BEST" is a shock – even to myself. But I totally believe it is. And I think with one chip-full of this Refried Bean Dip you will agree.
First, let me explain how this easy Bean Dip recipe accidentally came to be the "Best ever." As a food blogger, I make my income through ads and through what's called "sponsored posts" or when a brand pays me to use their product in one of my custom recipe creations. I don't do a ton of sponsored work because I am quite particular about who I work with AKA I have to love the product.
This past week, however, I created a custom sponsored post for Boursin® Cheese (love!) in which I created a Bruschetta Cheese Ball (yes, it is amazing) using Boursin® Garlic & Fine Herbs Cheese. While at the store, I also picked up Boursin® Monterey Jack and Spicy Pepper Cheese Dip because it intrigued me.
Have you tried this creamy heaven? Its creamy, cheesy and spicy! Its so packed with fiestalicious flavor that I instantly knew it would make the best Bean Dip base without even adding any spices! So I whipped it with ½ cup of sour cream and a can of refried beans and the BEST EVER Bean Dip was born in virtually minutes!
So no, this is not a sponsored post, this is just me sharing my borderline obsession with Boursin® Monterey Jack and Spicy Pepper Cheese Dip and the deliciousness that it can create in minutes AKA Best Bean Dip recipe AKA the easiest, appetizer that tastes like you spent hours perfecting the spices and creaminess. It can be our little secret.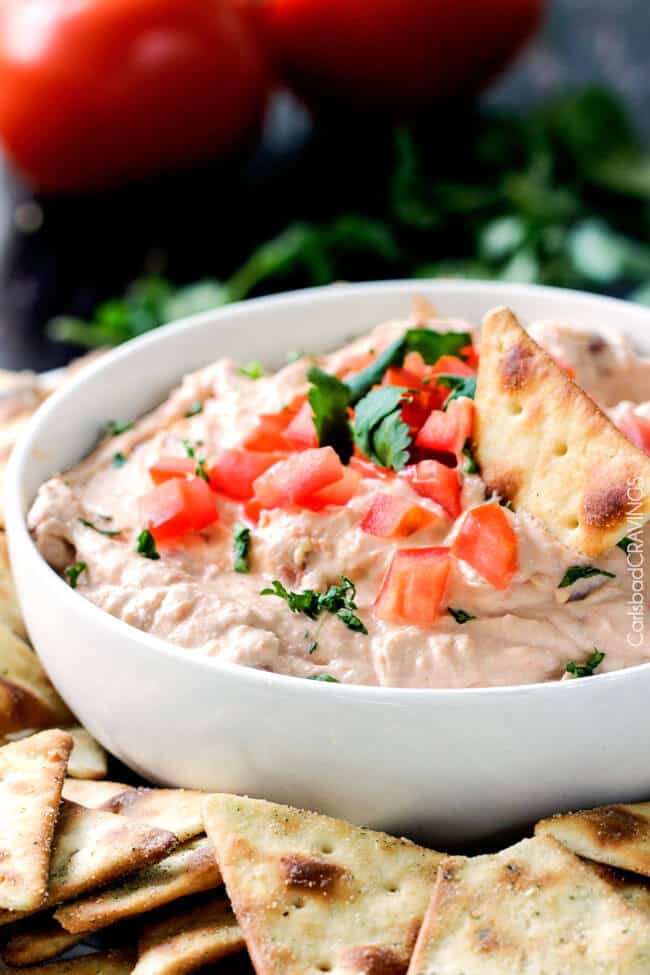 What Ingredients Do I Need for Bean Dip?
1

5.6 oz.

Boursin® Monterey Jack and Spicy Pepper Cheese Dip*

1/2

cup

sour cream

1

15 oz. can

refried beans
How do you make bean dip?
Add the Monterey Jack and Spicy Pepper Cheese Dip, sour cream and refried beans to a large bowl and mix until well combined. You can serve your dip hot or cold – its delicious either way. To serve hot, simply microwave then stir until warmed through.
What Can I Add to Bean Dip?
You can customize your easy Bean Dip by adding any of the following:
cheese
tomatoes
olives
avocados
cilantro
I would only add freshly grated cheese if you are going to making this into a hot Bean Dip then you can stir in some extra cheese into the Bean Dip itself and melt on tot as well.
How to Make Spicy Bean Dip
I would suggest tasting your Refried Bean Dip first and if you want some more heat then stir in either canned, diced jalapenos, a dash of cayenne pepper or hot sauce.
What Do you Serve with Bean Dip?
You can serve Bean Dip with:
tortilla chips
crackers
pita chips
tortillas
carrots
broccoli
bell peppers
cucumbers
celery
cauliflower
snap peas

Want to try this Best Bean Dip Recipe?
Pin it to your appetizer, Mexican or entertaining Board to SAVE for later!
Find me on Pinterest for more great recipes!  I am always pinning :)!
©Carlsbad Cravings by CarlsbadCravings.com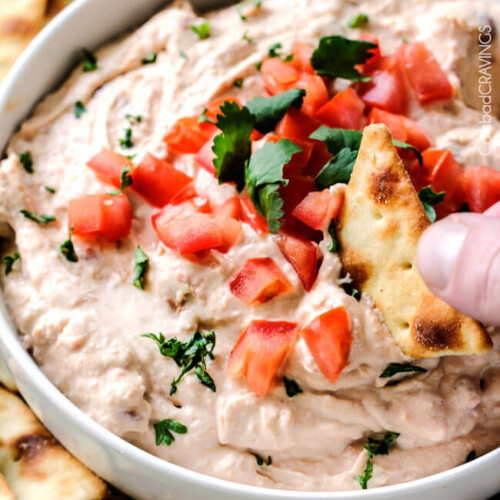 Best EVER Bean Dip
This Refried Bean Dip has only 3 Ingredients and is the easiest and tastiest bean dip you will ever make!  You need this recipe in your back party pocket!
Save This Recipe To Your Recipe Box
You can now create an account on our site and save your favorite recipes all in one place!
Ingredients
1

5.6 oz.

Boursin® Monterey Jack and Spicy Pepper Cheese Dip*

1/2

cup

sour cream

1

15 oz. can

refried beans
Instructions
Add all of the ingredients to a large bowl and mix until well combined. Serve hot or cold with tortilla chips and or/crackers.
Notes
* Boursin® cheeses are located in the Deli section of your grocery store.
Try adding this dip to a pound of cooked ground beef along with some taco seasoning for amazing burrito filling!
Did You Make This Recipe?
Tag @CarlsbadCravings and Use #CarlsbadCravngs
Leave a Review, I Always Love Hearing From You!
Carlsbad Cravings Original