Blackened Salmon with a flavorful crispy crust smothered in creamy Cajun Sauce on your table in 30 minutes!
This Blackened Salmon is quick and easy and delivers restaurant flavor with minimal effort! The salmon is loaded with blackened seasonings then pan seared to create a charred, boldly seasoned exterior giving way to a
buttery, juicy interior. The pan seared salmon fillets are smothered in a luscious cream sauce spiked with zesty Cajun spices, onions, garlic and bell peppers. I've included step by step, detailed instructions in the post so you can master this Blackened Salmon recipe, even if you've never made fish before!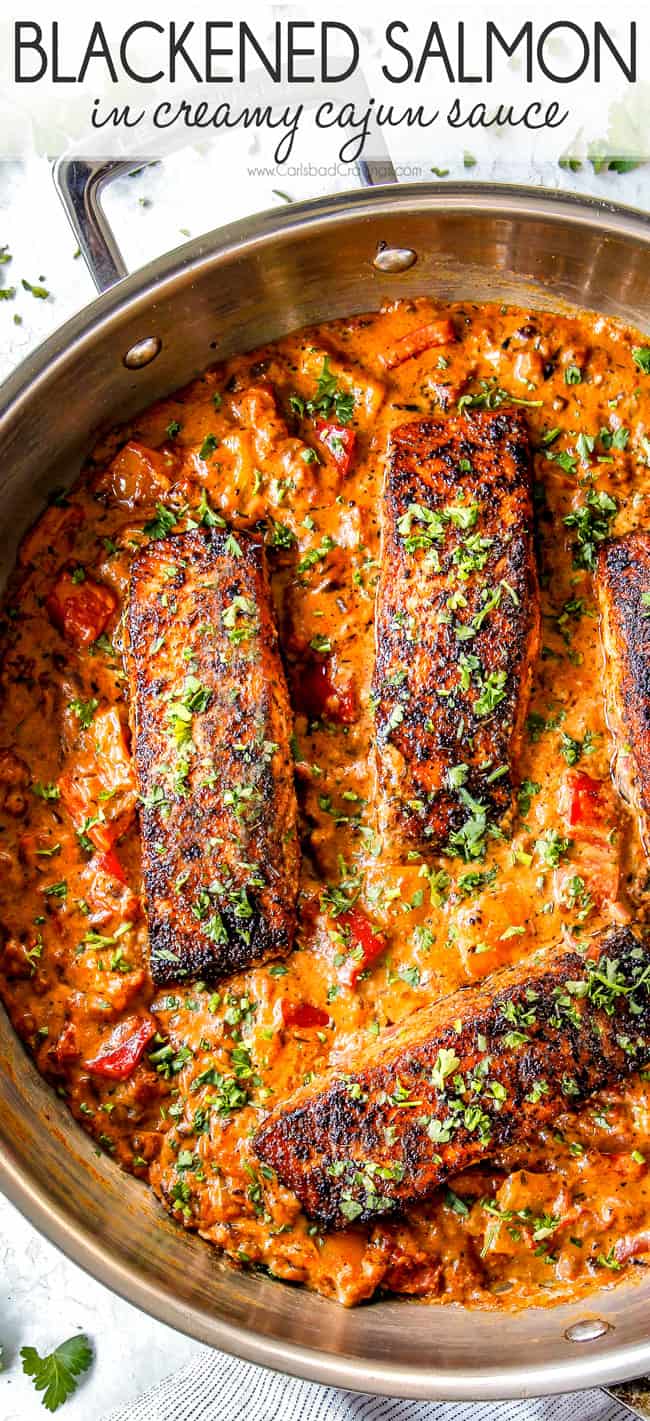 Blackened Salmon Recipe
When it comes to easy, quick-cooking weeknight meals that taste restaurant delicious, salmon is often my answer. Salmon is juicy, rich, buttery tender and literally takes minutes to cook!
I love re-inventing the friendly fish and couldn't be more excited about this stellar Blackened Salmon recipe. It might look fancy, but trust me, it is SO easy! In less than 30 minutes, you'll be sinking your teeth into tender, juicy, superbly crusted, spicy, smoky salmon fillets bathed in dreamy sauce.
This Blackened Salmon recipe is as easy as coating the fillets in a spice rub and searing each side. You then remove the salmon and to the same pan sauté onions, bell peppers and garlic. Add fire roasted diced tomatoes, chicken broth and heavy cream to the pan to simmer a couple minutes then stir in Parmesan and lime juice. That's it! Ridiculously delicious Blackened Salmon awaits.
What does it mean when fish is blackened?
"Blackened" is a method of Cajun cooking in which fish, shrimp, meat, chicken or pork is coated in a spice rub then seared at high heat. The seasonings char, deepen in flavor and mingle with the butter to create an irresistible dark crust that is smoky, spicy and irresistible giving way to juicy, tender fish or protein.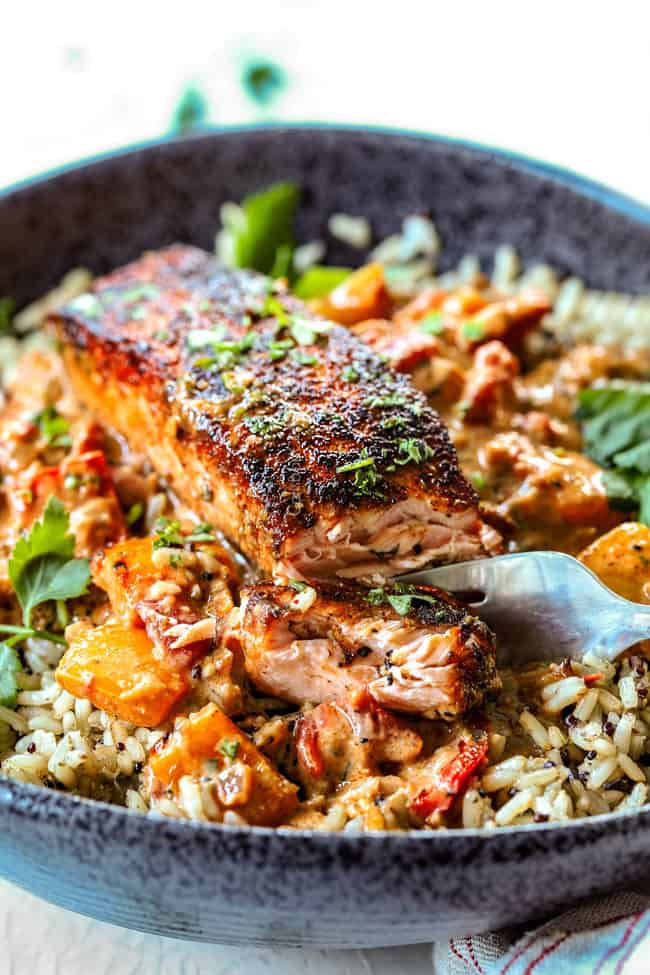 What's the difference between grilled and blackened?
While both methods can develop a flavorful char on the exterior of the food, blackening always involves coating the protein in blackened seasoning first. Grilled foods can be blackened, but not all grilled foods are blackened.
Blackened foods, on the other hand, are intentionally cooked at high heat to develop the charred crispy crust.
Where did blackening come from?
The blackening technique was populated by Chef Paul Prudhomme. Chef didn't have a grill at his New Orleans restaurant, so he used a hot cast iron skillet to develop the charred crust on his proteins.
What is Blackened Seasoning?
You don't need to be a chef or own a restaurant to make Blackened Salmon! It all starts with the seasoning.
Blackened seasoning is associated with Cajun or Creole cooking. It is a robust blend of herbs and spices resulting in a smoky, spicy, earthy, flavor.
The red appearance on the blackened salmon is from the smoked paprika and cayenne pepper. Please do NOT substitute smoked paprika with regular paprika – the smokiness is everything.
You can find smoked paprika with the rest of the spices at your grocery store. I use it in ALL my Mexican recipes, so I promise your purchase will not go to waste. The rest of the blackened seasoning is a mix of common pantry seasonings you probably have on hand already. You can also customize the heat by using more or less cayenne pepper.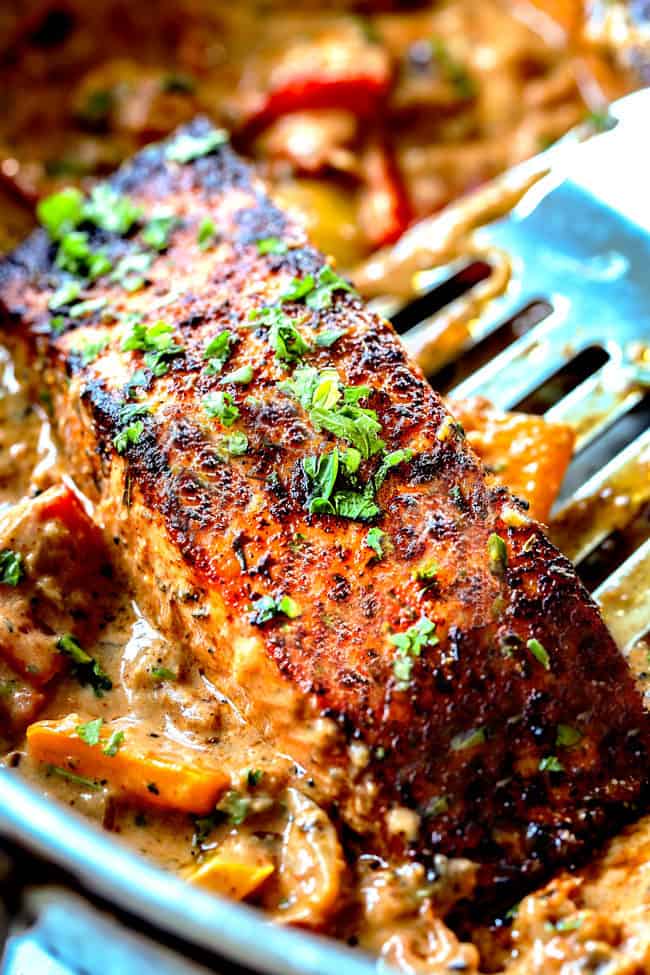 To make DIY Blackened Seasonings, whisk together:
2 teaspoons smoked paprika
2 teaspoons garlic powder
2 teaspoons onion powder
1 teaspoon salt
1 teaspoon dried oregano
1 teaspoon dried thyme
½ teaspoon pepper
1/4-1/2 teaspoon cayenne pepper
What Salmon Should I Use?
I prefer skinless salmon fillets for this Blackened Salmon recipe because the seasonings themselves create the crispy crust. Skinless fillets also allow you to rub the blackened seasoning all over your salmon for maximum flavor.
Choose salmon fillets that are 6-8 oz. each so that the fish will be cooked on the interior by the time the exterior is blackened. I purchase my salmon fillets at the seafood counter of my grocery store so I can select the size and know they are fresh.
What Pan Should I use to Cook Salmon?
Blackened Salmon is usually cooked in a cast iron skillet to develop the deep crust but you can use any heavy duty bottom pan. Stainless still is probably the trickiest because the salmon is more likely to stick.
You can still use a nonstick pan (usually my favorite for salmon) if it is a heavy quality pan like Le Creuset which can withstand the heat and still develop the deep char.
No matter what pan you use, you will want a take care your pan is large enough to accommodate the fillets without overcrowding, otherwise work in batches.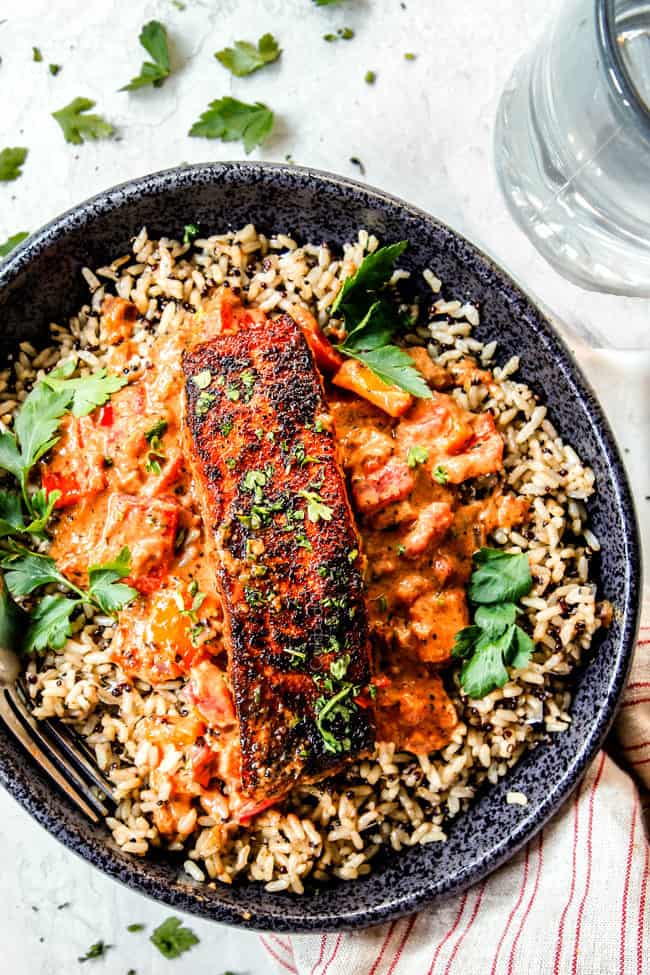 How to Cook Blackened Salmon
Remove Salmon from the fridge: Never cook salmon cold straight from the refrigerator otherwise it will cook unevenly. Instead, remove the fish from the refrigerator about 15 to 20 minutes before you're ready to start cooking.
Dry fillets: Pat salmon dry with paper towels before brushing with oil or butter. Wet or moist salmon are more likely to stick to the pan and develop a lackluster crust.
Grease salmon: Brush the salmon with melted butter or olive oil on ALL sides. If you are using butter, the easiest way is to melt butter in a shallow dish then dip your salmon in the butter to coat all sides.
Season salmon: Rub the salmon with the blackened seasoning just before you're ready to cook. You don't want to season it early or the salt will draw moisture out of the fish and it will become dry.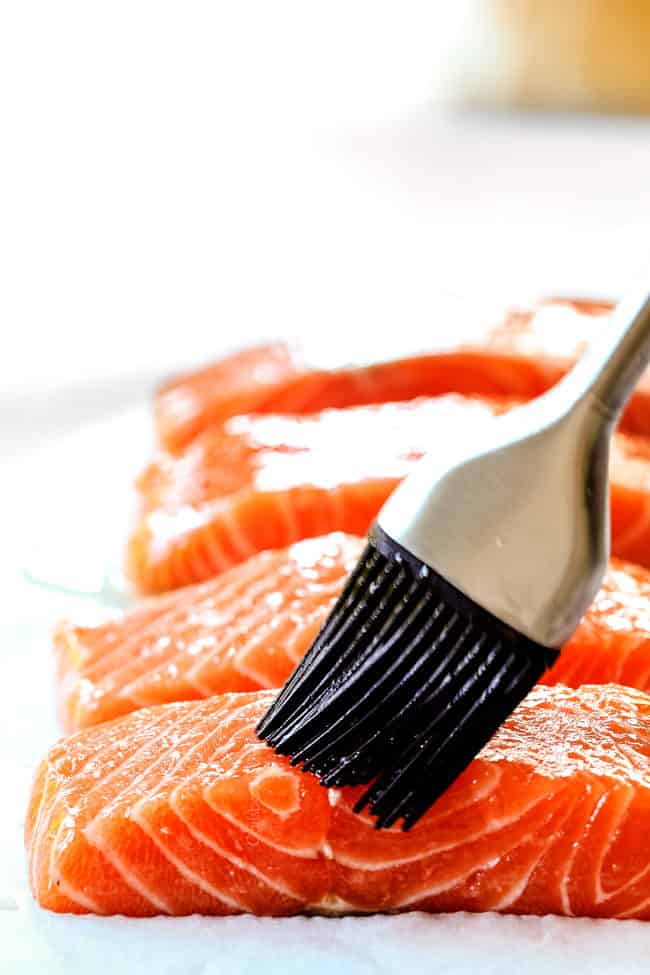 Wait for a hot pan: A hot pan doesn't mean high heat, otherwise your salmon will burn on the outside and remain raw on the inside. Instead, a hot pan means waiting until your pan is hot before anything touches the pan. A hot pan keeps the salmon crispy on the outside and seals in the moisture. The crust developed by a hot pan is not only flavorful but helps your salmon from sticking. Without a golden crust, salmon is impossible to flip over without tearing.
Heat oil: Once the pan is hot, add the oil and wait until it shimmers before adding the salmon. You want the oil to be hot but you don't want it so hot that it is smoking.
Cook salmon: Add salmon to the pan and cook approximately 4 minutes per side, or until crispy and blackened.
Don't fiddle: Let your salmon cook undisturbed so it can sear properly and develop the charred, caramelized crust. After the maillard reaction takes place, the caramelization will make the salmon automatically detach from the pan. Don't disturb the salmon before this reaction or it will fall apart.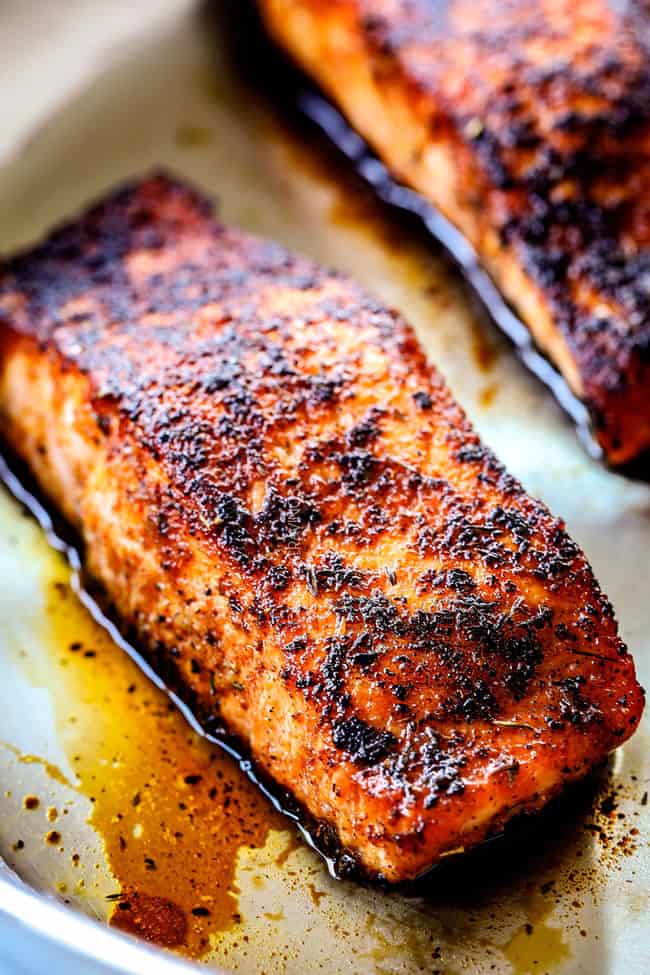 how long to cook salmon
The cooking time will depend on the type of pan you use, how hot your pan actually is, how thick your salmon is and what temperature you like your salmon.
A general rule of thumb is 3-4 minutes per side but the telltale way is to watch the color on the sides of the salmon. Starting with the bottom, it will change from raw pink to pale pink along the sides of the fish as it cooks. Once the color has moved up to the center, it is usually time to flip and cook an additional 3-6 minutes.
You can accurately check the temperature of your salmon with an instant-read thermometer. Insert the thermometer into the thickest part of the salmon: 120F for medium rare, 130F for medium. I prefer my salmon medium as it will cook for a minute after removing from the pan.
If you like your salmon more than medium (which is flirting with dry salmon) then you'll want to lower the heat and cover the salmon once you flip. This will help the salmon cook evenly without drying out.
Take care not to overcook your salmon because it will only remain buttery, juicy and tender as long as it isn't overcooked. It is better for salmon to be undercooked than overcooked in my opinion.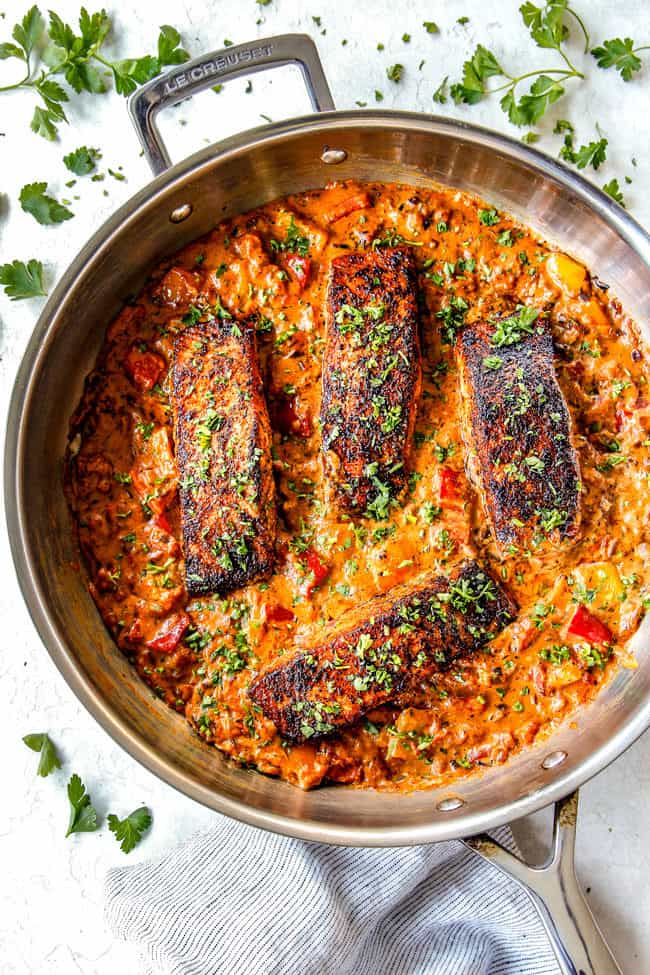 What do you eat with blackened salmon?
This Blackened Salmon recipe is so flavorful, it pairs well with simple rice, cauliflower rice, broccoli rice quinoa or even mashed potatoes. It also goes well with a big green salad, fruit salad, crusty bread or cornbread.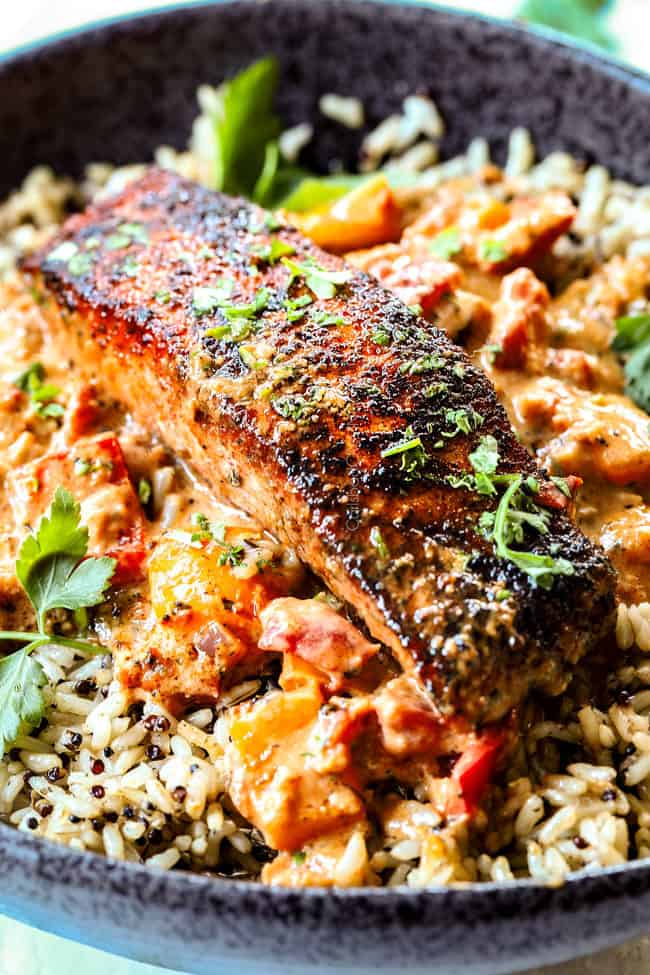 Is blackened salmon good for you?
Blackened Salmon is not only delicious, but good for you too! Salmon is a nutritional powerhouse. It is an excellent source of omega 3 fatty acids, protein, several B vitamins, antioxidants and potassium.
Studies show that salmon can help lower inflammation, which may reduce the risk factors for several diseases. A growing number of studies also suggest that including salmon in your diet might improve brain function and even reduce symptoms of anxiety, depression and the risk of age-related memory problems. In addition, this Blackened Salmon will make your taste buds happy.
Looking for more Salmon Recipes?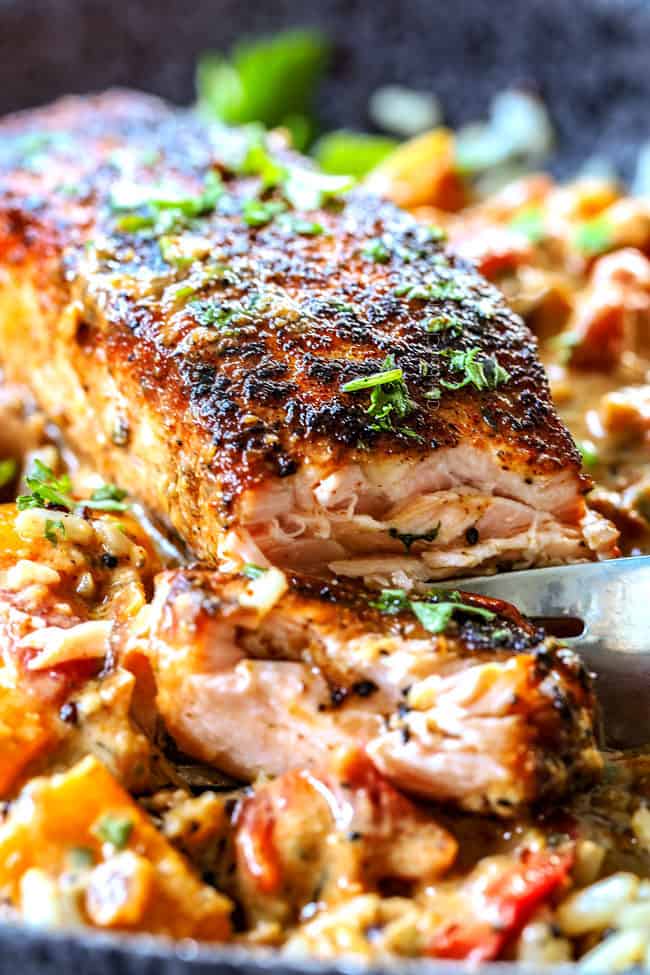 You might also like these Cajun recipes:
Want to try this Blackened Salmon Recipe?
Pin it to your Seafood, Salmon or Dinner Board to save for later!
Find me on Pinterest for more great recipes! I am always pinning :)!
©Carlsbad Cravings by CarlsbadCravings.com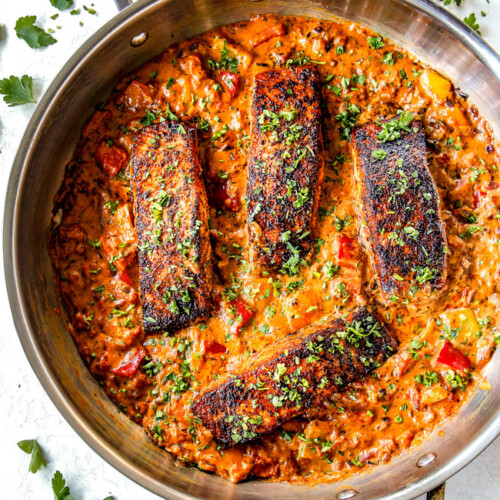 Blackened Salmon
This Blackened Salmon is quick and easy and delivers restaurant flavor with minimal effort!! The salmon is loaded with blackened seasonings then pan seared to create a crispy, boldly seasoned exterior giving way to a buttery, juicy interior.  The pan seared salmon fillets are smothered in a luscious cream sauce spiked with zesty Cajun spices, onions, garlic and bell peppers.   I've included step by step, detailed instructions in the post so you can master this Blackened Salmon recipe, even if you've never made fish before! 
Save This Recipe To Your Recipe Box
You can now create an account on our site and save your favorite recipes all in one place!
Ingredients
Salmon
4

(6-8 oz. each)

skinless salmon fillets

melted butter

optional
Blackened Seasoning
2

tsp EACH

smoked paprika, garlic powder, onion powder

1

teaspoon

salt

1

tsp EACH

dried oregano, dried thyme

1/2

teaspoon

pepper

1/4-1/2

teaspoon

cayenne pepper
Instructions
Lightly brush salmon all over with olive oil or melted butter.

Mix together all of the Spice Rub ingredients in a medium bowl. Remove 2 tablespoons and rub evenly all over salmon. Reserve remaining spice rub for the sauce.

In a large heavy bottom skillet, heat 1 tablespoon olive oil over medium-high heat (medium if your stove runs hot). Once hot, add fillets, turn heat down to medium and cook approximately 4 minutes, until crispy and blackened. Flip salmon over and cook an additional 3-6 minutes to your liking (will depend on thickness). If salmon is is browning too quickly, then turn down the heat. Remove salmon to a plate and tent with foil.

To the oil left in the skillet (don't wipe out), add enough oil to equal 1 tablespoon if needed. Heat over medium-high heat. Once hot, add onions, and cook 3 minutes; then add bell peppers, garlic and reserved spice mix and cook 2 minutes.

Add half of the chicken broth to the pan (eyeball it) and whisk the remaining chicken broth with cornstarch until smooth. Add to pan along with heavy cream and diced tomatoes. Bring the sauce to a simmer and simmer until thickened, stirring occasionally.

Reduce heat to low and stir in Parmesan cheese until melted followed by lime juice. Add salmon back to the skillet and cook a minute or so to heat through. Taste and season with additional salt, pepper and/or cayenne pepper to taste. Garnish with freshly parsley and lime juice if desired.
Did You Make This Recipe?
Tag @CarlsbadCravings and Use #CarlsbadCravngs
Leave a Review, I Always Love Hearing From You!
Carlsbad Cravings Original