Tender slices of beef that are SO juicy, SO flavorful stir fried and smothered in the most incredible savory sauce with lip smacking noodles!
This past weekend I was able to attend a food blogging conference in Portland called Indulge. We did a lot of indulging, learning and laying around with friends, pic HERE (its a little embarrassing what friends can get you to do). The conference was a fabulous time to meet online virtual friends in real life who really understand the blog side of you.
You see, this blogging world is crazy. Crazy wonderful, crazy exciting, crazy busy – so, so busy. I had no idea before I started Carlsbad Cravings all that was involved in running a food blog (other than cooking) if you choose to treat your blog like a business. Its so demanding, in fact, that many of us have assistants, some bloggers even have 3 assistants who each work 20+ hours a week – who knew?! But at the end of the day and all the learning at conferences, I am so so grateful it all comes back to food and you. Thank you so much for letting me do what I love. Thank you for your comments. Thank you for your shout outs on Instagram. Thank you for making my recipes! It has been a whirlwind two years and I am so so grateful for every second of it.
So let's flashback to the very first month I started my blog, just over two years ago, when I posted my Better Than Takeout Beef and Broccoli. To this day, I am convinced it is the best beef and broccoli recipe out there. You may or may not agree, but I think you will agree it is pretty fantastically delicious and when something is that delish, it needs to be consumed in more ways than one – enter Beef and Broccoli Noodle Bowls!
Essentially, I increased the sauce, added red bell peppers, shallots and snow peas so the these Beef and Broccoli Noodle bowls have the same flavor profile as the stir fry with a swapping out of rice for slurpilicous noodles.
What I love about this recipe, aside from the better than takeout deliciousness, is how quick and easy it is! After you have marinated the beef, this stir fry can be on your table in minutes with a simple stir frying of thinly sliced, marinated beef seeping with flavor, followed by a quick steaming of your broccoli in the same skillet, then stir frying red bell peppers, garlic, ginger and shallots. Add in your whisked together perfectly balanced savory sauce with a little sweet and a little spice along with your snow peas and finally stir in your noodles (ramen, thin spaghetti, soba, whatever your belly desires), so the sauce bathes every nook and cranny and its time to dig in…
way in..(you can see step by step pin HERE).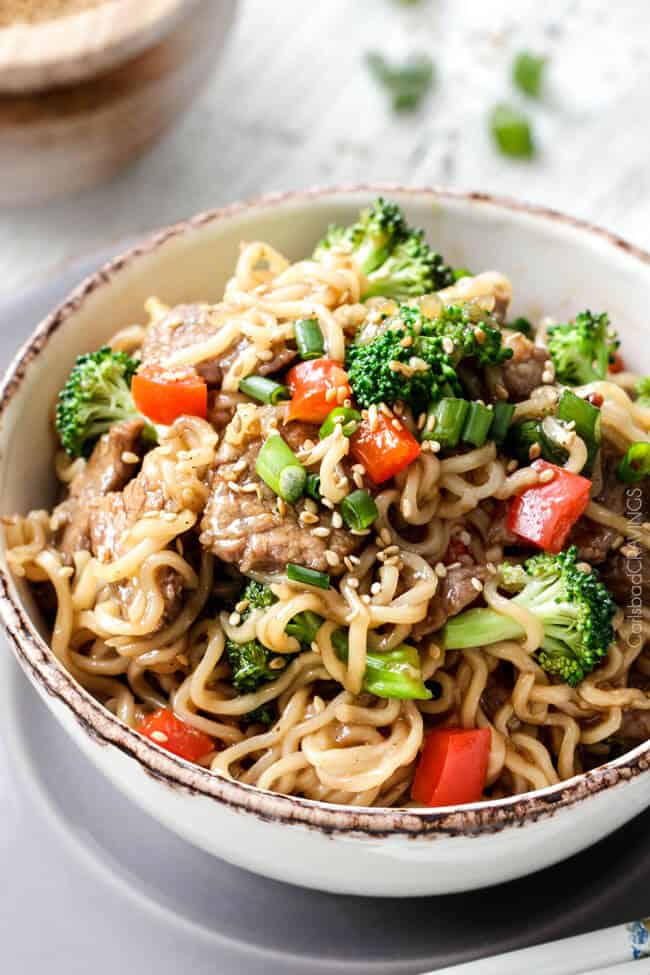 Beef and Broccoli Noodle Bowls, because for me its all about sharing food I love and hopefully you love enough to become family favorite recipes you make again and again! xo
Looking for more Asian recipes?
Want to try this Beef and Broccoli Noodle Bowl?
Pin it to your Asian, Beef or Dinner Board to SAVE for later!
Find me on Pinterest for more great recipes!  I am always pinning :)!
©Carlsbad Cravings by CarlsbadCravings.com
Beef and Broccoli Noodle Bowls
Save This Recipe To Your Recipe Box
You can now create an account on our site and save your favorite recipes all in one place!
Ingredients
Instructions
Pour marinade ingredients directly into freezer bag and mix well. Add beef and massage in marinade until well covered. Refrigerate 2-8 hours.

When ready to make Beef and Broccoli, whisk the sauce ingredients together in a small bowl.

Drain excess marinade off of beef and pat with paper towels.

Heat 1 ½ teaspoons

sesame oil

(may sub olive oil) in a large nonstick skillet over high heat until very hot and sizzling. Add beef, break up any clumps and cook without stirring for 1 minute, then stir and cook until beef is browned and almost cooked through, about 1-2 minutes (it will cook more in the sauce). Don't overcook or it won't be as tender! Transfer beef to a large plate and cover. *If your skillet is small, then cook in 2 batches.

Add 1 tablespoon peanut oil to the now-empty skillet; heat until very hot and sizzling. Add the broccoli and sauté for 30 seconds. Add ¼ cup water, cover pan, and lower heat to medium. Steam broccoli just until crisp-tender, about 2 minutes.

Push the broccoli to the sides of the skillet and add 1 teaspoon

sesame oil

. Let heat a few seconds then add red peppers, shallots, garlic, and ginger to the center of the pan and sauté for one minute.

Return the beef to the skillet along with snow peas and toss to combine. Whisk the sauce to recombine then add to the skillet. Cook, stirring constantly, until the sauce is thickened and beef is cooked through, about 1-2 minutes. Add noodles and stir to evenly combine.

Add

sriracha

to taste if desired and garnish with green onions and sesame seeds (optional).
Notes
*Oyster Sauce can be found in the Asian aisle of most supermarkets and is essential to this recipe.
**If you add additional Sriracha at the end of cooking like me, you may want to add more brown sugar to balance out the heat.
Did You Make This Recipe?
Tag @CarlsbadCravings and Use #CarlsbadCravngs
Leave a Review, I Always Love Hearing From You!
Carlsbad Cravings© Original