This pizza dip is your favorite pizza turned into a favorite appetizer!
Easy Pizza Dip is always a crowd pleaser for parties, game days, baby/bridal showers, game nights, movie nights and on and on! It's made with shredded chicken, cream cheese, barbecue sauce, mozzarella cheese, cheddar cheese, bell peppers, red onions and bacon- are you drooling yet? This pizza dip recipe can be served with tortilla chips, baguette slices or veggies for an addicting dip every time.
Pizza Dip
This pizza dip is perfect for all your New Years parties just around the corner…and for every football game after that! It is everyones' favorite dip that is quick and easy to make, hot and bubbly delicious, make ahead friendly and only dirties one mixing bowl. So, let your last bites of 2014 and your first bites of 2015 be of cheesy barbecue cream cheese layered with tender barbecue shredded chicken, tender crisp green peppers and crispy bacon.  
This crazy delicious pizza dip was inspired by two of my (and the world's) favorite foods: Buffalo Chicken Dip that has been around the internet and then around again and again and California Pizza Kitchen's Barbecue Chicken Pizza that I have consumed pounds of in my lifetime.  It's a match made in my mind but it might as well have been made in heaven because this dip is out-of-this world!
This easy pizza dip adds your favorite barbecue chicken pizza ingredients along with cream cheese to a baking dish, layers them with cheese and is baked to golden, bubbly, oozy cheese heaven.
whY THIS IS THE BEST PIZZA DIP RECIPE
This pizza dip is mega creamy made with a generous amount of cream cheese WITHOUT being greasy!
It uses 3 cheeses: cream cheese, mozzarella and sharp cheddar cheese which means more flavor and ooey gooey delight
It is multi-dimensional flavorful made with barbecue sauce, ranch dressing and handpicked seasonings – no one note pizza dip here!
This pizza dip uses pantry friendly ingredients so you can make it at a moments notice.
This easy pizza dip comes together in less than 20 minutes by mixing the ingredients together in a bowl then layering.
You can prep it entirely ahead of time and refrigerate so all you have do to is pop it in the oven when guests arrive!
You can follow the recipe as written or get creative and swap the chicken for sausage, pepperoni, ham, etc, and swap or add veggies such as mushrooms, olives, artichokes, etc. – pineapple would also be delicious. No matter how your serve this warm, gooey pizza dip, it will be gone in a flash!
How to Make Pizza Dip
Step 1: Make Pizza Dip
The base of the pizza dip is cream cheese mixed with barbecue sauce, a little ranch dressing, a little hot sauce (optional), sour cream and sharp cheddar cheese.  I like to mix it up in mixing bowl with hand beaters so it comes together super quickly.
Step 2: Layer Pizza Dip
Next, layer the creamy, cheesy barbecue delight into a baking dish/skillet and top with more sharp cheddar, fresh thinly sliced green peppers, red onion, barbecue chicken and mozzarella cheese.
Step 3: Bake Pizza Dip
Bake pizza dip until bubbly cheesy barbecue goodness permeates the air – AKA 20 minutes.

Step 4: Garnish Pizza Dip
Top hot pizza dip with bacon and cilantro – as little or as much as you like.
Step 5: Serve Pizza Dip
Now this pizza dip is ready to be scooped with chips, bread, crackers or veggies.  I personally love it spread on bread – tastes more like pizza that way, but it is delicious any way you serve it.  I think you friends and family will agree. And I think they will sing your praises for ringing in the New Year with this BBQ Chicken Pizza Dip.
Tips for Pizza Dip
Use store bought OR homemade shredded chicken. I like to use rotisserie chicken in this pizza dip recipe because it is always tender and flavorful but you can use whatever is more convenient for you! Chicken breasts are also a great option because they are less expensive and usually stocked in your fridge or freezer.
How to make homemade chicken. To make homemade shredded chicken, bake chicken breasts smothered in barbecue sauce (about 1/2 cup) for 20 to 25 minutes, or until chicken is baked through.
Use soft cream cheese.  Make sure you soften your cream cheese well so it mixes easily.  Full fat cream cheese is more creamy and melts better but you may use less fat cream cheese.
Use fresh cheese. Use only freshly grated mozzarella and cheddar cheese because they not only tastes far superior but melts much better.
Use sharp cheddar. Please use SHARP as opposed to MILD cheddar cheese as we need the sharpness to cut through the cream cheese.
Use full-fat sour cream. The sour cream adds a wonderful creaminess to the pizza dip that can't be beat.  Full fat sour cream melts better but you may use nonfat.
Slice red onion thinly. Make sure it's sliced thin enough so it's tender after baked.
WHAT SHOULD I BAKE Pizza DIP IN?
Any oven proof dish will work that is roughly 3 quarts or 8 or 9 inches and 4″ deep. You can use a casserole dish that is roughly 8×11" or an 8×8 or 9×9 square baking dish 4″ deep or a 9-10″ skillet.  I don't recommend an 8″ pie pan because it is not deep enough.
HOW DO YOU serve Pizza DIP?
After the Pizza Dip comes out of the oven, let it sit for at least 5 minutes so guests don't burn their mouths.
If using a skillet, wrap the skillet handle in a towel to protect your guests from burning themselves.
Pizza Dip is best served hot with:

French Baguette
sourdough
tortilla chips (sturdy tortilla chips are best otherwise they can break)
crackers
pita chips
veggies: carrots, broccoli, cauliflower, cucumber bell peppers

My favorite dippers for pizza dip are slices of a French baguette.  I toast the slices first by brushing them lightly with olive oil, spreading in an even layer and baking at 400 degrees for 10 minutes.
CAN I MAKE PIZZA DIP IN ADVANCE?
Absolutely! You can prepare the pizza dip up to the point of baking then cover with foil and refrigerate. When ready to serve, let it sit at room temperature for 20 minutes then bake per recipe instructions or until nice and hot in the center.
Crockpot pizza dip
Lightly grease slow cooker with nonstick cooking spray or use a crock pot liner.
Layer the ingredients in the crockpot per recipe instructions.
Cook on LOW for 2-3 hours or until all the cheeses have melted and the dip is hot and creamy.
Stir dip well before serving for a stress free party appetizer!
HOW DO YOU REHEAT Pizza DIP?
Reheat pizza dip in the same oven proof baking dish or skillet in the oven at 350 degrees for approximately 25 minutes or until hot and bubbly. You can microwave smaller portions at 30 second intervals until heated through.
HOW LONG WILL PIZZA DIP LAST?
Pizza dip will last about 4-5 days in the refrigerator. To store, allow it to come to room temperature first, then either cover with foil or transfer to an airtight container. If you made crockpot pizza dip, then you can either place your entire crock pot insert in the refrigerator or transfer to an airtight container.
DOES Pizza DIP FREEZE WELL?
I do not recommend freezing pizza dip due to the cream cheese, sour cream and cheeses. The fat will separate and become a funny texture.  Instead, you can half the recipe if you are worried about leftovers.

LOOKING FOR MORE PARTY DIPS?
WANT TO TRY THIS PIZZA DIP RECIPE?
PIN IT TO YOUR APPETIZER, PARTY FOOD OR GAME DAY BOARD TO SAVE FOR LATER!
FIND ME ON PINTEREST FOR MORE GREAT RECIPES! I AM ALWAYS PINNING :)!
©Carlsbad Cravings by CarlsbadCravings.com
Carlsbad Cravings Original
NEVER MISS A CARLSBAD CRAVINGS CREATION:
You might also like:
Slow Cooker BEST French Dip Sandwiches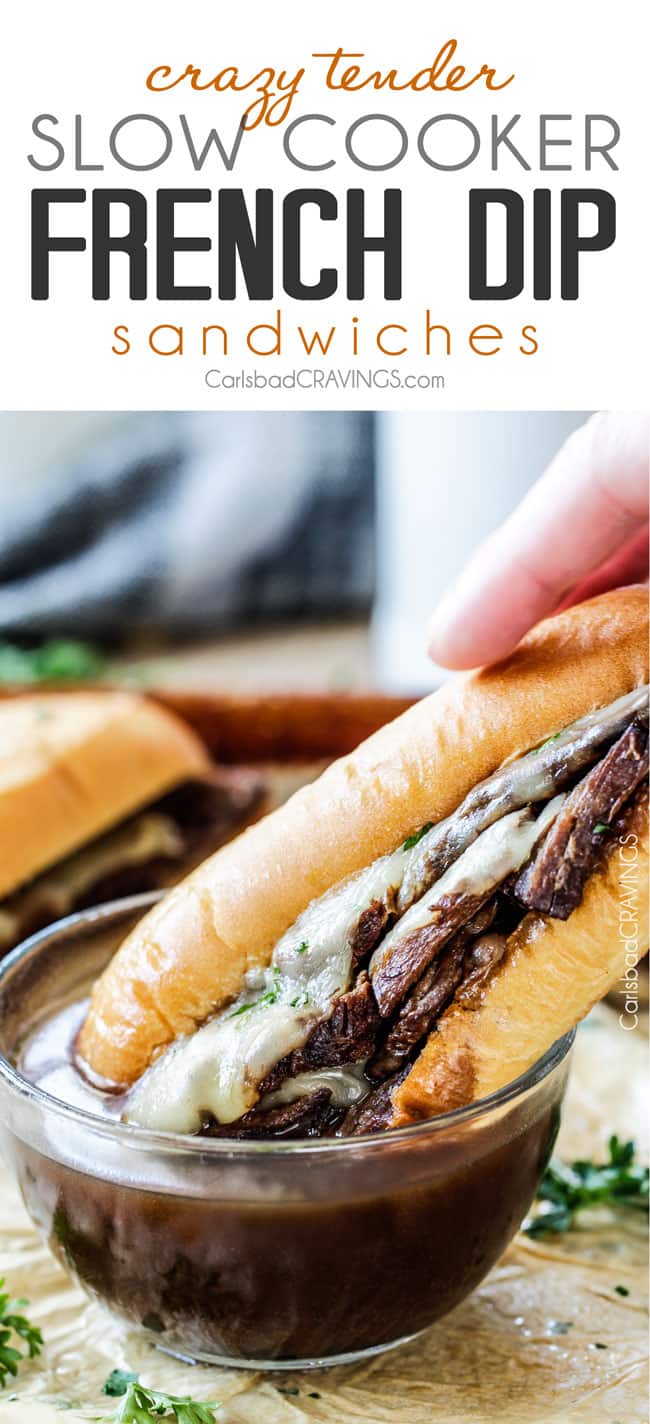 Sticky Honey Buffalo Hot Wings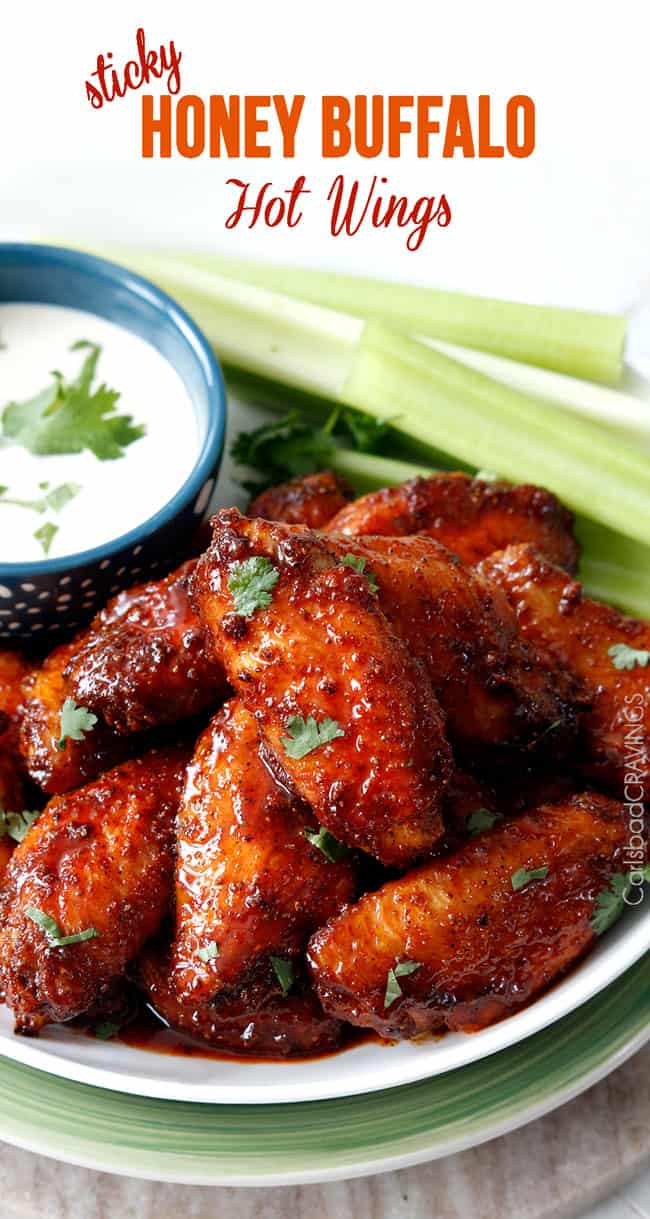 Sesame Chicken Egg Rolls with Sweet and Sour Hoisin Sauce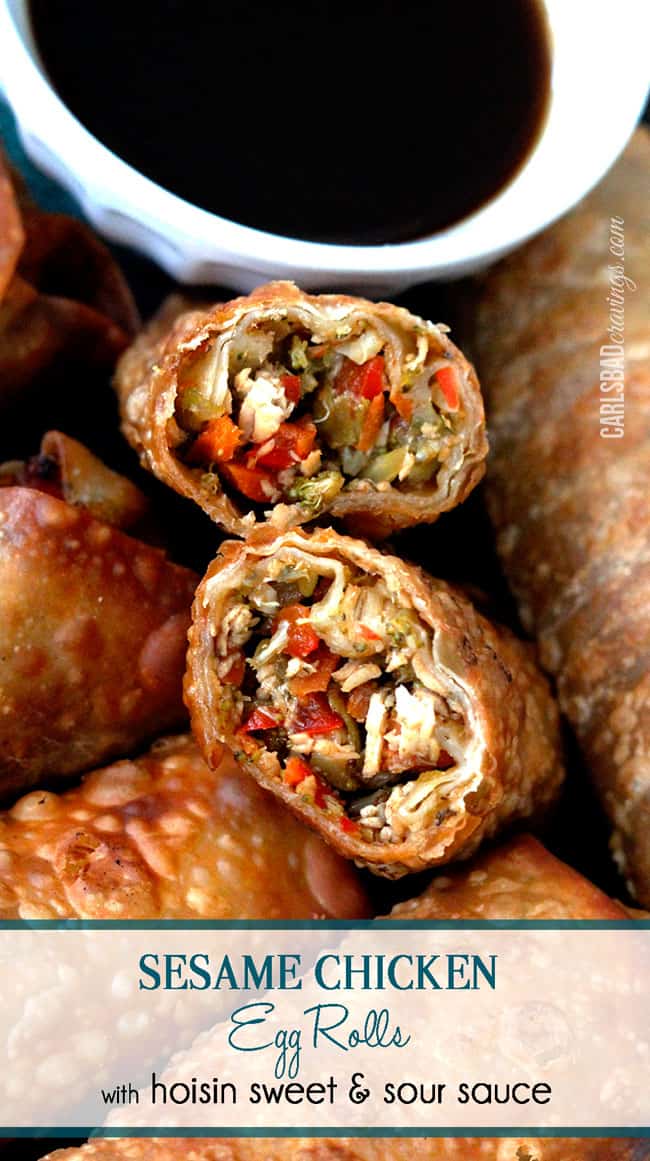 Sweet and Spicy Cranberry Meatballs