One pan, 30 minute (or more like 20 Minute!) Asian Pomegranate Coconut Chicken Skillet is one of my favorite sweet, savory tangy, sauces ever! You will fall in love with the flavors and ease of this dish!
Sometimes a recipe comes along and it just blows. your. mind: hello Asian Pomegranate Coconut Chicken Skillet. Its the multi-dimensional sauce. Its the juicy spice rubbed chicken. Its the easy prep. Its the speed of cooking. Its the jaw dropping deliciousness. Its all of the above in one skillet!
I first made a version of this Pomegranate Coconut Sauce for lamb over two years ago (terrible pics but SO good!) and I have been eager to make a more accessible every day version ever since and this answer of Asian Pomegranate Coconut Chicken Skillet even exceeded my expectations. All I wanted to devour for days was this Pomegranate Coconut Chicken until every last drop of sauce was licked clean. No exaggeration.
So what makes this Asian Pomegranate Coconut Chicken Skillet so special? The chicken (I use thighs because they are oh so juicy but you can sub chicken breast fillets), is first massaged with a wet rub of olive oil, ginger, garlic, onion, salt and pepper. The chicken is then cooked for 3-4 minutes per side, or until cooked through and removed from the skillet for flavor bursting, juicy stand-alone chicken.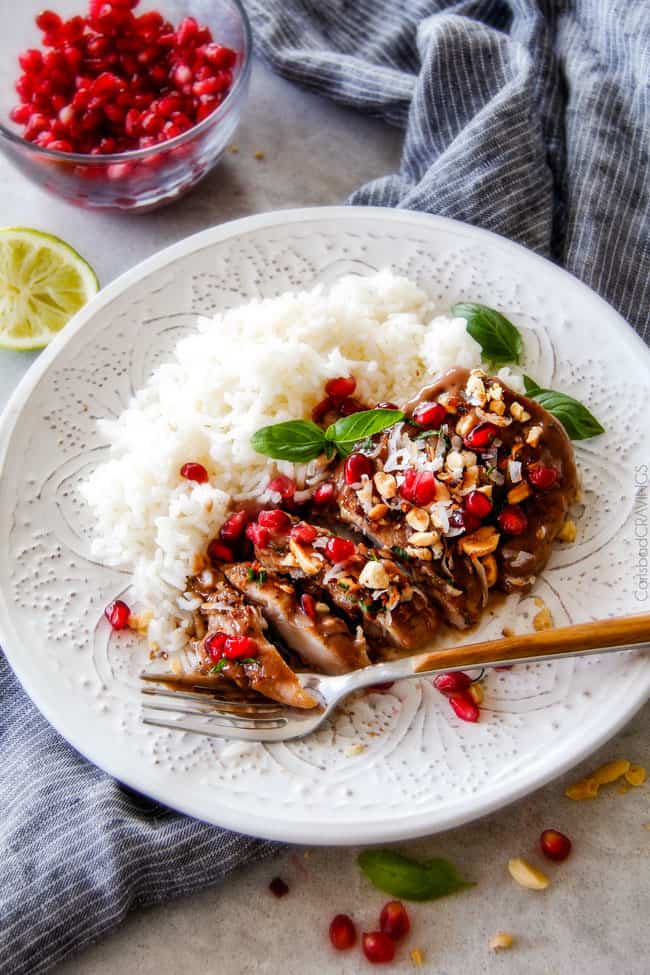 Next, you add your AH-mazing Pomegranate Coconut Sauce to the skillet that is a quick whisking of creamy coconut milk, sweet and tangy pomegranate juice, rich hoisin sauce, grounding soy sauce, tangy lime juice, rice vinegar, brown sugar and some hand picked spices. You will want to drink this sauce and consume everything it touches. Simmer your Pomegranate Coconut Sauce just a few minutes to thicken, then add your chicken back to the skillet.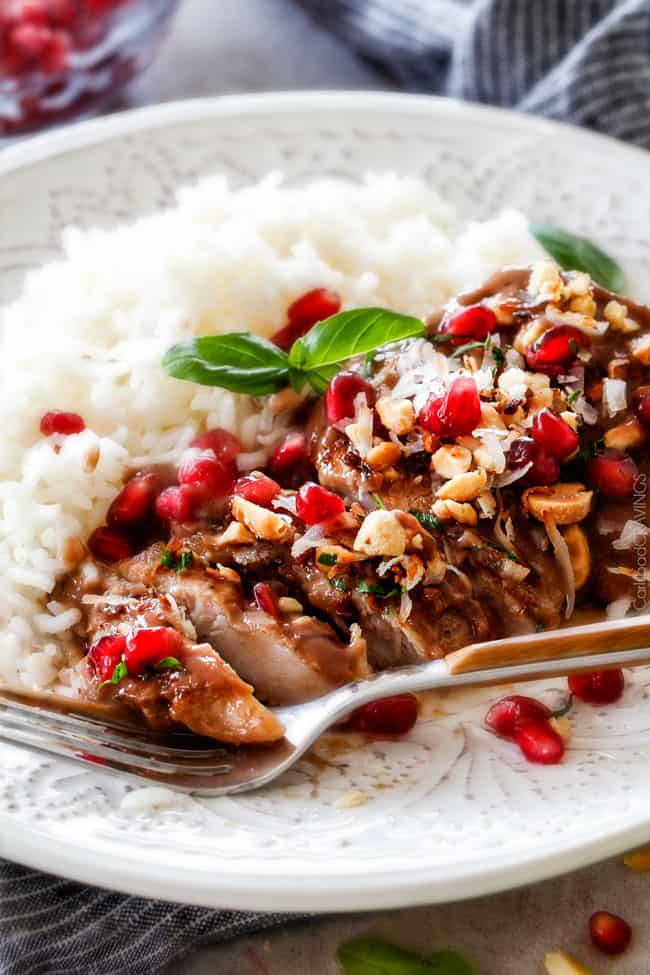 Finally, the exquisitely delicious level is amplified by the incredible textures and flavors of crushed peanuts, sweetened coconut flakes and pomegranate arils all served over a bed of rice. Prepare for your mind to be blown.
Looking for more Thai inspired recipes?
Want to try this 30 Minute Asian Pomegranate Coconut Chicken Skillet?
Pin it to your CHICKEN, ASIAN, HOLIDAY or DINNER Board to SAVE for later!
Find me on Pinterest for more great recipes! I am always pinning :)!
©Carlsbad Cravings by CarlsbadCravings.com
Asian Pomegranate Coconut Chicken Skillet
Save This Recipe To Your Recipe Box
You can now create an account on our site and save your favorite recipes all in one place!
Ingredients
6

boneless skinless chicken thighs, trimmed
Rub
Pomegranate Coconut Sauce
3/4

cup

quality coconut milk

(I like Chaokoh)

3/4

cup

pomegranate juice

3

tablespoons

quality hoisin sauce

(like Lee Kum Kee or Kikkoman)

2

tablespoons

lime juice

1

tablespoon

low sodium soy sauce

1

tablespoon

rice vinegar

1

tablespoon

brown sugar

1

tsp EACH

garlic pwdr, dried basil

1/2

tsp EACH

onion pwdr, ground ginger

1/4

tsp EACH

salt, pepper

1 1/2

teaspoons

Sriracha/Asian hot red chili sauce

(more or less to taste)
Garnish
1/2

cup

peanuts, crushed

(or more to taste)

1/3

cup

sweetened coconut flakes

(or more to taste)

3

tablespoons

pomegranate seeds

(or more to taste)

cilantro
Instructions
In a medium bowl, whisk together Pomegranate Coconut Sauce ingredients. Set aside

Mix Rub Ingredients together in a small bowl and rub all over chicken.

Heat 1 tablespoon olive oil in a large skillet over medium high heat. Add chicken and cook 3-4 minutes per side or until cooked through. Remove chicken to plate.

Add Pomegranate Coconut Sauce and simmer until thickened to desired consistency, Add chicken back to skillet, and spoon sauce over chicken.

Garnish with desired toppings and serve over rice.
Did You Make This Recipe?
Tag @CarlsbadCravings and Use #CarlsbadCravngs
Leave a Review, I Always Love Hearing From You!
Carlsbad Cravings© Original