Oh guys, do I have a treat for you. Not literally a treat, as in "trick or treat" sweet treats, but technically a treat as in "an event or item that is out of the ordinary and gives great pleasure."
This Asian Pomegranate Coconut Lamb with Toasted Coconut and Peanuts will give you great pleasure. The kind of pleasure you experience by savoring the most moist, juicy, tender bite of lamb that's seeping with pomegranate, ginger, coconut Asian flavors AND knowing you created it. I'm still experiencing proud pleasure from this lamb. And still wishing it wasn't all gone…
When I think of lamb, I think of awing over every forkful at the French Market Grille for my lung transplant anniversary years ago. It was my first time savoring lamb because I wanted to try something new. And I was so happy I did.
After loving lamb the first time and multiple times since at restaurants, I'm not sure why I haven't cooked lamb until now. I guess I assumed lamb would be difficult to prepare, but lamb- and especially this boneless leg of lamb – is SO easy to roast and carve and is so accessible. In fact, there are 82,000 family-owned sheep operations in nearly every U.S. state making American Lamb local and available year round. Who knew?
And that is good for me – and for you – because I have plans. Big plans. Not only is lamb known for its quality, flavor, and tenderness, it naturally lends itself to global flavors like Latin, Middle Eastern, Asian and Mediterranean. I'm seeing gyros, kabobs, bulgogi, stews, and on and on in the tender, internationally flavored future.
So let's leave the unproductive, sadly cheating myself, where have you been all my life lamb past behind and begin the future with Asian Pomegranate Coconut Lamb.
First you rub your boneless leg of lamb with coconut oil, ginger, garlic, onion, etc. Then marinate the lamb in a drool worthy marinade (literally -I am beginning to salivate just thinking about it – Pavlov was so right) of coconut milk, pomegranate juice, lime juice, hoisin sauce, ginger, garlic, sriracha, etc. You will reserve some of the marinade to later become your sauce (no double work!), because I am pretty much in love with this marinade/sauce.
Smother each roasted, carved slice of lamb with Pomegranate Coconut Sauce then garnish with toasted coconut, peanuts, green onions, pomegranate seeds and freshly squeezed lime and you are in for a treat.
Or in other words, this Asian Pomegranate Coconut Lamb is an event or item that is out of the ordinary and will give you great pleasure.  Its going to be a delicious future.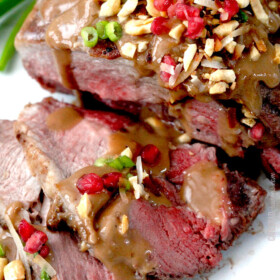 Asian Pomegranate Coconut Lamb
Total Time:
2

hours
7

minutes
Cook Time:
1

hour
52

minutes
Save This Recipe To Your Recipe Box
You can now create an account on our site and save your favorite recipes all in one place!
Ingredients
Instructions
In a small bowl, whisk together Rub ingredients. With the netting still ON the lamb** spread the rub evenly over every surface of the lamb. Generously season with freshly cracked salt and pepper. Place lamb in a plastic sealable freezer bag.

Whisk together Marinade/Sauce ingredients. Add ½ cup Marinade to the lamb. Reserve the remaining Marinade separately – this will become your Sauce. Refrigerate lamb and Sauce for 8-24 hours.

When ready to cook lamb, let excess marinade drip off and place it on a rack in a roasting pan filled with 1 ½ inches of water. Bake at 400F degrees uncovered for 12 minutes. Reduce to 325F degrees and bake 28-30 minutes per pound or until a meat thermometer inserted in the center of the lamb registers 140 degrees for medium rare/150 degrees for medium well. This would mean 84-90 minutes for a 3 pound medium rare leg. When cooked to desired temperature, remove lamb and tent with foil for 15 minutes before carving.

Meanwhile, toast coconut and peanuts over medium heat until coconut is golden, stirring frequently. Add to a medium bowl and toss with pomegranate seeds and green onions.

While lamb is resting, whisk in 2 teaspoons cornstarch to reserved Sauce. Add Sauce to small saucepan and bring to a boil. Reduce heat and simmer for 3-5 minutes or until Sauce has reduced and thickened.

To serve, top carved lamb slices with sauce, garnish with toasted coconut/peanuts/pomegranate and top with freshly squeezed lime juice.
Notes
*found in the Asian section of any grocery store
**You will not remove netting until you are ready to carve lamb.
Did You Make This Recipe?
Tag @CarlsbadCravings and Use #CarlsbadCravngs
Leave a Review, I Always Love Hearing From You!
Carlsbad Cravings© Original