Mega creamy Whipped Roasted Red Pepper Feta Dip or Spread is so addicting you will be dunking everything in it!  
This red pepper dip is the perfect party dip that everyone will LOVE. It only takes 5 minutes to whip up — literally!
Roasted Red Pepper Dip Recipe
You guys, this red pepper feta dip is one of my new obsessions. I even added the leftover dip to pasta to infuse it with creamy, roasted red pepper, jalapeno, garlic, cilantro deliciousness because I just couldn't get enough. Basically, this dip makes everything better.
I made this velvety Whipped Roasted Red Pepper Dip last Friday, and it being the 4th of July weekend, Patrick surprised me by coming home early to find me sitting crossed legged on our rug, just having finished taking pictures, stuffing my face with broccoli…
Triscuits/crackers…
Pita chips…
…and cucumbers all blanketed in the creamylicious dip. He proceeded to join me as we ate and ate and ate. And when a husband likes a dip with vegetables — you know it's a winner.
Roasted Red Pepper Dip Ingredients
This red pepper dip recipe has a short ingredients list, but it packs in maximum flavor.
Feta cheese: I always have a large container of feta crumbles in my fridge from Costco, so that is what I use for this Whipped Feta Dip, but you are welcome to use a block as well.
Cream cheese: Buy a block of cream cheese rather than the whipped kind in a tub.
Sour cream: Makes the red pepper dip extra tangy.
Mayonnaise: Buy the real stuff.
Lime juice: Fresh squeezed gives the best flavor.
Jarred roasted red peppers: You can roast bell peppers yourself, if desired.
Jalapeño: Remove the seeds, otherwise your whipped feta dip will be too spicy.
Garlic: Just one clove is all you need.
Fresh cilantro: Loosely pack the cilantro leaves into the measuring cup.
Dried cumin and oregano: Added to round out the flavor profile.
Ingredient Substitutions
Cream cheese: Lite cream cheese may be substituted.
Sour cream: Lite sour cream or plain Greek yogurt can be used instead of regular.
Mayonnaise: Lite mayonnaise can be used instead of full-fat.
How to Make Roasted Red Pepper Dip
This 5-minute red pepper and whipped feta dip is exactly that — whipped! and as easy as that!
Add your feta, cream cheese, sour cream, mayonnaise and lime juice and whip until smooth, then add your smokey, slightly sweet jarred roasted red peppers (or freshly roasted, if you prefer), cilantro, jalapeño, garlic and dashes of cumin and oregano and whip again…
And this MEGA creamy red pepper feta dip is ready to bathe your vegetables, crackers, or chips and slather on your bread, sandwiches, pitas and burgers.
Be prepared to become obsessed. Very obsessed.
Tips for Making Roasted Red Pepper Dip
Room temperate feta: You will need room temperature feta and softened cream cheese so they mix easily. The room temperature cheeses will create a fluffier dip. Leave the feta out at room temperature for about an hour before make the dip.
Softened cream cheese: Softened cream cheese is crucial or your Whipped Feta Dip will be lumpy. I gently microwave the cream cheese at 15-second intervals until softened, then let it sit out at room temperature for 30 minutes.
Season to taste: Once the feta dip is whipped, taste and season with salt and pepper to taste. You can also make it spicier by adding red pepper flakes or jalapeño seeds. Adjust acidity by adding additional lime juice if desired, or honey for less acidity.
Chill dip. I recommend chilling the red pepper dip for at least 30 minutes to allow the flavors to meld. You will be amazed at the difference 30 minutes makes!
Hot or cold? If you are serving whipped feta dip as a vegetable dip, then serve cold, if serving as a spread, let sit at room temperature for 30 minutes or microwave for 30 seconds or so.
Can I Make Roasted Red Pepper Dip in Advance?
Yes! This red pepper dip is fabulous to make ahead because it tastes even better as the flavors meld.
How to Store Red Pepper Dip
Red pepper feta dip should be stored in an airtight container in the refrigerator for up to 5 days. The feta cheese dip will stiffen slightly when refrigerated, so let it sit at room temperature for 30 minutes or so before serving or microwave at 10-second intervals, about 30 seconds should do the trick.
Can I Freeze Roasted Red Pepper Dip?
No, I don't recommend freezing this red pepper dip because it contains so much dairy (it'd likely split once frozen).
What to Serve with Roasted Red Pepper Dip
I think the more appropriate question is what not to serve with red pepper feta cheese dip?! It is delicious with:
Veggies: dunk all your favorite veggies like red bell peppers, cucumbers, carrots, broccoli, snap peas, etc. into this tantalizing dip.
Crackers: serve it with crackers, chips, pita chips, toasted pitas, crostini, etc.
Breads and the like: it makes an elegant, flavorful spread for toast, bagels, sandwiches, burgers, etc.
Wraps: slather it on flatbread, pitas, etc. before adding your toppings.
Pizza: spread it on pizza like my Greek Chicken pizza.
Eggs: add it to scrambled eggs, omelettes, etc.
Soup: add a dollop to hot soup – mmmmm!
Looking for More Easy Dips?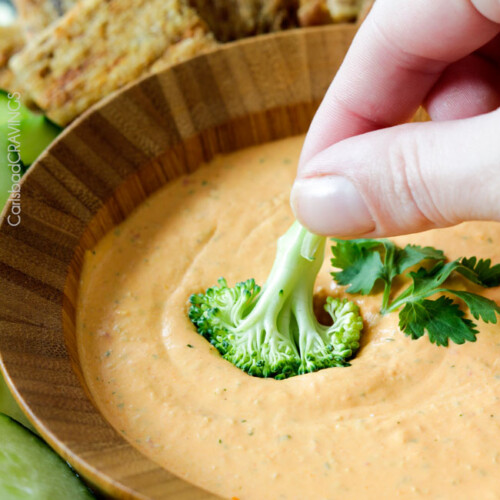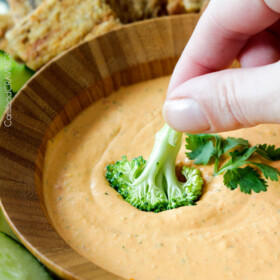 5 Minute Creamy Whipped Roasted Red Pepper Feta Dip
Save This Recipe To Your Recipe Box
You can now create an account on our site and save your favorite recipes all in one place!
Ingredients
4

oz.

feta cheese

(approximately 1 cup)

4

oz.

cream cheese, room temperature

(may use reduced fat)

1/4

cup

sour cream

(may sub Greek yogurt)

1/4

cup

mayonnaise

(may use lite)

2

tablespoons

lime juice

1/2

cup

jarred roasted red peppers

drained and patted dry

1

jalapeno roughly chopped, seeds separated

1

clove

garlic, peeled

1/4

cup

loosely packed cilantro

1/4

teaspoon

cumin

1/4

teaspoon

oregano
Instructions
Add feta, cream cheese, sour cream, mayonnaise and lime juice to food processor and mix 3-4 minutes until cheeses are very smooth, scraping sides down occasionally.

Add remaining ingredients and pulse until smooth. Depending on amount of water released from roasted red peppers, you may want to mix in a tablespoon+ milk to reach desired consistency. If dip seems thin, it will thicken after refrigerated.

Add jalapeno seeds to taste to reach desired spice level (I use about half of the jalapeno seeds), mixing until incorporated.

Serve at room temperature or even better chilled as spread/dip for pita chips, crackers, bread, vegetables, etc.
Did You Make This Recipe?
Tag @CarlsbadCravings and Use #CarlsbadCravngs
Leave a Review, I Always Love Hearing From You!
Carlsbad Cravings© Original