Creme Brulee French Toast tastes like glorious Creme Brulee and can be thrown together in 15 minutes and made the night before for stress free breakfast and entertaining! Golden caramelized toasted outside, subtly creamy inside. Seriously melt in your mouth delicious!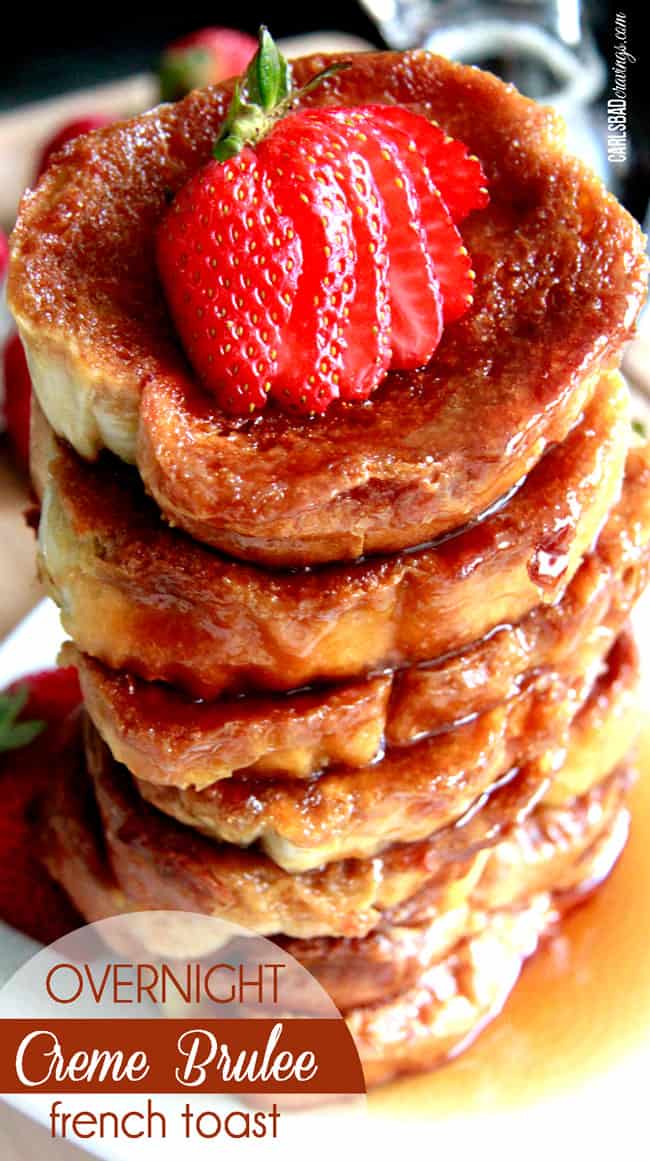 Do you like Creme Brulee?
For breakfast?!!!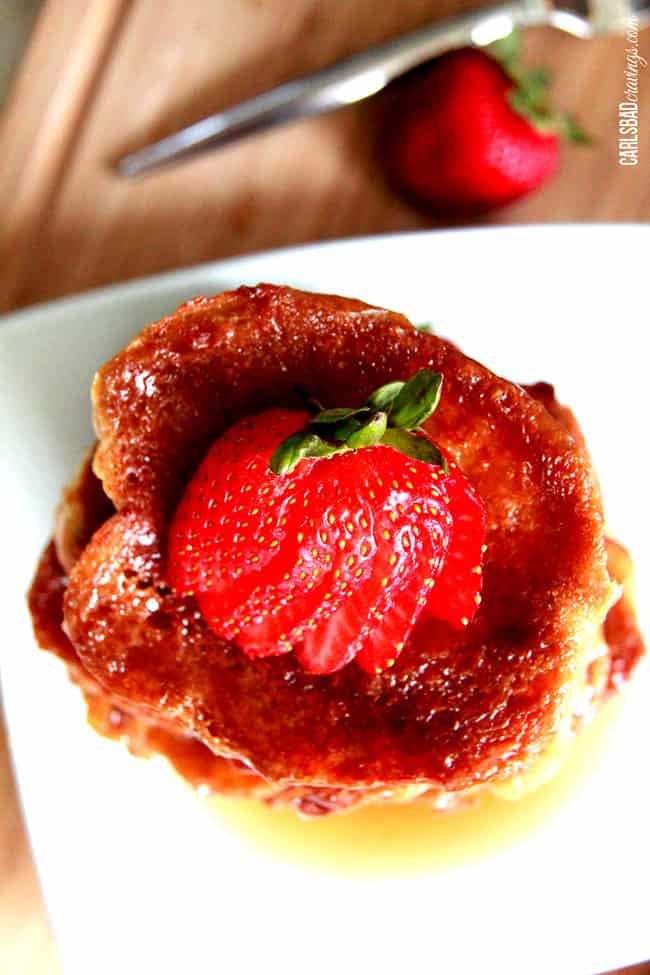 How about for lunch?
Dinner?
Definitely dessert?
Now you can have Creme  Brulee for breakfast, lunch, dinner and dessert with this ridiculously delectable Creme Brulee French Toast!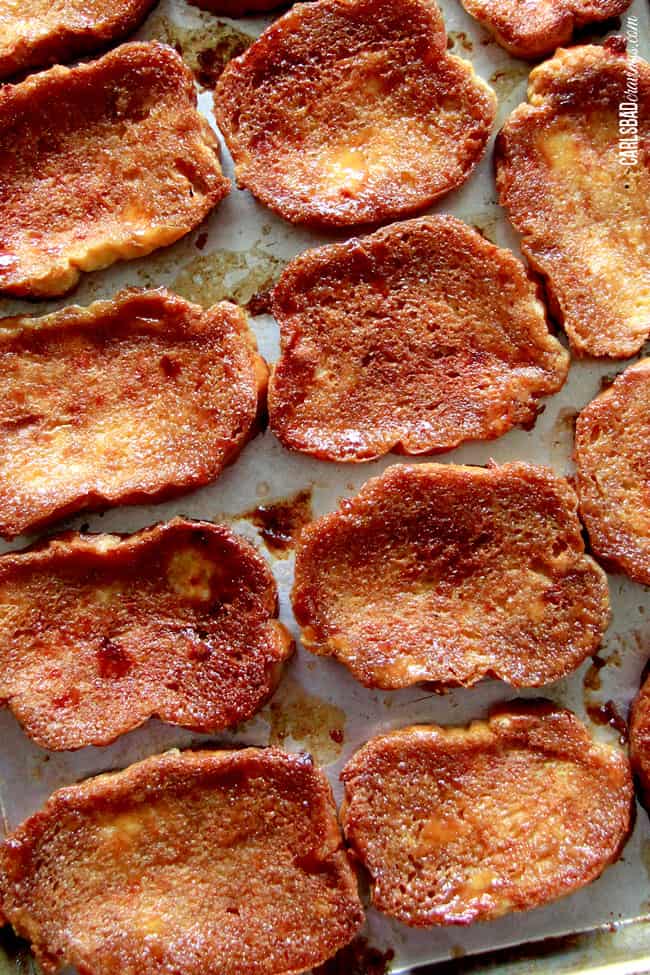 Ill be the first to admit that I usually never make breakfasts like these for actual breakfast.  I'm more of a breakfast for dinner type person.  In the case of Creme Brulee French Toast though, I guess its more like dessert for dinner.   So that's dessert for breakfast for dinner.  I'm confused.  The point is, with this French Toast, you can get your Creme Brulee fix any time of day.  And believe me, you are going to want this every time of the day!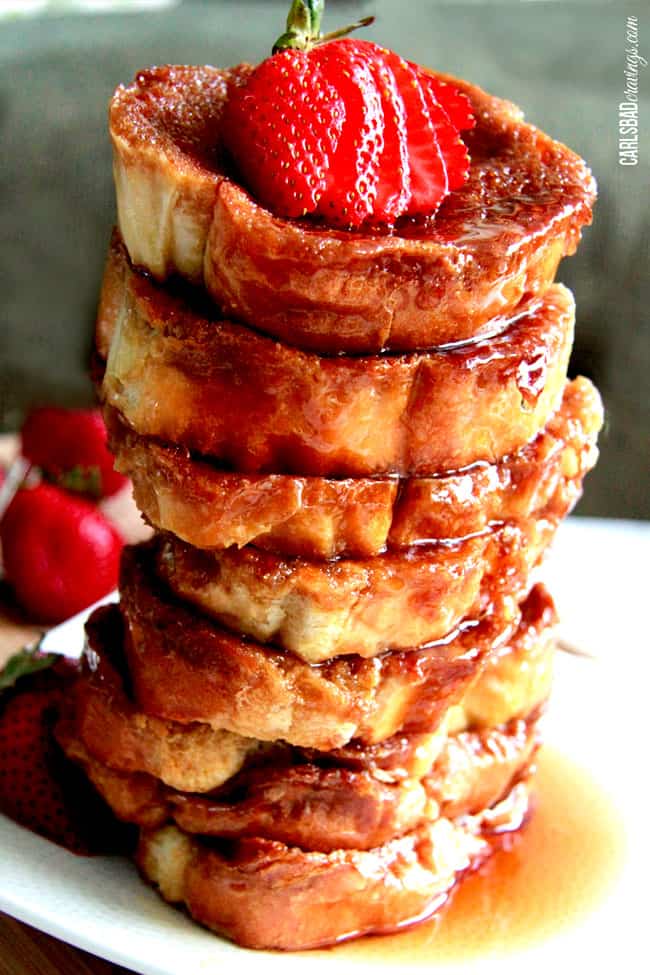 Ahhhh, Creme Brulee.   Silky smooth vanilla custard with a thin crunchy carmalized sugar top.  If its on a dessert menu, I don't even look at the other options.  I  actually inhaled Creme Brulee last Saturday when we went out for my mom's birthday.  It felt like my birthday.  When I saw a recipe for Creme Brulee French Toast it in an old church cookbook months ago, I was immediately intrigued, so naturally I googled it and found that it has been done many times before – but never quite like this.  I made a few simple changes to the Six Sister's Stuff version that resulted in OUT-OF-THIS-WORLD Creme Brulee French Toast.  I eliminated the corn syrup, added maple syrup, added orange extract (to mimic the liquor flavor), flipped the toast after baking then broiled them to completely caramelize the top.  When I actually shoved a mountainous forkful into my mouth, my eyes grew wide at how much it actually tasted like glorious Creme Brulee!
Let me tell you how that is even possible:
First off, making this French toast is SO EASY!  Whip it up in 15 minutes, refrigerate, and then when you are ready to eat, pull your premade sheet out and bake.  So fabulous for birthdays or special occasions like Christmas!
First,  melt butter and brown sugar together then smear it across a large pan…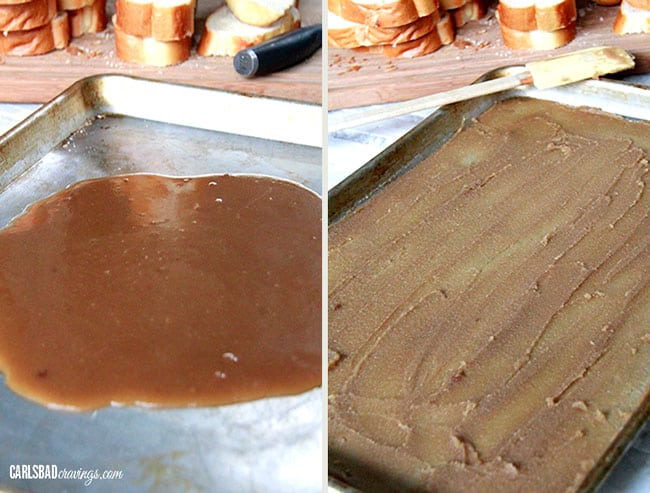 Then you line the bread slices over top; then spoon a mixture of eggs, half and half, vanilla, maple syrup and orange extract on top of the bread.  Simple and fast right?  At this point you refrigerate the bread for 8 hours up to overnight.  During that time, the bread slurps up all of the vanilla egg/half and half mixture like the picture below on the right.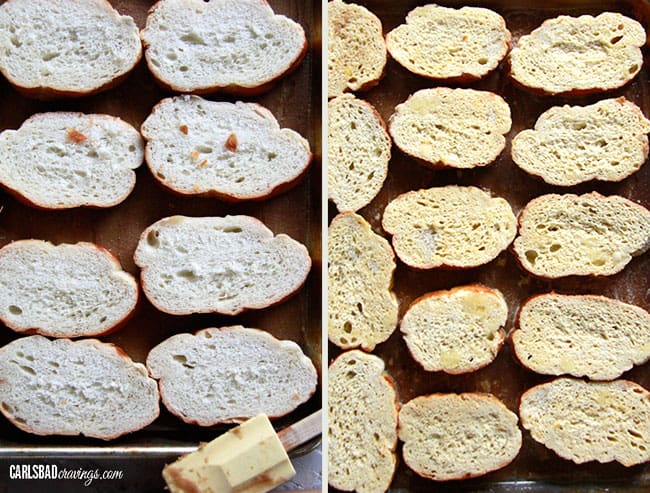 When you can't stand the anticipation any longer, sprinkle the saturated bread with cinnamon then bake for 25 minutes then flip the bread over and broil until golden.


Just look at that caramelized crust…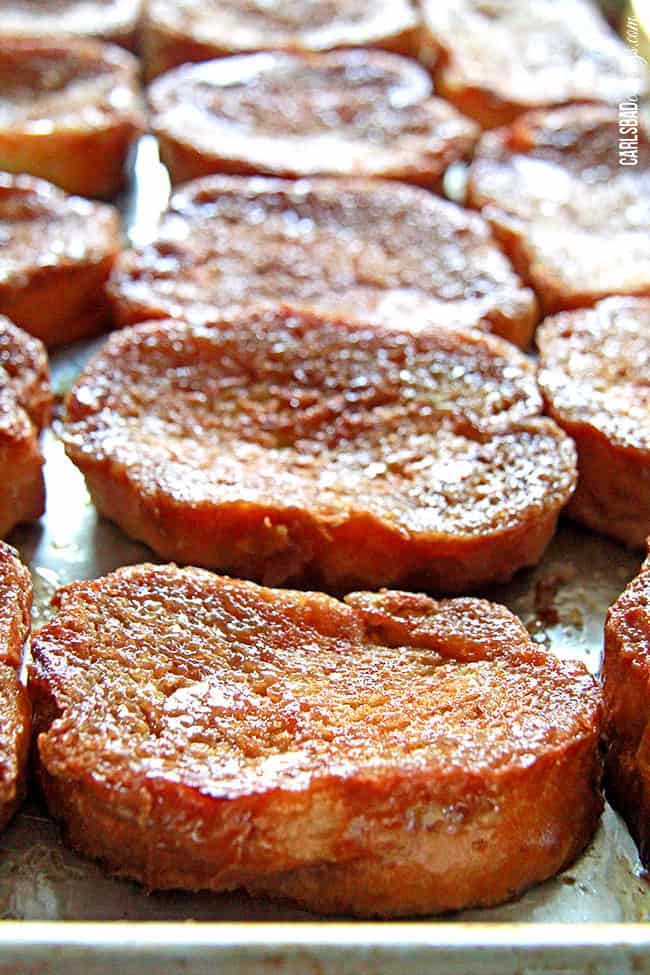 You now have a French Toast that has soaked up all of the brown sugar/butter/cinnamon on the outside, eggs/half and half/vanilla/maple syrup/orange extract on the inside to create a  golden caramelized toasted shell giving way to a subtly creamy custard-like filling.
If you think that sounds ridiculously, insanely delicious…
You would be right.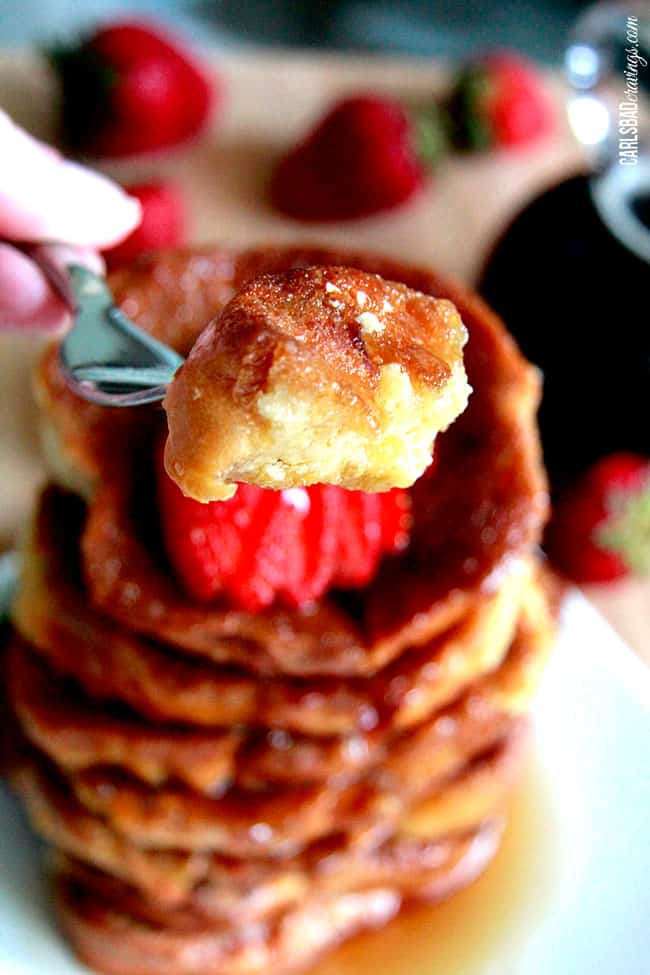 I know what I'm making this Christmas…
And maybe a few in between for breakfast, lunch and dinner…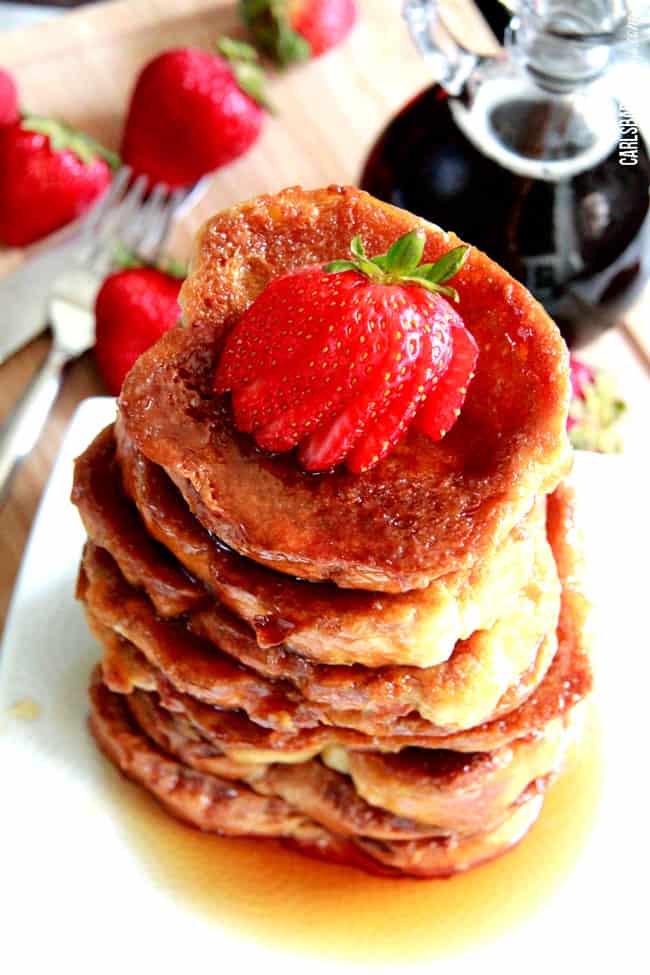 Want to try this Overnight Creme Brulee French Toast?
Pin it to your BREAKFAST, HOLIDAY or DESSERT Board to SAVE for later!
Find me on Pinterest for more great recipes!  I am always pinning :)!
©Carlsbad Cravings by CarlsbadCravings.com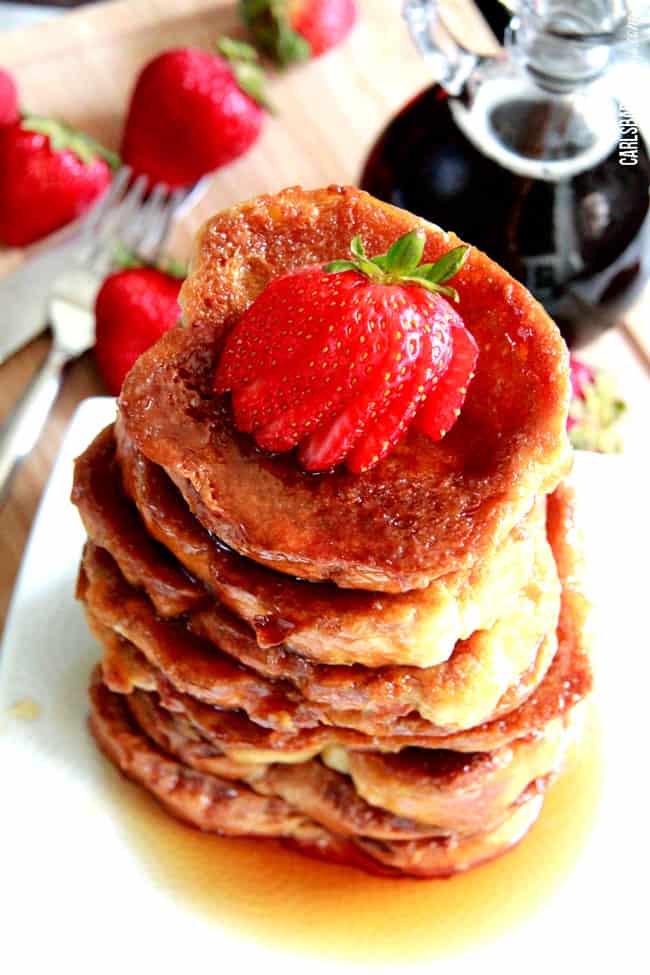 1/2

cup

butter

1

cup

packed brown sugar

1

loaf 2 day-old French bread

cut into 1" slices

5

eggs

1 1/2

cups

half-and-half cream

2

tablespoons

pure maple syrup

1

teaspoon

vanilla

1/2

teaspoon

orange extract

1/4

teaspoon

salt

cinnamon
1/2

cup

butter

1

cup

packed brown sugar

1

loaf 2 day-old French bread

cut into 1" slices

5

eggs

1 1/2

cups

half-and-half cream

2

tablespoons

pure maple syrup

1

teaspoon

vanilla

1/2

teaspoon

orange extract

1/4

teaspoon

salt

cinnamon
In a small sauce pan, melt butter and brown sugar, stirring occasionally until smooth. Pour melted mixture into a lightly greased jelly roll pan (18"x13"x1″), and spread out evenly over the bottom of the pan.

Arrange bread slices in a single layer to cover the pan (as many as will fit).

Add eggs to a medium bowl and beat for 1 minute, then whisk in half and half, maple syrup, vanilla, orange extract and salt. Spoon mixture evenly over each piece of bread. Cover, and chill at least 8 hours, or overnight.

When ready to bake, lightly sprinkle the tops of the bread with cinnamon. Bake uncovered at 350 degrees (175 degrees C) for 25-30 minutes or until lightly golden then flip all the slices of bread over and broil until the tops are golden.

Top with berries, whipped cream, etc.
Adapted from Six Sister's Stuff
Never miss a Carlsbad Craving Creation:
You might also like:
Cream Cheese Stuffed Banana Bread Coffee Cake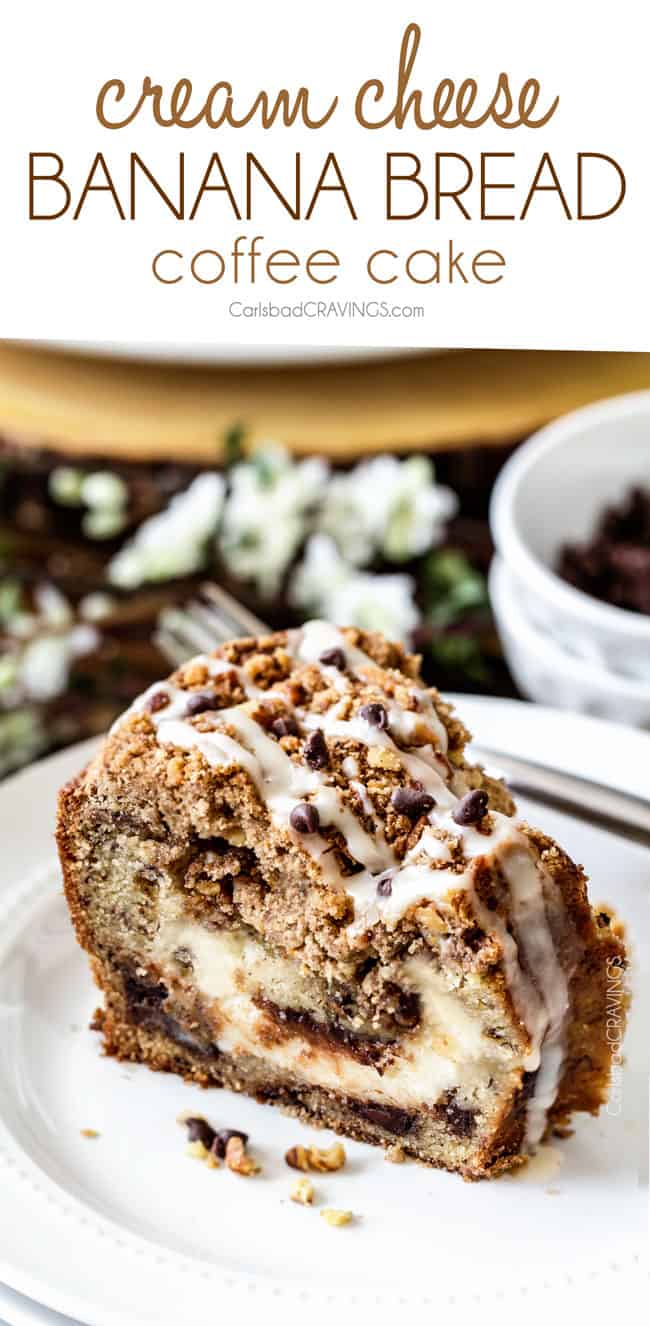 Ham and Cheese Breakfast Enchiladas with Creamy Salsa Sauce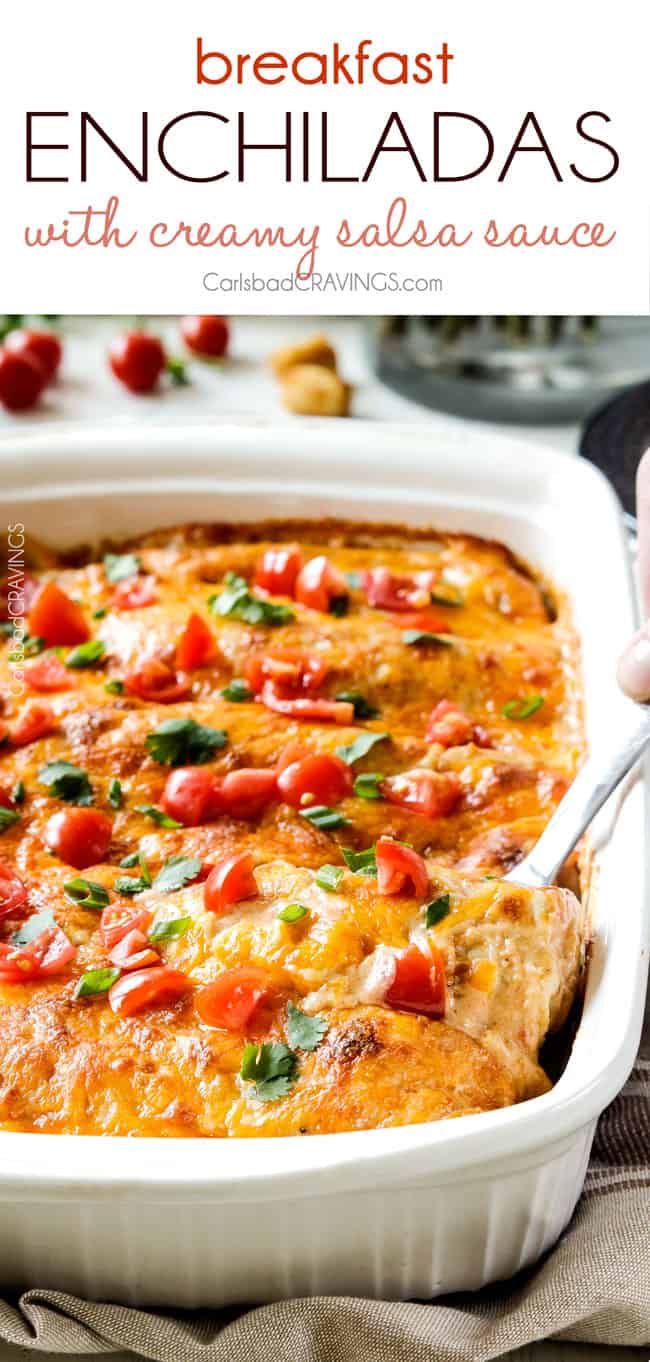 Overnight Eggnog Cinnamon French Toast
Angel Food Cake French Toast with Cream Cheese and Strawberry Syrup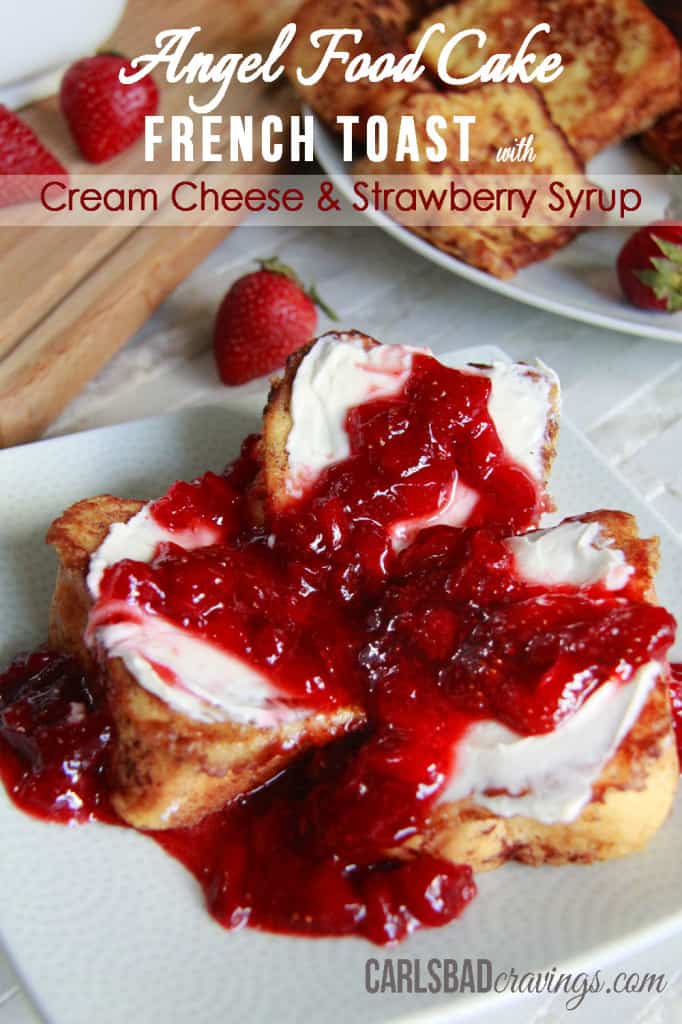 Easy Box Mix Lemon Blueberry Crumb Cake Muffins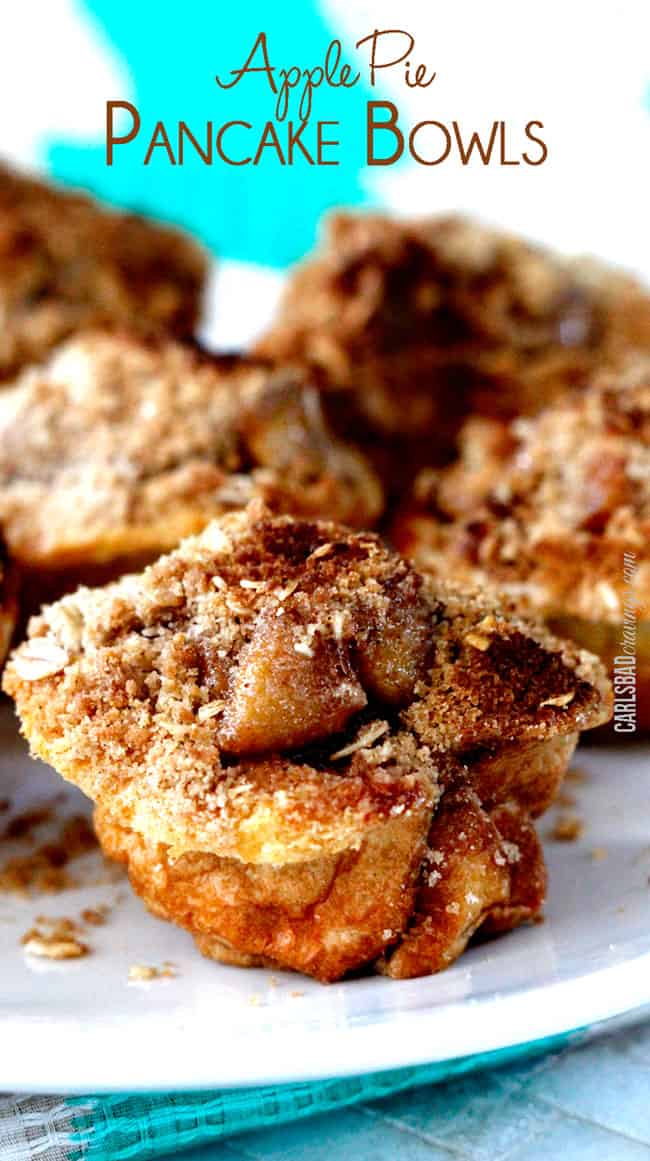 Brown Sugar Carrot Cake Crepes with Cream Cheese Filling and Blueberry Sauce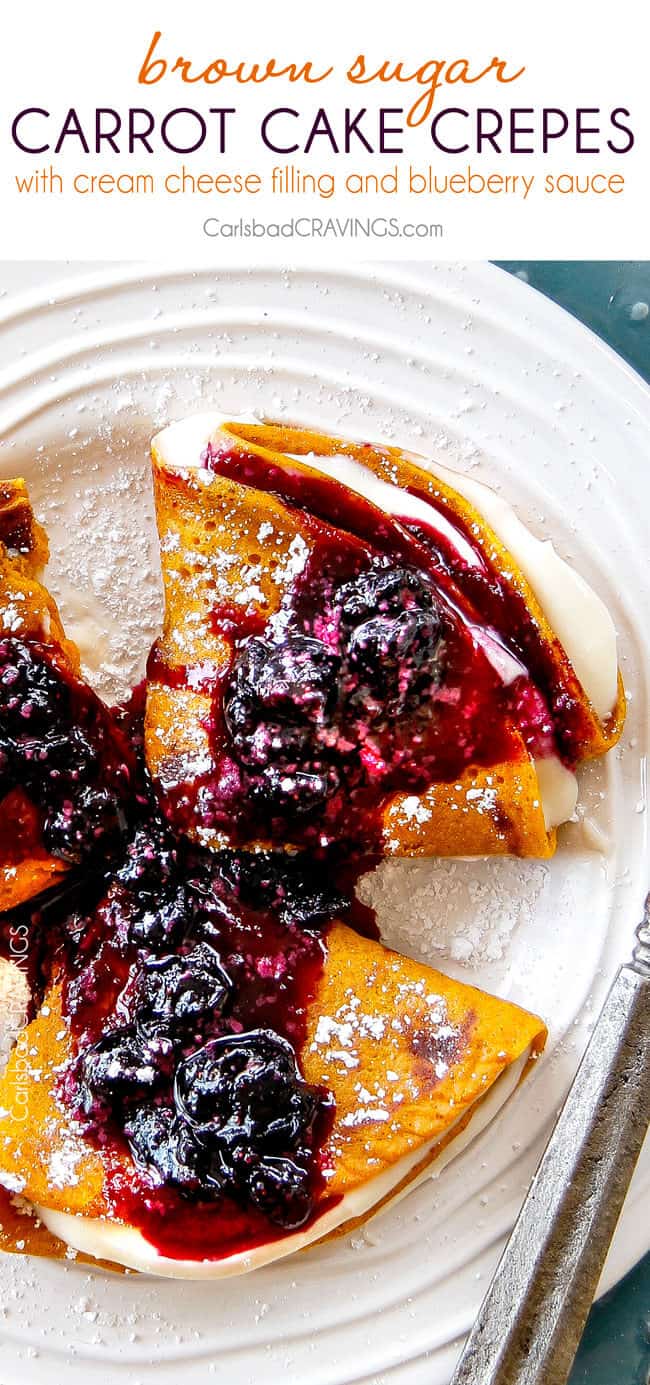 Follow Carlsbad Cravings (Jen)'s board Carlsbad Cravings Recipes on Pinterest.