Your whole family will love this flavor packed Skinny Chicken Parmesan! Its so much EASIER than breading each chicken piece that you might never make "traditional" Chicken Parmesan again!
I hope you all had a wonderful Memorial Day Weekend! Memorial Day always falls around Patrick and my anniversary and this year we celebrated the big 1-0! Celebrating ten years with this love of mine got me thinking of all I've put him through this past decade from multiple pneumonias and blackouts, to my appendectomy and kidney transplant to Gastroparesis, and future photoparesis. I feel like the luckiest girl in the world to have such a rock at my side that keeps us laughing through it all – and he's adorable too. (see IG post HERE)
When Patrick told his sister before we got married, "I'd rather have Jen for a few years in this life and then for the rest of eternity than nothing at all," I'm not sure he knew what he was in for. But at least he gets good food 😬👍. Love my man so much that the tears of gratitude that streamed down my face as we were married have even greater meaning today. ❤️. (Read Our Love Story HERE)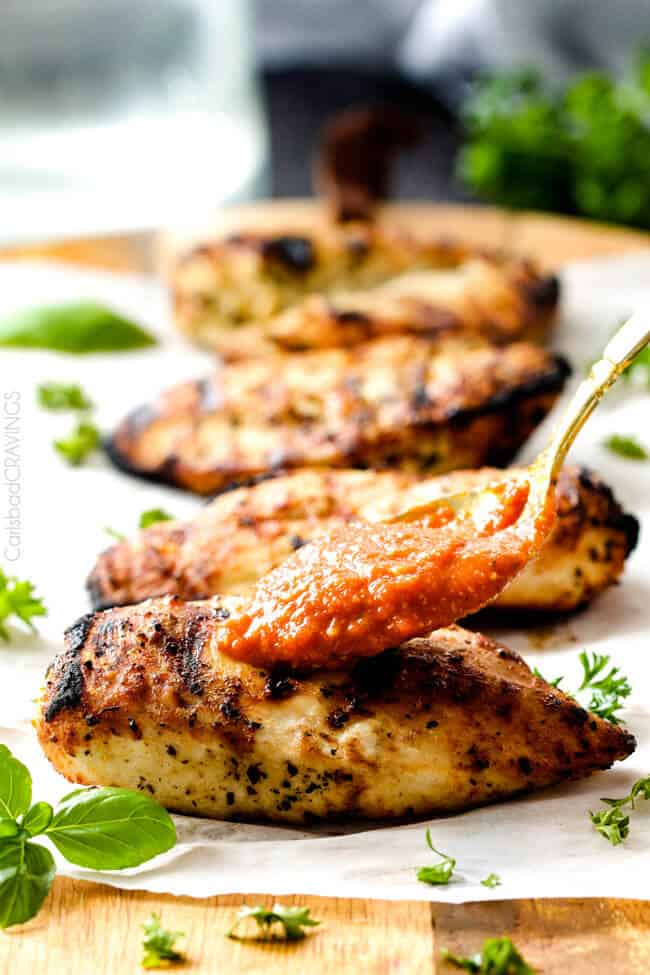 Now what does this have to do with Skinny Chicken Parmesan? The only tie in I can think of is that our memories with our loved ones are often created around the dinner table. And even though the memories of love and laughter outshine the food, I still remember my mom's meals that warranted my "What About Bob" "mmmmmmm" "mmmmmm" utterances I just couldn't suppress. I think this Skinny Chicken Parmesan will have the same effect around your dinner table.
My goal with this Skinny Chicken Parmesan was actually not to create an easier, skinny, "lighter" version at all – it was just to make Grilled Chicken Parmesan. But as I made and devoured my grilled version, I chewed in awe at not only how lick-your-plate delicious it was but how easy it was, how much lighter it was, and that it could be made on the grill or the stovetop! So you now have Skinny Chicken Parmesan that wasn't trying to be skinny at all. It just wants to be known as delicious.
The simple marinade tenderizes the chicken and infuses it with flavor while the smooth, seasoning packed blender Marinara smothers the chicken to make it nice and saucy all blanketed in melty mozzarella cheese. The chicken gets topped with buttery Parmesan Panko that tastes just like the chicken was breaded in all its crunchy glory but all you have to do is sprinkle it on instead of breading each piece individually – LOVE this simple technique!


So please give your loved ones an extra squeeze for me tonight and treat yourself to satisfying, savory Skinny Chicken Parmesan that just happens to be lighter. And just happens to be my new favorite way to devour Chicken Parmesan!

Looking for more Italian chicken recipes?
Want to try this Skinny Chicken Parmesan?
PIN IT TO YOUR CHICKEN OR GRILL BOARD TO SAVE FOR LATER!
FIND ME ON PINTEREST FOR MORE GREAT RECIPES!  I AM ALWAYS PINNING :)!
Carlsbad Cravings© Original
Skinny Chicken Parmesan
Save This Recipe To Your Recipe Box
You can now create an account on our site and save your favorite recipes all in one place!
Ingredients
4

chicken breasts halves

or 4 chicken breasts pounded thin

1

cup

shredded mozzarella cheese
Chicken Marinade
Parmesan Crumb Topping
1/2

cup

panko bread crumbs

1/4

cup

freshly grated Parmesan cheese

1

tablespoons

butter
Instructions
Whisk together all Marinade ingredients in a freezer size plastic bag. Add chicken and marinate 30 minutes up to overnight in the refrigerator (longer the better). When ready to cook, remove chicken from fridge and let sit at room temperature for 15-30 minutes.

Add all of the Blender Marinara ingredients to your blender and puree until smooth. Add to a medium saucepan and simmer gently for 10-15 minutes.

Meanwhile, melt 1 tablespoon butter in a medium saucepan, stir in ½ cup panko breadcrumbs and cook over medium heat until golden. Remove from heat and stir in Parmesan cheese.

SKILLET/OVEN DIRECTIONS

Heat 1 tablespoon olive oil in a large oven proof skillet over medium high heat. Once very hot, remove chicken from marinade, pat dry and cook undisturbed for 3-5 minutes, or until nicely browned on one side. Turn chicken over, cover, and reduce heat to medium and cook approximately 5 more minutes (depending on thickness of chicken), or until chicken is cooked through.

Pour Blender Marinara over chicken and top each breast with ¼ cup mozzarella followed by Panko mixture. Transfer skillet to oven and broil until cheese melts. Serve chicken and sauce over pasta.

GRILL DIRECTIONS

Grease and preheat grill to medium heat, 375-450°F. Grill chicken undisturbed for 5-7 minutes per side, or until chicken is cooked through. (An inserted thermometer should read 160 degrees F.)

Spoon approximately 2 tablespoons Marinara over each chicken breast followed by ¼ cup mozzarella. Close grill to melt cheese then top with golden Panko Mixture. Serve with remaining Marinara and Panko over pasta.
Notes
*Instead of butter, you can spray panko with nonstick cooking spray before broiling in oven.
**Prep time will vary due to marinating time.
Did You Make This Recipe?
Tag @CarlsbadCravings and Use #CarlsbadCravngs
Leave a Review, I Always Love Hearing From You!
Carlsbad Cravings© Original