This Pumpkin Bundt Cake is the only pumpkin cake you need this Fall!
This Pumpkin Bundt Cake is wonderfully moist and rich infused with warm Fall spices and decadent chocolate chips then bathed in a velvety Cinnamon Pumpkin Cream Cheese Glaze. I've included tips and tricks an how to freeze Pumpkin Bundt Cake so you can enjoy it stress free any day of the week! (Updated recipe post and video!)
Pumpkin Bundt Cake Recipe Video
What readers are saying about this Pumpkin Bundt Cake:
I've made this cake 4 times in the last 6 weeks for various parties. My parents went absolutely nuts over it and requested it for Thanksgiving (big compliment, since my mother's Thanksgiving is full of only the absolute best… Hannah
We made this on Sunday for family dinner and it was DELICIOUS! Like the previous commenter, I thought this would be for the adults, and the kids made some rice krispy treats for themselves. But all 6 cousins LOVED this cake! – Katie
I just made this cafe for our annual block party and not only did it get oohs and aahs as I brought it in it also was a hit for everyone. Annie
I made this cake to bring to my family's Thanksgiving dinner tonight and it was a total hit! – Jodie
Pumpkin Bundt Cake Recipe
As I mentioned in my Nutella Pumpkin Crepes post, my favorite pumpkin anything growing up was my Mom's Famous Pumpkin Bread with chocolate chips – pumpkin and chocolate are just made for each other! And my favorite part of the bread – aside from the chocolate chips – was the outer crystallized sugar crust. My mom began making mini loafs just so there would be more crust – thanks mom.
So when I was thinking about what type of pumpkin cake I wanted to make, I knew it had to have chocolate chips and a crystallized brown sugar crust which meant it had to be a chocolate chip Pumpkin Bundt Cake!
I chose to make this Pumpkin Bundt Cake a pound cake so it is rich, tender, dense and decadent yet still super moist due to the pumpkin puree.  It's inclusion of butter gives it an underlying buttery richness while pumpkin,  cinnamon, cloves and nutmeg celebrate the flavors of Fall. So Happy Fall to you with rich, moist Pumpkin Bundt cake!
Why do they call it a bundt cake?
I adore bunt cakes – they are visually impressive, but so easy and one of my favorite types of cakes to make – and to eat! From my Toffee Pecan Caramel Cake, Chocolate Covered Strawberry Cake,- and now Chocolate Chip Pumpkin Bundt Cake, I just can't get enough of their rich, buttery, soft, moist texture. And they are so pretty.
The bundt cake is assumed to have originated from the German bundkuchen, a ring-shaped coffee cake. The first variation dates bake to 1901 in The Settlement Cookbook, written by Lizzie Kander of Milwaukee, Wisconsin in which she uses the term "Bundt Kuchen" instated of bund.
The aluminum bundt pan was trademarked in 1950 by H. David Dalquist, founder of Nordic Ware, based in St. Louis Park, Minnesota. He modified some existing Scandinavian pan designs with fluted and grooved sides, that were traditionally made out of ceramic or cast iron. The new aluminium bundt pans sold slowly until a bundt cake won second place in a 1966 Pillsbury-sponsored baking contest.
This bundt cake glory caused the bundt cake pan to skyrocket in popularity, and even surpass the Jell-O mold in the United States. Today there is even a National Bundt Pan day on November 15 – the perfect day to make this Pumpkin Bundt Cake!
What is the difference between a Pumpkin Cake and a Pumpkin Bundt Cake?
Any type of cake cooked in a Bundt pan can be called a bundt cake BUT there are still a few differences between a Pumpkin Bundt Cake and regular Pumpkin Cake.  Namely, since the middle of the Pumpkin Bundt Cake is hollow, more of the batter will touch the sides and result in that fabulous crystallized sugar crust that I love so much about pumpkin bread. This circular cake structure also results in a more sturdy cake that can easily support any type of frosting you choose.  The shape also requires a more moist cake recipe because more of the cake batter will be exposed high heat.
Pumpkin Bundt Cake Ingredients
To make this pumpkin cake with cream cheese frosting, you'll need the following ingredients:
Pumpkin: Make sure to use pure pumpkin puree and not pumpkin pie filling!
Butter: Unsalted is typically best for baked goods.
Sugar: I used a mixture of brown and granulated sugar to add both sweetness and flavor to the cake.
Eggs: Need to be at room temperature!
All-purpose flour: I've never made this cake with anything other than all-purpose flour, so I can't speak to whether gluten-free flour, etc. would work here.
Baking powder and baking soda: Helps the pumpkin pound cake rise in the oven.
Spices: I used a blend of cinnamon, nutmeg, and cloves to make this pumpkin cake taste just like fall!
Milk: Whole milk is best in this recipe.
Semi-sweet chocolate chips: I prefer using semi-sweet chocolate so the cake doesn't wind up being too sweet.
Cream cheese: Use full-fat brick-style cream cheese for best results.
Powdered sugar: Make sure to sift the sugar before making the frosting, otherwise you'll wind up with lumpy frosting.
How to Make Pumpkin Bundt Cake
I've given detailed instructions in the recipe card below on how to make this easy pumpkin cake recipe. Here's an overview of the process:
Grease and flour a 12-cup Bundt pan.
Remove 2 tablespoons pure pumpkin from 15 oz. can pumpkin and set aside for glaze.
Add remaining pumpkin, butter and sugars to mixer and beat until FLUFFY. Add eggs, one at a time, beating just until the yellow disappears after each egg.
In a medium bowl, whisk together the dry ingredients.
Gradually add the dry mixture to butter mixture in thirds, alternately with milk in between each third. Beat until just combined.
Stir in chocolate chips and optional pecans just until combined then spoon batter into prepared pan
Bake until done.
Once the cake is completely cool, make the cream cheese frosting and frost the cake!
Best Glaze for Pumpkin Bundt Cake
The multi-dimensional silky Cinnamon Pumpkin Cream Cheese Glaze pushes this Pumpkin Bundt Cake over the delicious edge into the crazy delicious arena where everyone will be beg you for the recipe. The glaze is a simple combination of cinnamon, pumpkin puree, cream cheese and powdered sugar that enhances the Fall spiced pumpkin cake. I love to warm my slice(s) of cake for 15 seconds or so not only is the chocolate studded cake warm but the the glaze is all warm, ooey, and gooey and irresistible!
Tips and Tricks for Pumpkin Bundt Cake
Grease bundt cake pan. You will need a 12 cup bundt cake pan for this Pumpkin Bundt Cake recipe. Take care to grease and flour your pan so your baked cake doesn't stick (more info in section to follow).
Prep Ahead. As with all recipes, carefully read through the entire recipe, and prepare any special ingredients, such as room temperature eggs and milk in this Pumpkin Bundt Cake recipe.
Pre-Measure Ingredients. This is optional but I like pre-measure my ingredients before I start so that way, if/when I get interrupted, I haven't lost track of measurements.
Use Pumpkin Puree NOT Pumpkin Pie Filling. Pumpkin Puree is 100% pure pumpkin that has been cooked and pureed. Pumpkin Pie Filling, however, is sweetened and seasoned with spices and will not work in this recipe.
Room Temperature Ingredients. You need room temperature milk and room temperature eggs for this Pumpkin Bundt Cake recipe. This results in a pound cake with maximum volume.
Beat Until Fluffy patient. Beat softened butter, sugar and pumpkin until fluffy. This can take anywhere from 3-7 minutes, depending on your mixer. This step is so important because it is the only time you want to whip air into the cake batter so it will rise during baking.
Don't overbeat. Add the eggs, one at a time, beating just until the yellow disappears after each egg. You never want to overbeat eggs as this will cause the batter to be runny and may cause the batter to overflow when baking. Overbeaten eggs can also create a fragile crust that crumbles and separates from the cake as it cools.
Don't peak! Don't open the oven doors until it is time to check your Pumpkin Bundt Cake for doneness. Opening the doors can cause your cake to cook unevenly and to fall.
Don't microwave cream cheese or butter! For the Pumpkin Cinnamon Cream Cheese Glaze, use cream cheese and butter softened at room temperature. If you soften them in the microwave, they will be too runny.
Refrigerate Frosting. If your frosting isn't as thick as you'd like then stick it in the refrigerator for 30 minutes (or longer).
How do I Make Sure My Pumpkin Bundt Cake doesn't stick?
It is a sad day when you put the time, effort and ingredients into a cake and it sticks. To prevent your Pumpkin Bundt Cake from sticking, either spray every nook and cranny with nonstick cooking spray WITH FLOUR IN IT OR grease and flour the inside of your pan.
To grease pan:
Use a pastry brush to grease every nook and cranny of the pan thoroughly with softened butter or solid shortening.
Sprinkle some flour OR cocoa powder in the pan. I tend to use flour for lighter colored cakes and cocoa powder for darker cakes (for this Pumpkin Bundt Cake, I used nonstick cooking spray with four).
Hold floured pan over the sink and tilt the pan in a circular motion in order to distribute the flour evenly. Add more flour if there are any bare spots.
Flip the bundt pan over and tap out any excess flour.
How long do I let my Pumpkin Bundt Cake Cool?
It is important to let your Pumpkin Bundt Cake to cool in the pan for 10 minutes. This allows the cake to retract from the pan and become firm enough to remove without breaking. If you leave your Pumpkin Bundt Cake in the pan for too long, then it can become damp and stick to the pan.
How do I remove my Pumpkin Bundt Cake from the Bundt pan?
Let Pumpkin Bund Cake cool for 10 minutes.
After your Pumpkin Bundt Cake has cooled for 10 minutes, then firmly tap the outside of the pan a few times to loosen the cake.
Place a cooling rack over the open side of the bundt cake pan and hold the sides so you are holding both the edges of the bundt cake pan and the cooling rack. Carefully and quickly flip the cooling rack and bundt cake over to invert the cake, then remove the bundt pan.
Let the Pumpkin Bundt Cake cool completely on the wire cooling rack.
Can I make Pumpkin Bundt Cake Ahead of Time?
Yes! This Pumpkin Bundt Cake is the perfect cake to make ahead of time and I think it tastes even better the next day! Once your cake has cooled completely, wrap it tightly in plastic wrap and let it sit at room temperature.
You can make the Cinnamon Cream Cheese Glaze ahead of time and refrigerate until ready to use.  You may need to whisk in additional milk when ready to use as it will thicken in the refrigerator.
How to Store Pumpkin Bundt Cake
Because the frosting contains cream cheese, you'll need to store this cake in the fridge. Cakes tend to dry out in the fridge, so be sure to wrap it tightly with plastic wrap and enjoy within 3 days.
Can I Freeze Pumpkin Bundt Cake?
Yes! You will want to wait until your Pumpkin Bundt Cake is completely cooled then wrap it tightly in plastic wrap WITHOUT the Glaze. The glaze should not be frozen. Freeze cake for up to 3 months. Allow you cake to thaw overnight in the refrigerator before serving.
Looking for more Holiday Dessert Recipes?
Looking for More Pumpkin Recipes?
WANT TO TRY THIS Pumpkin Bundt Cake RECIPE?
PIN IT TO YOUR Pumpkin, Cake, Thanksgiving or Fall BOARD TO SAVE FOR LATER!
FIND ME ON PINTEREST FOR MORE GREAT RECIPES! I AM ALWAYS PINNING :)!
©Carlsbad Cravings by CarlsbadCravings.com
Carlsbad Cravings Original
Never miss a Carlsbad Cravings Creation:
You might also like:
Cream Cheese Stuffed Carrot Cake
Salted Caramel Milk Chocolate Cake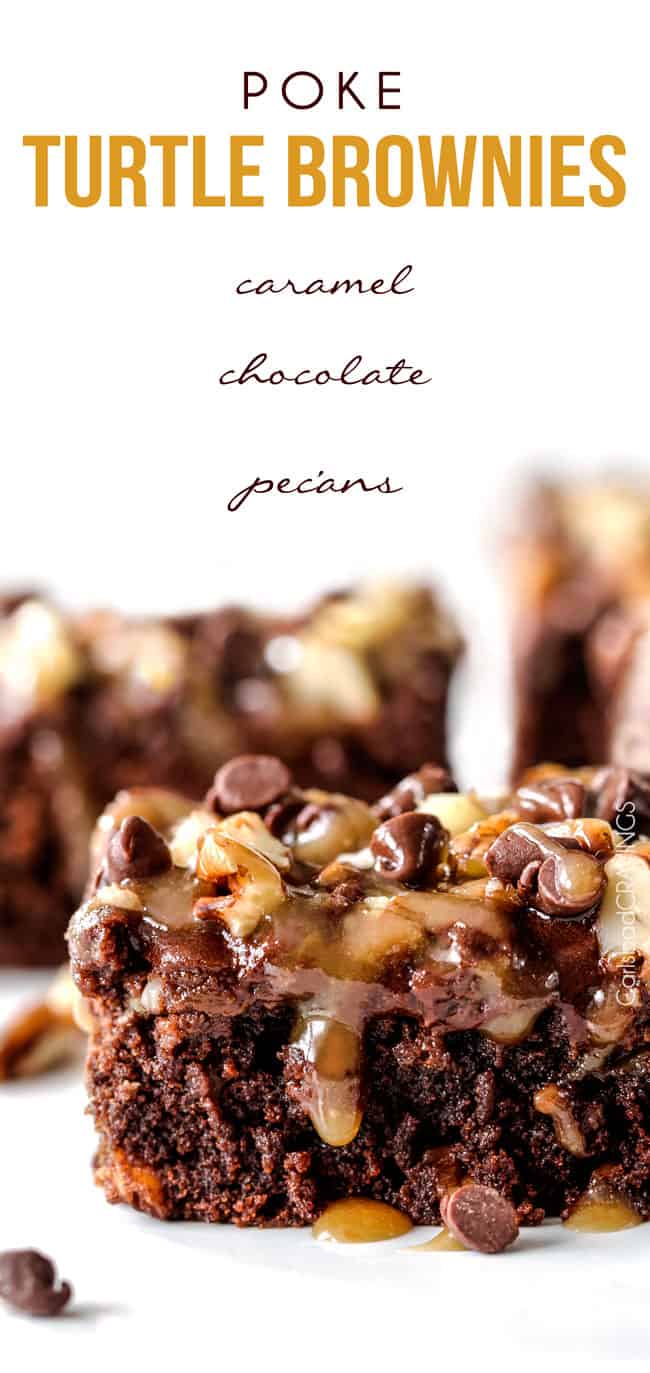 Slow Cooker Cranberry Meatballs