EASY one bowl Pumpkin Crepes are so much better than plain crepes!! Smother in silky, chocolate Nutella or stuff with cream cheese, or douse in syrup – amazing any way your serve them!
Is it too early for pumpkin? I vote not if its these quick and easy Nutella Pumpkin Crepes that only require a couple minutes standing in front of your stove and taste incredible!!
I love Pumpkin everything from Pumpkin Cookie to Pumpkin Dip to Pumpkin Cheesecake and even Pumpkin Angel Food Cake French Toast. So I thought it was time to add another pumpkin breakfast dessert to the menu. Because Fall days are always better when started with pumpkin…and Nutella.
These Fall pumpkin crepes were ironically inspired by our family summer vacation. We have a tradition to take an annual family vacation – my parents, siblings, spouses, nieces and nephews. After Patrick and I made an impromptu trip to Cancun last year to celebrate the end of my pneumonia/pic line removal (pic HERE), we convinced everyone that Cancun was the destination for our vacation this year. It was a fantastic decision.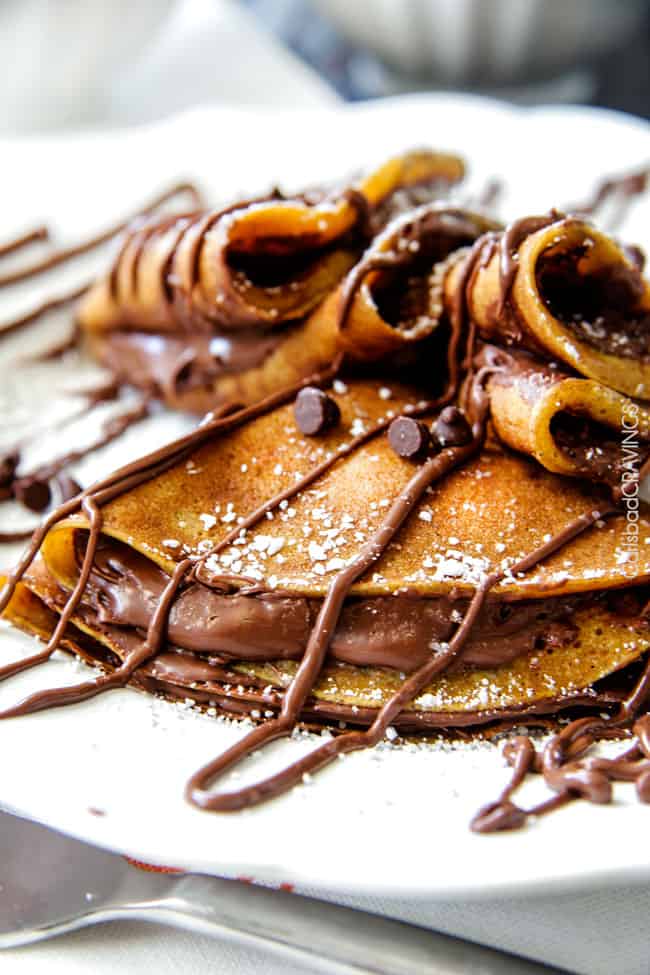 My first obsession with Cancun is the warm, clear water. So warm you don't even have to think, "do I want to get wet right now?" because the answer is always YES! Yes, you always want to be immersed in the water! (pic HERE) My second obsession with Cancun is not the street tacos – although delicious – but the Nutella Crepes! There was a cafe near our hotel that served a wide variety of crepes and although I usually prefer the savory, I found myself repeatedly drawn to the siren calls of the Nutella crepe. It being vacation ad all, I repeatedly gave in.
I don't know if they were so extra amazing because while I have enjoyed Nutella before, I've never actually bought it myself or if its the way the warm, thin crepe cradles the oozing, silky chocolate.
I think its the latter.

But these aren't just Nutella Crepes but Pumpkin Nutella Crepes! I loooove pumpkin and chocolate together. My mom's chocolate chip pumpkin bread is one of my favorite pumpkin recipes to date, so I knew pumpkin crepes would be beyond amazing with Nutella. And I was right. Since I've posted these Nutella Crepes, they have been such I hit, I created Pumpkin Bars with Nutella Cream Cheese Frosting – you don't want to miss them!
How to Make Pumpkin Crepes
The pumpkin batter spiced with cinnamon, nutmeg, cloves and ginger mixed with pumpkin puree and your traditional crepe ingredients of flour eggs, milk and butter are so super easy and so delicious they should be eaten year round. Seriously, SO much better than just plain crepes.
You can forgo the Nutella if you wish (thus the parentheticals) and devour them with butter, syrup, powdered sugar, cream cheese, berries etc. – so good – or sandwich them with Nutella – ssssoooooooo good.
Nutella Pumpkin Crepes and I welcome you to Fall! Its going to be an addictingly delicious one!
LOOKING FOR MORE PUMPKIN RECIPES?
(Nutella) Pumpkin Crepes
Save This Recipe To Your Recipe Box
You can now create an account on our site and save your favorite recipes all in one place!
Ingredients
Pumpkin Crepe Batter
2

eggs

3/4

cup

pure pumpkin puree

1

cup

milk

3/4

cup

water

2

tablespoons

butter, melted

2

cups

flour

1/2

cup

brown sugar, packed

1/2

teaspoon

salt

1 1/2

teaspoons

vanilla

1

teaspoon

ground cinnamon

1/4

teaspoon

ground nutmeg

1/4

teaspoon

ground cloves

1/4

teaspoon

ground ginger
Garnish/Filling Ideas
Nutella

Powdered sugar

syrup

berries

Cream Cheese
Instructions
Lightly beat eggs in a large bowl then whisk in pumpkin puree, milk, water and butter until combined. Whisk in remaining Pumpkin Crepe Batter ingredients and beat until smooth.

Heat a lightly greased griddle or nonstick skillet pan over medium high heat. Pour batter using ¼ measuring cup on the griddle/skillet and tilt pan in a circular motion to spread batter. Cook crepes approximately 1 minute or until bottom is lightly golden, flip and cook another 30 seconds or until cooked through. Repeat until all the batter is gone.

To stuff with Nutella: Spread half of a cooked crepe with Nutella. Fold in half then cover the top half of the crepe with Nutella then fold in half one last time.
Did You Make This Recipe?
Tag @CarlsbadCravings and Use #CarlsbadCravngs
Leave a Review, I Always Love Hearing From You!
Carlsbad Cravings© Original