These Pizza Pinwheels are deeeelicious, super easy to make, customizable, have the BEST Pizza Sauce, freeze beautifully, and are absolutely irresistible for snacks, appetizers or fun meals! 
Pizza Pinwheels are about to become your new obsession! AKA pillowy pizza dough smothered in marinara, mozzarella, pepperoni/your topping of choice, showered with Parmesan and baked to bubbly cheesiliciousness. You can use store bought pizza dough and then these Pizza Pinwheels literally come together in minutes!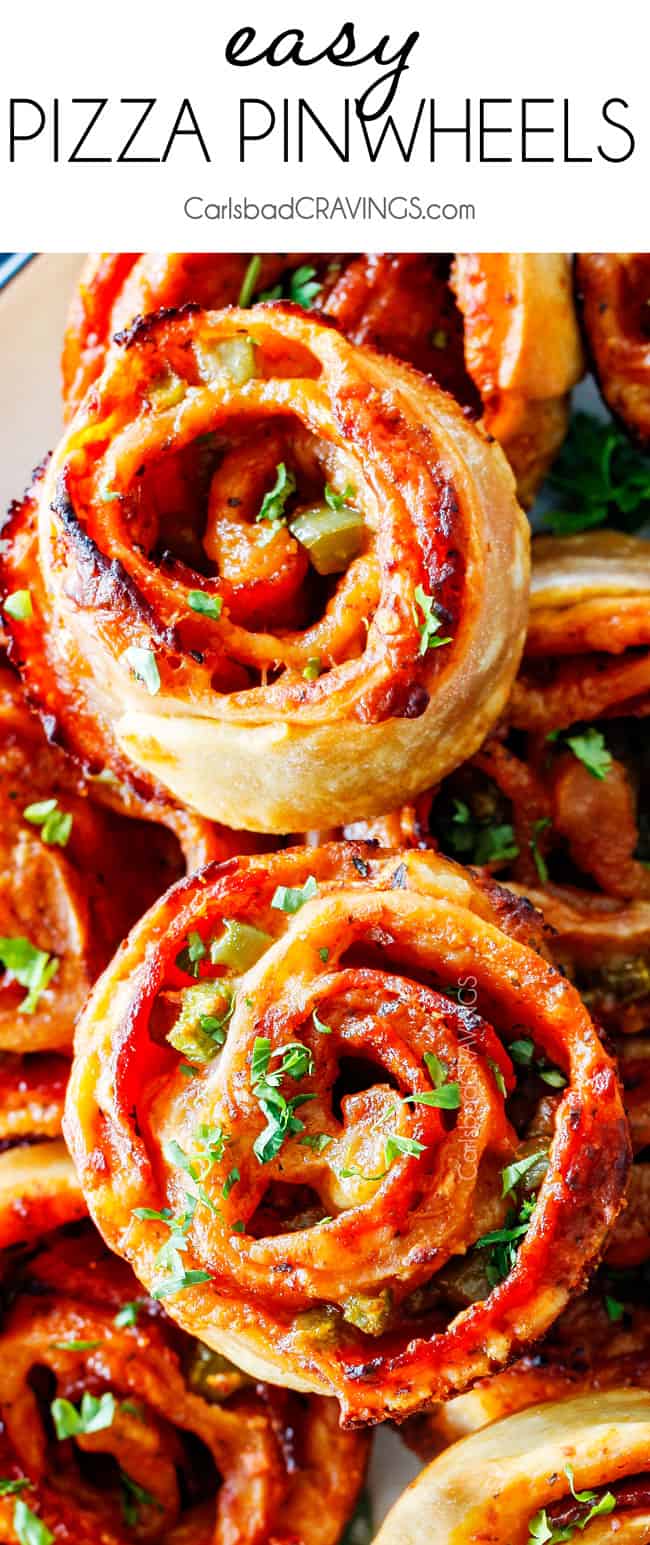 Soooooo I kid of didn't realize the Super Bowl was SO SOON, so I am going to be cramming a bunch of Game Day Food into the next couple weeks. If you need some Game Day inspiration be sure to check out this Top Game Day Recipe Round Up and my favorite Bacon Jalapeno Popper Dip which you are going to want to serve alongside these irresistible Pizza Pinwheels! Like seriously irresistible. I kept reaching for them in the refrigerator all. day. long because I couldn't stop craving them!

About Pizza Pinwheels
These Pizza Pinwheels make fabulous appetizers because who doesn't love pizza and better yet, mini rolled pizza with layers of marinara, crispy pepperoni and cheeeeeese? But Game Day aside, these Pinwheels make super quick dinners too!
I love that you don't have to wait for the dough to rise if using store-bought pizza dough which means you don't have to plan ahead, you can simply roll out your dough and top it with the marinara, mozzarella, pepperoni trifecta or whatever other toppings you have on hand or you can even create BBQ Chicken Pinwheels. With this basic Pizza Pinwheel making method, the possibilities are endless and so is the deliciousness!
What dough is best for Pizza Pinwheels?
Pizza dough is by far the best for Pizza Pinwheels. I tried Pizza Pinwheels with crescent dough (as many other recipes on the web suggest) and it was a disaster! The dough is too thin, gets soggy and tears too easily when loaded with our plethora of toppings.
Instead, you should use eitherr store bought pizza dough or my Homemade Pizza Dough Recipe. Just be aware that my Homemade Pizza Dough is enough for two pizzas so you will want to cut the dough or the recipe in half because we only need enough for one pizza.
If you use store-bought pizza dough, as I used in these pictures, then your Pizza Pinwheels will be one of the easiest appetizers or dinners you ever make!

How Do I make Pizza Sauce?
To make a super quick and easy Pizza Sauce, simply add seasonings to store-bought marinara. By adding a symphony of seasonings such as onion powder, dried basil, dried parsley, oregano garlic power and crushed red pepper to already prepared marinara, you get crazy good pizza Sauce. It is important that the pizza sauce be super flavorful because that is all the seasoning these Pizza Pinwheels are going to get.
You can swap the marinara sauce out for barbecue sauce (for Barbecue Chicken Pizza), Pesto or whatever you can dream up!
What Toppings Can I use for pizza Pinwheels?
For this Pizza Pinwheels recipe, I used green bell peppers but you can use a combination of chopped bell peppers, olives, mushrooms etc. You can even make half of your pizza with different toppings then the other half.
If using different toppings, it is important that they be chopped small so the pizza dough can roll tightly and you don't want much more than ½ cup total chopped toppings so the Pizza Pinwheels don't get too fat and can cook evenly. If you are wanting to load it with toppings, you are better off making my Stromboli recipe instead.
As far as the pepperoni goes, you can substitute it for chicken but I wouldn't suggest sausage as it will make your pinwheels too greasy.

How do you make pizza pinwheels?
Step 1: Roll out a long piece of parchment paper and lightly flour it . Roll dough into a 12×16 inch rectangle on floured parchment.

Step 2: 

Whisk together all of the Pizza Sauce ingredients. Evenly spread ¾ cup Pizza Sauce over dough, leaving a 1" border on the top long edge (the side you will roll towards so it can seal – see recipe post photos).

Step 3:  Microwave pepperoni on a paper towel lined plate for 20 seconds then dab off any excess grease.  Evenly top sauce with mozzarella, pepperoni, green bell peppers and Parmesan.

Step 4: 

  Starting from the long side closest towards you, tightly roll up the dough, pinching in any toppings that try to escape.  It takes a little patience to go from left to right rolling up the dough, but I promise, it is easy and it doesn't have to be pretty!  If your Pizza Pinwheels seem loose once you cut them, you can grab the end of the dough and wrap them tighter.

Step 5: Using a serrated knife, cut off the ends of the roll (if they are uneven) then slice roll into 12 equal pieces. I find the easiest way to do this is to slice the roll in half, then in half again so you have 4 equal pieces. Slice each of these pieces into 3 pinwheels.

Step 6: Place each pinwheel, cut side up, on prepared baking sheet. Bake at 375 degrees F for 25-30 minutes or until dough is golden. Remove from oven and let cool for 5 minutes before removing pinwheels from pan to a wire rack. The Pizza Pinwheels will be a little soft at first but will firm up as they cool. Garnish with fresh parsley and serve with remaining warmed pizza sauce if desired.

How Do I keep my Dough from Sticking?

Use Parchment Paper and Flour to keep your dough from sticking. The last think you want is to have your pizza dough all layered and ready to roll up and then for the dough to stick! This actually happened to my second attempt at making my Pizza Pinwheels (after the crescent dough disaster) and I had to throw the whole thing out! But if we use too much flour we have cakey floury pizza dough. By rolling out parchment paper we only have to lightly flour it so our dough doesn't stick and we don't get floury pizza pinwheels. Win-win!

How do I prevent greasy Pizza Pinwheels?

In order to prevent greasy Pizza Pinwheels, it is essentials to microwave your pepperoni then dab off the excess grease. I have prepared my Pizza Pinwheels both with and without this extra step and it makes a world of difference to transform our baked Pizza Pinwheels from unappetizing greasy to deliciously pleasing.

TIPS & TRICKS HOW TO MAKE PIZZA PINWHEELS

Don't stress to much about the measurements. We roll our dough into at 12×16 inch rectangle. You don't have to stress about exact measurements or it being perfectly rectangle as we are going to cut the uneven ends off anyway. And because making and eating Pizza Pinwheels should be fun!
Leave a clean border at the top of your dough. When we spread the Pizza Sauce, we want to take care to leave a 1″ border on the top long edge of the dough so we can use it to seal our rolled up dough. The toppings will naturally push forward as you roll the dough up, so this also helps you fit all your toppings in with a little extra leeway.
Roll tightly. Or try to. Starting from the long side closest towards you, tightly roll up the dough, pinching in any toppings that try to escape. It takes a little patience to go from left to right rolling up the dough, but I promise, it is easy and it doesn't have to be pretty! If your Pizza Pinwheels seem loose once you cut them, you can grab the end of the dough and wrap them tighter.
Cut your dough with a serrated knife. A serrated knife works the best in cutting through all the layers. We first cut off the ends of the roll (if they are uneven) then slice roll into 12 equal pieces. I find the easiest way to do this is to slice the roll in half, then in half again so you have 4 equal pieces. Slice each of these pieces into 3 pinwheels.
Bake until golden. Each oven cooks differently, so when your cheese is ooey gooey and your dough is golden, then your Pizza Pinwheels are done.
Let them firm up. You'll want to let your Pinwheels cool for 5 minutes then move them to a wire rack to firm up a bit as the dough will be a little soft straight out of the oven.

Can I freeze Pizza Pinwheels?

Bake pinwheels and let cool completely to room temperature.
Add individual pinwheels to separate plastic bags and seal.
When ready to eat, thaw, then bake at 350 degrees F for 10 minutes or until warmed through.

Looking for more Appetizer recipes?

WANT TO TRY THIS PIZZA PINWHEELS RECIPE?

Pin them to your APPETIZER, GAME DAY, DINNER or 30 MINUTE MEALS BOARD to save for later!

Find me on Pinterest for more great recipes!  I am always pinning :)!

©Carlsbad Cravings by CarlsbadCravings.com

Pizza Pinwheels

Pizza Pinwheels are super easy to make, customizable, freeze beautifully, and absolutely irresistible for snacks, appetizers or fun meals!  Pizza Pinwheels are basically pillowy pizza dough smothered in marinara, mozzarella, pepperoni/your topping of choice, showered with Parmesan, rolled and baked to bubbly cheesiliciousness.  You can use store bought pizza dough and then these Pizza Pinwheels literally come together in minutes!

Save This Recipe To Your Recipe Box

You can now create an account on our site and save your favorite recipes all in one place!

Ingredients

Easy Pizza Sauce

2

cups

marinara sauce

1/2

tsp

EACH

onion powder, dried basil, dried parsley

1/4

tsp

EACH dried oregano

garlic powder, salt, pepper, crushed red pepper

Toppings

1

cup

freshly grated mozzarella cheese

1/3

cup

freshly grated Parmesan cheese

32

pepperonis

1/2

cup

finely chopped green peppers

(or combo of your fav chopped toppings)

Instructions

Preheat oven to 375 degrees F. Line a baking sheet with parchment paper. Set aside.

Roll out a long piece of parchment paper and lightly flour it . Roll dough into a 12×16 inch rectangle on floured parchment.

Whisk together all of the Pizza Sauce ingredients. Evenly spread ¾ cup Pizza Sauce over dough, leaving a 1" border on the top long edge (the side you will roll towards so it can seal – see recipe post photos).

Microwave pepperoni on a paper towel lined plate for 20 seconds then dab off any excess grease.  Evenly top sauce with mozzarella, pepperoni, green bell peppers and Parmesan.

Starting from the long side closest towards you, tightly roll up the dough, pinching in any escaping ingredients and seal up seam. Don't worry about it looking too pretty! Using a serrated knife, cut off the ends of the roll (if they are uneven) then slice roll into 12 equal pieces. I find the easiest way to do this is to slice the roll in half, then in half again so you have 4 equal pieces. Slice each of these pieces into 3 pinwheels.

Place each pinwheel, cut side up, on prepared baking sheet. Bake at 375 degrees F for 25-30 minutes or until dough is golden. Remove from oven and let cool for 5 minutes before removing pinwheels from pan to a wire rack. The Pizza Pinwheels will be a little soft at first but will firm up as they cool.  Garnish with fresh parsley and serve with remaining warmed pizza sauce if desired.

To Freeze:  Allow BAKED Pizza Pinwheels to cool to room temperature.  Store in a large sealable plastic bag.  When ready to eat, thaw, then bake at 350 degrees F for 10 minutes or until warmed through.  

Notes

*My Homemade Pizza Dough recipe makes enough for two pizzas so you will only use half the recipe/dough for one pizza.

Did You Make This Recipe?

Tag @CarlsbadCravings and Use #CarlsbadCravngs

Leave a Review, I Always Love Hearing From You!

Carlsbad Cravings Original

Reader Interactions