Creamy Parmesan Pesto Chicken Skillet with the most flavorful chicken rubbed in pesto/Parmesan and the creamiest sauce all done in 30 minutes!  Serve with pasta, rice or potatoes for an easy, palate pleasing meal! 
Last month I was asked to speak on Simple Meals and do a cooking demo for a group of women in my church.  And while I don't consider Carlsbad Cravings necessarily "simple"  (easy yes, simple no, as I love to add whatever seasonings/ ingredients will make my dishes the best ever, because you deserve it), I am no stranger to simple meals.  After cooking multiple times a week, I love me some simple meals.  My number 1, can't-get-any-easier meal recommendation was and will always be Slow Cooker Meals.  In fact, when someone says they can't cook, I always tell them to start with the slow cooker.  Dump.  Run.  Eat.
My second simple meal suggestions is the rice cooker – you can add virtually anything to your rice cooker, especially if you have a steamer basket for veggies.  If you don't, you can still dump in black beans, tomatoes, corn, chicken, any spices to cook with the rice and then stir in any sauces when the rice/chicken is cooked at the end of cooking  (I love Alfredo and peas) .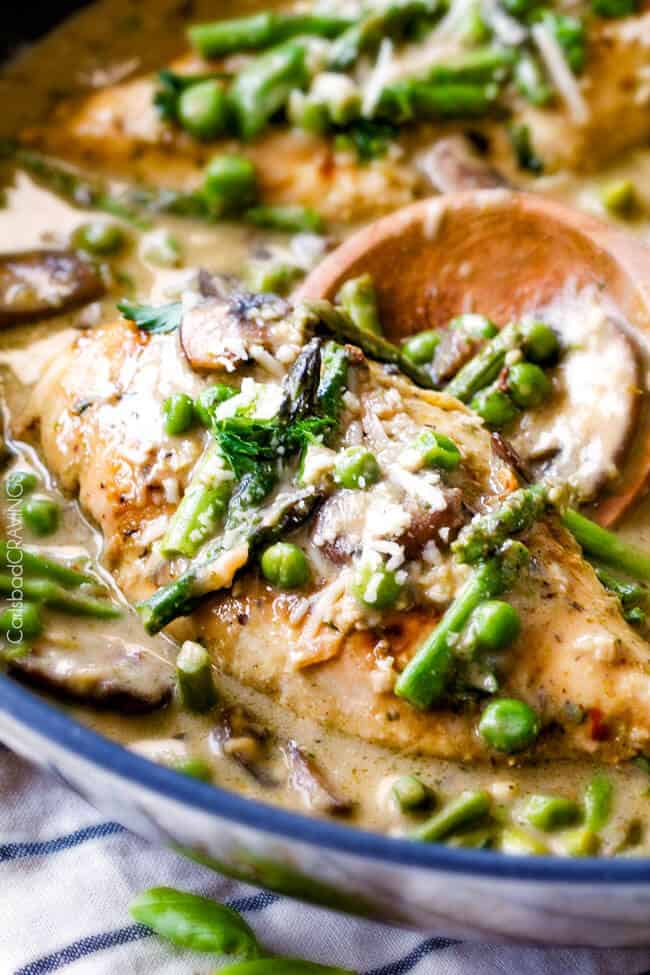 My third simple meal suggestion (and the one I demoed) is Skillet Chicken.  One Skillet.  Thirty Minutes.  A million sauce variations.  With the same basic cooking technique and by adding either pesto, Parmesan, mustard, balsamic, lemon, cilantro, sun-dried tomatoes, etc., to your sauce base of chicken broth and a little heavy cream/half and half (optional) you have opened the door to endless possibilities of one skillet chicken meals. But today we are drooling over one of my favorites – 30 Minute Creamy Parmesan Pesto Chicken Skillet!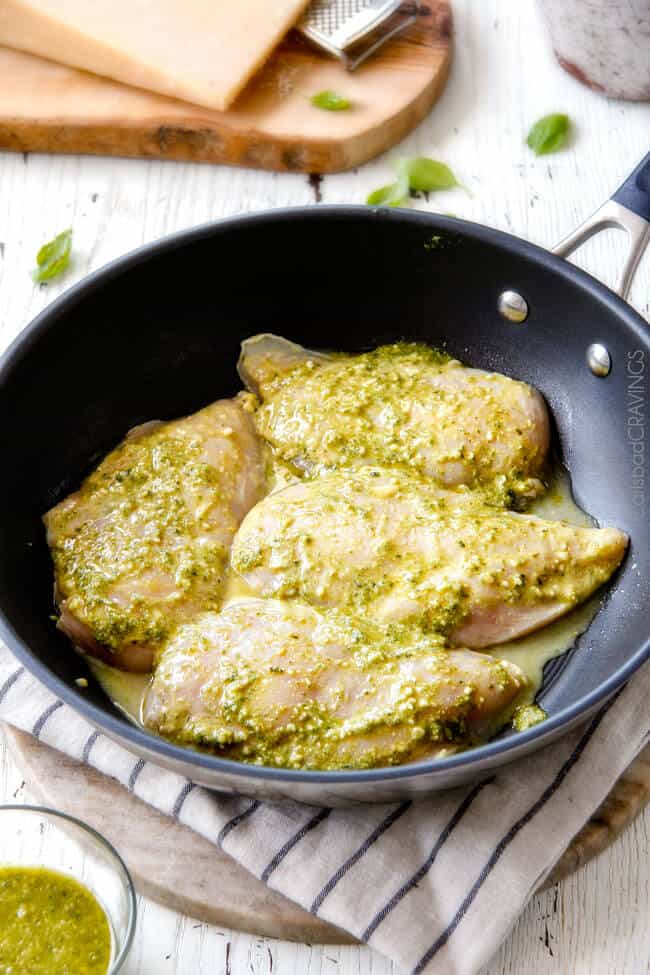 As in all skillet chicken meals, you start with two large chicken breasts that you slice horizontally to create 4 fillets.  With 4 thin fillets, you are guaranteed juicy, moist, tender chicken (when you follow cooking instructions below) and super quick cooking time!  To make this Parmesan Pesto Chicken Skillet extra DE-LISH, I combined Parmesan, pesto, Dijon and a splash of honey and caked it all over the chicken.  At this point you can prep your asparagus and mushrooms and then proceed to cook or you can let your chicken rest in the fridge and come back to it when you are ready to cook.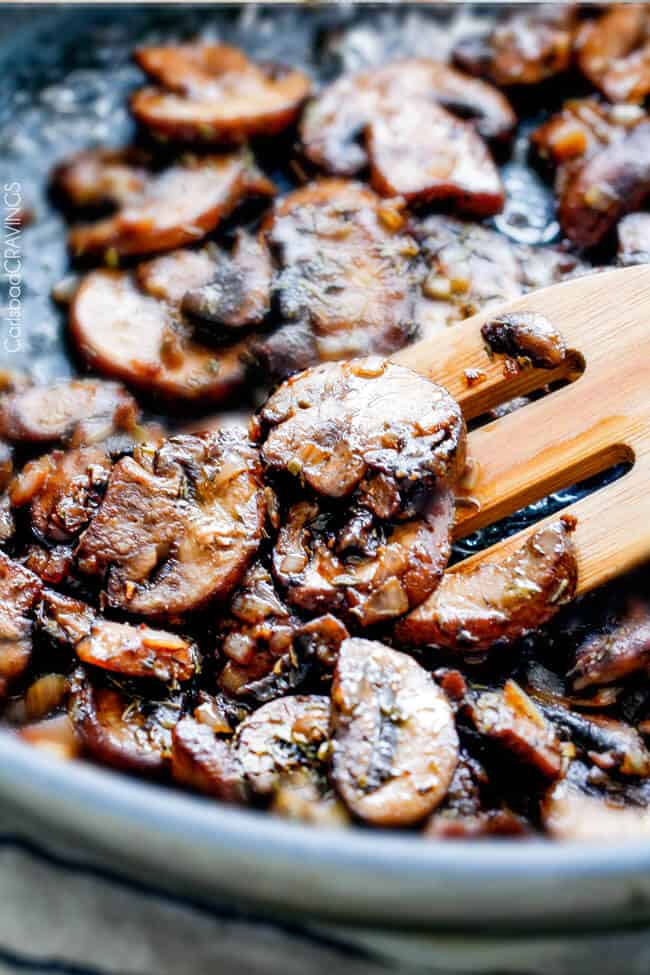 After you cook your chicken, you saute your mushrooms and shallots in a little olive oil/butter and remaining pesto from the chicken, then sprinkle in flour and garlic, cook for one minute then slowly stir in your chicken broth/cornstarch and heavy cream.  The heavy cream is optional for extra silky creaminess but if you are trying to save calories then the sauce is still wonderfully flavorful without it….but its only ¼ cup so go for it. 🙂
I added asparagus and peas to my skillet for an extra taste of summer but you could also add bell peppers, zucchini, etc. and simmer in the sauce until tender crisp, then stir in your Parmesan and add your chicken back to the skillet…
Then serve over pasta, rice or potatoes –  all vehicles to drink in the creamilicious sauce and tender Parmesan Pesto Chicken.   Then eat.  And awe.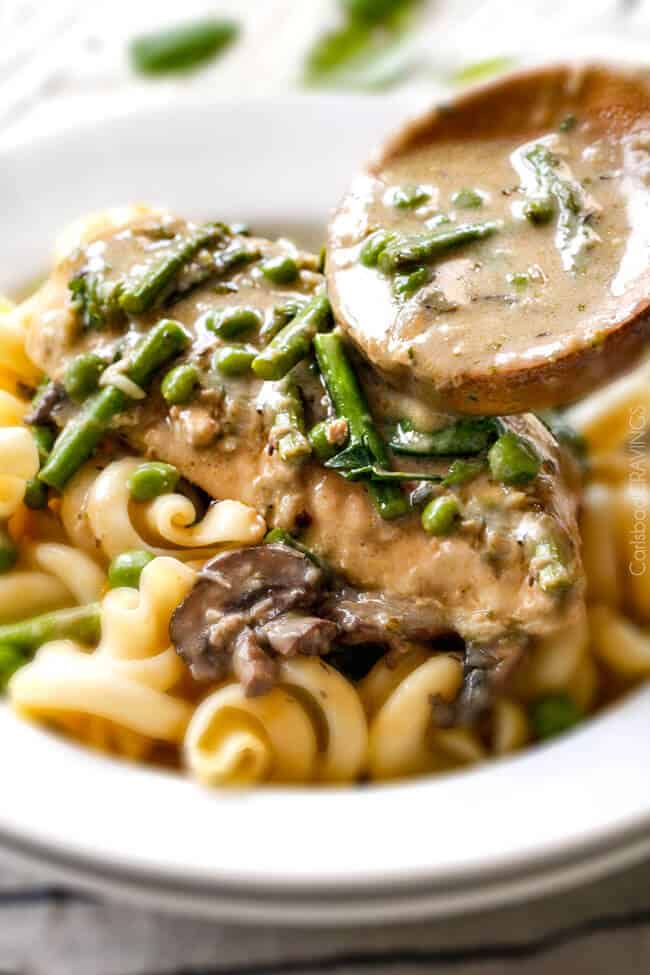 Want to try this Creamy Parmesan Pesto Chicken Skillet?
Pin it to your 30 MINUTE MEALS, CHICKEN, or DINNER Board to SAVE for later!
Find me on Pinterest for more great recipes!  I am always pinning :)!
©Carlsbad Cravings by CarlsbadCravings.com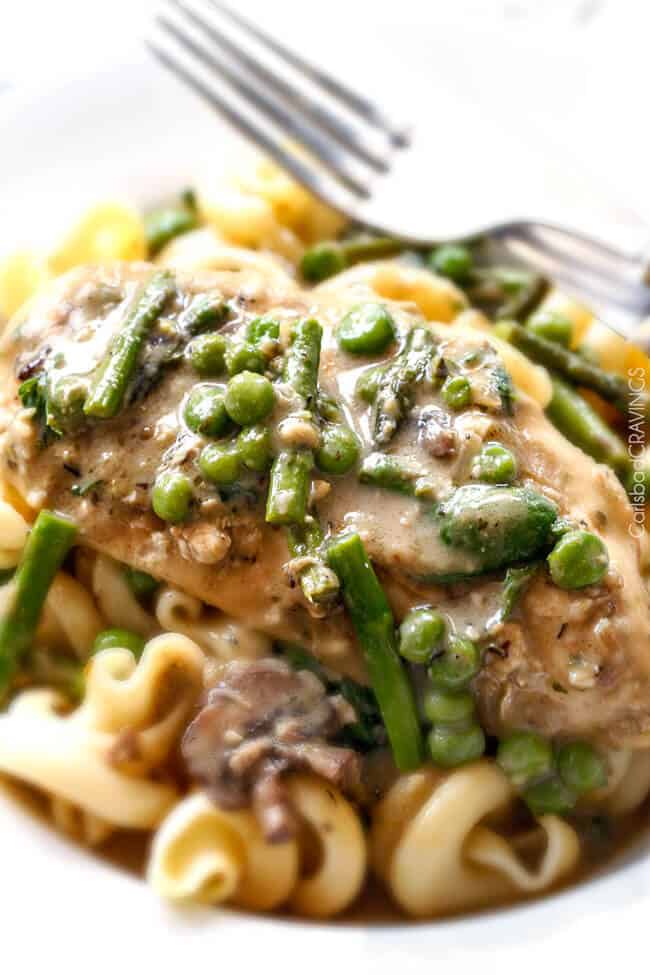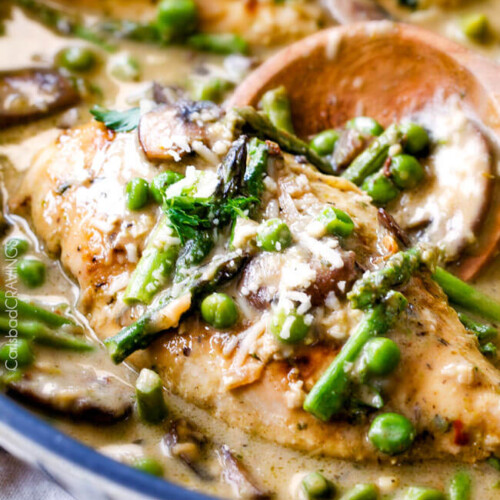 Creamy Parmesan Pesto Chicken Skillet
Save This Recipe To Your Recipe Box
You can now create an account on our site and save your favorite recipes all in one place!
Ingredients
2

large boneless skinless chicken breasts

sliced horizontally to create 4 thin fillets

olive oil for cooking
Pesto Chicken Rub
3

tablespoons

pesto

1

tablespoon

olive oil

2

tablespoons

finely grated Parmesan cheese

1

tablespoon

Dijon mustard

1

teaspoon

honey

1/2

teaspoon

salt

1/4

teaspoon

pepper
Parmesan Pesto Sauce
1

tablespoon

olive oil

1

tablespoon

butter

8

oz.

cremini mushrooms, thinly sliced

1

shallot, chopped

1/2

teaspoon

dried oregano

1/4

teaspoon

dried thyme

1/4

teaspoon

red pepper flakes

1

tablespoon

flour

2

cups

low sodium chicken broth, divided

1

tablespoon

cornstarch

1/4

cup

half and half or heavy cream

(or more to taste)

1/4

cup

pesto

1

teaspoon

chicken bouillon

(optional)

1

pound

asparagus, ends trimmed, cut into 1" pieces

1

cup

frozen petite peas, thawed

1/3

cup

freshly grated Parmesan
Instructions
CHICKEN: In a small bowl, whisk together all of the Pesto Chicken Rub ingredients. Rub mixture all over chicken and let sit at room temperature while you prep your veggies (up to 30 minutes) or refrigerate up to 8 hours then bring to room temperature before cooking.

When ready to cook, heat 1 tablespoon oil in large skillet over medium-high heat. Once very hot, add chicken and cook 2-3 minutes or until golden, flip, cover, and reduce heat to medium. Continue to cook 4-7 minutes (depending on thickness) or until chicken is cooked through. Transfer to plate and tent with foil.

SAUCE: Reduce heat to medium and melt 1 tablespoon butter in 1 tablespoon olive oil (do not wipe out skillet). Add mushrooms, and cook, stirring often, for 4 minutes then add shallots, oregano, thyme and red pepper flakes; cook 3 more minutes, stirring often. Sprinkle in flour and garlic and cook 1 minute, stirring often (it will be thick).

Turn heat to low. Slowly stir in half of the chicken broth. Whisk remaining half of broth with 1 tablespoon cornstarch and gradually add to skillet followed by cream/half and half. Bring to a simmer for 1 minute or until slightly thickened. Add ¼ cup pesto,

chicken bouillon

(optional) asparagus and simmer 2 minutes or until asparagus is crisp tender and sauce has thickened. If sauce becomes too thick, add chicken broth or cream to thin.

Stir in peas followed by Parmesan until melted. Add chicken back to skillet. Season with additional salt and pepper to taste. Serve with/over noodles, potatoes or rice and garnish with freshly grated Parmesan Cheese.
Notes
*This sauce is still wonderfully flavorful without the half and half/heavy cream so if you want to save calories you can definitely skip it – but if you want to add some extra creaminess, its divine.
Did You Make This Recipe?
Tag @CarlsbadCravings and Use #CarlsbadCravngs
Leave a Review, I Always Love Hearing From You!
©Carlsbad Cravings Original
 Never miss a Carlsbad Cravings Creation: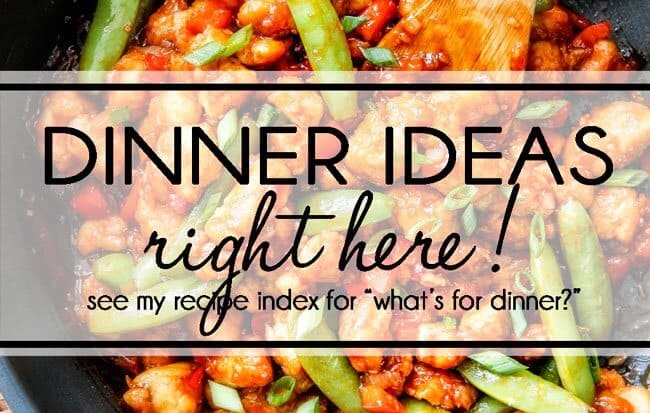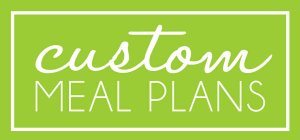 One Pot Italian Chicken and Orzo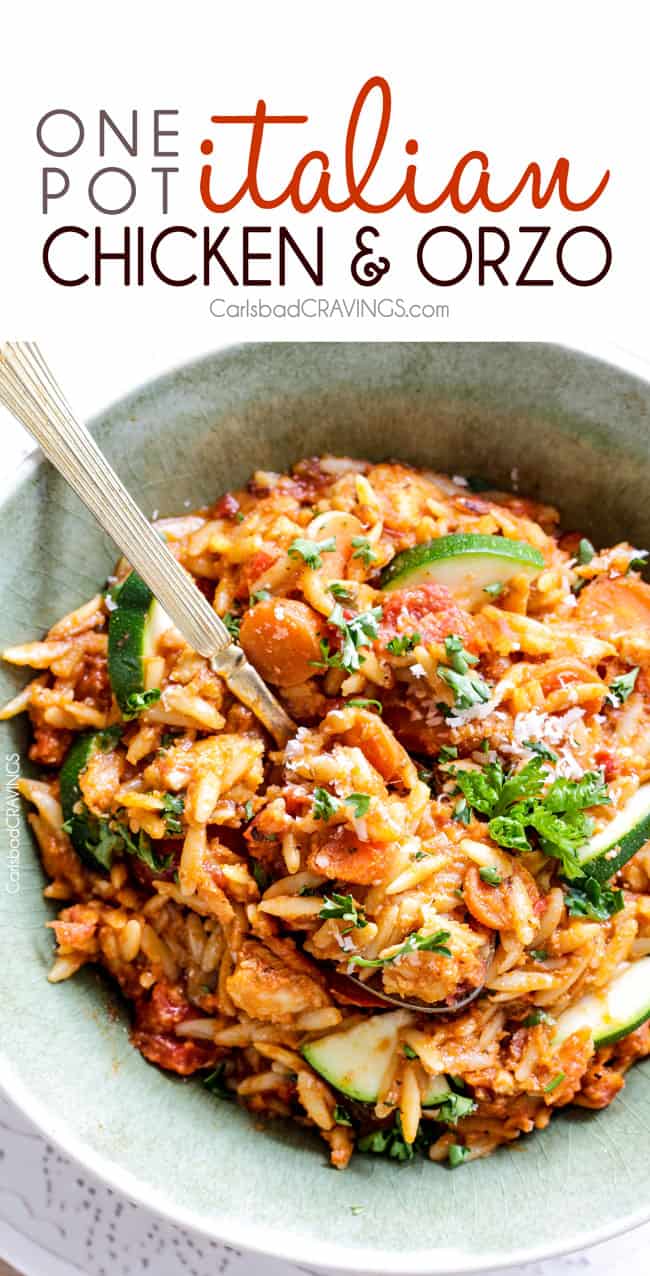 Creamy Basil Parmesan Italian Soup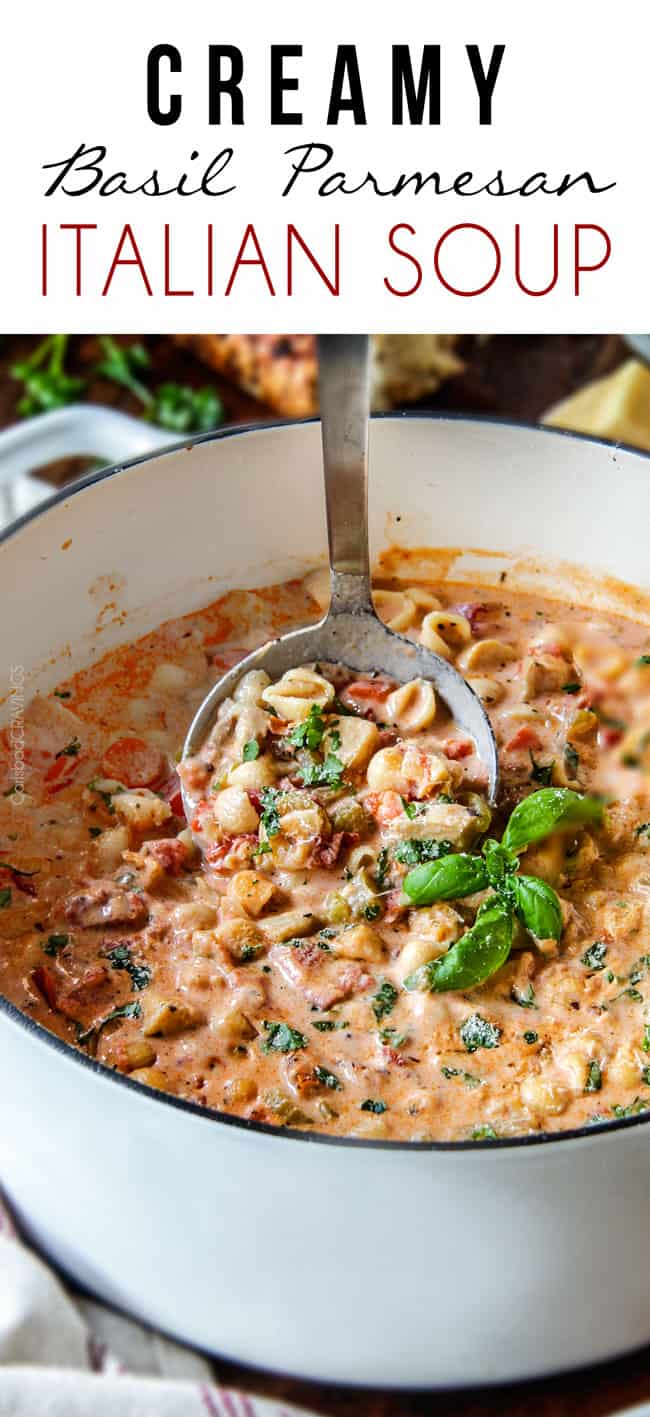 30 Minute Chicken in Creamy Mushroom Sauce
30 Minute Chicken and potatoes in Creamy Lemon Paprika Sauce

Follow Carlsbad Cravings (Jen)'s board Carlsbad Cravings Recipes on Pinterest.