This post may contain affiliate links.  Please see my disclosure.
Wouldn't it be a dream to have every meal of the week planned FOR YOU, complete with a MOBILE SHOPPING LIST tailored to how much time you have to prep/cook, how many times you want to cook, and what ingredients you want to cook with?  Dreams do come true thanks to REAL PLANS meal plans!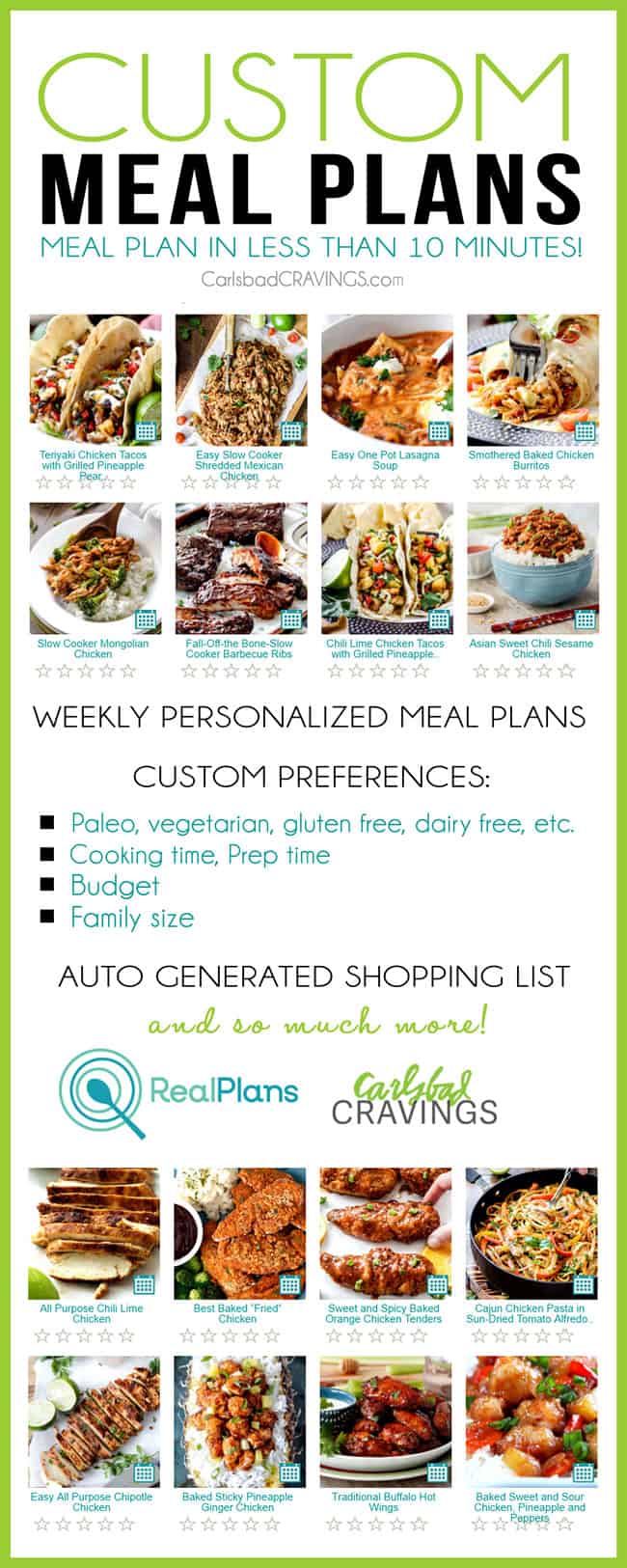 No more last minute scurrying around the kitchen to scrounge up a quick breakfast, afternoon snack or weeknight dinner, no more lengthy browsing pinterest, cookbooks, websites for what to make for the week, no more crinkled shopping lists that got misplaced in a different pair of jeans, no more last minute trips to the grocery store because you forgot an ingredient and no more drive by pizza runs because you are too overwhelmed at the thought of "what's for dinner?"
Instead, I am so excited to introduce you to Real Plans, the dream maker.  Real Plans, has streamlined the process of planning, shopping, and cooking by creating custom meal plans to suit your family's size, busy schedule, dietary needs, and wants AKA hassle free, stress free Meal Planning.  In fact, I was so impressed with Real plans, I decided to partner with the founders, Antony and Emily, to offer you over 200 Carlsbad Cravings Recipes along with their curated database of over 1500 recipes.  Many of you have asked about custom shopping lists for my recipes – here you go – plus SO MUCH MORE!
Real Plans offers:
Access to over 1500 carefully curated recipes to suit every taste and occasion
Personalized weekly meal plans
The ability to Meal plan in 5 minutes with custom settings
Flexible cooking times/schedules to suit changing needs
To easy exclude or include ingredients
Adjust portion sizes or family sizes
Automatically generate shopping lists
Edit shopping lists
Mobile shopping list app
LIVE CHAT Support with Meal Planning Specialists
30 Day Money Back Guarantee
The ability to gift a Real Plans subscription to a college student, newly wed or busy mom
Real Plans is an online meal planning service that will automatically generate a meal plan for you (and shopping list!) based on your preferences.  For example, you can specify how many nights a week you want to cook, how long you want each meal to take to prep/cook, how many people you are cooking for, etc.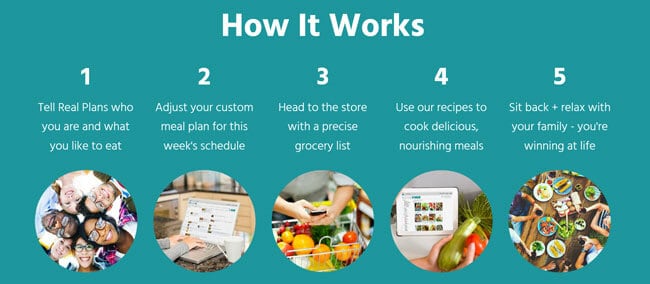 Real Plans will then generate a Meal Plan for you that looks something like this: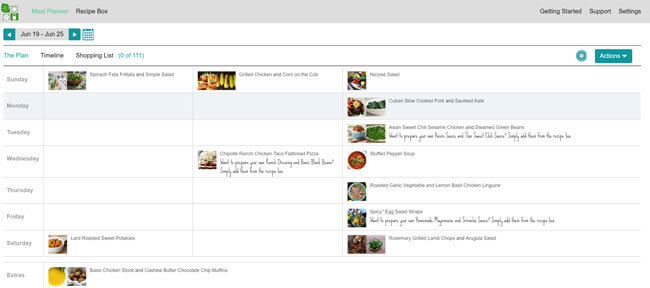 From here, you can review the meal plan and drag and drop meals to different time slots or swap out any recipe you want in a few seconds by a simple "thumbs up" or "thumbs down."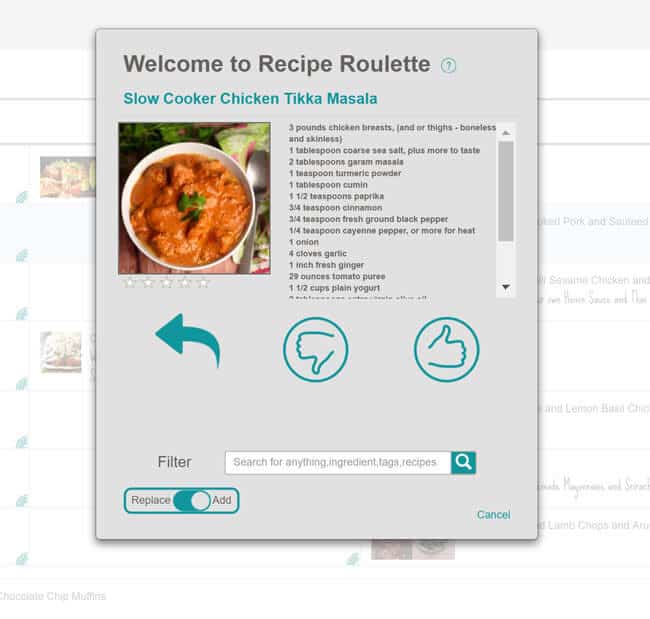 Another feature I love is that Real Plans automatically offers suggestions of side dishes to serve with your meal.  Simply click the "+" button (see below) and your side of choice will automatically get added to your meal plan/shopping list!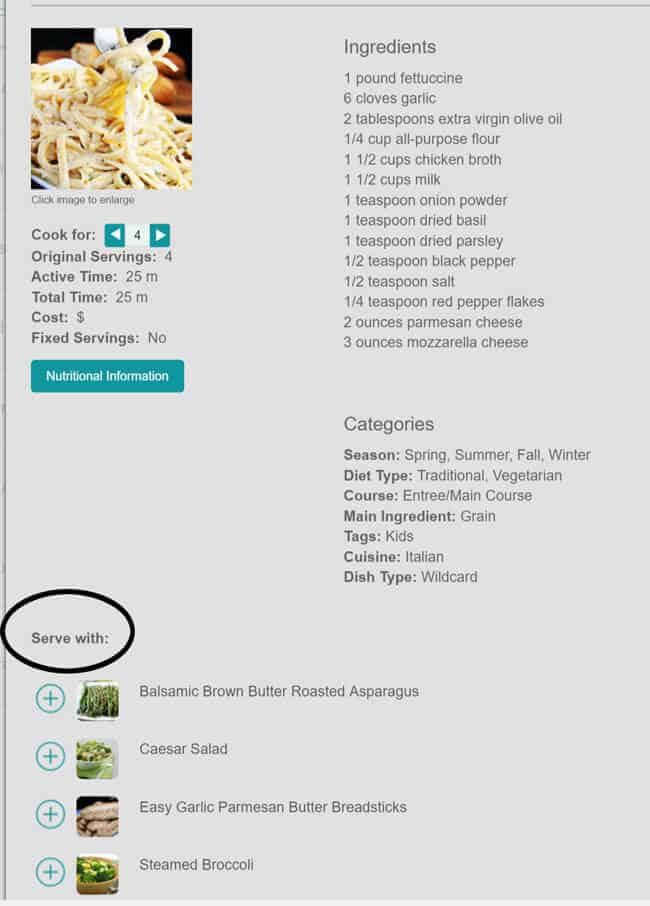 Real Plans is a dream come true for any family but for families with food allergies or intolerance, Real Plans is a life saver.  You can customize the settings to fit your family's dietary needs (Paleo, vegetarian, gluten free, diary free, etc.) and/or preferences.  Someone in the family hates mushrooms?  Won't eat fish? Is egg intolerant?  Just check a couple boxes in your settings page and you will never see those ingredients again (unless of course you change your mind 🙂 ).   This feature is PRICELESS for so many families with dietary restrictions.  You can also include foods you want to cook with that week as well.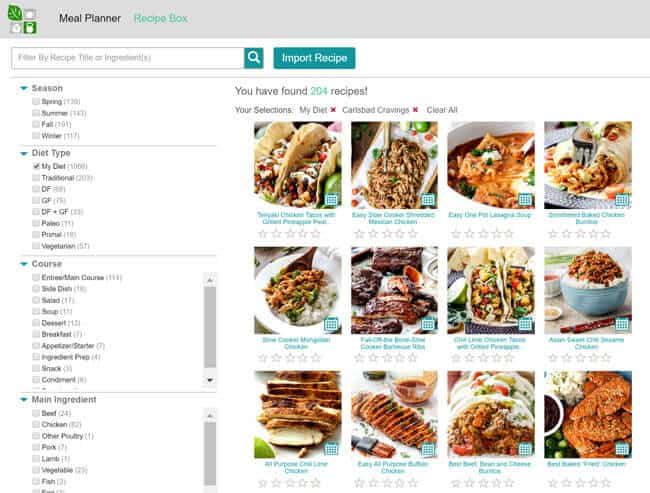 You can even customize the types of recipes you are feeling like for the week – craving fakeout takeout?  Click Asian.  Craving soups?  Click soups.  Craving some outdoor deliciousness?  Click BBQ.   If you have family favorite recipes or recipes you find online, you can easily import them to be included in your meal plans as well. Everything you could think of, it's customizable with Real Plans.
Once you've generated your Meal Plan for the week (which has taken you MINUTES), Real Plans generates a custom shopping list – this has to be my favorite part.  You can leave the list as is or you can change quantities, add or subtract items, and even divide items among multiple grocery stores.  Print or email the list or my favorite – use the APP to shop entirely from your phone!  The Real Plans Mobile App lets you check items off your list as you go so you can be more efficient and never miss an ingredient for any of your meal plan recipes which means you are shopping a whole lot less.
Once the meal plan is done (in minutes), the shopping is done (so easy with the automatic shopping list), then all that's left is to cook the meals in the time you have specified.  And dig.  And feel great about the healthy, homemade meals you are serving your family.
Real Plans is quite simply the easiest, most efficient, customizable, meal planning tool to alleviate feeding-your-family-stress.  If you are curious about Real Plans and how it can simplify your life, then I encourage you to try it out because there is a  30 DAY MONEY BACK GUARANTEE as well as unparalleled LIVE customer support available 24 hours.  For less than the cost of one takeout meal, you can enjoy Real Plans custom meal plans with access to over 1500 carefully curated recipes to suit every diet and lifestyle starting at only $14/month.  For $1 more per month ($15/month), you can add "Carlsbad Cravings" and over 200 of my recipes will be added your weekly meal plans.   No more wasting time, money/ingredients or wondering "what's for dinner?"
Dreams do come true thanks to Real Plans!