Your favorite sweet and spicy, ginger, caramel General Tso's sauce now smothering crispy, sticky baked wings – No breading chicken!
The first chicken recipe I ever shared on Carlsbad Cravings (last February 2014) was Skinny General Tso's Chicken and even title it "AKA my favorite chicken ever" because I think it will forever remain my favorite chicken ever. And when something is your favorite chicken ever, you want to eat it…
All.
The.
Time.
The crispy chicken enveloped in sweet caramel like sauce balanced by zingy ginger, Sriracha, garlic and toasted sesame oil is the perfect balance of sweet heat that I can't seem to get enough of. Its the kind of sauce you want to douse on everything.
So let's get dousing.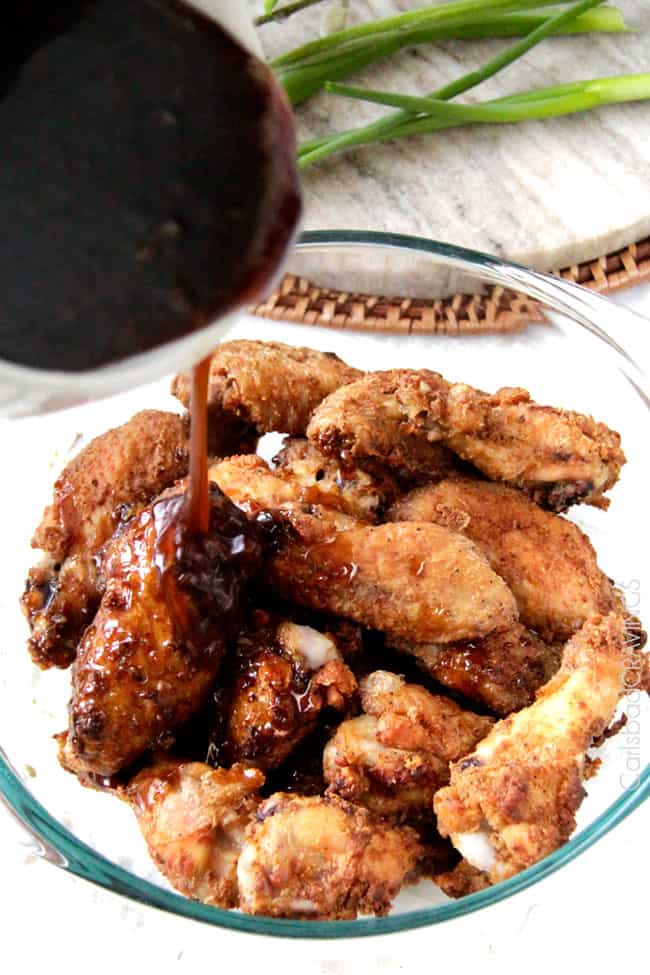 These crispy baked chicken wings are so dousable and naturally crispy by adding baking powder to the rub (see reasoning here) so there is no need for the time consuming process of breading like in the traditional Skinny General Tso's Chicken version so you get all the flavor of General Tso's chicken with half the work!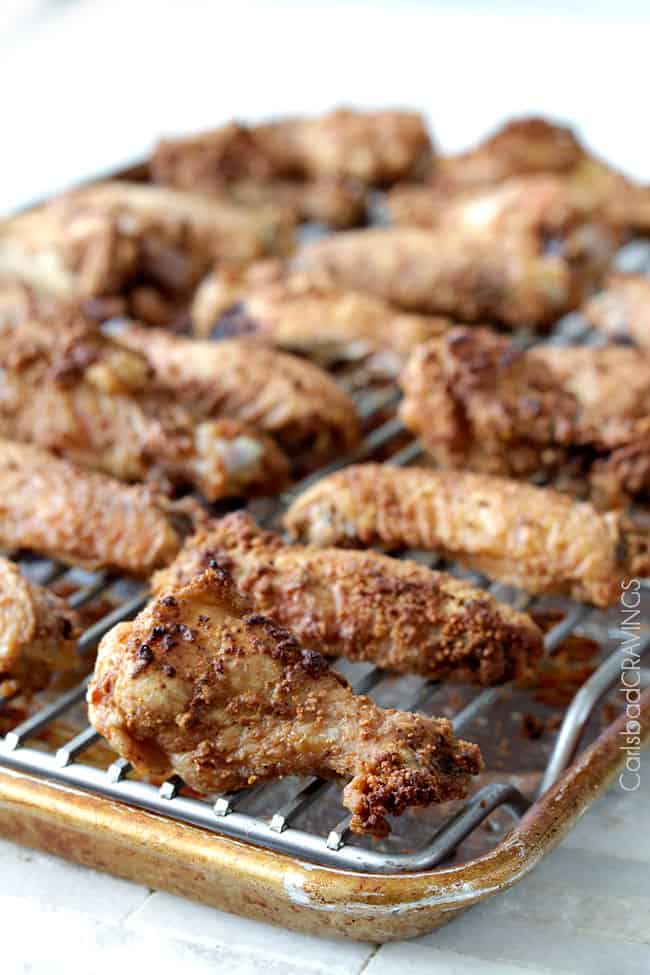 The wings are first rubbed (or more accurately shaken in a bag – easy) with spices such as ginger, garlic, onion, etc., baked, then drenched in the sticky intoxicating sauce. As simple as that.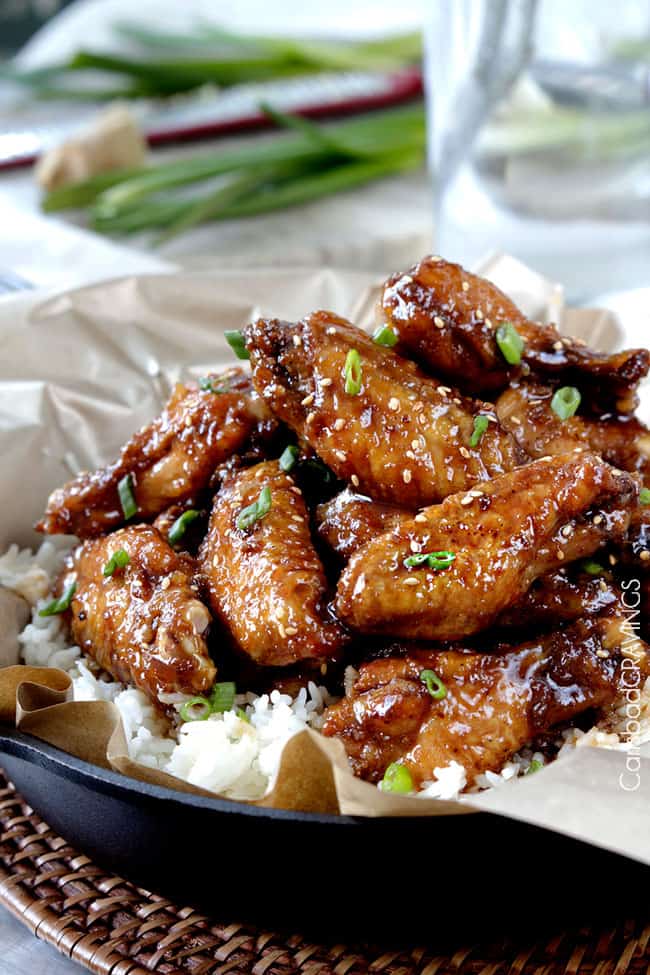 As delicious as this…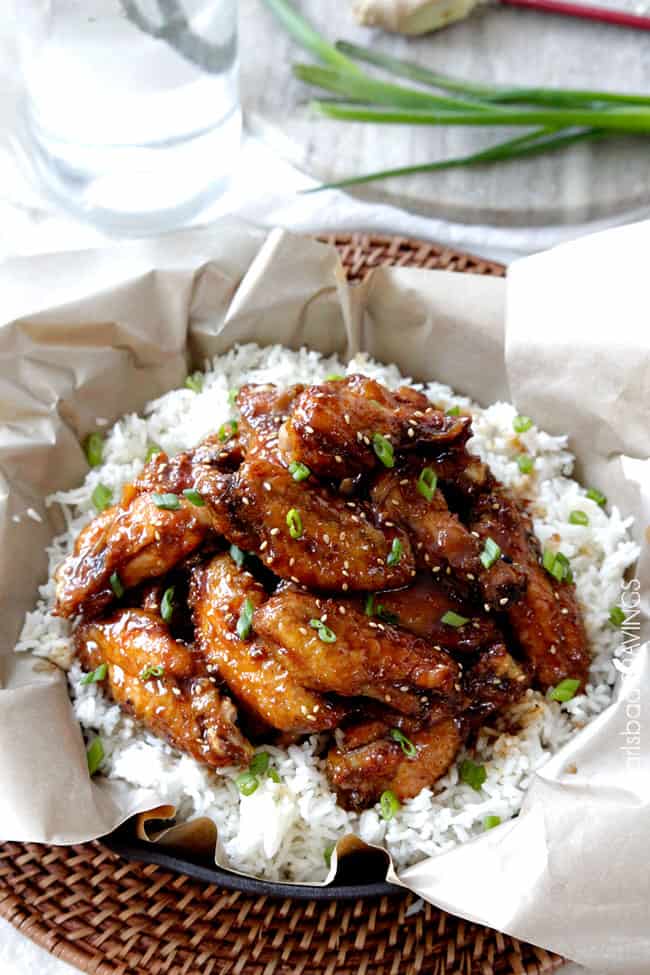 Baked General Tso's Sticky Wings.  Undoubtedly dousably delicious.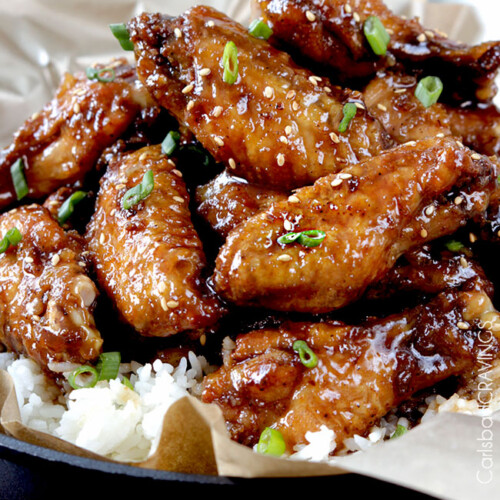 Baked Sticky General Tso's Chicken Wings
Save This Recipe To Your Recipe Box
You can now create an account on our site and save your favorite recipes all in one place!
Ingredients
24

chicken wings

with skin, rinsed and patted dry (approx 3 pounds)
Rub
2

tablespoons

baking powder

2

tablespoons

ground ginger

sounds like a lot its amazing

1

tsp EACH

salt, onion pwdr, garlic pwdr

1/2

teaspoon

black pepper

1/4

teaspoon

cayenne pepper
Caramel Sauce
1/2

cup

sugar

2

tablespoons

water
Instructions
Preheat oven to 400F degrees. Line baking sheet with foil for easy cleanup. Top baking sheet with baking rack/oven proof cooling rack and lightly spray with nonstick cooking spray.

In a medium bowl, mix Rub ingredients together. Add half of the Rub to a large freezer bag. Add half of the wings and shake until coated evenly. Line wings on prepared baking rack so they are not touching. Add remaining Rub ingredients and wings to freezer bag and repeat.

Bake on upper middle rack for 45-50 minutes or until golden. Move oven rack approximately 6-8″ from broiler and broil to desired crispiness, watching closely so wings don't burn. Flip chicken wings over and broil the other side until crispy.

In a medium bowl, whisk together sauce ingredients (not Caramel Sauce). Set aside.

To make the Caramel Sauce, add 2 tablespoons water and ½ cup sugar to large skillet and boil over medium heat for 1 minute – don't overcook or it will harden! Add reserved sauce and simmer the sauce until thickened, about 2 minutes.

Remove the sauce from the heat and allow to cool down slightly. Add cooked chicken to a large bowl and add sauce. Toss until evenly coated with a spatula. There will be a little extra sauce which is amazing on rice. Enjoy!
Did You Make This Recipe?
Tag @CarlsbadCravings and Use #CarlsbadCravngs
Leave a Review, I Always Love Hearing From You!