Arroz con Pollo ("chicken with rice") all made in one pot, bursting with robust flavor, succulent chicken, tender rice and customizable add-ins!
This Arroz con Pollo recipe is the ultimate chicken and rice dish. It may look fancy, but this complete meal-in-one bakes all in one pot for an easy dinner any night of the week. The juicy chicken and seasoned rice simmer with tomatoes, bell peppers, onions, peas and olives for a flavor explosion in every bite. You can also customize your Arroz con Pollo to your family tastes with different veggies or add-ins.
Arroz Con Pollo Recipe Video
What is Arroz con pollo?
I am slightly obsessed with this Arroz con Pollo recipe. The layers of aromatic flavors and textures are like a spectacular tapestry waiting to be adored – and eaten. This chicken and rice is warm, comforting, rich yet fresh, slightly tangy and utterly divine.
So, what exactly is Arroz con Pollo? Arroz con Pollo literally means "chicken with rice," in Spanish. It is a quintessential dish in Spain and many Latin American countries known for its juicy chicken thighs, rice, earthy seasonings and often tomatoes, onions, garlic, bell peppers, and sometimes olives, and peas – all cooked in one pot.
Where did Arroz Con Pollo come from?
Although Arroz con Pollo originated in Spain, it was brought to Latin American during its early colonization which also brought rice. Today, there are arguably more versions of Arroz con Pollo outside of Spain, than in Spain. Countries such as Puerto Rico, Peru, Cuba, etc., all have their own unique versions of Arroz con Pollo.
Arroz Con Pollo Recipe
In creating this Arroz con Pollo recipe, I did NOT create a traditional recipe unique to any one country. Instead, I stuck to the basic ingredients and flavor profile then handpicked what I thought would create the best Arroz Con Pollo with maximum flavor and palate pleasure.
In this version of Arroz con Pollo, we stick to traditional chicken thighs and chicken drumsticks which we marinate for 15 minutes, coat in spices then sear for ultimate flavor. We also create our own sazon seasoning blend made from pantry friendly ingredients which seasons both the chicken and the rice.
The Arroz con pollo is further seasoned with a sofrito of onions, bell peppers and capers, which all combines with jarred roasted red bell peppers, fire roasted tomatoes, tomato paste, chicken broth all finished with peas, pimento stuffed olives and fresh cilantro.
As the chicken bakes on top of the rice, its juices seep deep into the rice. Add some bright cilantro and popping olives and you have warm and earthy balanced by fresh and tangy.
The resulting Arroz con Pollo is layer upon layer of flavor and texture that are unbelievably delicious and may just be the last Arroz con Pollo recipe you need for the rest of your life.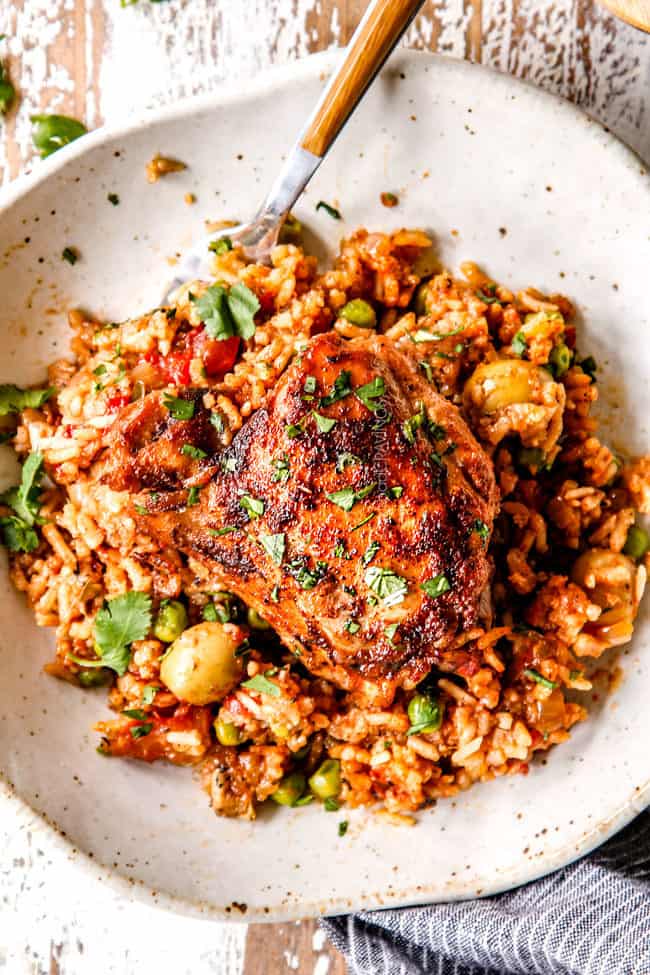 What Ingredients are in Arroz Con Pollo?
CHICKEN: you can use both chicken thighs and drumsticks or one or the other, see more details below on the best chicken to use.
RICE: I prefer basmati rice because it is less likely to get mushy (more below). Use only white basmati rice and not brown basmati rice or it will not cook in the same time as your chicken. You may substitute the basmati rice for long-grain white rice but NOT short, medium, arborio, or brown rice or else the ratios and timing will not be correct.
SOFRITO: this is my nod to Puerto Rican sofrito using chopped onions, green bell peppers and garlic (we add the cilantro later). It creates the essential flavor base of the whole dish. I also add 1 tablespoon capers for a kick of tangy, saltiness characteristic of many Arroz con Pollo recipes. The capers are optional if you don't want to purchase capers just for this recipe. If omitting, I suggest, brightening the finished Arroz con Pollo with a squeeze of fresh lime or lemon juice.
GARLIC: add more or less garlic depending on your garlic love.
ROASTED RED BELL PEPPERS: these add yet another dimension of sweet and smoky flavor but are optional if you don't want to purchase them or have them on hand. I use one 12 oz. jar roasted red bell peppers, drained and chopped for convenience. They are as easy as dump and simmer for added yum.
FIRE ROASTED DICED TOMATOES: I prefer fire roasted tomatoes due to their sweet smokiness but you can substitute with diced tomatoes if you can't find or have fire roasted tomatoes on hand.
TOMATO PASTE: adds a concentrated tomato flavor essential to the overall dish.
CHICKEN BROTH: use low sodium chicken broth so the Arroz con Pollo isn't too salty. I haven't experimented by replacing the chicken broth with water + chicken bouillon but you would need 1 tablespoon + 1 teaspoon chicken bouillon. If you use chicken bouillon, I imagine you would need to reduce the salt in the recipe to 1 teaspoon (again, I haven't tried this).
PETITE PEAS: use frozen petite peas that have been thawed. Peas are optional but I think they add a needed pop of texture.
OLIVES: I am not even an olive fan, but these pimento stuffed olives, enliven the whole dish with their tangy acidity. I highly recommend some sort of olives jarred in vinegar even if you're not an olive fan – this might make one out of you – or at least for this Arroz con Pollo recipe.
CILANTRO: is added at the end for its fresh, fruity citrus punch.
What is Sazon used for?
In addition to the aforementioned ingredients, SEASONINGS make this Arroz con Pollo, otherwise this Arroz con Pollo would cease to be Arroz con Pollo and just be bland chicken and rice.
Arroz con Pollo is often seasoned with sazon. Sazon is a spice blend commonly sold in small packets used in Arroz con Pollo and other Latin American cooking.
Sazon typically contains a mixture of garlic powder, coriander, paprika, cumin, annatto seeds, saffron, chile pepper, etc.
I chose to make my own Sazon blend so I can not only customize the amount of each seasoning, but more importantly so YOU don't have to purchase one more seasoning packet. Rather, this homemade Sazon blend is made with pantry friendly seasonings you most likely already have stocked.
How do you make homemade Sazon?
Simply whisk together:
1 tablespoon dried oregano
1 tablespoon ground cumin
2 teaspoons smoked paprika
2 teaspoons salt
1 1/2 teaspoons garlic powder
1 1/2 teaspoons onion powder
1 teaspoon ground coriander
1 teaspoon pepper
1 teaspoon ground chili powder
1/2 teaspoon dried thyme
1/2 teaspoon ground turmeric
Pinch – 1/4 teaspoon cayenne pepper (optional for a kick)
You can replace the turmeric with ground annatto seeds if you keep them on hand. I find a reduced amount of turmeric to be comparable as they are both slightly nutty and peppery.
The seasoning blend will get mixed once then divided to be use both in the chicken rub and the rice AKA double the flavor without double the work!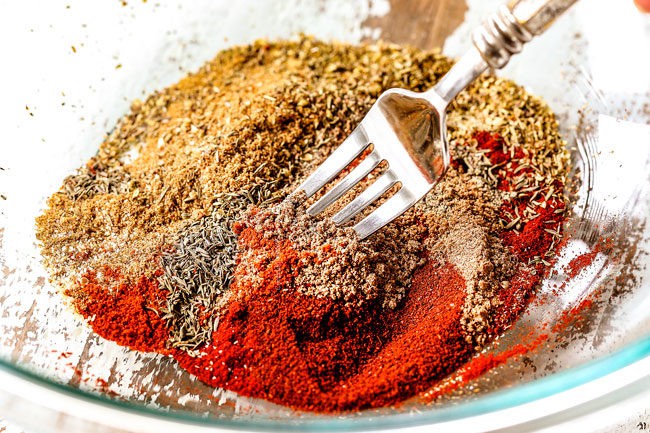 What chicken is best for Arroz Con pollo?
Bone in Chicken Thighs and Drumsticks without skin:
Arroz con pollo is typically made with bone-in chicken thighs and drumsticks which emerge crazy tender and juicy. I like to use 4 bone-in chicken thighs and 4 chicken drumsticks, but you can use all chicken thighs or all drumsticks. If you use all drumsticks, you will want to use 10 instead of 8 because they are smaller than thighs.
I prefer to remove the skin from my chicken because I like the texture better and feel less guilty devouring multiple servings without it. I also find the chicken is just as flavorful without the skin.
Can I leave the skin on my chicken?
That being said, you can absolutely leave the skin on your chicken if you prefer. You will want to sear the chicken for a decent amount of time to render the fat, otherwise you will be left with soggy chicken and greasy rice.
Can I use chicken breasts?
You can use boneless, skinless chicken breasts, but they will not be as juicy. If you choose to use chicken breasts, then you will want to use small chicken breasts or chicken fillets/large chicken breasts cut in half through the equator so they will cook in the allotted 25 minutes.
I also highly recommend you brine you chicken breasts first. Brining will increase their moisture capacity and render them much more tender.
To brine your chicken breasts, mix 4 cups warm water with ¼ cup KOSHER salt in a shallow glass dish or freezer bag. Stir until the salt dissolves. Add chicken and let sit at room temperature for 15-30 minutes – NO longer! Remove chicken from the brine, rinse in cold water and pat dry.
What rice is best for Arroz Con Pollo?
Arroz con Pollo is often made with medium-grain rice or long-grain white rice, so I went with my favorite long grain rice, basmati.
Basmati isn't traditional for Arroz con Pollo because it comes from India and Pakistan but now that we can get rice from anywhere, I simply chose the best rice for Arroz con Pollo and HIGHLY recommend it.
You may use traditional long grain white rice, but it is not as forgiving and can become mushy quickly.
Basmati rice, on the other hand, not only boasts a light nutty flavor but it is extremely forgiving. Basmati grains are longer than traditional white rice and cook up lighter and fluffier. The individual grains remain distinct when cooked instead of sticking together which means no more clumpy or mushy rice!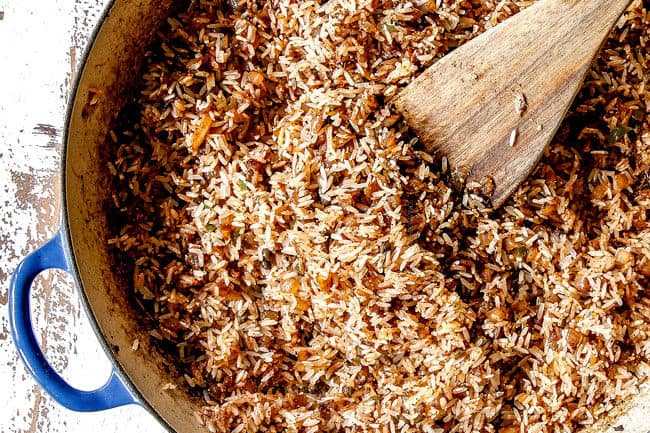 Where Can I Buy Basmati Rice?
Basmati rice is located with all the other rice varieties at your grocery store. I also use it in my Mexican Rice and Greek Rice – so I promise it will not go to waste!
Do I have to Rinse my Rice?
Whether you use basmati rice or long grain white rice, you will need to thoroughly rinse your rice. This is crucial to remove the extra starch from the rice so it doesn't cook up sticky – Arroz con Pollo is not meant to be sticky.
To rinse, place rice in a fine mesh sieve and thoroughly rinse rice under cool running water until the water runs clear. You do not need to soak your rice.
What Pot do I need for Arroz con Pollo?
I use a 3 ½ quart cast-iron enamel braiser that measures 11 1/2″ in diameter by 2 1/2″ high. You will want to use a similar oven proof dish/skillet with a tight-fitting lid.
If you don't have an oven proof skillet, you can transfer the chicken and rice to an oven safe baking dish, just be aware baking times will vary. If you don't have a lid, you may cover your oven proof dish tightly with foil. If your seal isn't tight, then heat and water will escape resulting in undercooked rice and drier chicken.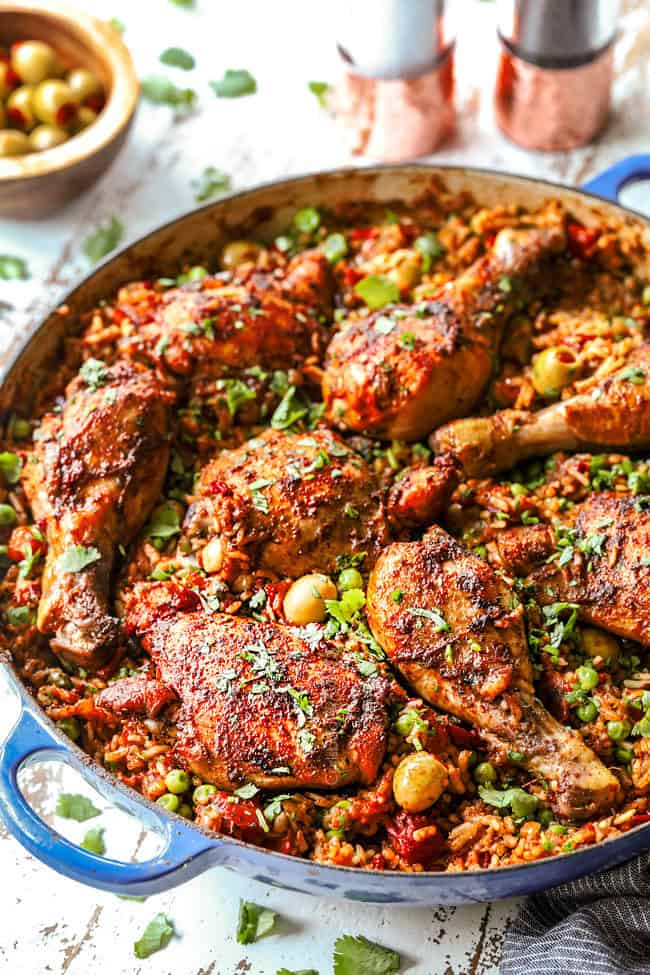 HOW DO YOU MAKE ARROZ CON POLLO?
This Arroz con Pollo recipe is a simple one pot meal that starts by seasoning and searing chicken thighs and drumsticks, then combining them with sofrito, toasted rice, chicken broth and tomatoes. The simmering pot gets covered and bakes until the chicken is cooked through and the rice is tender. It is topped with peas, pickled olives and cilantro.
Here is a step by step breakdown with some tips and tricks:
STEP 1: MARINATE CHICKEN
Don't worry when you hear the word "marinate." It is just a 15-minute marinade – more like a "wet rub" – made by whisking the homemade spice mix, olive oil and vinegar together. We massage it all over the chicken to achieve even more tender and flavorful chicken. You can marinate the chicken for as little as 15 minutes or up to 8 hours in the refrigerator.
STEP 2: SEAR CHICKEN
You want the chicken a nice deep golden color because color = flavor, so don't short change the sear. It will require bout 3-5 minutes per side. Don't worry about any seasonings that get left behind in the pot because they will add flavor to the rice.
STEP 3: COOK SOFRITO
Next, you'll cook your onions, bell peppers and capers in the same pot, scraping up the bottom brown bits from the chicken, for the most flavorful sofrito you ever did taste. Cook until the onions are softened, about 5-7 minutes.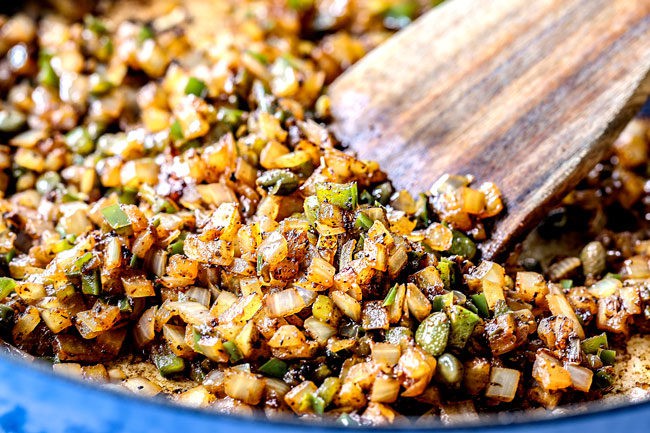 STEP 4: TOAST RICE
Add rice, garlic and Reserved Seasonings and sauté for 2 minutes. Toasting the rice with the sofrito not only infuses it with those flavors but helps develop the wonderfully nutty flavor of the rice. More importantly, toasting the rice helps the grains keep some of their texture after they are cooked so they remain fluffy.
STEP 4: ADD REMAINING INGREDIENTS
Next, stir in jarred roasted bell peppers, diced tomatoes, tomato paste, and broth.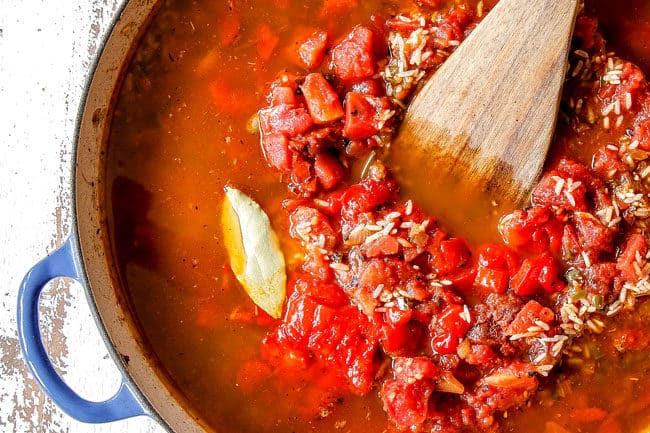 STEP 4: SIMMER
Bring to a simmer and simmer gently, uncovered for 3 minutes. This ensures our rice will be cooked at the same time as the chicken and gets it nice and hot so it can continue to simmer when transferred to the oven.
STEP 5: BAKE
Nestle chicken into the rice in a single layer, cover, and transfer to the oven. Bake 20-25 minutes OR until chicken registers 175 degrees, the rice is tender and most of the liquid is absorbed.
If the water evaporates before the rice is done, then stir in additional ¼ cup broth or water, keeping in mind that the rice will continue to steam for 10 minutes once it's removed from heat, so it doesn't need to be 100% cooked once liquid is gone. If you want creamier rice, you can also add a little more water before it is done cooking.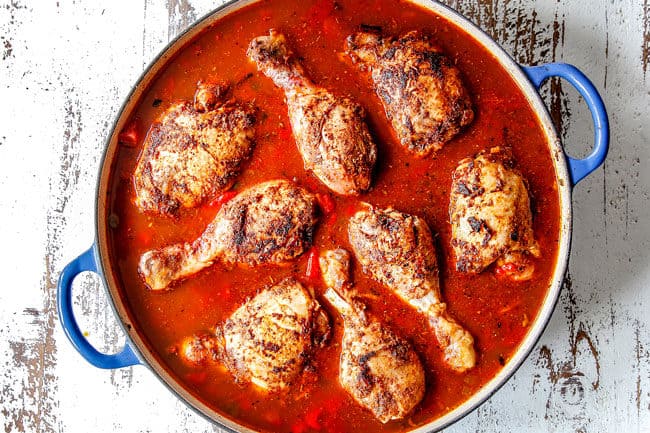 STEP 6: REST 10 MINUTES
Remove Arroz con Pollo from oven and stir in peas and olives. Cover, and let stand for 10 minutes. During this time, any residual liquid will be absorbed as the rice steams. This also allows time for the juices that have pushed to the outsides of the chicken while cooking to be evenly distributed throughout the chicken for juicer chicken.
When you remove the lid after 10 minutes, you can let the rice sit an additional 5-10 minutes to dry out if needed, but it should be tender and fluffy.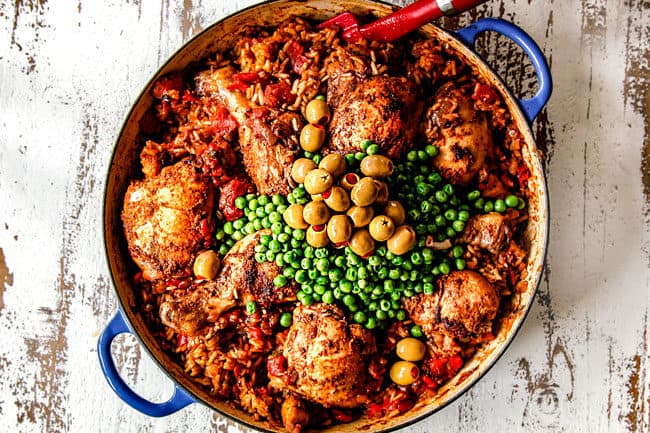 STEP 7: SERVE
Fluff the rice with a spatula, garnish with cilantro and serve warm. If you omitted the capers, you may want to garnish with a squeeze of fresh lime or lemon juice. This pop of acidity compliments the robust flavors and rounds out the flavor profile.
How do I know when my Arroz con Pollo is done?
Your Arroz con Pollo is done when your chicken thighs register 175 degrees on an instant read thermometer or when your chicken breasts register 165 degrees.
I highly recommend investing in a meat thermometer otherwise there is no accurate way to check and see when your chicken is cooked without slicing it open and loosing valuable juices.
If your rice is still a little water or slightly crunchy, that is okay. The rice will continue to steam an extra 10 minutes while the lid is on and absorb remaining liquid.
What food goes with arroz con pollo?
Arroz con Pollo is a meal-in-one that we like to serve with a side of yogurt or sour cream, hot sauce, fresh fruit and a big green salad tossed with Cilantro Lime Dressing.
If you're feeling extra ambitious, you can also serve Arroz Con Pollo with Corn Salad, Fruit Salad or Pina Colada Salad. And of course, a big bag of chips and salsa or salsa verde for an appetizer and churros for dessert is always a good idea.
Looking for more Latin inspired recipes?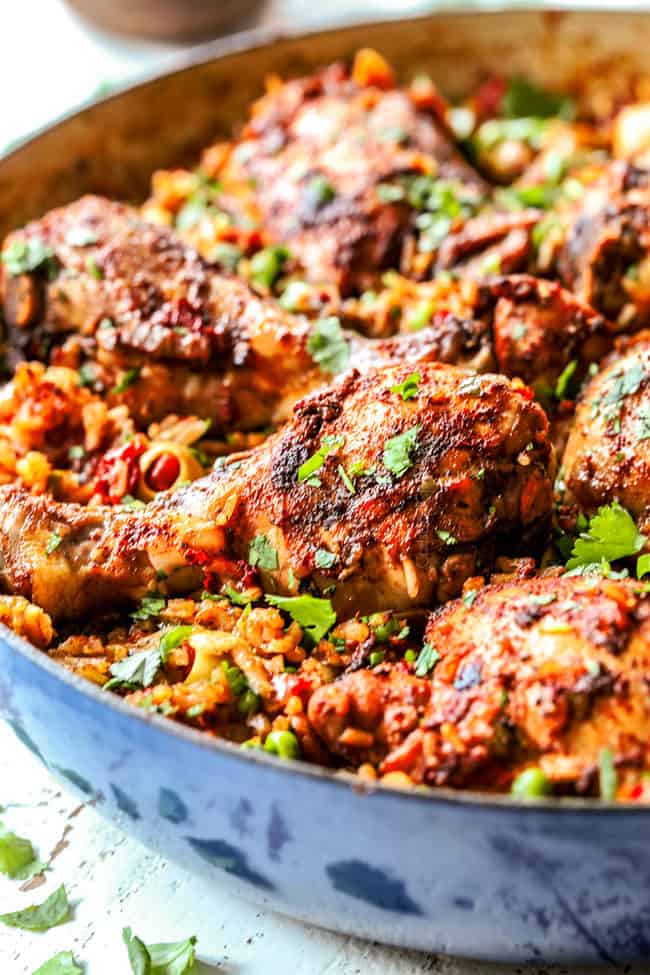 Want to Try this Arroz con Pollo Recipe?
Pin it to your DINNER, ONE POT or CHICKEN Board to SAVE for later!
Find me on Pinterest for more great recipes! I am always pinning :)!
©Carlsbad Cravings by CarlsbadCravings.com

©Carlsbad Cravings Original
Never miss a Carlsbad Cravings Creation:
You might also like these one pot recipes: