10 Minute hands on prep tender marinated sweet heat chicken smothered in sticky honey jalapeno pineapple sauce that will leave you dreaming of the Islands – or just this chicken.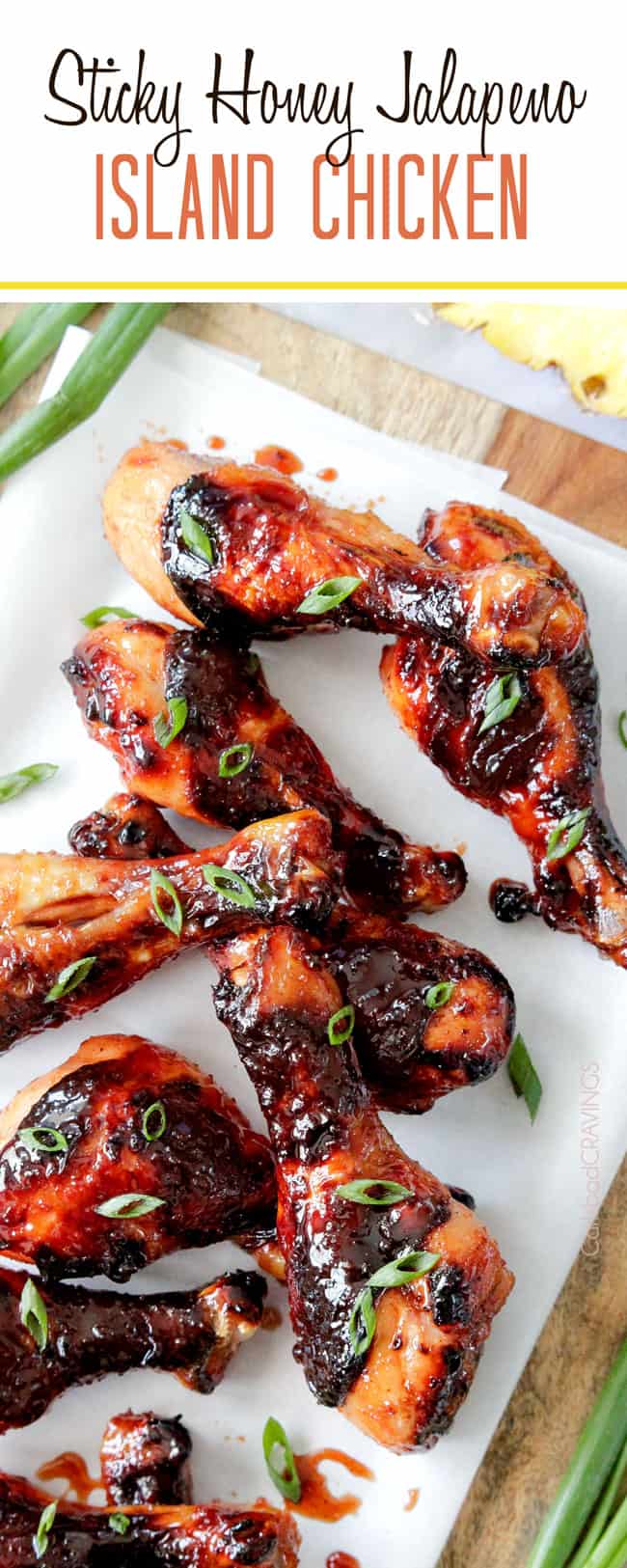 I apologize profusely that I have not posted any drumstick recipes on Carlsbad Cravings yet – or until today. I have NO idea why! Well, I kind of know why. I buy huge bags of chicken breasts at Costco – they are lean, affordable and so versatile – they are my default. But when you want to feature a sauce without breading chicken or making a stir fry and still want the chicken to taste Ah-mazing – I am learning that drumsticks or chicken thighs are the way to go (like in my Sticky Thai Orange Peanut Chicken). They are so tender, and juicy and just so magical.
I actually got the idea for this Island sauce that demanded the use of drumsticks while I was in the tropics myself – reading cookbooks. Some people read People Magazine, some people read the latest bestsellers, I read cookbooks. I was going through an old family recipe book when a recipe for ribs with jalapeno jelly and steak sauce caught my eye. I had never even heard of jalapeno jelly but when I actually looked for it, it was right with all the other jams just begging for its potential to be realized.
I think its fulfilled its potential. And then some.
The heat from the jalapeno jelly is balanced by sweet honey and brown sugar, swirled with pineapple juice, soy, ginger, garlic and a little island spices flair of cinnamon and all spice. Lip smacking, finger licking, bowl licking good.
The chicken sauce doubles as the marinade (you separate the marinade/sauce when you make it), making this a super easy meal to prepare. When you are ready to bake your chicken, simply rinse and pat your drumsticks dry (the more dry the crispier the skin), then pierce each drumstick with a fork a few times (also for crispy skin), spray with nonstick cooking spray and bake. When the chicken is done, you can either leave the skin on or it is super easy to slip off once baked. Simmer your reserved sauce, pour over the chicken and its tantalizing Sticky Honey Jalapeno Island Chicken Time.
Caribbean time.
Let's eat.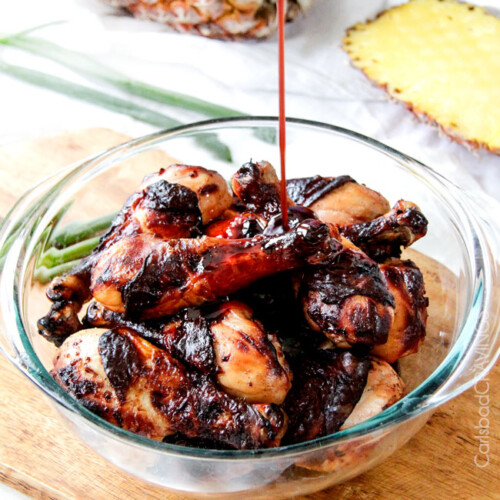 Sticky Honey Jalapeno Island Chicken
Save This Recipe To Your Recipe Box
You can now create an account on our site and save your favorite recipes all in one place!
Ingredients
12-16

drumsticks

(3-4 pounds)

2

teaspoons

cornstarch
Sweet Heat Marinade/Sauce
1

10 oz. jar

jalapeno jelly*

1/2

cup

low sodium soy sauce

1/4

cup

pineapple juice

1/4

cup

honey

1/4

cup

brown sugar

2

tablespoons

red wine vinegar

1

tsp EACH

salt, garlic pwdr, onion pwdr

1/2

tsp EACH

cinnamon, allspice, ground ginger

¼ -1/2

teaspoon

cayenne pepper
Instructions
Add jalapeno jelly to a microwave safe bowl and microwave until jelly is slightly liquefied and stirable. Add jelly and remaining marinade ingredients to a large bowl and whisk to combine.

Add ½ cup marinade and chicken to a large freezer bag, seal and turn until all the chicken is evenly coated. Marinate in the fridge for for 12-24 hours, turning occasionally. Refrigerate the unused reserved marinade/sauce separately.

Line a large baking sheet with foil and top with a baking/cooling rack. Lightly spray rack with nonstick cooking spray. Remove chicken from marinade and discard. Squeeze each piece of chicken dry with paper towels (the more dry, the crispier the skin) and line chicken on the baking rack without pieces touching. Pierce each piece of chicken 3-4 times with a fork. Let set at room temperature for 15 minutes. Meanwhile, preheat oven to 450 degrees.

Spray chicken with nonstick cooking spray and bake for 35-40 minutes. If crispier skin is desired, broil to desired crispiness (I don't find this is necessary if you bake for 40 minutes).

When chicken is done and cooling (you can remove skin at this point if desired), whisk 2 teaspoons cornstarch to the reserved marinade/sauce. Add to a large saucepan and bring to a boil, stirring constantly. Reduce heat to medium high and let simmer (it will bubble a lot) for approximately 5 minutes, stirring occasionally, or until sauce has reduced and thickened. Let sit 3-5 minutes to cool slightly then pour over chicken in a large bowl. Toss to evenly combine. Dip chicken in any extra sauce or serve over rice.
Notes
*Jalapeno jelly should be located in the jam section of your local grocery store. I use Reese Hot Pepper Jelly made with red jalapenos.
Did You Make This Recipe?
Tag @CarlsbadCravings and Use #CarlsbadCravngs
Leave a Review, I Always Love Hearing From You!
Carlsbad Cravings© Original