Make ahead, silky Lemon Pots de Creme are the ideal light and refreshing dessert while still luxuriously creamy and insistently lemony! A must dessert this spring or summer or Easter!

I've enjoyed posting more desserts and sides/salads in anticipation of Easter lately like my Greek Pasta Salad with Sun-Dried Tomato Basil Pesto, Strawberry Melon Salad with Citrus Glaze, Puff Pastry Cannoli Cones and Strawberry Cheesecake Pie. What I especially love about all of those recipes (and this one) is they are ALL make ahead with maybe just one last throw together step. This frees up your stove, oven and most importantly YOU for whatever else you want to make and make and is one less, two less, or three less things you have to worry about the day of. winning.
If you want to see these recipes in live action, make sure you're following me on Facebook and then click VIDEOS (this Lemon Pots De Creme Video coming soon). If you're still looking for Easter brunch/dinner ideas, you can drool over them all out IN ONE PLACE HERE Now onto these Easterilicious Lemon Pots De Ceme!
T
Lemon Pots De Creme sounds super fancy, look exquisitely beautiful (especially when garnished with fresh berries), and taste enticingly divine but really just mean "pots of custard" or "pots of cream" in French and don't require any fancy techniques either! Pots de Crème are known as pudding's eggy cousin because while pudding uses cornstarch as a thickener, custard uses egg yolks. So as long as you can whisk eggs and cream and fill a roasting pan with water, then you are good to go to create these rich, lemon bursting adorable "Pots de Creme."
Typically Pots de Creme are made by whisking egg yolks, sugar, cream, vanilla and adding some flavoring such as chocolate. For these Lemon Pots de Creme, we are going one simple step further by simmering a lemon syrup consisting of lemon zest, lemon juice and sugar and reducing it to create a concentrated kick of lemon flavor. Many Lemon Pots De Creme recipes just call for whisking in lemon juice and lemon zest directly into the cream, but you will be AMAZED at the superior punch of sweet-tart balance this fresh lemon syrup infuses the Pots de Creme with!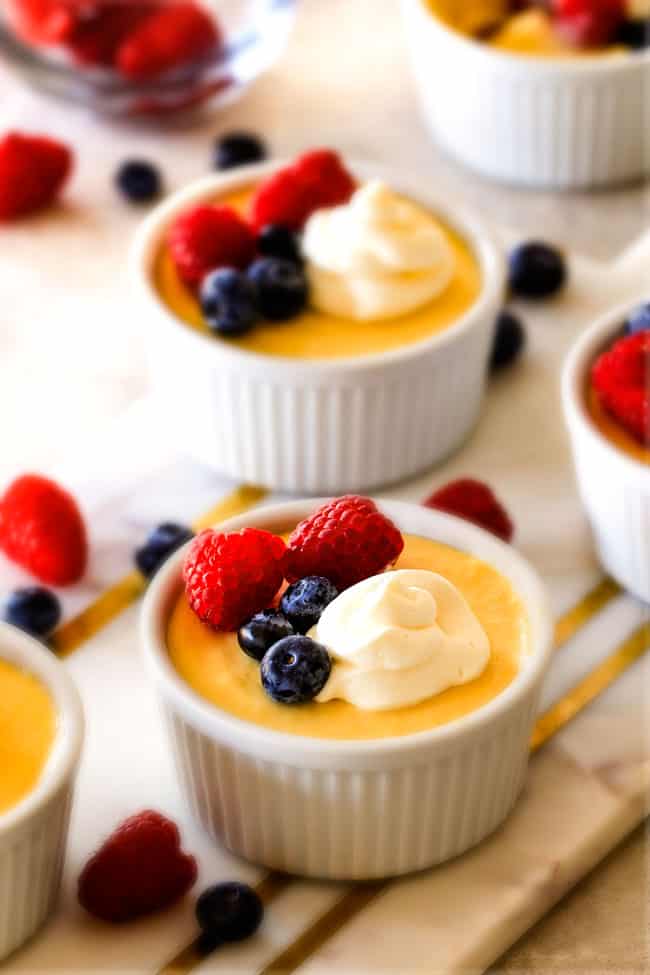 While our lemon syrup is simmering, we heat our cream and some sugar in a large saucepan just below boiling. Next, whisk the egg yolks with some sugar until smooth. Now, in order to not scramble our eggs, we first temper them with a ladelful of the warm cream. This way we slowly bring up the temperature of the eggs without scrambling them and bring down the temperature of the heavy cream when we add the eggs. It might sound complicated, but its just whisking, gradually pouring and whisking again.
Next, continue to stir your cream/egg mixture for 3-4 minutes off heat. It will become nice and thick and then stir in your lemon syrup and vanilla extract. You will want to drink it straight from the saucepan at this point, but instead, immediately strain it through a cheesecloth or fine sieve to eliminate the lemon zest and any small pieces of cooked egg that try and sneak in.
Finally, we are going to set our ramekins in a baking pan and fill the pan with boiling water until it reaches half way up the sides of the ramekins. You DON'T want to skip this step. A water bath helps the custards cook evenly and gently, protecting the egg yolks from curdling. This also allows the custards to slowly and naturally thicken to their hallmark silky-smooth, rich texture.
One last quick note before you get to your Pots de Crème. You will be tempted to over bake them. It's not the end of the world if you do, but for ideal silken consistency, the goal here is to pull them out of the oven when the custards are set about ¼ inch from the sides but the center still jiggles, much like a cheesecake. The center will continue to cook and firm up while the custards cool to room temperature and continue still in the refrigerator.
Let your Lemon Pots de Creme chill for at least 8 hours, best if overnight then garnish these beauties with plenty of fresh berries and whipped cream. Happy Easter and Happy stress free entertaining with gorgeously delectable Lemon Pots de Creme!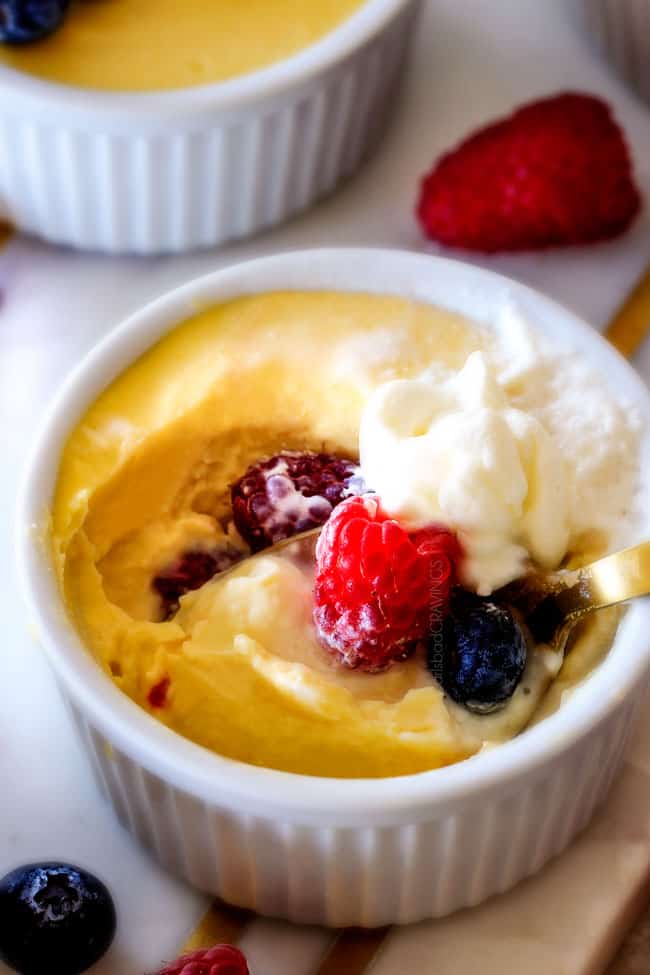 looking for more summer dessert recipes?
Want to try these Lemon Pots de Creme?
Pin them to your DESSERT or SPRING Board to SAVE for later!
Find me on Pinterest for more great recipes!  I am always pinning :)!
©Carlsbad Cravings by CarlsbadCravings.com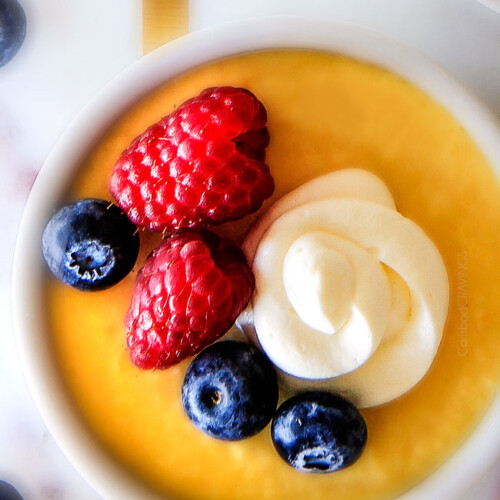 Lemon Pots de Creme
Make ahead, silky Lemon Pots de Creme are the ideal light and refreshing dessert while still luxuriously creamy and insistently lemony!   A must dessert this spring or summer or Easter!
Save This Recipe To Your Recipe Box
You can now create an account on our site and save your favorite recipes all in one place!
Ingredients
2

tablespoons

lemon zest

3/4

cup

fresh lemon juice

3/4

cup

granulated sugar

divided

3-1/2

cups

heavy cream

2

teaspoons

pure vanilla extract

10

large egg yolks
Instructions
Preheat oven to 325°F. Begin boiling a large pot of water that will be used in your water bath. Place 6 4 oz. ramekins in a large roasting pan or baking dish with high sides.

In a small saucepan, combine the lemon zest, lemon juice, and ¼ cup of the sugar. Simmer until reduced to ½ cup, about 10-15 minutes; set aside.

Meanwhile, in a large saucepan, combine the cream and ¼ cup of the sugar, and bring to just below boiling. Remove from the heat.

In a medium bowl, beat the egg yolks with the remaining ¼ cup sugar until smooth. Slowly whisk a ladleful of the hot cream into the yolks to temper then slowly/ gradually whisk the yolk mixture into the saucepan with the rest of the cream. Cook (still off heat) stirring constantly, until the mixture reaches 170°F on an instant-read thermometer, 3 to 4 minutes until its thick.

Stir in the reserved lemon syrup and vanilla extract. Strain immediately through cheesecloth or a fine sieve then divide the mixture evenly between the ramekins. (I strain mine into a very large pouring measuring cup so I can pour directly after straining – you could also use a pitcher.)

Pour enough prepared boiling water into the roasting pan around the ramekins so it reaches halfway up the sides of the ramekins. Lay a long sheet of foil over the ramekins (no need to crimp edges) and bake 30-45 minutes – until the custards are set about ¼ inch from the sides but the center still jiggles. The center of the custards should register 150° to 155°F on an instant-read thermometer.

Remove custards from oven and let them cool IN their water bath to room temperature. Remove from water bath, cover with plastic and refrigerate at least 8 hours, best if 24.

Garnish with whipped cream and plenty of berries.
MAKE AHEAD
You can make custards up to 2 days in advance and refrigerate covered with plastic until ready to serve.
Did You Make This Recipe?
Tag @CarlsbadCravings and Use #CarlsbadCravngs
Leave a Review, I Always Love Hearing From You!
Recipe adapted from Fine Cooking
Carlsbad Cravings© Original