German Apple Pancakes made more delicious and perfectly proportioned in mini form!
These mini German Apple Pancakes are fluffy, custardy European pancakes baked in muffin tins then loaded with caramelized apples and topped with delectable streusel – does it get any better?!  These Dutch babies may look impressive but are surprisingly simple to make.  Just make the batter with a couple pulses in your blender, pour into muffin tins and bake while you saute the apples and pulse the streusel together.  I guarantee your entire family will fall in LOVE with this German Apple Pancake recipe!
German Pancake Recipe
I am so excited about these babies  – Dutch Babies to be exact!  Ever since I saw the idea of a "pancake bowl" on Facebook, the endless filling possibilities have been consuming my dreams until I dreamt up this mini German Apple Pancake recipe.  
I took these German Apple Pancakes to a girls youth group where I was teaching some cooking basics and they were consumed.  I even heard a couple girls say:
Girl 1: "I don't normally like apple pie, but this is so good," as I silently gasped in my mind – who doesn't like apple pie? And tried not to judge her taste buds too harshly, because after all, she likes this German Apple Pancake version.
Girl 2: "I know, I usually hate apple pie, but I can't stop eating this," as she licks her fingers clean and I am flattered and also shocked at another misguided palate.
So if two girls who "hate" apple pie inhaled these German Apple Pancakes, I can guarantee that if you do like apple pie, you will love them!
Where did German pancakes originate?
Before we dig into the details of this German Apple Pancake recipe, let's talk German Apple Pancakes.
What are German Pancakes?
American German pancakes are comparable to a custard-like, thick, fluffy pancakes, a large popover or large Yorkshire pudding.  They are either baked entirely in the oven or started in a pan and then finished in the oven. 
German Pancakes are made with eggs, flour, sugar, milk, and vanilla without any leavening agents.  They are are often called a a Bismarck or a Dutch puff as well.  I just call them delicious.  They are similar to German Pfannkuchen which are also made with eggs, flour, sugar and milk and cook up puffy then deflate.
Where did German Pancakes Come from?
Despite their name, our version of German pancakes originated in the 1900s in Seattle Washington at a family-run restaurant called Manca's Cafe.  The owner claims to have coined the name, "Dutch baby" which came about when his young daughter couldn't pronounce the word "Deutsch," (German for "German") and instead said "Dutch."
About German Apple Pancakes 
I don't even know how or where to begin to describe the layers of deliciousness that are these German Apple Pancakes. So, I'll just start at the very beginning. It's a very good place to start.
Simple German pancake batter is baked inside a cupcake pan to create a puffy German pancake bowl that will billow to extreme heights and then settle into a bowl shape as it cools.  
The German Apple Pancakes taste like a cross between a souflee and a pancake with slightly crispy edges and a tender center that's a little more dense than a normal pancake, creating the perfect bed for the apple pie filling.
Warm, soft. cinnamon, brown sugar caramelized apples are then nestled into the pancake bowls… (which by the way are possibly one of my favorite edible anything ever and definitely my favorite part of Fall).
The filling is adorned with a brown sugar crumble topping that broils until golden – just another reason to adore apple pie – and these German Apple Pancakes.
Finally, you are ready to smother your first ever mini German Apple Pancakes in ice cream or dig into the warm, soft German pancake, melt in your mouth brown sugar apples just the way it is. Because its perfectly, extraordinarily delicious just the way it is.
Are you ready to dig in?
With one bite these German Apple Pancakes will consume your dreams.  And what beautifully delicious dreams they will be.
German Pancake Ingredients
German Pancakes require only a few pantry ingredients. You will need:
milk: any fat percentage milk should work fine; almond milk also works excellent
flour: I use all purpose flour and have not experimented with gluten free flours
6 eggs: use large eggs at room temperature
salt: good old table salt will do the trick
vanilla extract: use quality extract for the best flavor
butter: use unsalted butter so we can control the salt
WHAT APPLES ARE BEST FOR German APPLE Pancakes?
I recommend Granny Smith apples over sweeter varieties like Honey Crisp or Fuji for this German Apple Pancake recipe. You want the contrasting tartness of the Granny Smith Apples to compliment the sweetness – otherwise the caramelized apples with the streusel topping will be too sweet!
How to Make German Apple Pancakes
STEP 1: BATTER. The batter itself is super simple to make – simply add milk, flour, eggs, salt and vanilla extract to your blender and process until smooth. Add butter and blend until combined.
STEP 2: ADD BATTER TO GREASED PAN. Add batter to greased muffin tins using a 1/4 cup measuring cup.
STEP 3: BAKE. Bake uncovered for 20 minutes or until golden brown around the edges.
STEP 4: CARAMELIZE APPLES. While the pancakes are baking cook apples with butter, cinnamon, lemon juice and brown sugar until tender and the liquid is absorbed.
STEP 5: MAKE STREUSEL. While the apples are cooking, combine the sugar, flour, oats, cinnamon, and butter your food processor and pulse into the mixture is crumbly.
STEP 6: ASSEMBLE: Evenly spoon cooked apples into German Pancake Bowls then top with the Crumb Topping. Broil on the 2nd rack (approximately 10 inches from broiler) for 3-6 minutes, rotating pan half way through so the topping browns evenly. Remove when crumbs are golden.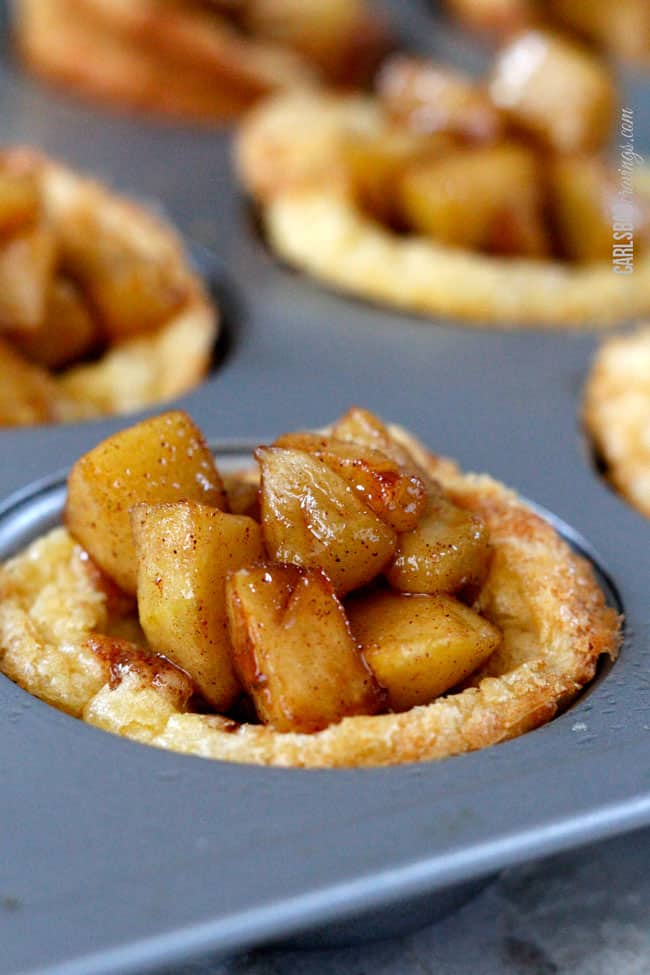 TIPS FOR GERMAN APPLE PANCAKES
Blender:  Using your blender helps the batter become silky smooth and only takes minutes!
High heat:  Preheating the oven to 400 degrees allows the pancake batter to puff.  Do not bake the pancakes at any less of a temperature.
Grease muffin tin:  Grease muffin tin with nonstick cooking spray WITH flour for super quick and easy greasing.  Alternatively you can  use nonstick cooking spray AND extra melted butter.
Room temperature eggs:  use fresh egg at room temperature for even fluffier German Apple Pancakes. 
Use measuring cup.  Add batter to the tins using a 1/4 cup measuring cup to ensurer they are all uniform and will bake evenly.
Bake until golden.  Bake for 20 minutes or until golden brown around the edges. 
Don't worry about the puffiness.  The German Apple Pancakes will be VERY puffy when you remove them from the often but don't worry –  they will deflate as they cool – so let them cool enough to deflate before you add the apples.
Make ahead German pancake batter:  You can make the batter without the butter and store it in the refrigerator until ready to use. I love to whip this up in a blender! Silky smooth and no flour clumps.
Make ahead streusel:  you can make the streusel entirely ahead of time and store it tin the refrigerator.
TOPPINGS FOR GERMAN APPLE PANCAKES
We love these German Apple Pancakes just with a drizzle of syrup or a la mode with a big scoop of vanilla ice cream. They would also be delicious with:
Syrup:  maple, blueberry, strawberry, raspberry, apple
Fresh squeezed lemon juice
Powdered sugar
Vanilla ice cream
More fruit: chopped peaches, blueberries and strawberries
butter!
HOW TO STORE LEFTOVER GERMAN APPLE PANCAKES
Line German Apple Pancakes in a single layer in an airtight container. Store in the refrigerator for 3-5 days. Reheat pancakes in the oven for best results. You may reheat in the microwave but they may become a bit rubbery.
HOW TO FREEZE GERMAN APPLE PANCAKES
You may either flash freeze the German Apple Pancakes by leaving the pancakes in the muffin tins and freezing for 1-2 hours until solid, then transferring them all to a large freezer size bag OR individually wrapping the pancakes and storing in small plastic baggies.  Freeze German Apple Pancakes for up to two months. 
For best results, reheat from frozen in the oven.  Cover German Apple Pancakes with foil, bake at 350 until warmed though, remove foil then bake an additional 5-10 minutes. 
Can I make German Pancakes Ahead of Time?
The German Pancake batter can be made 24 hours in advance, covered and refrigerated. This makes breakfast a snap to come together! You may also caramelize your apples and make the streusel ahead of time and store in separate airtight containers. Warm apples gently before filling the pancakes.
WANT TO TRY THIS GERMAN PANCAKE RECIPE?
PIN IT TO YOUR BREAKFAST, BRUNCH OR DESSERT BOARD TO SAVE FOR LATER!
FIND ME ON PINTEREST FOR MORE GREAT RECIPES! I AM ALWAYS PINNING :)!
©Carlsbad Cravings by CarlsbadCravings.com
Carlsbad Cravings Original with Pancake Bowls from Gimme Some Oven
Never miss a Carlsbad Craving Creation:
You might also like: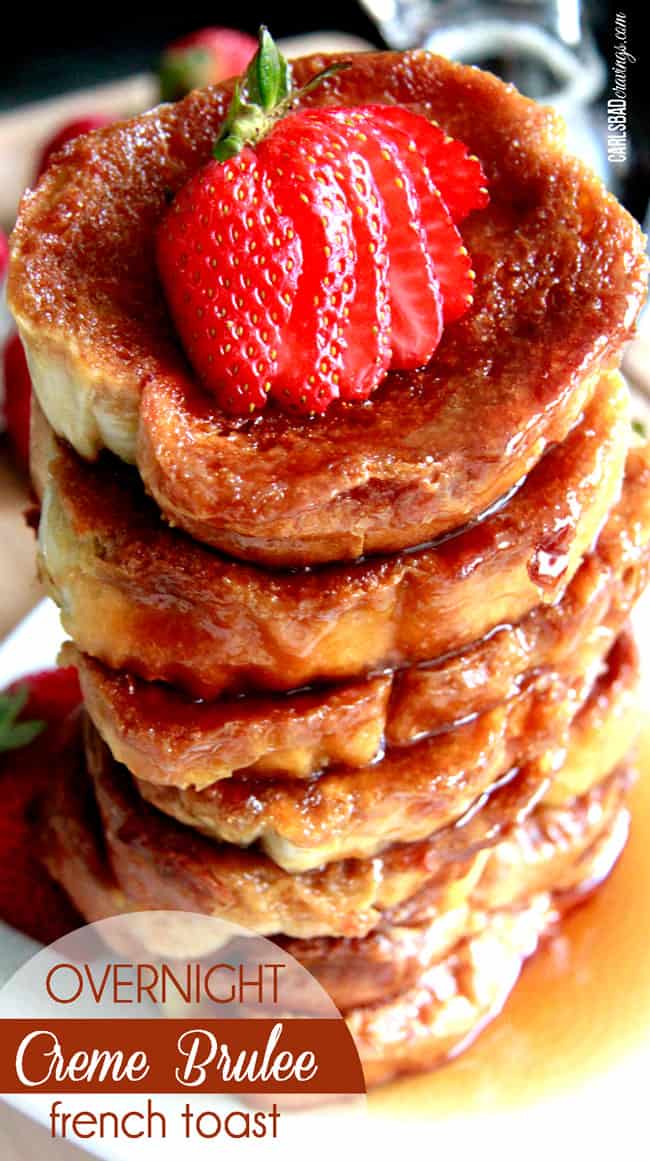 Cream Cheese Stuffed Banana Bread Coffee Cake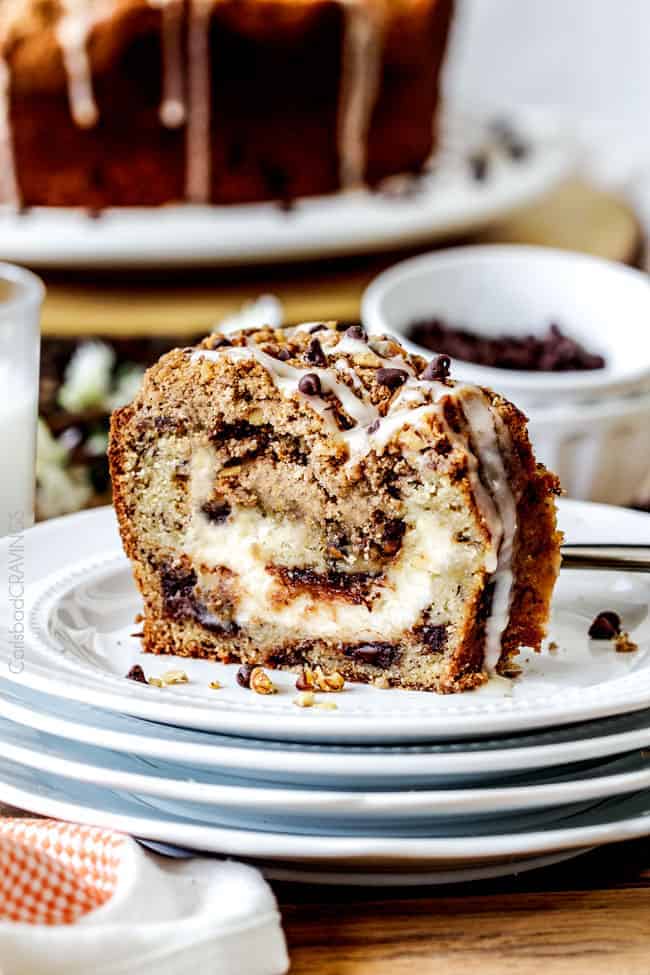 Overnight Eggnog French Toast Casserole
Angel Food Cake French Toast with with Cream Cheese and Strawberry Syrup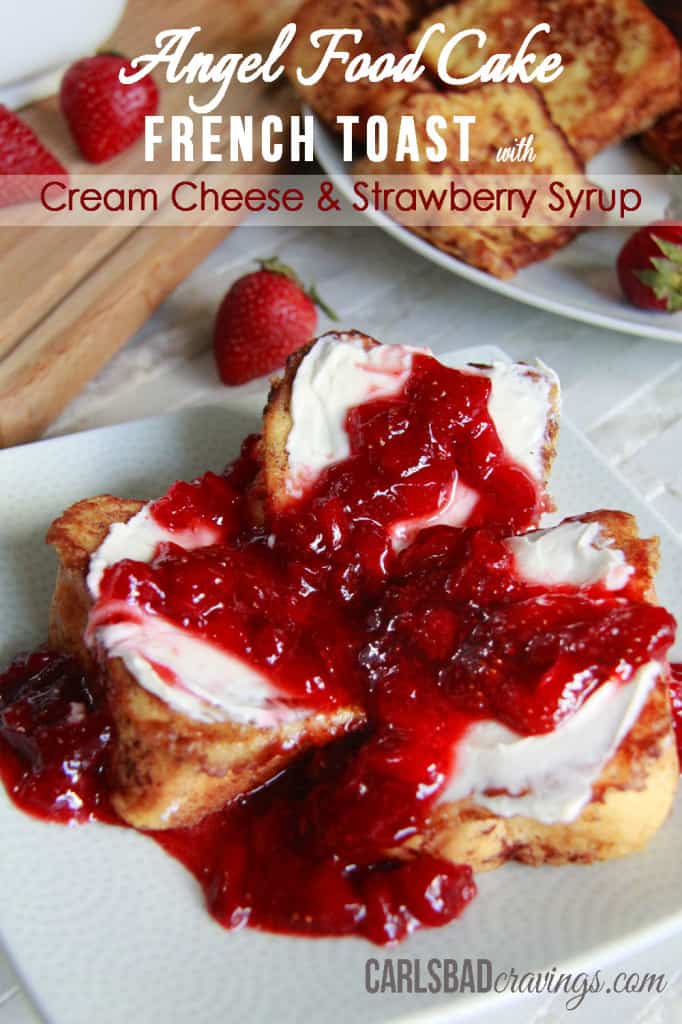 Peaches and Cream French Toast Muffins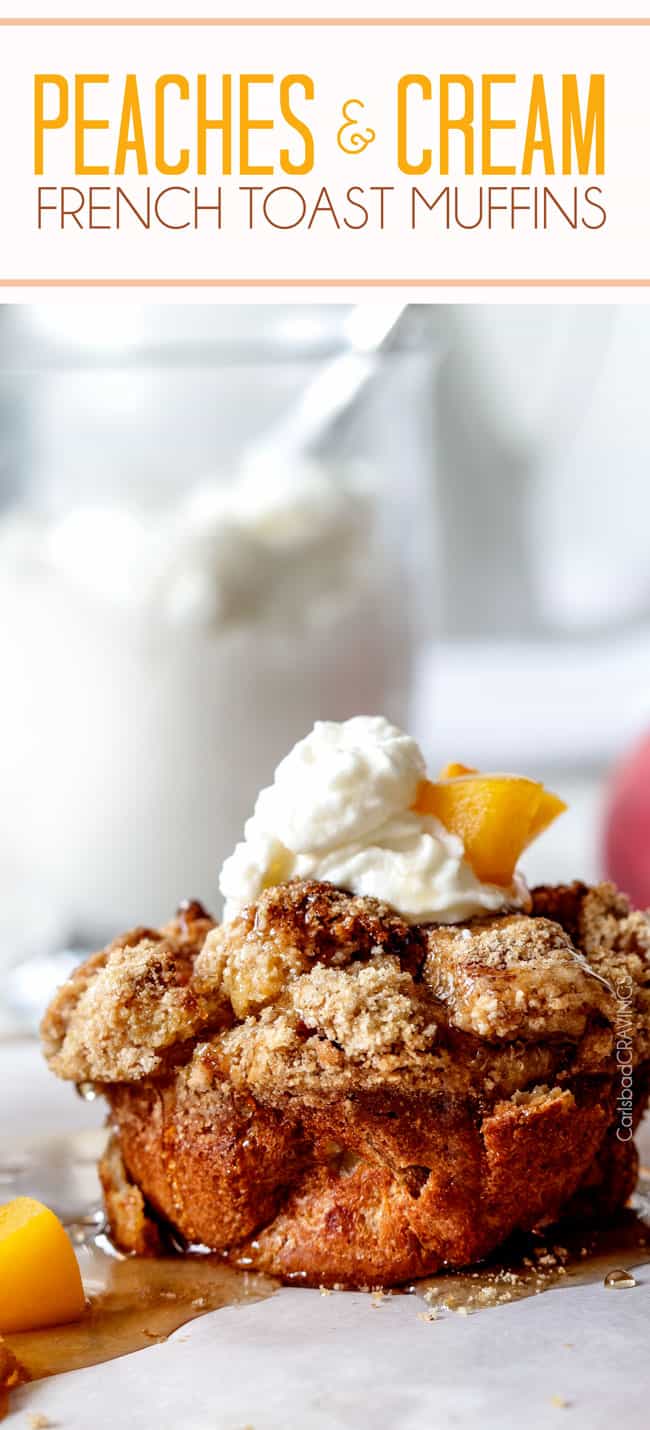 Overnight Eggnog French Toast Bake