Its here. I wasn't planning on sharing this Deep Dish German Chocolate Cake Skillet Cookie so soon but I just couldn't do that to you. And its the weekend. And the weekend means its time for chocolate. Lots of chocolate. German chocolate. And roasted pecans and coconut in a rich caramel topping all drizzled with more German chocolate.
Gimme.
Please.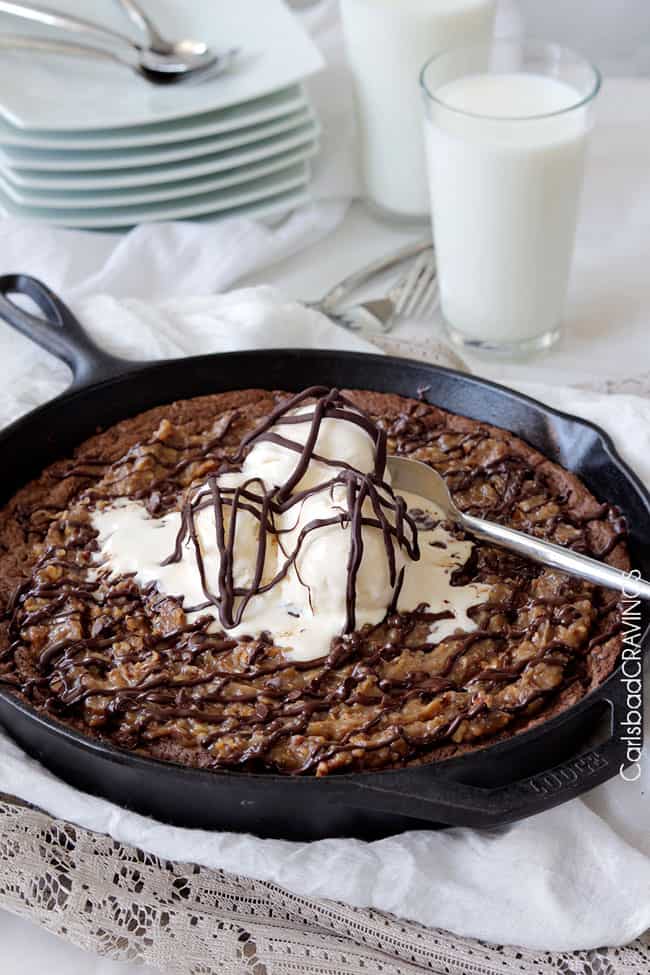 Ever since I shared my German Chocolate Cake Cupcakes (a must!), I have been pacing myself to share another German Chocolate dessert. This German Chocolate Cake Skillet Cookie is so worth the wait.
I got the idea for this skillet cookie from one of my favorite restaurants – BJs – which is less than 5 minutes away from my house and Legoland (so if you are ever going to Legoland come say hi!). But long before this new BJs was around, I would frequent BJs in La Jolla every time we went to the LDS temple nearby and every time we would order skillet cookies or as BJ's calls them – Pizzookies (AKA pizza cookie). By baking cookies in a skillet, you can underbake them slightly (how I like them, but bake them how you like), so they are extra soft, warm and melt in your mouth – that's even before you add ice cream.
The then owner of BJs (he has since sold the chain) has a daughter with the chronic disease cystic fibrosis, (which two of my brothers and I have – I've written about our journey HERE), and would donate $1 to cystic fibrosis research for every pizzookie ordered. Yet another reason we fell in love with the now famous skillet cookie.
My German Chocolate Cake version is made with real melted German chocolate, cocoa powder and semi-sweet chocolate chips all in the easy batter which you spread in your skillet and bake for about 35 minutes.
While your cookie is baking, you prepare your caramel, coconut, pecan frosting by simmering all the ingredients together in a saucepan, stirring your roasted pecans and roasted coconut (because roasted is so much better!) at the end. Does a more delicious frosting exist in this world? Try not to make this frosting too ahead of time or it might prematurely end up in your stomach instead of smothering your gorgeous rich chocolate cookie.
After smothering, just because you can, drizzle your deep dish of decadence with more German Chocolate.
Insanely delicious as is…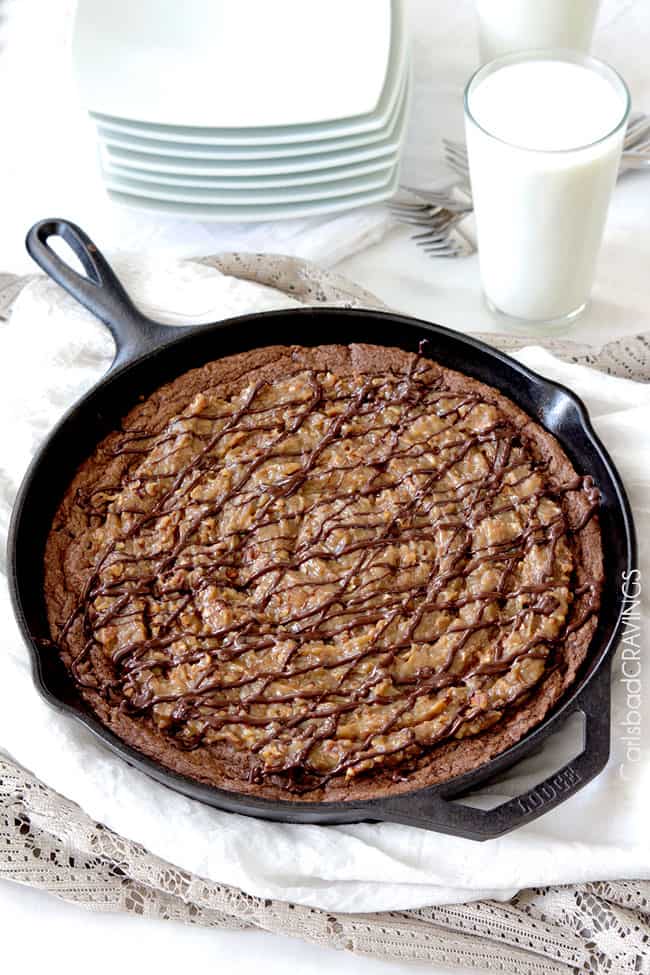 Even better piled with ice cream.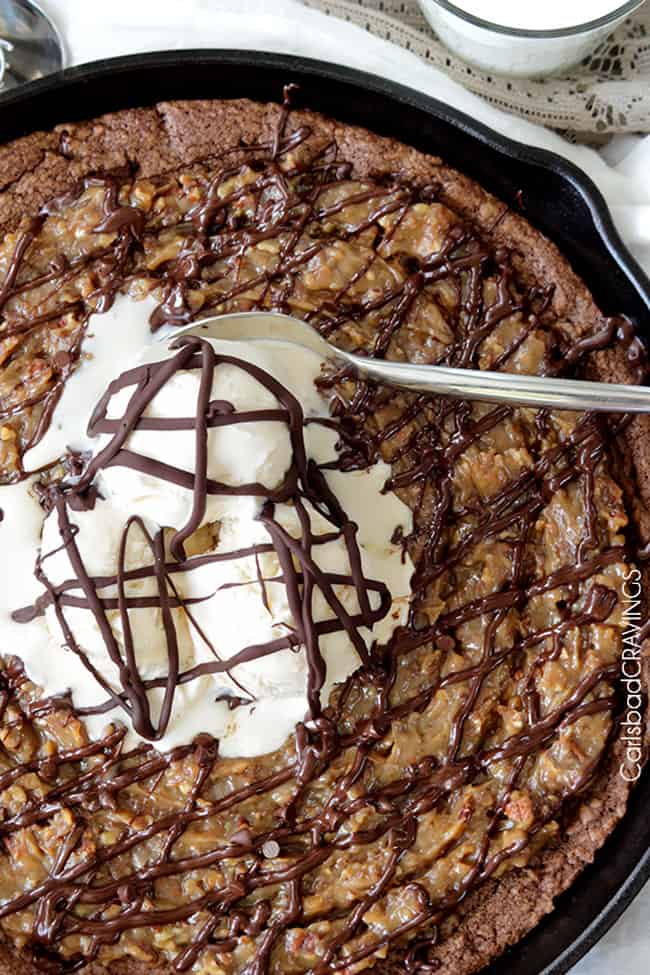 Even better when you eat the soft, rich, decadent Deep Dish German Chocolate Cake Skillet Cookie immediately right out of the skillet – the deep skillet. The deeply delicious skillet.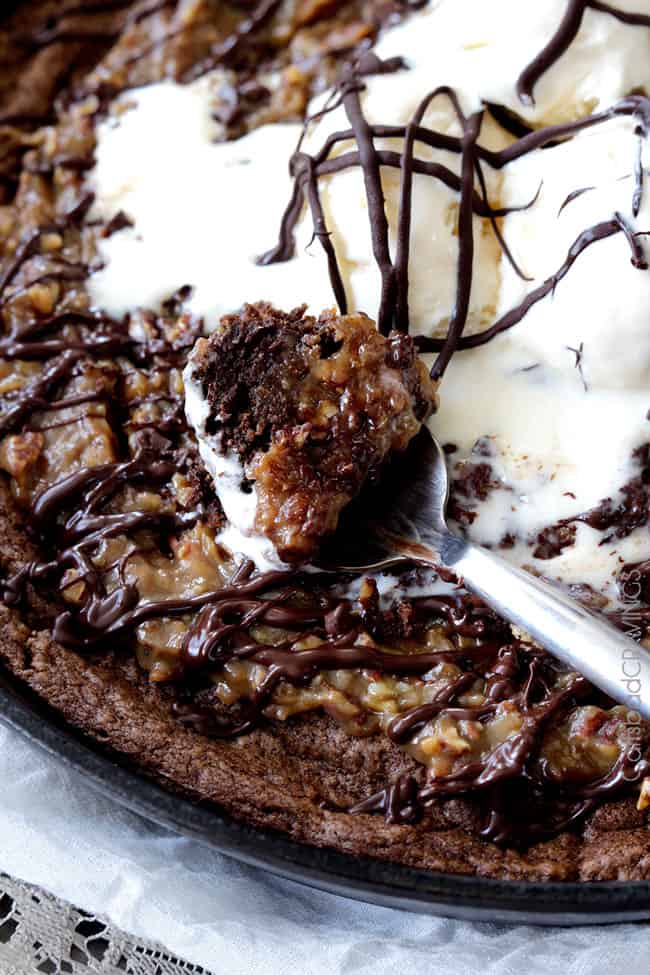 Gimme.
Deep Dish German Chocolate Cake Cookie Skillet
Save This Recipe To Your Recipe Box
You can now create an account on our site and save your favorite recipes all in one place!
Ingredients
Cookie Dough
4

oz.

Baker's Sweet German Chocolate, chopped*

2 1/2

cups

all-purpose flour

1/4

cup

unsweetened cocoa powder

1

teaspoon

baking soda

1/2

teaspoon

salt

1

cup

unsalted butter, softened (2 sticks)

1

cup

light brown sugar, packed

3/4

cup

granulated sugar

1

teaspoon

vanilla extract

2

eggs at room temperature

1

cup

semi-sweet chocolate chips
Frosting
3

egg yolks

1

cup

evaporated milk

1

cup

light brown sugar, packed

1/2

cup

unsalted butter, softened (1 stick)

1

teaspoon

vanilla

1 1/2

cups

sweetened shredded coconut

1

cups

coarsely chopped pecans

1/2

teaspoon

salt
Chocolate Drizzle (optional)
4

oz.

Baker's Sweet German Chocolate, chopped*
Instructions
Cookie: Preheat oven to 350F degrees. Lightly butter a 12-inch cast iron skillet.** Set aside.

Melt 4 oz. chopped German chocolate in the microwave at medium heat, stirring every 30 seconds until melted (about 1 ½ minutes). Set aside to cool.

Combine flour, cocoa powder, baking soda and salt in medium bowl. Set aside.

In a stand or hand mixer, beat butter, sugars and vanilla extract. Add eggs, one at a time, beating well after each addition. Beat in melted chocolate. Gradually beat in flour mixture just until flour disappears. Stir in 1 cup chocolate chips.

Spread the dough into a 12-inch skillet and bake for 20 minutes then cover with foil and continue to bake 10-20 more minutes (total of 30-40 minutes) or until center is almost done.*** Allow to cool on a cooling rack for 10 minutes.

Frosting: While cookie is baking, prepare frosting by whisking the egg yolks, evaporated milk and brown sugar together in a large saucepan. Add butter and cook over medium heat, continuing to stir until thick enough to coat the back of a spoon, approximately 8-10 minutes. Remove from heat and stir in vanilla and salt.

When oven is free and cookie is cooling, spread coconut and pecans evenly out on a large baking sheet. Bake at 350F for 7-12 minutes, stirring a couple times in between baking until coconut is golden, watching closely towards the end of cooking time so they don't burn. Stir pecans and coconut into frosting and spread frosting evenly over cookie.

Melt 4 oz. German chocolate in the microwave at medium heat, stirring at 30 second intervals until melted. Add to a plastic bag, cut the corner and drizzle over cake.

Slice individual servings or dig directly into skillet. Best served warm with ice cream.
Notes
*May substitute with baking semi-sweet chocolate if German chocolate is not available.
**If you only have a 9″ skillet then half the recipe and bake for approximately 15-20 minutes.
***If you aren't sure how long to bake your cookie, its better to underbake than overbake so the center is still soft – because no one likes a tough cookie!
Did You Make This Recipe?
Tag @CarlsbadCravings and Use #CarlsbadCravngs
Leave a Review, I Always Love Hearing From You!