Fruit Skewers are beautiful, healthy and perfect for snacking or entertaining! 
Fruit Skewers are easy to make, make ahead friendly and the always a hit at every birthday, baby/bridal shower, potluck, barbecue and pool party!  They're sweet and fresh, versatile and can be served fresh, frozen, with fruit dip or with chocolate! 
Fruit Skewers
Fruit Skewers are one of my favorite ways to serve and eat fruit. Besides standing statuesque, tasting delicious and being effortlessly healthy, there is something about eating fruit off of a skewer that elevates the fruit to a whole new level as each piece is appreciated one sweet, juicy, morsel at a time.
I also love that you can prepare these fruity kabobs ahead of time – even days ahead of time for effortless snacking or entertaining. They are also customizatable, easy, and freezer friendly.
Here are more reasons to love fruit skewers:
you get to delight in a variety of fruit in one serving
you can customize the fruit skewers with your favorite fruits
OR make skewers just of your favorite fruits – try all blueberries, all strawberries or all watermelon
kids love eating fruit off of a skewer AKA a great way to get your kids to eat more fruit instead of chips, cookies, etc.
they are fun to make with your kids – and then kids are more excited to eat them
you can make the skewers ahead of time and refrigerate them until later
you can make the skewers ahead of time and and freeze them for later – this is a great option if fruit is going bad
you can serve fruit skewers with yogurt dip or frozen with chocolate drizzle (or just plain)
fruit skewers are wonderfully portable for on-the-go snacking
they are perfect for parties – everyone just grabs a fruit skewer and mingles
they are loved by both kids and adults alike
What Fruit for Fruit Skewers?
You can essentially make Fruit Skewers out of any fruit! Here are a few ideas:
pineapple
bananas
grapes
strawberries
watermelon
cantaloupe
honeydew
kiwi
raspberries
blueberries
Mandarin oranges
peaches
You can also add cheese, marshmallows, cucumbers, bell peppers, chocolate, etc. and get creative with your fruit kabobs!
HOW DO YOU MAKE FRUIT SKEWERS?
Fruit Skewers are super simple to make – all you do as thread fruit onto a skewer! Here are a few things to consider:
ripe fruit: make sure your fruit is ripe so it is sweet!
serving skewers: use plain wooden skewers, metal skewers, decorative skewers or even toothpicks
rainbow fruit skewers: selecting a rainbow of fruit colors makes for a beautiful presentation. You will want:

red: raspberries and/or strawberries
orange: oranges, cantaloupe and/or peaches
yellow: pineapple and/or bananas
green: grapes, honeydew and/or kiwis
blue: blueberries
purple: grapes

one color fruit skewers: if you're having a themed party, it can be fun to make skewers of all one color.
shaped fruit skewers: you can use a metal cookie cutter to cut some of the fruit (like watermelon, cantaloupe, kiwis) into fun shapes.
chill fruit skewers: fruit skewers are best when chilled, so make sure you plan ahead, and allow time to refrigerate for at leas one hour before serving.
What to Serve with Fruit Kabobs?
Fruit Kabobs are delicious all on their own because fruit is stand-alone-delicious! That being said, you can dip your fruit skewers in vanilla yogurt or make your own fruit dip. I love dipping them in my Key Lime Cheesecake Fruit Dip.
How to Serve Fruit Kabobs
If you're serving Fruit Kabobs at a party or shower, there are a few options:
on a platter: line the fruit kabobs on a platter.
in a mug/glass: stand the fruit skewers up in a mug, glass or vase.
on ice: frozen fruit skewers can get soggy quickly, so you will want to keep them on ice. You an place them directly on ice or line them on a platter and place the platter on ice.
Can I make Fruit Skewers Ahead of Time?
Absolutely! You can assemble the fruit skewers 24 hours ahead of time, lay in a single row on a paper towel lined baking sheet, cover with plastic wrap and refrigerate until ready to serve.
Frozen Fruit Skewers
Frozen Fruit Skewers are a fun spin in traditional fruit kabobs.
I saw a recipe in a magazine for frozen grape kabobs which got me thinking of what other fruits would be delectable frozen.  I already knew I loved frozen grapes, blueberries and bananas, so I decided to experiment with other fruits.
Have you ever tried frozen pineapple?
Frozen cantaloupe?
Frozen blueberries?
Frozen bananas?
Frozen watermelon?
Frozen grapes?
They taste like candy!  So how about a frozen "candy" fruit skewers?
To make frozen Fruit Kabobs, simply skewer your favorite fruit to create kabobs, then drizzle with chocolate and you have a festive and light summer dessert, refreshing snack, or guiltless indulgence.  
I also love that the frozen fruit skewers keep for weeks so you don't have to worry about the fruit going bad!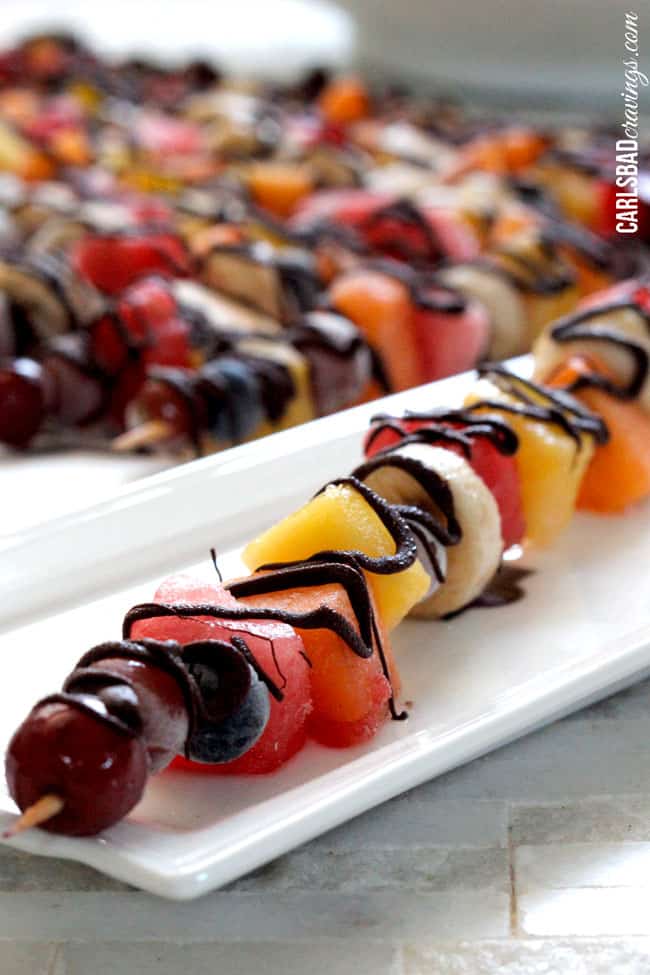 Want to try this fruit Skewers RECIPE?
Pin it to your fruit, healthy, appetizer or party ideas Board to SAVE for later!
Find me on Pinterest for more great recipes! I am always pinning :)!
©Carlsbad Cravings by CarlsbadCravings.com
Carlsbad Cravings© Original
NEVER MISS A CARLSBAD CRAVINGS CREATION: