Stuffed avocados with juicy, spicy taco filling are quick, easy, healthy and packed with flavor!
These stuffed avocados can be on your table in 20 minutes! They are the perfect easy lunch or quick dinner for a busy weeknight meal or simply when you crave juicy, fiesta filling and creamy avocados! You can also prep the filling and toppings ahead of time for dinner that literally comes together in minutes!
HOW TO MAKE Stuffed Avocados Recipe VIDEO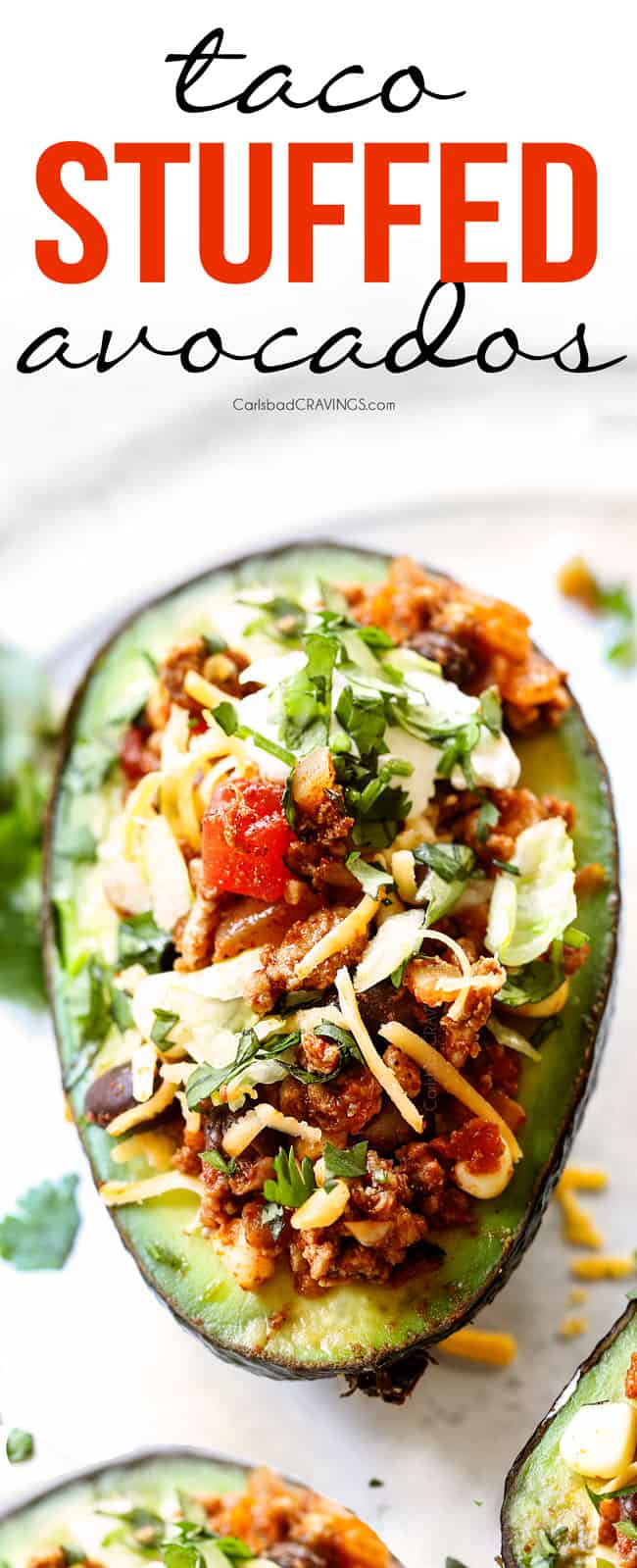 Stuffed Avocado Recipe
With the advent of summer, it's time for super quick and easy meals that are fresh and nutritious but won't leave you craving a hamburger afterwards – enter Taco Stuffed Avocados! This recipe is wonderful addition to your healthy lifestyle and will become a new family favorite!
Growing up I was spoiled with sprawling avocado trees shading our backyard. Avocados everywhere. Now, even without an avocado grove at my fingertips, I still can't get enough of their creamy, luscious goodness: in guacamole, on burgers or sandwiches, in dressings, pasta sauce, and of course loaded on salad, soups, enchiladas, tacos, fajitas, burritos, and now they become the main attraction in this stuffed avocados recipe!
We all know stuffed avocados are a dreamy, creamy delight, but when you stuff them with equally delicious, flavor exploding turkey taco meat, you have deliciousness of epic proportions. This filling is so good, I was literally shoveling it into my mouth and had to exercise all of my self-control to leave some for the avocados! So, I guess we have two stars of this stuffed avocados recipe!
Now it's time to pile on your favorite toppings and you have a flavor, texture packed quick, easy, creamy, healthy, deeply satisfying dinner!
HOW TO PICK THE BEST AVOCADOS
The best stuffed avocados start with fresh, creamy, ripe avocados. Here's what to look for:
Color. Ripe avocados will be dark green, almost turning purple.
Feel. Gently squeeze the avocado. If an avocado feels firm or hard to your touch, it isn't ripe yet. Purchase it only if you plan to use the fruit several days in the future. If the avocado feels soft, it's overripe, avoid it. You want the avocado to just give slightly when pressed.
Stem. Check the avocado stems for clues on what's inside. Peel back the small stem or cap at the top. If the area underneath is green, the avocado is good to buy. If the area is brown, the avocado is overripe so it's best to avoid it.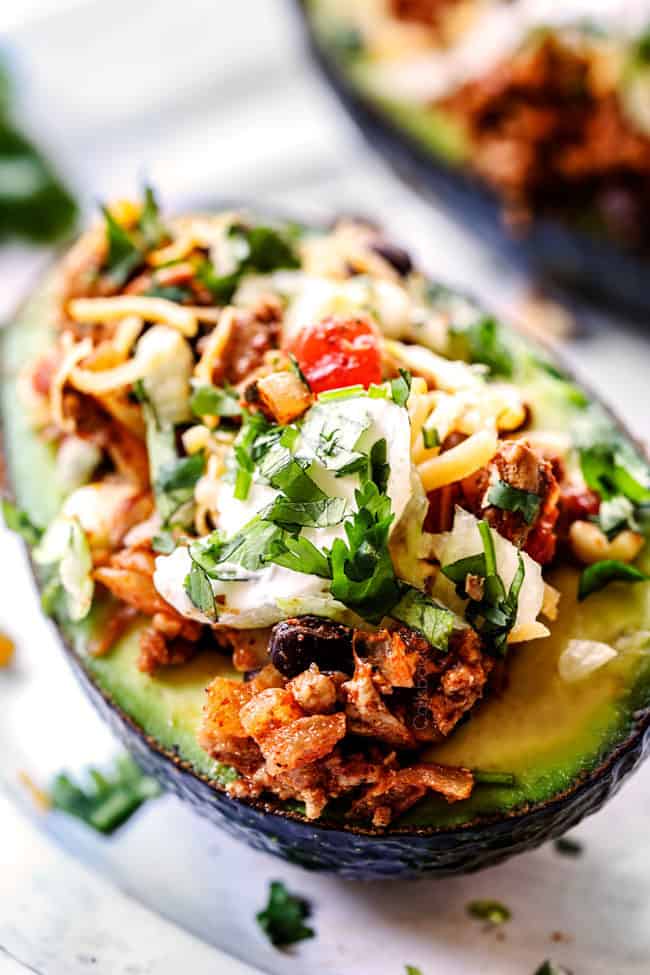 HOW TO RIPEN AVOCADOS QUICKLY
Do not place unripe avocados in the fridge as this stalls the ripening process and they may not ripen at all. Only place in the refrigerator once ripened to prolong their life. Ripe avocados can last for up to one month in the refrigerator using Fridge Fresh.
To ripen avocados more quickly – so you can eat your stuffed avocados NOW – place your avocados and two bananas or two apples in a brown paper bag. The other fruit release a lot of ethylene which triggers ripening in the avocados.
HOW TO CUT AVOCADOS for Stuffed avocados
Place an avocado on a cutting board. Hold it with one hand so it is stable while you cut around the seed lengthwise. You want to cut into the avocado until the knife comes in contact with the seed, then start to rotate the avocado with the opposite hand until the avocado is complete cut through.
Pick up the avocados and rotate them until they separate.
To remove the seed, you can either spoon it out or strike it with a knife and twist. ONLY use a knife if you are confident with your knife skills.
Ingredients and Substitutions for Stuffed Avocados
You can start enjoying the benefits of Fridge Fresh right away with this stuffed taco avocado recipe! Your onions, corn, garlic, lettuce and ripened avocados will all last 2-3 times as long with Fridge Fresh. You will need:
Avocados. You will need four large Haas avocados, not the small/medium avocados.
Turkey. You can use either lean ground beef or lean ground turkey for this stuffed avocado recipe. I chose to use my ground turkey taco meat recipe because it is sensationally seasoned and will blow you away with how juicy it is!
Onion. You may substitute ¼ teaspoon onion powder.
Garlic: Fresh garlic is fantastic but you can substitute with ½ teaspoon garlic powder.
Corn. You will need 1/2 cup sweet corn cut fresh from the cob. I highly prefer and recommend fresh corn but you may substitute canned or frozen corn.
Tomatoes. You will need one Roma Tomato. You may also substitute with whatever tomatoes you have on hand.
Black Beans. You may also substitute red kidney beans, pinto beans etc.
Salsa. You can use my sensational Homemade Salsa or your favorite store bought salsa. Use mild salsa unless you like heat.
Beef bouillon powder. You will need one teaspoon or one cube bullion. It adds a wonderfully beefy flavor to the turkey but is optional. If not using, then make sure to add additional salt to taste.
Seasonings. We create homemade taco seasonings with chili powder, ground cumin, smoked paprika, dried oregano and cayenne pepper. Only add cayenne pepper if you like a kick.
What Toppings for stuffed Avocados?
Half of the fun of stuffed avocados are the toppings! Pick your favs:
chopped tomatoes
salsa or salsa verde
sour cream or Greek yogurt
chopped lettuce
cilantro
hot sauce
crushed tortilla chips
HOW TO MAKE STUFFED AVOCADOS
Are you ready to see just how easy it is to make stuffed avocados?!
Cook filling: Cook ground turkey with onions and seasonings then add salsa, corn and black beans simmer an additional 5 minutes or until cooked through and reduced.
Slice avocados: Slice avocados in half and remove the pits.
Stuff avocados: Divide filling between avocados and load in the hollowed-out craters.
Add toppings: Pile on your favorite toppings such as cheese, lettuce, tomatoes, cilantro, sour cream. etc.
EAT! Enjoy every last bite of creamy, juicy taco stuffed avocados.
Tips for Stuffed Avocados
Use ripe avocados so they have the best flavor. You want the avocado to give slightly but no be too soft. If it's too firm, however, it will tasty grassy and won't be creamy. Ripe avocados will give you the perfect balance of both flavor and creaminess that still up against the filling.
Use large avocados so you can pack the filling in! If you want the avocados to hold even more filling, use a cookie scoop to hollow out a larger area. Chop the removed avocado and use it as a topping.
Make turkey taste like beef! Adding beef bouillon or better than bouillon to your turkey meat will change your culinary life. I always use 2 teaspoons beef bouillon for every one pound of ground turkey to infuse it with flavorful beefy goodness whether in tacos, soups, sauces etc. So, for this stuffed avocado recipe which uses half a pound of turkey, you will want 1 teaspoon beef bouillon. If you use ground beef instead, then omit the beef bouillon and add salt to taste.
Add salsa to the filling. Due to its low-fat content, ground turkey filling has a bad reputation for being dry. To remedy this problem, stir in ¼ cup of your favorite salsa or more to taste. You can even stir in enchilada sauce if you are in a bind. This not only adds moisture back into your turkey taco meat, but adds another layer of flavor as well – winning!
Don't overcook the turkey. Turkey is a lean protein and can dry out if overcooked, so take care you add the beans when the turkey is still pink in spots.
Serve immediately. The stuffed avocados taste best while the filling is warm against the cool avocados. If you can't serve immediately, brush the tops of the avocados with lime juice to prevent oxidation.
recipe variations
Customize Veggies. I am a HUGE sweet corn fan and love the juicy fresh pop it adds to these stuffed avocados, so I can't say I suggest replacing the corn, but if you really aren't a fan, you can swap with any of your favorite veggies such as zucchini, mushrooms, sweet potatoes, etc. If you want to add additional veggies, that is great too, just be aware you will have extra filling and will want to use more avocados.
More or Less Heat. I used medium salsa and ¼ teaspoon cayenne pepper and my filling was spicy – just the way I like it. For more kid friendly, use mild salsa and omit the cayenne pepper. After the filling is made, you can taste and add a dash of cayenne pepper if desired.
Make it cheesy. You can add cheese on top of your stuffed avocados or for melty, cheesy filling, stir in desired amount of cheese to melt in the filling.
Make it creamy. For creamy filling, stir in a little Greek yogurt or sour cream.
Add grains. You can stir in cooked rice or quinoa for even more added texture. If you do this, you may need to up the salsa and add salt to taste. Again, this will bulk up the filling so you will need additional avocados or be ready to save some of the filling.
Make ahead
The ground turkey filling can be made up to 5 days ahead of time and stored in an airtight container in the fridge. When ready assemble, warm gently in a skillet over medium-low heat. Add additional salsa or a splash of water if the filling seems dry. The toppings such as cheese, lettuce, tomatoes, cilantro can be prepped ahead of time and stored separately in bags in the refrigerator.
Can I freeze Stuffed Avocados?
I don't recommend freezing the avocados themselves as they will become a funny texture but the filling itself freezes beautifully. To freeze:
Cook turkey or beef taco filling according to recipe.
Cool to room temperature.
Add meat to a freezer size plastic bag.
Press bag flat, squeeze out excess air and seal.
When ready to use, defrost meat in the refrigerator overnight.
Remove from freezer bag and reheat ground turkey/beef in a skillet on the stovetop or in a microwave-safe container in the microwave. You may want to add additional salsa for juicier leftovers.
ARE STUFFED AVOCADOS HEALTHY?
This stuffed avocado recipe is a lowfat, low carb wonder. The health benefits are staggering for the little green avocado – and they taste good too – winning!
Avocados are full of healthy fats and can be enjoyed often. Studies have shown that cholesterol levels are significantly reduced when you eat one to two avocados a week. Blood triglycerides and LDL Cholesterol are also lowered.
Here are some of the most abundant nutrients, in a single 3.5-ounce serving of avocado:
Vitamin K: 26% of the daily value (DV)
Folate: 20% of the DV
Vitamin C: 17% of the DV
Potassium: 14% of the DV
Vitamin B5: 14% of the DV
Vitamin B6: 13% of the DV
Vitamin E: 10% of the DV
10 grams of Fiber: 36% of the DV
avocados also contain small amounts of magnesium, manganese, copper, iron, zinc, phosphorous and vitamins A, B1 (thiamine), B2 (riboflavin) and B3 (niacin).
One study I read, showed that adding avocado or avocado oil to your meal (salsa or salad) can increase antioxidant absorption 2.6 to 15-fold! This means those nutrients, vitamins, and antioxidants that might not absorb well into our body can absorb at a way higher rate when eaten with avocado.
So, not only are avocados highly nutritious, they can dramatically increase the nutrient value of other plant foods that you are already eating – and eating more of thanks to Fridge Fresh 😉.
WANT TO TRY THIS STUFFED AVOCADO RECIPE?
PIN IT TO YOUR MEXICAN, HEALTHY or 30 MINUTE DINNER BOARD TO SAVE FOR LATER!
FIND ME ON PINTEREST FOR MORE GREAT RECIPES! I AM ALWAYS PINNING :)!
©Carlsbad Cravings by CarlsbadCravings.com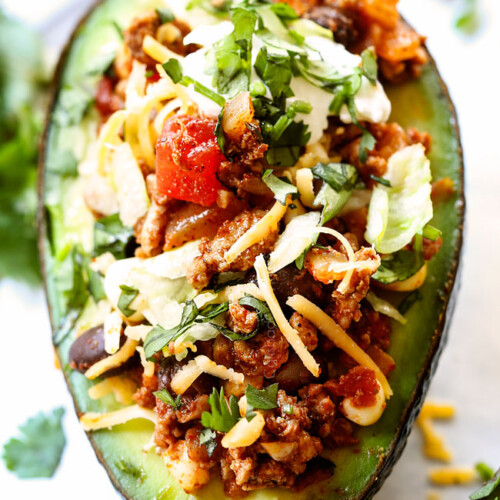 Taco Stuffed Avocados
These stuffed avocados can be on your table in 20 minutes! They are the perfect easy lunch or quick dinner for a busy weeknight meal or simply when you crave juicy, fiesta filling and creamy avocados! You can also prep the filling and toppings ahead of time for dinner that literally comes together in minutes!
Servings:
8
avocado halves
Save This Recipe To Your Recipe Box
You can now create an account on our site and save your favorite recipes all in one place!
Ingredients
Toppings
cheese

lettuce

Tomatoes

cilantro

sour cream of Greek yogurt
Instructions
Heat olive oil in a large skillet over medium-high.

Add ground turkey and all of the seasonings and cook until almost cooked through, then add salsa, corn and black beans simmer an additional 5 minutes or until cooked through and reduced. Taste and add salt or cayenne pepper to taste.

Slice avocados in half through the equator. Remove the pits. Stuff the hollow craters with taco filling.

Top with desired toppings such as cheese, lettuce, tomatoes, cilantro and sour cream.
Notes
Don't miss the "how to make" recipe video at the top of the post!
Did You Make This Recipe?
Tag @CarlsbadCravings and Use #CarlsbadCravngs
Leave a Review, I Always Love Hearing From You!
Carlsbad Cravings Original