Mini Banana Coconut Cream Pies is the best of both pies in one! Baked in chewy, buttery sugar cookie cups, topped with Coconut Whipped Cream and Drizzled with Coconut Caramel – you wont be able to stop at just three!
My dad has always been the biggest lemon pie, coconut cream pie and banana cream pie fan – must be all that smooth, silky filling. While combining lemon, coconut and banana did cross my mind, in the end I knew banana and coconut together was a must – they just belong together!
When you cross banana cream pie and coconut cream pie you get a luscious, velvety custard-like filling that blows boxed pudding away, made with coconut milk and mixed with sweetened coconut flakes all cradled in a mini sugar cookie crust. I first used mini sugar cookie cups as crust in my Key Lime Cheesecake Sugar Cookie Cups and fell in love with the soft, chewy, buttery, sugary cookie as crust. Can there be a more delicious crust than a sugar cookie?!
To assemble these mini pies, add a teaspoon of banana coconut cream filling to the sugar cookie cups…
Layer with thinly sliced fresh bananas…
And top with remaining filling.
Finally, the mini pies get topped with pillowy Coconut Whipped Cream which might sound fancy but is just easy homemade whipped cream with some coconut extract. If you don't have coconut extract, you can make regular whipped cream, but you might want to buy some extract because I also use it in my buttery 5 Minute Coconut Caramel that gets drizzled all over the softy, airy cream. You can use regular caramel but your taste buds want you to make the Coconut Caramel and the Coconut Whipped Cream. Smart taste buds.
Lastly, these mini Banana Coconut Cream Pies are adorned with the option of toasted coconut and mini chocolate chips. Because I add chocolate whenever I can. And because I was reflecting on my favorite Ben and Jerry's Chunky Monkey ice cream. Ben and Jerry always do it right.
Mini Banana Coconut Cream Pies.  The perfect make-ahead, don't have to choose between banana-coconut dessert for your Thanksgiving or anytime indecisive cravings.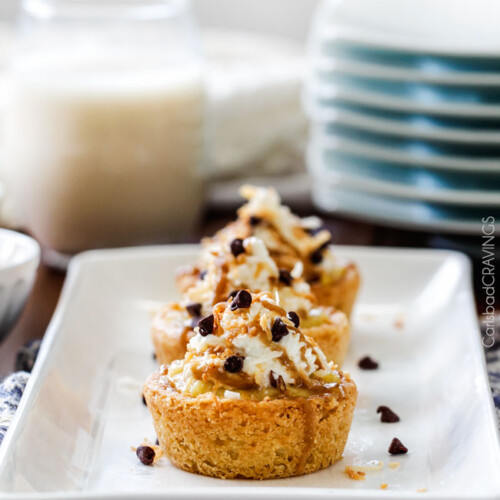 Mini Banana Coconut Cream Pies
Save This Recipe To Your Recipe Box
You can now create an account on our site and save your favorite recipes all in one place!
Ingredients
1

16 oz. package

Pillsbury refrigerated sugar cookie dough

1

large banana, thinly sliced
Banana Coconut Cream Filling
2

large egg yolks

2

tablespoons

cornstarch

5

tablespoons

sugar, divided

1 1/4

cups

coconut milk

1/2

cup

whole milk

1/4

cup

sweetened shredded coconut

1/8

teaspoon

salt

1

tablespoon

salted butter

1

teaspoon

vanilla extract
Coconut Whipped Cream
1

cup

heavy cream

1

tablespoon

sugar

1/2

teaspoon

coconut extract

(optional)
Garnish (optional but recommended!)
1/4

cup

toasted coconut

(more or less to taste)

mini chocolate chips
1 recipe 5 Minute Coconut Caramel or store bought (you won't use all of the caramel)
Instructions
Sugar Cookie Cups: Preheat oven to 350 degrees F. Grease a 12-cup muffin tin with nonstick cooking spray with FLOUR or butter and grease the tin. Cut cookie dough into 12 even slices and press into the bottom and about 2/3 up the sides of prepared muffin cups.

Bake for 16-18 minutes or until edges are barely golden. Let cool completely in muffin tin then remove by gently sliding a knife around the edges.

Banana Coconut Cream Filling: Whisk egg yolks, cornstarch, and 2 tablespoons sugar together in medium bowl until smooth. Set aside.

Add coconut milk, whole milk, 3 tablespoons sugar, shredded coconut and salt to a medium saucepan and bring to a simmer over medium high heat. Slowly whisk 1 cup of simmering coconut milk mixture into yolk mixture (to temper), then slowly whisk tempered yolk mixture back into remaining coconut milk mixture. Reduce heat to medium and cook, whisking vigorously, until mixture is thickened, about 30 seconds. Off heat, whisk in butter and vanilla. Let coconut cream cool until just warm, stirring often, about 10 minutes.

Once coconut cream has cooled to warm, add 1 teaspoon to each cookie cup. Top this coconut cream with approximately 3 banana slices per cookie cup. Top bananas evenly with remaining coconut cream. Chill for at least 4 hours (24 is better for flavors to meld).

Coconut Whipped Cream: When ready to serve, prepare Coconut Whipped Cream by beating heavy cream, sugar and coconut extract at medium high speed until soft peaks form. Top each banana cream cookie cup with whipped cream, toasted coconut, coconut caramel and mini chocolate chips (optional)
Notes
*Prep time does not include cooling/refrigeration time.
Did You Make This Recipe?
Tag @CarlsbadCravings and Use #CarlsbadCravngs
Leave a Review, I Always Love Hearing From You!
Carlsbad Cravings© Original