This ultimate Shepherd's Pie is one for the recipe binder!
This savory, comforting Shepherd's Pie recipe elevates shepherd's (cottage pie) to a whole new level with melt in your mouth short ribs and Swiss Gruyere mashed potatoes! This is guaranteed to be a new family favorite and is already one of Patrick's top 10! I love this recipe as is, but I've also included TONS of recipe variations including how to make ground beef Shepherd's Pie as well as show to make ahead!
Shepherd's Pie Recipe
I remember the first time I savored Shepherd's Pie. I was visiting my cousins states away in Utah when the world of layered baked meat and potato casserole changed my world. For a little girl whose favorite food was potatoes, Shepherd's Pie was heaven!
Reflecting back on my awestruck excitement at my first Shepherd's Pie, I am filled with that same excitement for this more sophisticated version of Boneless Short Rib Shepherds Pie! It is similar to the Shepherd's Pie recipes you know and love but 10X better!
It starts with a base of juicy boneless short ribs, topped with a savory, saucy vegetable mixture of carrots, celery diced tomatoes all smothered with Gruyere mashed potatoes. It's a symphony of flavors and textures you will crave for days!
BEST SHEPHERDS PIE RECIPE
You are going to LOVE this Shepherd's Pie recipe because:
Comfort food. Shepherd's Pie has to be the all-time comfort food! It's deeply satisfying and fills every craving- except that it will leave you craving more!
Versatile. It's easy to customize with your favorite vegetables or meat. I've included how to make it Shepherd's Pie with short ribs AND ground beef.
Easy. Although it requires a few steps, they are all simple and your short ribs tenderize in the oven while you prep the filling and potatoes, so there is no wasted time.
Make Ahead. It's so easy to make ahead and have on hand to pop in the oven at dinner time!
Meal-in-one. Shepherd's Pie is well rounded with protein, carbs and veggies so it can be a meal alone or added too.
Leftovers. This Shepherd's Pie recipe makes irresistible leftovers – if you could be so lucky.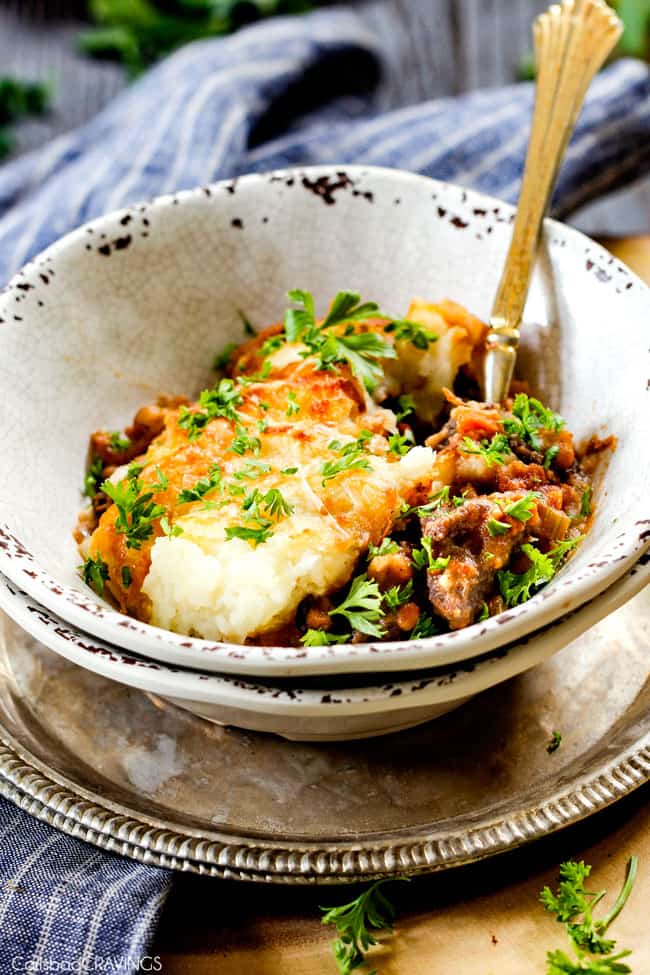 What's the difference between shepherds pie and cottage pie?
Shepherd's Pie (or more accurately termed "Cottage pie," when made with beef, "shepherd's pie when made with lamb), had been around for centuries. The name "cottage pie" predates "shepherd's" by nearly a hundred years but each name has come to be used synonymously with the other.
In addition, another variation is called Cumberland Pie in which the mashed potatoes are coated with breadcrumbs. On your next trip to The UK you will know exactly what is on the menu!
Where does Shepherd's Pie Come From?
Shepherd's Pie comes to us from England when the humble cottagers used potatoes in almost every meal but now is popular worldwide as a layered casserole of meat and vegetables, topped with mashed potatoes and baked until the potatoes reach golden perfection.
Sometime in England between 1861 and 1907, humble working class women found a way to make leftover roasted meat go farther by combining it with the humble potato in Shepherd's Pie.
Mrs Beeton's Book of Household Management, by Isabella Beeton, recipe 1427 is an early version of Shepherd's Pie. In the recipe, a pie dish is is lined with mashed potatoes first, followed by the meat. In Scotland, it became popular to cook Shepherd's pie in a piecrust. This yummy combination of meat, potatoes and veggies began with many variations and that trend continues with this Boneless Short Rib Shepherd's Pie!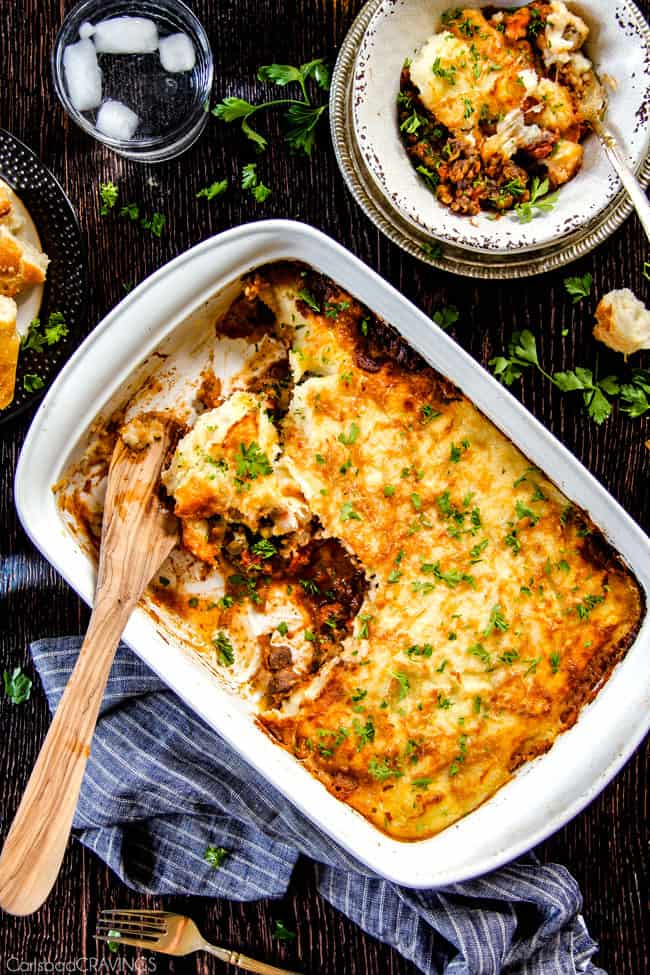 SHEPHERD'S PIE RECIPE INGREDIENTS:
Boneless Short Ribs: for this Shepherd's Pie recipe, I use boneless short ribs BUT you may also substitute it with ground beef – see my variation below. I use beef chuck short ribs which are beautifully marbled, rich, intensely beefy, cut beautifully, are more flavorful than a tenderloin, tender like a NY Strip Steak (but far less $$), and in short, should become one of your new favorite meats! I purchase mine at Costco where it is less expensive and comes with twice what you need, so you can freeze what you don't use for another Shepherd's Pie later.
Ground Beef Option: you can also make ground beef Shepherd's Pie with this recipe! You will use 2 pounds lean ground beef and brown it with ½ teaspoons salt and ½ teaspoon pepper. You will skip the step of cooking the meat in the oven by itself and go straight to layering the casserole with ground beef, your veggie mixture and potatoes and bake at 425 degrees F, uncovered for 30-35 minutes or until the top of potatoes are golden.
Veggies: finely dice onions, carrots, and celery. You can also add in additional vegetables such as corn, bell peppers, peas, etc. You may even use a frozen vegetable medley.
Seasonings: salt, pepper, dried oregano, dried parsley, paprika and chili powder for yum yum yum yummy flavor! I use dried herbs for convenience, but you are welcome to use fresh if you prefer. If using fresh, you will need 3X the amount of dried herbs and want to add them at the end of cooking so they remain poignant. Garnish baked Shepherd's Pie with fresh parsley if you wish.
Oil: no sticking we love you. You may use vegetable oil, olive oil or any oil suitable for relatively high heat.
Flour: to thicken up the meat and veggie mixture. I use all purpose flour but I'm sure any gluten free flour would work here as well.
Fire roasted tomatoes: I like to use fire roasted diced tomatoes that are located next to the traditional diced tomatoes. Fire roasted tomatoes are NOT spicy – the fire simply means they have been roasted which gives them a complex smokiness. If you can't find fire roasted diced tomatoes, than traditional diced tomatoes work just fine.
Soy sauce: please use reduced sodium soy sauce. If you're in a bind, you can substitute with Worcestershire sauce.
Ketchup: adds a delectable slight tang. You may substitute with tomato paste if in a bind.
Russet potatoes: the best potatoes for whipping! They render the fluffiest, smoothest mashed potatoes with less chance of becoming gummy or turning into "potato paste" which can occur from over mashing.
Heavy whipping cream: A MUST! It works far better than plain milk in this application to keep the potatoes creamy because they are going to be bake at a relatively high temperature.
Milk: works with the heavy cream to create lusciously creamy potatoes.
Butter and Salt: Flavor gems. Please use unsalted butter so we can control the salt.
Gruyere Cheese: I honestly had never tasted Swiss Gruyere as most Gruyere we see in the US when just labeled "Gruyere" is the French version of Gruyere Cheese. Swiss Gruyere is also is nutty and slightly salty but it is more fruity and tangy, and the perfect oomph to these potatoes and to this Shepherd's Pie.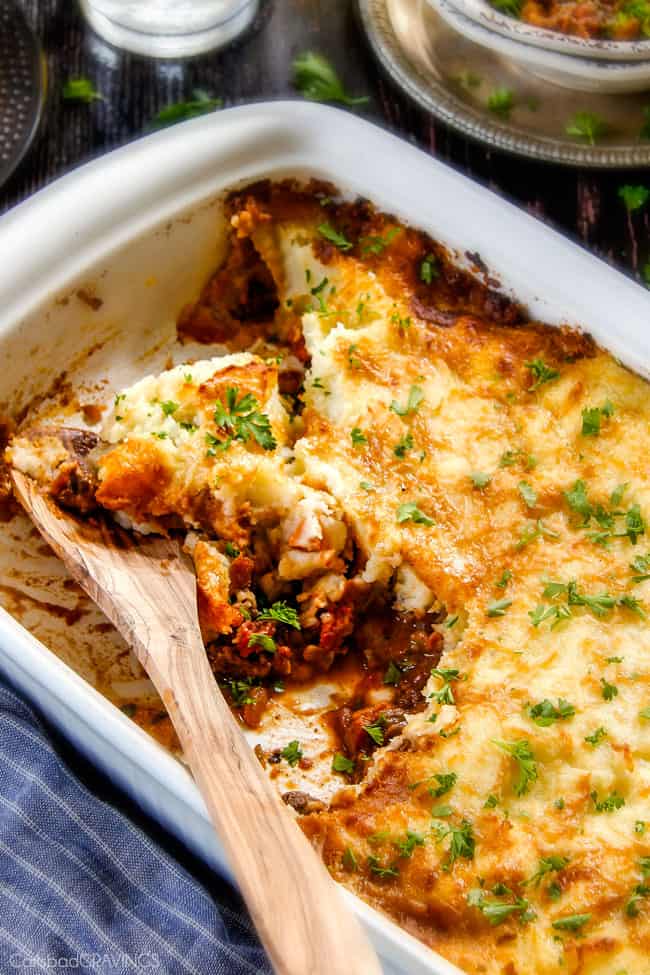 HOW TO MAKE SHEPHERDS PIE
What I love about this recipe, is that although this Boneless Short Ribs Shepherd's Pie does require multiple steps, all the prep work overlaps so you aren't wasting any time.
PREPARE THE MEAT
To make this exquisitely delicious Boneless Short Rib Shepherd's Pie with layers of complex flavors and textures, you first sear your boneless short ribs until nice and brown.
Then transfer them to the oven to further tenderize while you prep your filling and potatoes. Many Boneless Short Rib Shepherd's Pie recipes call braising the meat for hours – but by cutting the meat into bite size pieces, giving it a head start on the stove and in the oven while you pep your other ingredients, it achieves the same melt in your mouth tenderness without waiting around all day.
COOK VEGETABLES
While your boneless short ribs are tenderizing in the oven, you make your vegetable layer by sauteing your your onions, carrots and celery together for 5 minutes.
They will be softened but not completely tender because they are going to cook further in the oven.
MAKE GRAVY
Next, make the gravy by sprinkling the vegetables with flour and cook for for a couple minutes to get rid of the raw flour taste and smell.
Now this next step will blow. your. mind. Instead of adding just water or broth, we add the reserved liquid from browning the beef (plus water to equal a cup) to create a saucier, incredibly flavorful gravy.
You then add roasted diced tomatoes, soy sauce, a splash of ketchup along with chili powder, oregano, parsley, and paprika.
Let the gravy simmer until most of the liquid has evaporated (about 10 minutes) while the vegetables become sponges of flavor.
Finally, stir in ¼ cup heavy cream. Can we say try and stop me from eating this vegetable filling with a spoon?!
Make Mashed Potatoes
While the vegetable filling is simmering and your meat is baking, you are making your incredible potatoes! I purposefully saved this step for last because the first time I made this pie, I had to use all my will power to pull myself away from that pillowy creamy heaven before there was nothing left.
Wash, Peel and chop your Russet Potatoes and boil until tender.
What makes these potatoes extra delicious is they are whipped instead of mashed and spiked with heavy creamy, a little milk for extra fluffiness, butter and salt of course and Swiss Gruyere Cheese!
Assemble
After the meat has baked 30 minutes, you will have finished making your vegetables/gravy and the mashed potatoes which means it's time to assemble! 
Spread the vegetable mixture evenly over beef in baking dish. Spoon potato mixture over vegetable mixture; spread evenly. Sprinkle with remaining ½ cup cheese.

Bake

Bake Shepherd's Pie at 425 degrees F, uncovered for 30-35 minutes or until beef is tender and the top of potatoes are golden.
And when this Shepherd's Pie emerges from the oven it will be the perfect savory, comforting, layers of meat, saucy vegetables and creamy potatoes to adorn your dinner table.

SHEPHERDS PIE From Around the World

Many cultures seem to have a version of Shepherd's Pie and they all think their's is the best! That means you could have a lot of fun experimenting to find your FAVORITE version! Here are just a few:

Chilean Shepherd's Pie: The Chilean dish of "pastel de papa," is similar to Shepherd's Pie and eaten in many parts of the world. It also contains hard-boiled eggs, raisins and black olives.
French Shepherd's Pie: Also "hachis Parmentier" is the French version, named after the Frenchman who convinced his country to eat potatoes. I am asking myself why he had to convince these people ;). "Hachis," which takes its root from the English word "hatchet," means a dish containing chopped or minced ingredients.
Californian Shepherd's Pie: Californians also have a version, which includes chopped tomatoes, parsnips, rosemary and adding in olives.

Below are more ideas and options to help you make your very best Shepherd's Pie recipe.

SHEPHERDS PIE VARIATIONS

Meat: any meat will do. Go back to your English roots and try lamb or after Thanksgiving, use your turkey leftovers. You can also use lean ground beef, ground turkey, ground chicken, Italian Sausage, etc.
Meatless: add in more veggies and cut the meat all together. Use mushrooms, squash, eggplant, etc. in place of the meat.
Potatoes: try mashed sweet potatoes for a great sweet and savory treat. Or try a combination of Russet and sweet potatoes.
Vegetables: add corn, frozen peas, squash, zucchini, bell peppers, or mushrooms.
Topping: You can add herbs, panko, breadcrumb or a layer of cheese on top.
Vegetarian/Vegan: use vegetable stock or vegan approved milk. Also use vegan butter, milk and cream cheese in your mashed potatoes.
Gluten free: omit the flour and instead whisk 1 tablespoon cornstarch together with the diced tomatoes before adding it to the vegetables. Use gluten free soy sauce or tamari. Always check that all of your other ingredients are certified GF (like ketchup).
Healthier options: Make this vegetarian Shepherd's Pie and replace the mashed potatoes with cauliflower mash instead. Use a broth instead of cream for the filling.

HOW TO MAKE SHEPHERDS PIE AHEAD OF TIME!

Shepherd's Pie is a fabulous assemble and bake later meal. Here's how:

No Bake: Prepare the recipe as written through assembling the Shepherd's Pie but do not bake. Cover casserole tightly with foil and refrigerate. Remove from refrigerator and let sit at room temperature for 30 minutes before baking according to directions.
Bake: Prepare the recipe all the way through baking. Let the casserole cool completely and then refrigerate. Reheat the Shepherd's Pie in the oven, or microwave individual servings. I would only use this option for reheating leftovers as the potatoes are best after only being baked once.

STORING, FREEZING AND REHEATING YOUR SHEPHERDS PIE

You can store Shepherd's Pie in the fridge for 3 to 5 days from cooking, Keep in mind it is from the initial cook date if using leftovers.
If making Shepherd's Pie with leftover meat, remember that meat should not be stored for more than 5 days from when it was originally cooked, NOT from when the pie was assembled and baked.
Shepherd's pie will freeze well for 4 to 6 months if properly contained in airtight container. The potatoes texture will change slightly.
You can bake frozen Shepherd's Pie directly from the freezer at 425 degrees F for one hour. If you thaw the pie in the fridge the night before, you can cut that time in half.
To reheat from refrigerator bake at 425 degrees F, uncovered until warm through, approx. 25-30 minutes.

Let me know what variations you use and how it turns out, I hope you have many nights enjoying this Shepherd's Pie as much as Patrick and I do!

Looking for more beef recipes?

Want to try this Shepherd's Pie Recipe?

Pin it to your DINNER, CASSEROLE or MEAT Board to SAVE for later!

Find me on Pinterest for more great recipes! I am always pinning :)!

©Carlsbad Cravings by CarlsbadCravings.com

Shepherds Pie with Boneless Short Ribs OR Ground Beef

This savory, comforting Shepherd's Pie recipe elevates shepherd's (cottage pie) to a whole new level with melt in your mouth short ribs and Swiss Gruyere mashed potatoes!  This is guaranteed to be a new family favorite and is already one of Patrick's top 10!

Total Time:

1

hour

30

minutes

Cook Time:

1

hour

5

minutes

Save This Recipe To Your Recipe Box

You can now create an account on our site and save your favorite recipes all in one place!

Ingredients

Potatoes

3

lbs.

russet potatoes (4 large),

peeled and cut into 1 1/2-inch pieces

1/2

cup

heavy cream

1/4

cup

milk

4

tablespoons

butter, cubed

1

cup (4 oz.)

shredded SWISS Gruyère cheese, divided*

3/4

teaspoon

salt

Beef and Vegetables

2

lbs.

boneless beef short ribs

trimmed and cut in 1-inch pieces

1 1/2

teaspoons

salt

1/2

teaspoon

ground black pepper

3

tablespoons

olive oil, divided

1

large onion, diced

1

cup

diced carrot

(approx. 3 med. carrots)

1

cup

diced celery

(about 3 stalks)

2

tablespoons

flour

4

cloves

garlic, minced

1

14.5 oz can

fire roasted diced tomatoes, undrained

2

tablespoons

low sodium soy sauce

1

tablespoon

ketchup

1/2

teaspoon

chili powder

1/4

tsp EACH

dried oregano, dried parsley, paprika, salt, pepper

1/4

cup

heavy whipping cream

Instructions

Beef: Preheat oven to 325 degrees F. Spray 13×9-inch (3-quart) glass baking dish with cooking spray. Set aside.

After trimming beef, toss with 1 ½ teaspoons salt and ½ teaspoon pepper while still on the cutting board.

Heat 2 tablespoons oil over medium high heat in a large skillet. Add beef and cook undisturbed for 3-5 minutes to brown on one side. Continue to cook, while stirring, for 5-7 minutes until nicely browned all over. Remove beef with a slotted spoon to baking dish and spread in a single layer. Cover and bake for 30 minutes at 325 degrees F.

Pour remaining juices from skillet into a 1 cup measuring cup. Add enough water to equal one cup ("Reserved Juices"). Set aside.

Vegetables:

Add remaining 1 tablespoon oil to now empty skillet and heat over medium high heat. Add onions, carrot and celery; cook 5 minutes, stirring frequently. Sprinkle in flour and cook 1 ½ minutes while stirring. Add garlic and cook 30 seconds.

Stir in the 1 cup Reserved Juices, tomatoes, soy sauce, ketchup and all remaining seasonings/spices. Bring to a boil then reduce to a simmer until thickened and most of the liquid is absorbed, about 10-15 minutes, stirring occasionally. Stir in ¼ cup heavy cream. Set aside.

Potatoes: While vegetables are simmering, add potatoes to a large 5 quart saute pan/skillet and add water until it reaches about 1 inch up the sides. Season with ½ teaspoon salt. Cover and bring to a boil then reduce heat to low. Simmer for 10-15 minutes or until very tender; drain. Add potatoes to bowl of electric or hand held mixer.

Heat butter, heavy cream and milk for 1 ½ minutes. Slowly stream heated butter/cream mixture into potatoes while beating until light and fluffy (but do not overbeat). Stir in ½ cup cheese and ¾ teaspoons salt. Set aside.

Assemble: After meat has baked 30 minutes, remove from oven and increase oven temperature to 425 degrees F. Spread vegetable mixture evenly over beef in baking dish. Spoon potato mixture over vegetable mixture; spread evenly. Sprinkle with remaining ½ cup cheese.

Bake at 425 degrees F, uncovered for 30-35 minutes or until beef is tender and top of potatoes are golden.

Remove from oven and let sit 10 minutes to set before serving. Top with freshly grated parsley.

Notes

*If you can't find Swiss Gruyere you may substitute Gruyere.

Ground Beef Option

Substitute boneless short ribs with 2 pounds lean ground beef and brown it with 1 teaspoon salt and ½ teaspoon pepper.  You will skip the step of cooking the meat in the oven by itself and go straight to layering the casserole with ground beef, your veggie mixture and potatoes and bake at 425 degrees F, uncovered for 30-35 minutes or until the top of potatoes are golden.

RECIPE VARIATIONS

Meat:  You can use any protein such as lamb, lean ground beef, ground turkey, ground chicken, Italian Sausage, etc.
Meatless:  add in more veggies and cut the meat all together.  Use mushrooms, squash, eggplant, etc. in place of the meat.
Potatoes:  try mashed sweet potatoes for a great sweet and savory treat.  Or try a combination of Russet and sweet potatoes.
Vegetables: add corn, frozen peas, squash, zucchini, bell peppers, or mushrooms.
Topping: You can add herbs, panko, breadcrumb or a layer of cheese on top.
Vegetarian/Vegan: use vegetable stock or vegan approved milk.  Also use vegan butter, milk and cream cheese in your mashed potatoes.

Make AHEAD

Prepare the recipe as written through assembling the Shepherd's Pie but do not bake.
Cover casserole tightly with foil and refrigerate.
Remove from refrigerator and let sit at room temperature for 30 minutes before baking according to directions.

 FREEZING

Shepherd's pie will freeze well for 4 to 6 months if properly stored in airtight container.  The potatoes texture will change slightly.
You can bake frozen Shepherd's Pie directly from the freezer at 425 degrees F for one hour.  If you thaw the pie in the fridge the night before, you can cut that time in half.
To reheat from refrigerator bake at 425 degrees F, uncovered until warm through, approx. 25-30 minutes.

Did You Make This Recipe?

Tag @CarlsbadCravings and Use #CarlsbadCravngs

Leave a Review, I Always Love Hearing From You!

Adapted from Tablespooon.com

Reader Interactions