This 30 minute Bang Bang Shrimp is wonderfully creamy bursting with layers of curry, peanut, chili and coconut and even better than the original Cheesecake Factory version at a fraction of the price!
This Bang Bang Shrimp copycat is incredibly easy and all made in one pot! The depth of multidimensional flavor is out of this world making it ideal for entertaining but easy enough to make everyday.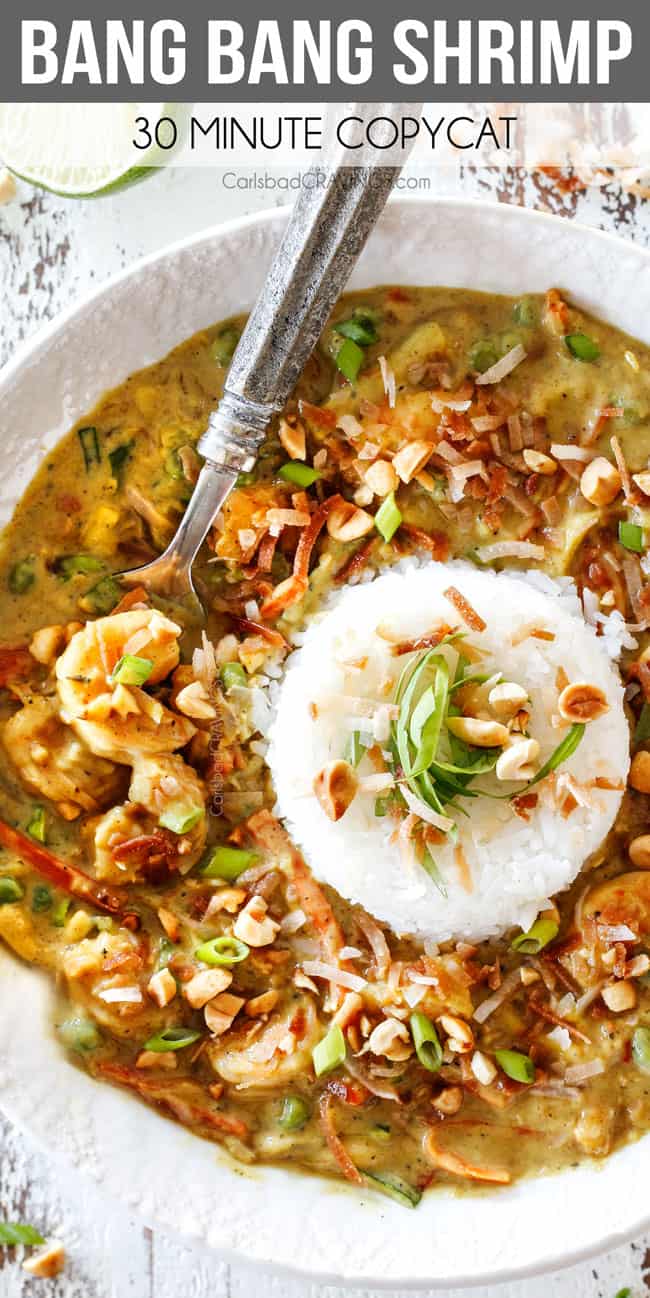 Bang Bang Shrimp Copycat
Who else loves Cheesecake Factory??? I'm a fan of their wonderfully, long diverse menu, luscious cheesecakes and of course, their Bang Bang Shrimp.
Thai food is all about the harmonious dance of savory, salty, sweet and sour flavors and this Copycat Cheesecake Factory Bang Bang Shrimp is no exception. It's described on the menu as, "A spicy Thai dish with the flavors of curry, peanut, chili, and coconut. Sauteed with vegetables and served over rice."
If you've never tried this famous entrée, it is a symphony of flavors and textures, down to the crowning salty peanuts and sweet toasted coconut. In my Copycat Bang Bang Shrimp recipe, we get all the same coconut, Thai curry flavors in under 30 minutes in a sauce so good you will be licking the plate – or strongly tempted to.
You can keep the recipe as is for the Copycat Bang Bang Shrimp version, or feel free to swap the shrimp for chicken and use whatever veggies you have on hand for the most gourmet tasting clean-out-the-veggie-drawer meal. You can also customize the heat level of this Copycat Bang Bang Shrimp- just another reason to love homemade Bang Bang Shrimp!
Looking for more Thai Recipes?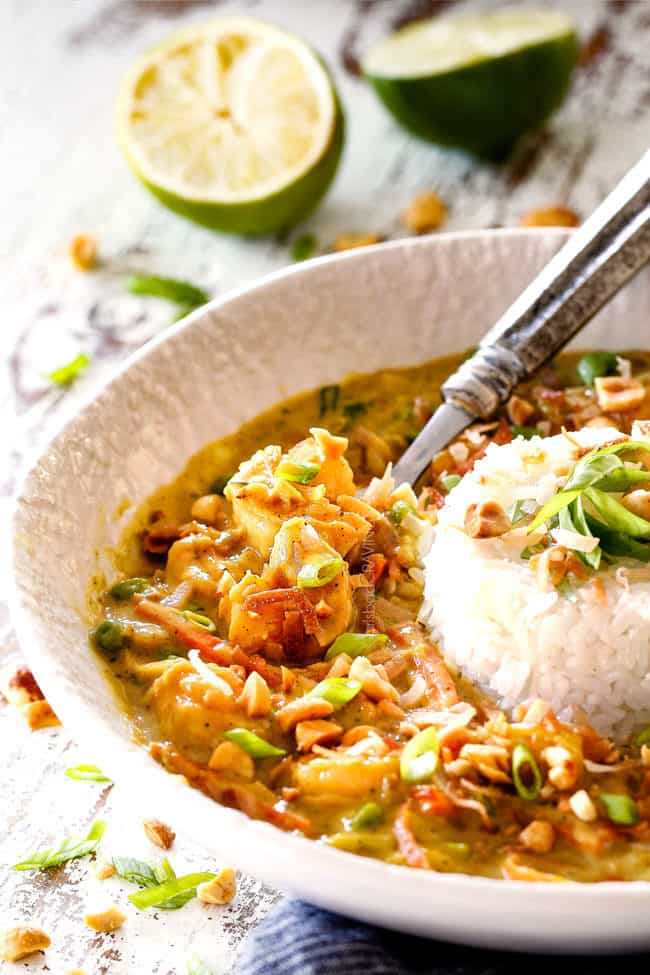 What are the ingredients in Bang Bang shrimp?
This Copycat Bang Bang Shrimp does have along list of ingredients but PLEASE don't be scared away. They are all pantry friendly ingredients that are just dump and simmer with no time/skill required so it is actually super easy to make!
Here is a rundown of the mentionable ingredients:
medium uncooked shrimp. I suggest medium uncooked shrimp for this Bang Bang Shrimp recipe that has already been peeled and deveined. Buying prepared shrimp makes your job a snap because all you have to do is defrost the shrimp. I like to buy my shrimp by the frozen bagful at Costco because they come shelled and deveined so all that's left to do is thaw.
Veggies. The vegetables used in Bang Bang Shrimp are carrots, zucchini and petite peas but feel free to use whatever you have on hand. This is a great clean-out-the-fridge meal.
What is Thai Chili Sauce? Thai Chili Sauce and Asian Sweet Chili Sauce mean the same thing and can be found in the Asian aisle of your grocery store. Mae Ploys brand is simply called, "Asian Sweet Chili Sauce" and Lee Kum Kee's brand is called, "Thai Sweet Chili Sauce." It is a dynamic balance of tangy sweet heat derived from red Thai chilies, sugar, rice vinegar, garlic and ginger – a dynamic flavor combo all in one bottle and so worth keeping stocked in your refrigerator!
Curry powder. This is the curry powder that simply says, "Curry Powder," and can be found with all the other spices at your grocery store. It is a sultry blend of turmeric, chili powder, ground coriander, ground cumin, ground ginger and pepper. I have listed 2 teaspoons curry powder in this recipe but if you know you love curry than feel free to go wild and crazy and up it to 3 (this is what I do).
Coconut milk. Chakoah is my all time favorite brand of coconut milk. It was recommended to me by an Asian friend who says it will change my cooking. I agree and can't recommend it enough! You can use full fat or light coconut milk. If you use light coconut milk, you may want to add an additional ½ tablespoon cornstarch to thicken it up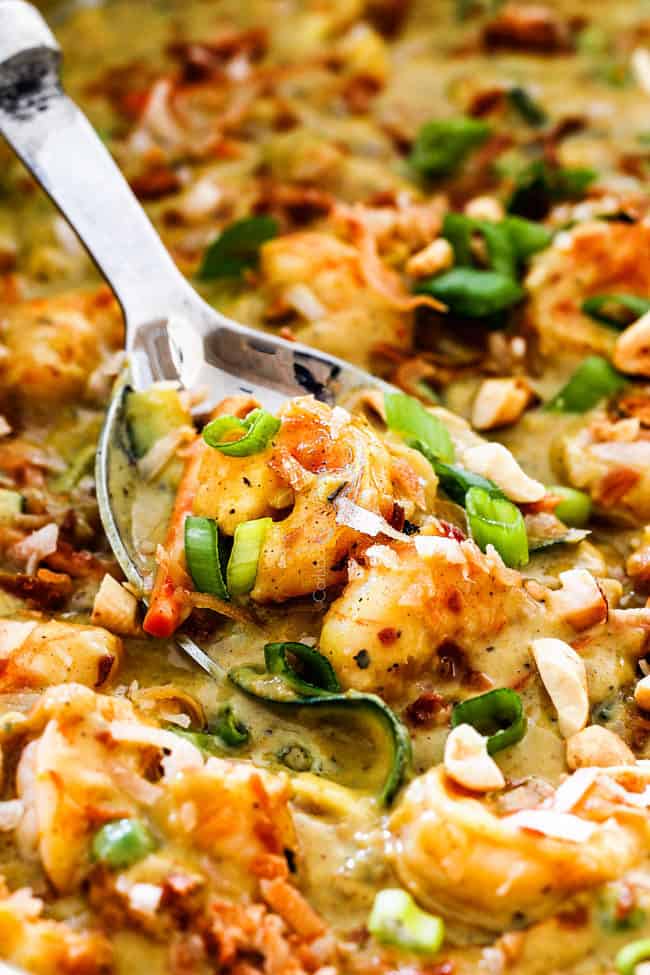 Fish Sauce. Fish sauce is used in all Thai cooking and I promise it won't make your Bang Bang Shrimp taste fishy! If you must substitute, then replace it with soy sauce.
Sriracha. Use sriracha to make your Bang Bang Shrimp as spicy as you would like. The great thing about sriracha is you can add it after your Bang Bang Shrimp is cooked so you can taste your finished Bang Bang Shrimp first and then stir in sriracha to taste.
Garnish. Bang Bang Shrimp is made 1000X better with the garnish of toasted sweet coconut flakes, chopped peanuts and green onions. Don't skimp!
Tips for Bang Bang Shrimp
You can substitute shrimp with chopped chicken.
Use defrosted shrimp and not cooked shrimp. (See above section on how to defrost shrimp.)
There are two options for defrosting your shrimp. 1) The easiest way to defrost your shrimp os to remove your one pound frozen shrimp to a covered bowl and let them defrost in the refrigerator overnight. 2) To quickly defrost shrimp, place the one pound frozen shrimp in a fine-mesh sieve or colander. Place this sieve in a large bowl of cold tap water for 10 minutes. After 10 minutes, replace the water in the bowl with new cold tap water and resubmerge the shrimp. Let shrimp sit an additional 10- 20 minutes. At this point the shrimp should be completely defrosted. Whatever you do, resist the urge to use warm tap water (and definitely NOT the microwave) as this will cause the shrimp to defrost and cook unevenly.
Cook your shrimp with the tails on because the tail shells contain flavor that seeps out and we get more robust shrimp flavor. Once your shrimp is cooked and resting you can remove the tails if you desire.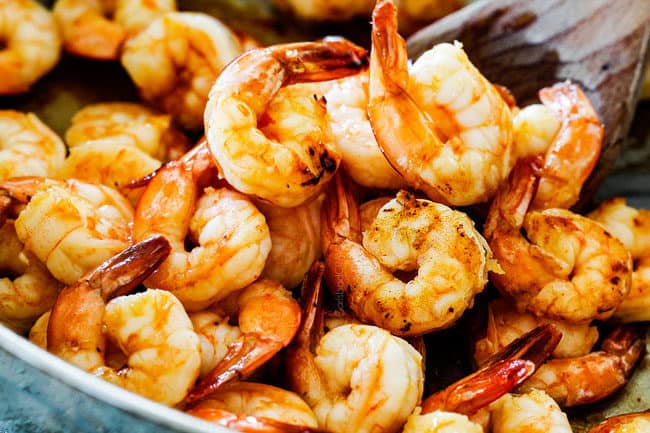 This recipe calls for smooth peanut butter but if you only have crunchy peanut butter on hand, that will definitely work. Brands such as Skippy and Jif work best in this recipe as opposed to natural peanut butters because they don't melt as well.
If you don't have chicken broth on hand, you can substitute with water.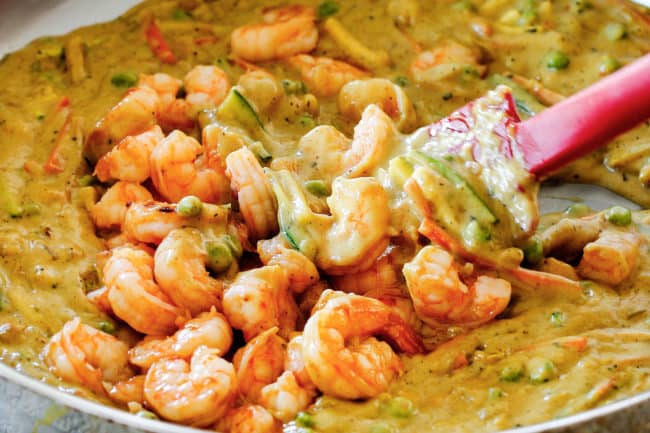 To toast coconut, preheat oven to 400 degrees F. Spread coconut in an even layer on a baking sheet. Bake for 3-5 minutes, stirring occasionally, until coconut is golden.
You can make this Bang Bang Shrimp perfect for YOU by customizing the consistency, flavor and spice level. If you would like a thinner sauce, thin with additional chicken broth or water. For a spicier sauce, add sriracha, for tangier, add lime juice, for sweeter, add additional brown sugar (keeping in mind the coconut will add sweetness).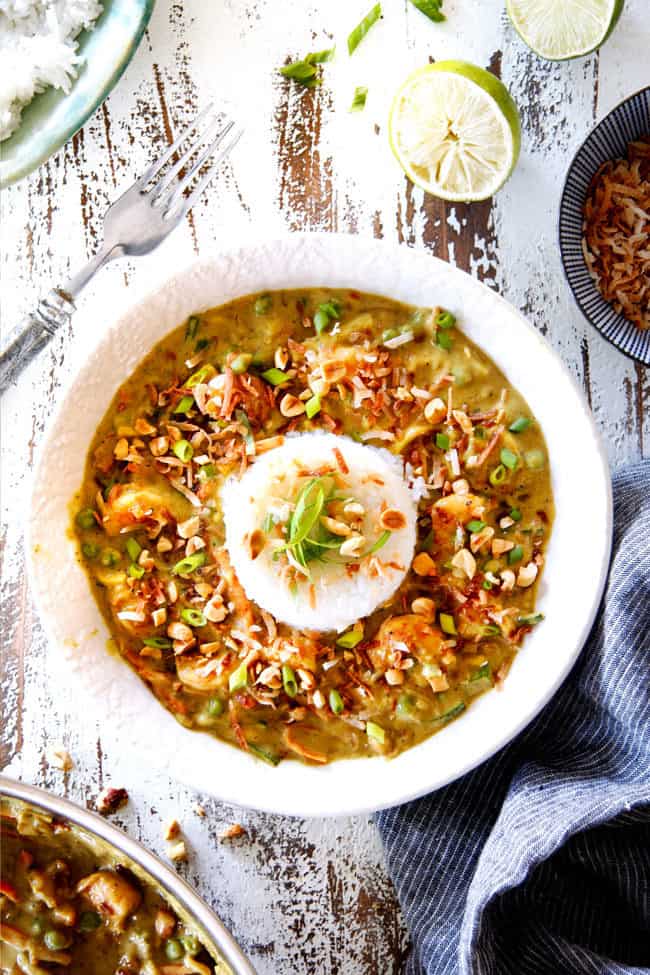 Looking for more Shrimp Recipes?
WANT TO TRY THIS BANG BANG SHRIMP RECIPE?
Pin it to your SHRIMP,  30 MINUTE MEALS or ASIAN Board to SAVE for later!
Find me on Pinterest for more great recipes!  I am always pinning :)!
©Carlsbad Cravings by CarlsbadCravings.com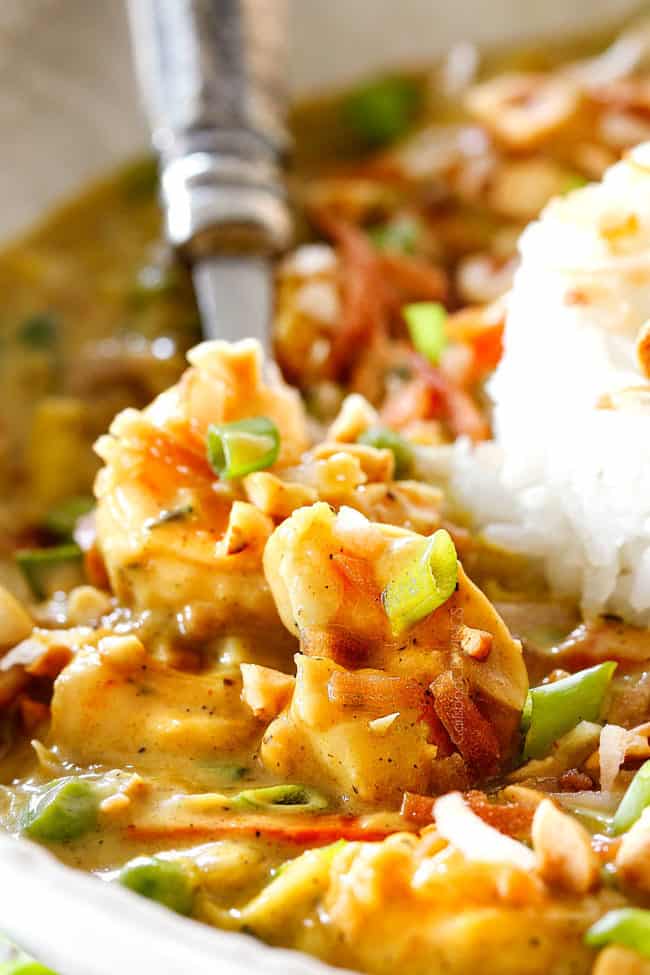 Bang Bang Shrimp
is 30 minute Bang Bang Shrimp is wonderfully creamy bursting with layers of curry, peanut, chili and coconut and even better than the original Cheesecake Factory version at a fraction of the price!
Save This Recipe To Your Recipe Box
You can now create an account on our site and save your favorite recipes all in one place!
Ingredients
Add later
1

small zucchini

julienned and cut into 1" length pieces (1 cup)

1/2

cup

frozen petite peas
Garnish
1/3

cup

toasted (sweetened) shredded coconut

1/4

cup

chopped peanuts

2

chopped green onions
Instructions
Add shrimp to a medium bowl along with 1 tablespoon olive oil, 2 tablespoons

Asian Sweet Chili Sauce

and ¼ teaspoon salt. Stir to combine and set aside while you prep your veggies. (Shrimp may sit at room temperature for 30 minutes or refrigerate for up to 8 hours.)

Melt one tablespoon butter over medium high heat in large skillet. Discard shrimp marinade and add shrimp to the pan in a single layer (you may need to work in 2 batches). Cook shrimp just until opaque, about 3 minutes, then flip over and cook another 2-3 minutes until cooked through. Remove shrimp to a cutting board. Chop off tails when cool enough to handle/while sauce is simmering.

Using the now empty skillet (don't wipe out), heat one tablespoon olive oil over medium-high heat. Add onions and cook three minutes. Add carrots, ginger, garlic and

curry powder

and sauté 1 minute. Turn heat to low and add coconut milk. Mix chicken broth with 1 tablespoon cornstarch and add to skillet along with all remaining Coconut Curry Sauce ingredients.

Bring sauce to a simmer until thickened and the carrots are crisp-tender, about 5 minutes. Stir in zucchini and frozen peas and cook until peas are heated through, about one minute. If you would like a thinner sauce, thin with additional chicken broth or water. For a spicier sauce, add

sriracha

, for tangier, add lime juice, for sweeter, add additional brown sugar (keeping in mind the toasted coconut garnish will add sweetness).

Serve with rice and garnish with toasted coconut, green onions and peanuts.
Did You Make This Recipe?
Tag @CarlsbadCravings and Use #CarlsbadCravngs
Leave a Review, I Always Love Hearing From You!
©Carlsbad Cravings Original