Cheesy BBQ Brisket Bites are the perfect, stress fee, easy party food that no one will be able to stop munching!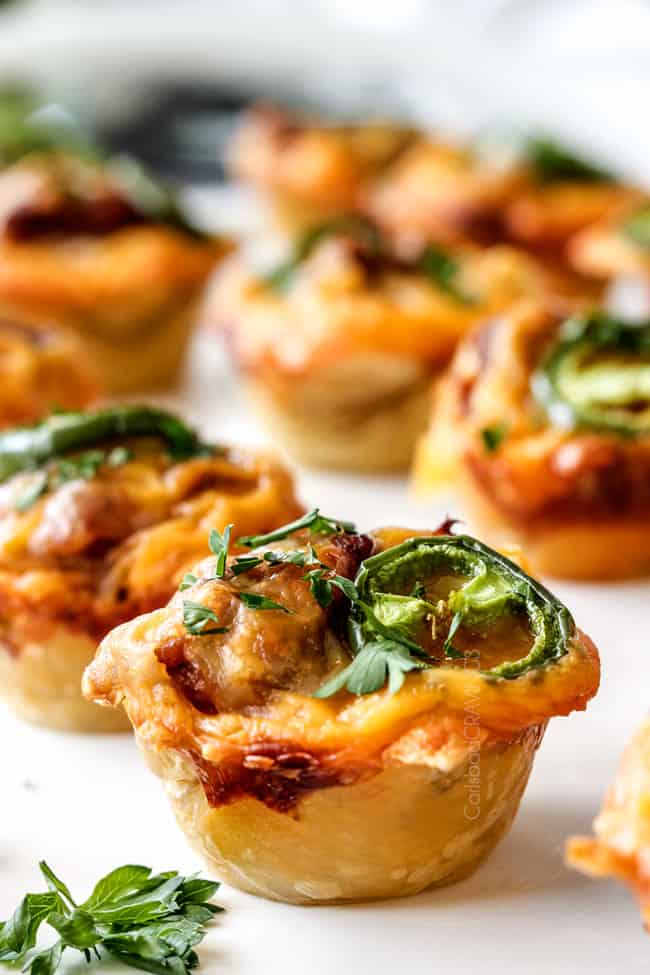 I love getting together with friends and I love getting together with friends with food. With food at the center of every party, the "what should I make/bring" can be a little stressful – especially when you are a food blogger and people expect you to bring something crazy delicious. But now I have just the crazy delicious party pleaser in my back pocket- soon to be your back pocket until you whip them up and you can't stop stuffing your mouth with Cheesy BBQ Brisket Bites.
These Brisket Bites are so good I can eat half the pan in one sitting. The Slow Cooker Beef Brisket is tantalizing delicious all on it's own and when cocooned in puff pastry and smothered in cheese, we are talking some heavy hitting deliciousness. I made these for a friends birthday and all 36 were devoured in minutes.
I used the same puff pastry method used in my Artichoke Dip Bites to make these bite size addicting morsels – and they turn out perfect every time – and easy too! To make simply, unfold your puff pastry, cut each sheet into 36 squares – they don't need to be perfect – thankfully.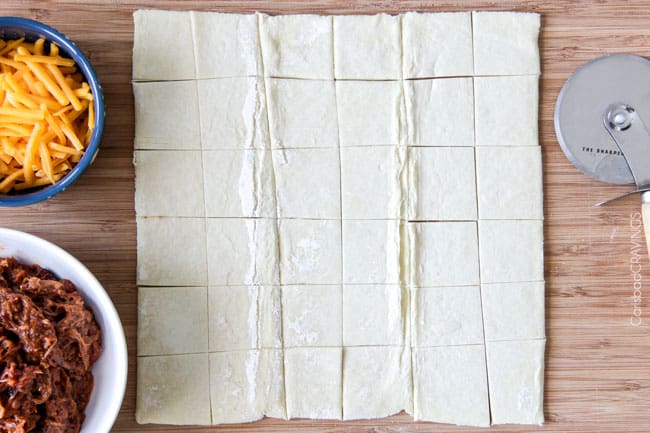 Lay 2 squares perpendicular to each other in 2 mini muffin pans (you will use 1 ½ muffin pans).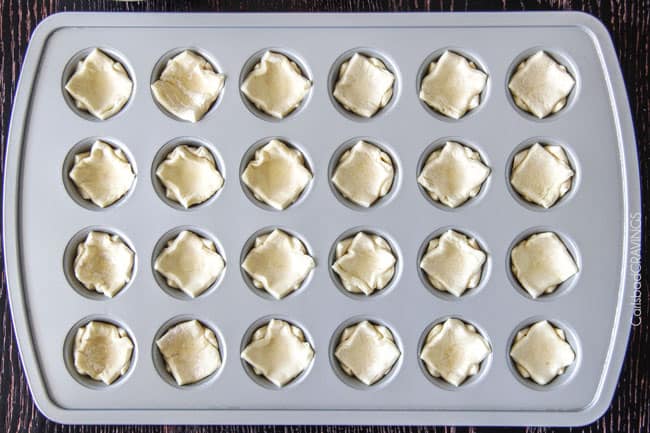 Top each pastry with one tablespoon Beef Brisket – this is what makes these puffs. Not only does this brisket make your life easier, because you can make it the day before and reheat it, but it is the "best beef brisket ever" according to many reviews! And I agree. Next, top your BBQ brisket with cheese and jalapeno for those who like more heat – and I do like – and bake.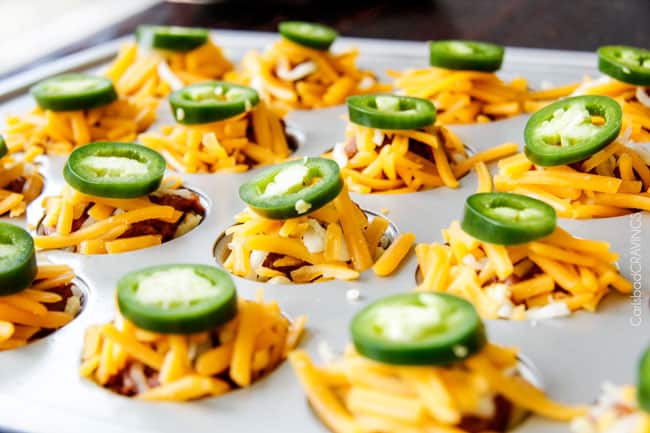 That's it for Cheese BBQ Brisket Bites! Your new favorite meaty, cheesy, bites of YUM!
Cheesy BBQ Brisket Bites
Cheesy BBQ Brisket Bites are the perfect, stress fee, easy party food that no one will be able to stop munching!  
Save This Recipe To Your Recipe Box
You can now create an account on our site and save your favorite recipes all in one place!
Ingredients
1

Recipe

Slow Cooker Beef Brisket

(you will only use 2 ¼ cups)

1

package (2 sheets)

Puff Pastry

thawed according to directions

1 1/2

cups

shredded cheddar cheese

or cheddar/Monterrey combo

3

jalapenos, thinly sliced, seeds removed

(optional)
Instructions
Preheat oven to 400 degrees F. Lightly spray 2 24-count mini muffin pans with nonstick cooking spray. Set aside.

Unfold thawed pastries onto a lightly floured surface. Cut each pastry sheet into 36 squares for a total of 72 squares (I use my pizza cutter).

Add two dough squares perpendicular to each other to 36 muffin cups as illustrated in above photo. (Note, they will fill only half of the second muffin pan).

Top each dough cup with 1 tablespoon Beef Brisket followed by 2 teaspoons cheese and optional jalapeno slice.

Bake at 400 for 12-15 minutes, or until cheese is golden. Wait 5 minutes then remove to a baking rack to cool slightly before eating. Enjoy!
Did You Make This Recipe?
Tag @CarlsbadCravings and Use #CarlsbadCravngs
Leave a Review, I Always Love Hearing From You!
Carlsbad Cravings© Original