I am still craving these Slow Cooker Chipotle BBQ Cream Cheese Chicken Taquitos with Pomegranate Apple Salsa…and I made them weeks ago.
I have always loved this Chipotle Raspberry Sauce (I get mine at Costco – and no this is not a sponsored post – just sharing my long time obsession). Surprisingly, even with just the 2 of us, that big bottle doesn't last long at our house. It comes prepacked with sweet, tangy spicy flavor from raspberries, jalapenos, and chipotle peppers. I love drizzling it on practically everything so I knew it would add the perfect kick to sweet barbecue chicken.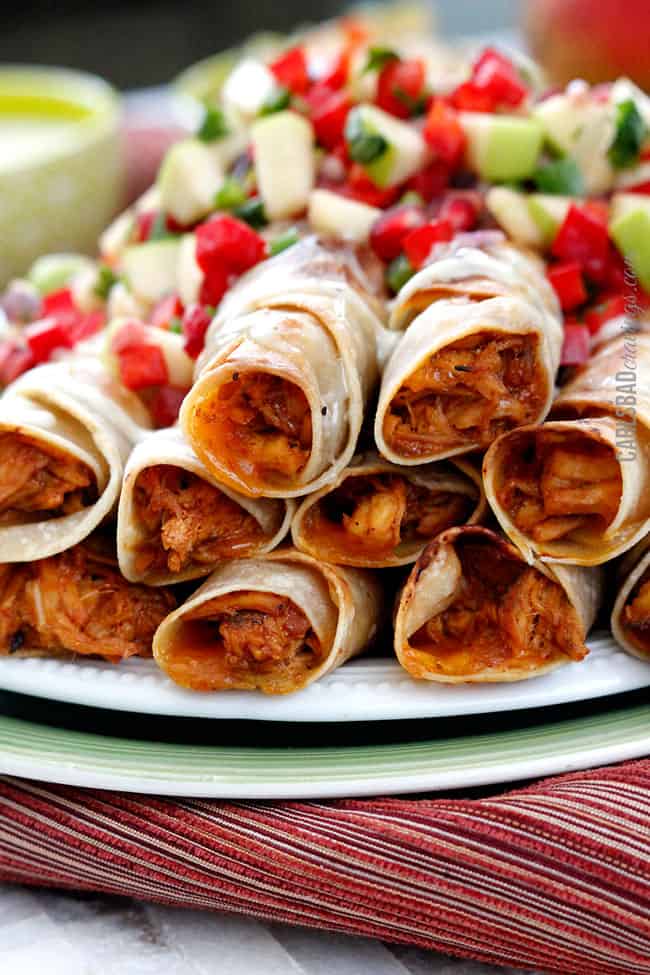 I was right. This BBQ Raspberry Chipotle Chicken is crave worthy all on its own. Its tender, tangy, sweet and spicy from brewing in the slow cooker sauce thats not only a silky blend of raspberry chipotle sauce and barbecue sauce but is creamified with cream cheese – because everything is better when its creamilicious.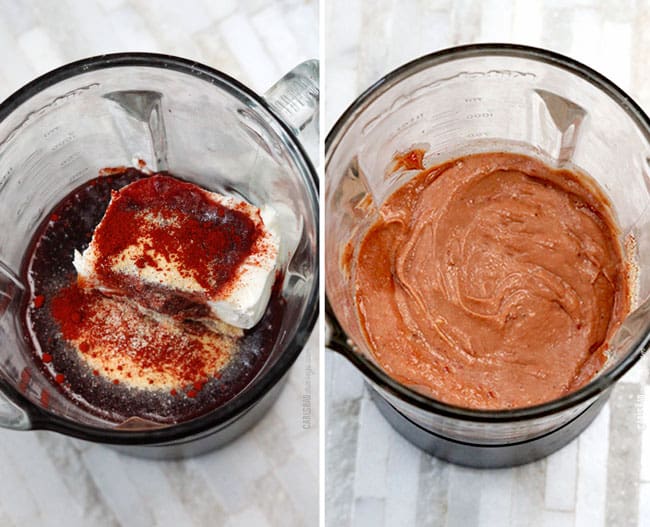 You can devour the smothered creamilicous chicken plain, or on a bed of Cilantro Lime Rice, in a salad, or burrito, or rolled into these delectable taquitos. There is no right or wrong way for this chicken to enter your mouth, but I particularly love its sweet tang complimented by the salty tang of cheddar cheese.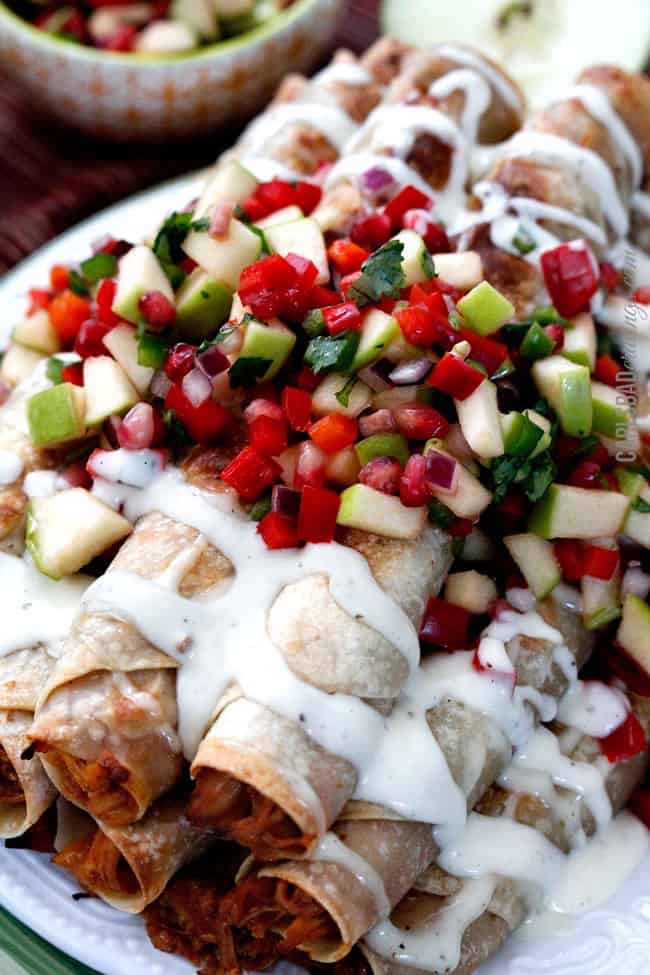 And I particularly love its sweet tang complimented by the salty tang of cheddar cheese rolled in a crispy tortilla and topped with either ranch or barbecue sauce and finally crowned with Pomegranate Apple Salsa. The salsa is sweet, tangy, and fresh with the crunch of apples, bell peppers and pomegranate and enlivened by jalapenos, cilantro, honey and lime juice. Its crunchy freshness is the perfect compliment to the comforting creamy cheesiness of the taquitos.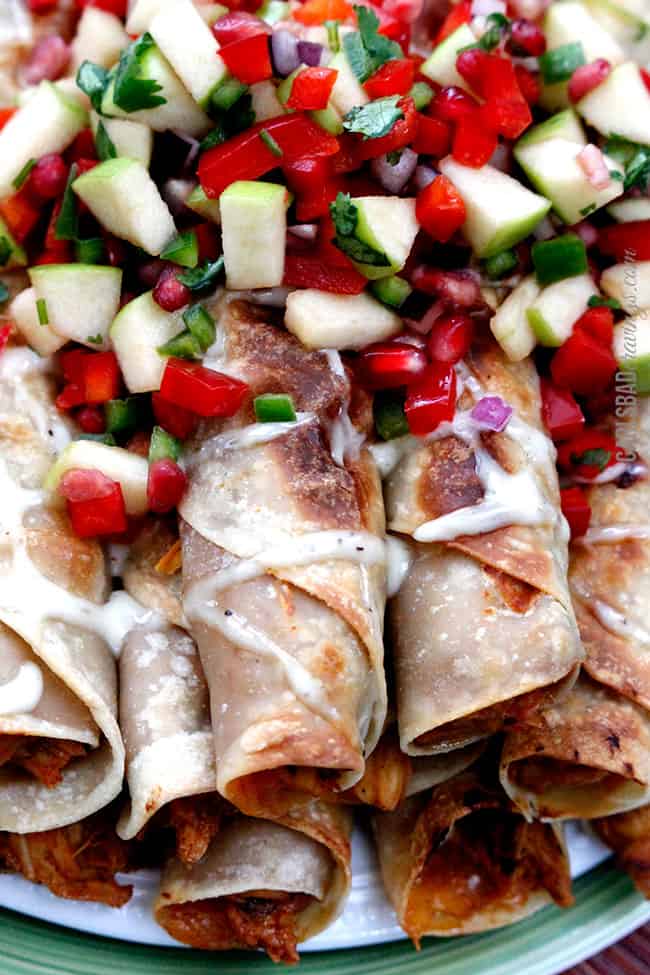 Whatever way you choose to eat this BBQ Chipotle Chicken, I hope you love every second of creamy, cheesy, spicy sweetness. And if you are still craving them weeks later like me, all you have to do is add the ingredients to your crockpot and walk away…
…And then come back to creamilicious barbecue chipotle chicken. That alone is reason to make this crave worthy chicken.
Looking for more taquito recipes?
Chipotle BBQ Cream Cheese Chicken Taquitos (with Pomegranate Apple Salsa)
Total Time:
4

hours
20

minutes
Save This Recipe To Your Recipe Box
You can now create an account on our site and save your favorite recipes all in one place!
Ingredients
2 1/2

pounds

chicken breasts

1 1/2-2

cups shredded cheddar cheese

or more to taste

14-16

flour tortillas
BBQ Raspberry Chipotle Sauce
Pomegranate Apple Salsa
1

red bell pepper, diced

1

Granny Smith apple, diced

1

jalapeno, deveined, seeded and diced

3

tablespoons

finely chopped cilantro

2

tablespoons

pomegranate seeds

2

tablespoons

red onion, diced

1

tablespoon

lime juice

1

tablespoon

honey
Instructions
Add chicken to slow cooker. Add BBQ Raspberry Chipotle Sauce ingredients to a blender and blend until smooth. Pour over chicken, cover and cook on high 3-4 hours or low for 6-8 hours. Shred chicken when tender and stir it with sauce in the crockpot. Let cook in sauce for an additional 20 minutes. Taste and add any salt, pepper, hot sauce to taste.

Preheat oven to 425F degrees. Place a baking rack on top of a baking sheet and lightly spray with cooking spray.

Add approximately ¼ cup chicken filling to the center of each tortilla and top with desired amount of cheese. Tightly roll up tortillas and place seam side down on prepared baking rack. Spray taquitos with cooking spray to help them brown.

Bake 10-15 minutes or until tortillas begin to brown. Broil for an additional 2-3 minutes or until tops are golden. For extra crispiness, flip taquitos and broil the other side until golden.

Meanwhile, add all Pomegranate Apple Salsa ingredients to a medium bowl and toss to combine.

Serve baked taquitos with extra barbecue sauce or ranch dressing for dipping and top with Pomegranate Apple Salsa.
Did You Make This Recipe?
Tag @CarlsbadCravings and Use #CarlsbadCravngs
Leave a Review, I Always Love Hearing From You!
Carlsbad Cravings© Original