Rich, buttery, tender Pink Lemonade Pound Cake smothered with delectable tangy Lemon Buttercream frosting is wonderfully delicious and perfect for birthday parties, baby showers and Labor Day!  
But while we're talking about baby showers, this Pink Lemonade Pound Cake is in honor of my friend Sally of Sally's Baking Addiction who is expecting her first baby next month! We couldn't be more excited for Sally and her husband, Kevin so some blogger friends and I are throwing her a virtual baby shower!
If you aren't familiar with Sally or her blog, she is the creator of the number one dessert blog that is my go-to for desserts. In fact, I made her famous Salted Caramel Dark Chocolate Cookies last year for neighbor Christmas goodies and they were the hit of the crowded cookie plates! All her desserts are reliable/no fail, and easy-to-follow. And just like her desserts, Sally is as perfect and sweet as they come!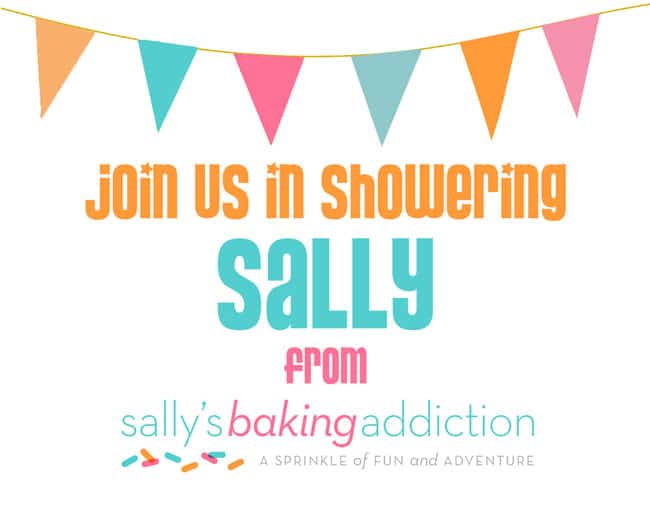 So let's celebrate Sally and her eagerly anticipated new arrival with this exquisitely delicious Pink Lemonade Pound Cake and the rest of these blogger friends fabulous desserts!
Funfetti Cheesecake with Cake Bottom
Chocolate Funfetti Cheesecake Bundt Cake
Gluten Free Confetti Thumbprint Cookies
When I was brainstorming about what to make for Sally, I knew I wanted to make a summery dessert – and what's more summery than lemonade?! So I paired a moist pound cake with a hint of lemon with the best ever lemonade frosting – heaven! So let's start with the pound cake. As you can tell by my dessert index page, pound cakes are my cake of choice because they not only are super easy, taste 1000x better than store bought, and keep beautifully, but they are also decadently rich, velvety soft and boast a smooth crumb that's "dense to the point of creaminess."
Does it get any better?!
With Lemonade frosting, yes, yes it does. The Pink Lemonade Pound Cake's richness demands an equally show stopping frosting. And this Pink Lemonade frosting, my friends, is ridiculous. It is silky sweet and tangy and really tastes like lemonade in frosting form. Now the trick to buttercream frosting with the perfect consistency is to never microwave your butter or cream cheese. I have been guilty of this and wondered why my frosting was runny and hard and hard to spread. If you allow your butter and cream cheese to soften at room temperature, you are guaranteed the perfect frosting every. single. time.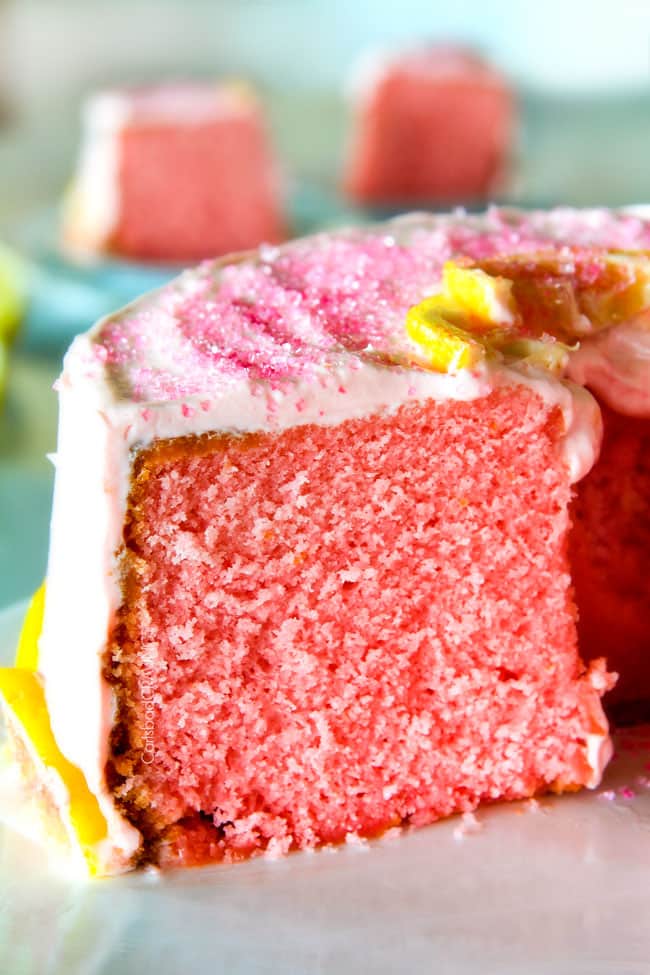 To make this Pink Lemonade Pound Cake extra special, I candied some lemon slices which might sound difficult but is actually wonderfully easy – but again, is purely optional for looks. To candy lemon slices, simply dissolve sugar in water over medium heat, add your lemon slices and remove from heat. You let the lemon slices cool in the syrup then transfer them to a wire rack to drain then sprinkle both sides with sugar and sprinkles – viola! The prettiest lemon slices you have ever seen!
So here's to Sally and her new baby and here's to you and your big slice of tangy, sweet, rich Pink Lemonade Pound Cake. So you can taste a slice of summer all year round!
Looking for more Cake Recipes?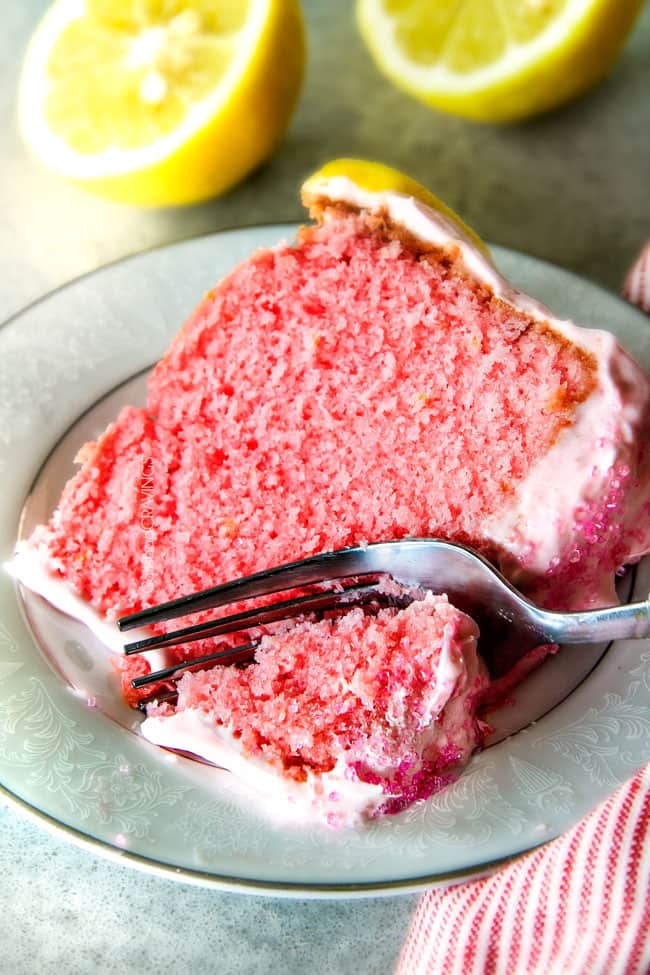 Want to try this Pink Lemonade Pound Cake?
Pin it to your DESSERT, CAKE or SUMMER Board to SAVE for later!
Find me on Pinterest for more great recipes!  I am always pinning :)!
©Carlsbad Cravings by CarlsbadCravings.com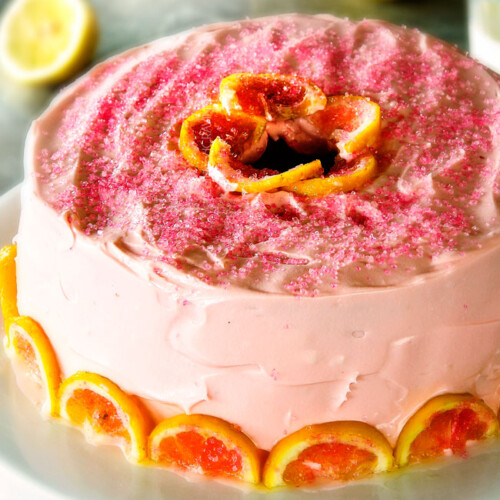 Pink Lemonade Pound Cake
 Rich, buttery, tender Pink Lemonade Pound Cake smothered with delectable tangy Lemon Buttercream frosting is wonderfully delicious and perfect for birthday parties, baby showers and Labor Day!  You can even leave out the red food coloring for simple Lemonade Pound Cake for every occasion! 
Servings:
12
-16 servings
Total Time:
1

hour
55

minutes
Cook Time:
1

hour
25

minutes
Save This Recipe To Your Recipe Box
You can now create an account on our site and save your favorite recipes all in one place!
Ingredients
Pink Lemonade Pound Cake
3

cups

all-purpose flour

1/2

teaspoon

salt

1/4

teaspoon

baking soda

3

cups

granulated sugar

1

cup

butter, softened

15

drops red food coloring

5

large eggs

at room temperature

1/2

cup

full fat sour cream

at room temperature

2

teaspoons

vanilla extract

3/4

cup

milk

at room temperature

1/4

cup

lemon juice
Candied Lemon Slices (optional)
1

cup

sugar, divided

3/4

cup

water

2

large lemons, halved lengthwise,

then sliced into 1/4" thick slices

Pink sprinkles
Lemonade Frosting
8

tablespoons

unsalted butter

softened**

2

cups

Powdered sugar

8

oz.

cream cheese cut into 8 pieces

softened**

3

tablespoons

lemon juice

1 1/2

teaspoons

vanilla extract

4

drops

red food coloring

or more if desired
Instructions
Pink Lemonade Pound Cake
Preheat oven to 325 degrees F and generously spray all surfaces of a 16 cup nonstick angel food cake pan with nonstick cooking spray WITH FLOUR*, OR grease and flour the inside. Set aside.

Sift the 3 cups of flour, baking soda and salt into a medium bowl and set aside.

Using an electric mixer, beat the butter until creamy then add sugar and beat until fluffy, scraping sides down as needed, about 7 minutes (beating the full 7 minutes results in a fluffier cake). Add food coloring and mix until combined. Add eggs, one at a time, beating until just the yellow disappears after each egg. Stir in sour cream and vanilla extract just until combined.

Mix milk and lemon juice together.

With mixer running on low, gradually add flour mixture to butter mixture in thirds, alternately with milk/lemon juice mixture in between each third. Beat on low until just combined.

Spoon batter into prepared pan, smooth top and tap pan on counter a few times to release air bubbles.

Bake until a wood pick inserted near the center of cake comes out clean, 80 – 90 minutes, taking care not to overbake (overbaked cakes are not as moist).

Let cake cool in pan for 20 minutes then remove from pan, and let cool completely on a wire rack.
Candied Lemon Slices
Combine ¾ cup sugar and water in small saucepan over medium heat. Whisk constantly until sugar dissolves. Add lemon slices and bring to a simmer for 15 seconds. Remove from heat and let sugar and lemon slices cool completely, about 45 minutes.

Transfer lemon slices to wire rack to drain, about 5 minutes. Sprinkle both sides with remaining sugar. Generously sprinkle top sides with pink sprinkles.
Lemonade Frosting
Beat butter and sugar with handled mixer at medium-high speed until light and fluffy, about 2 minutes. Add cream cheese, 1 piece at a time, beating thoroughly after each addition.

Add lemon juice, vanilla and red food coloring and beat to combine.

Evenly spread frosting over top and sides of cake. Sprinkle with pink sprinkles and place lemon slices along bottom edge of cake (optional).
Notes
*You need to use a 16 cup tube pan for this recipe.  A bundt cake pan will NOT work in this recipe because it does not have enough volume.
**Let cream cheese and butter soften at room temperature. Do NOT soften in microwave or frosting will be runny.
Did You Make This Recipe?
Tag @CarlsbadCravings and Use #CarlsbadCravngs
Leave a Review, I Always Love Hearing From You!
Carlsbad Cravings© Original