I have a  "Summer in September Series"  bonus for you.  And its a good one.
The quintessential no bake, light, refreshing summer cake.   It all started with the discovery of my new  favorite cookie which became the center (literally) of my new favorite summer cake…
Coconut Delight Oreo Fudge Cremes! And NO this is not a sponsored post, I just have to share my new addiction.  You might thank me for it, you might hate for it me when you can't stop eating…and eating…and eating…
I first spotted these cookies when looking for an alternative to gingersnaps (too hard in my opinion for this cake) and thought they would be perfect layered with airy coconut cream and then smothered in coconut cream, toasted coconut and fresh mangos to create the perfect light, refreshing summer cake…and then I tried them…OMY (oh my yummy!!!!!!!!!!!!!!!!!!!!)
I put the package of Coconut Delight Oreo Fudge Cremes in the guest room closet so my husband wouldn't eat all of them (he has a thing for oreos, used to eat them as cereal), but when it came time to make my cake, I busted out my box of coconut oreos and I didn't have enough!  I asked Patrick if he had been sneaking them and he said he hadn't…I guess I had been nibbling, er, inhaling them more than I thought!
Patrick was kind enough to pick me up more oreos when he was out, picking up an extra package for himself.  When he got back, he said he knew exactly why I had eaten almost the entire package without realizing it because on his 5 minute drive home, he had consumed almost his entire extra package. Yes, they are that good.
So is it possible to make the most addicting cookie ever even more delicious – in  less than 10 minutes?!!!
Yes!  Simply whip heavy cream and coconut cream together, spoon the cream onto each cookie, then stack them together on a platter and cover with remaining cream, toasted coconut and mangos bathed in lime juice and a touch of sugar.  And if you are intimidated by cutting mangos – do't be, just check out my How to Cut A Mango Post that teaches everything you could ever want to know about mangos!
Ridiculously easy, ridiculously delicious.
The easiest and most impressive light, summer cake that requires hardly any effort or even baking!
Just don't buy the oreos ahead of time or you will definitely run out, no matter how many you start with unless you have willpower of steel,  STEEL I tell you!
1 1/2

cups

cold heavy cream

1/2

cup

cream of coconut

1/2

cup

sweetened coconut flakes

2

large mangos

1

tablespoon

lime juice

kosher salt
1 1/2

cups

cold heavy cream

1/2

cup

cream of coconut

1/2

cup

sweetened coconut flakes

2

large mangos

1

tablespoon

lime juice

kosher salt
Beat heavy cream on medium-high speed until stiff peaks form, about 3-5 minutes. Fold in the cream of coconut until just incorporated.

Drop 1 heaping teaspoon of the coconut whipped cream onto each Coconut Delight Oreo Fudge Creme cookie. On a long serving platter, press the cookies together on their sides to form a long log. Cover the log with the remaining coconut whipped cream. Cover with plastic wrap and refrigerate at least 6 hours up to overnight.

To toast coconut, spread coconut flakes in a single layer on a a baking sheet and bake at 350 degrees until just golden, about 5 minutes. Let cool completely.

When ready to serve, toss mangos with lime juice, sugar and a pinch of salt in a small bowl. Sprinkle the toasted coconut all over the cake, gently pressing to adhere. Top with the mangos.
Cream of coconut can usually be found at health stores such as Sprouts, Whole Foods, Trader Joes, etc. next to the coconut milk.
Recipe inspired by Food Network Magazine July/August 2014  Gingersnap Mango Icebox Cake, pg.74
Never miss a Carlsbad Craving Creation:
You might also like:
Chocolate Drizzled Frozen Fruit Kabobs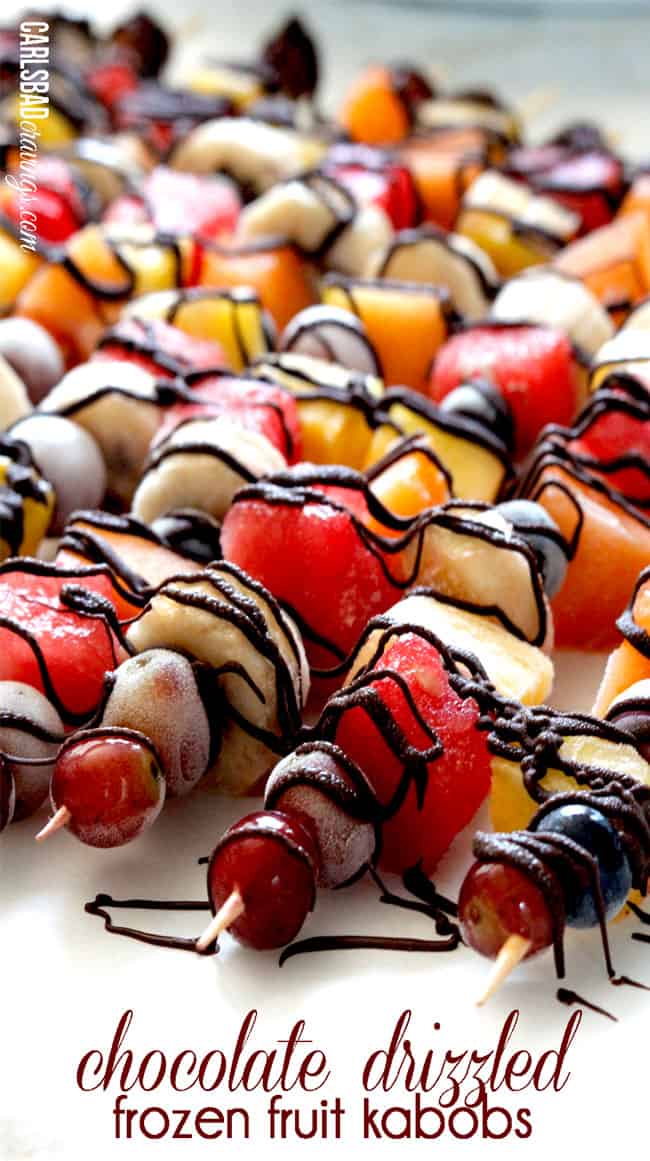 Cashew Coconut Crusted Chicken with Mango Honey Dip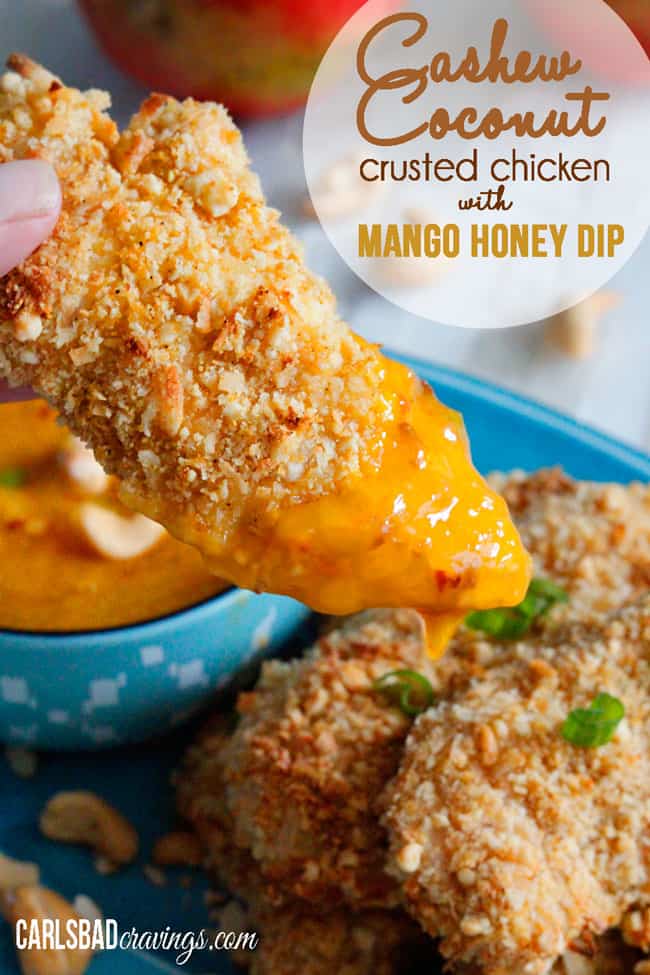 Layered Caramel Pecan Toffee Ice Cream Cookie Crumble Cake
White Chocolate Chip Berrylicious Cheesecake Dip
Chipotle chicken, Mango Black Bean Enchiladas
 Never miss a Carlsbad Craving Creation: