If you want to catch up on January 2013 first, click here.
February was full of more bike fun…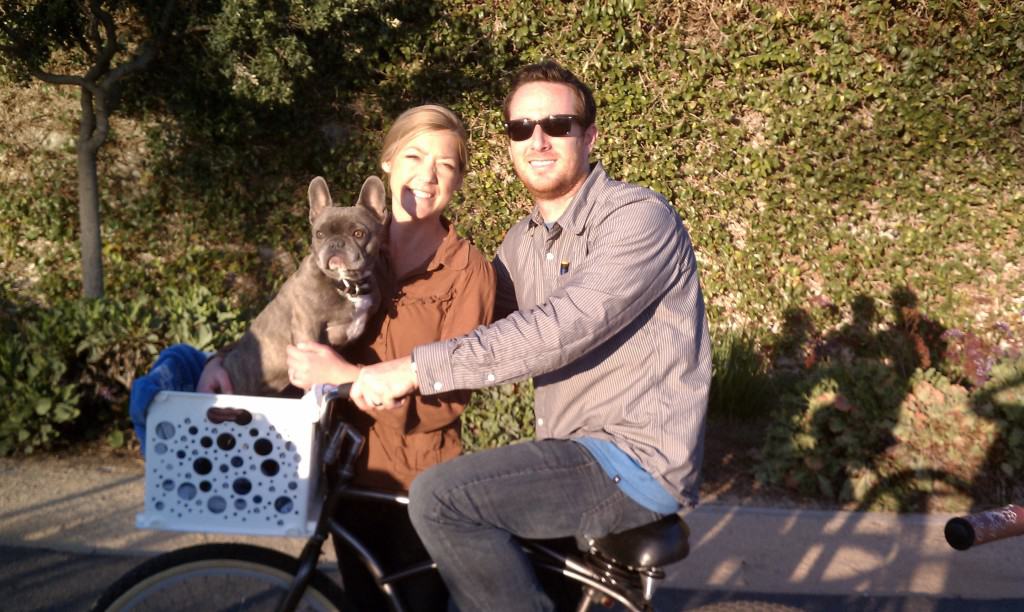 A "behind the scenes" story about these pictures:  After we had been riding for a while, I could feel myself become very weak and knew my blood sugar was getting too low to ride back to the car.  Patrick had to ride two miles to get the car for me, leaving me in a "sketchy" neighborhood as it was getting dark.  So naturally, Patrick gave me his pocket knife  "just in case" …because I would actually use a pocket knife, let alone know how!
February was full of creativity:
I started making floral arrangements about 5 years ago and discovered a passion I never knew I had! These are three arrangements I made for a client.
Patrick displayed some of his artwork at the Carlsbad Dove library.  These are terrible pictures, so you will just have to go to his sight to see the real thing!  Patrick is so unbelievably talented and so unbelievably humble that he only posts his work on facebook once every 3-4 months.  I think I am going to have to do some bragging for him!
February was full of love:
I came downstairs to these chocolates on Valentine's Day.  Isn't he the cutest?  And even better…he's always this sweet.
February was my first time fainting: 
I was so busy enjoying life in February that I was extremely tempted to cancel my next few kidney clinic appointments.   At almost Stage 5 Chronic Kidney Failure (CKD), some of my symptoms were noticeable but manageable and didn't seem to interfere with my normal routine…with the exception of one minor incident.
I was leaning against the wall at church chatting with a friend when out of nowhere, I was enveloped in weakness.  I abruptly excused myself from the conversation and explained I needed sugar from my car (thinking it was low blood sugar).  As I began walking towards the door, shapes began to blur together and then slowly began to spin, and spin and spin.  Energy drained from my muscles and I didn't know how much longer I could stand.  The voices started to meld together, almost as if they were spoken underwater; and then they were drowned out by ringing in my ears.  My steps slowed but I continued walking.   As I approached the exit door, a friend stepped through the doorway, I grabbed his arm and said, "I think I'm going to faint," and then it was black.
I awoke to a small crowd surrounding me – some kneeling next to me, some hovering over me, some gazing as they walked by.  After I came to, I was helped to my feet and into a private office  where a doctor (who had been right there) and I concluded my fainting was probably due to low blood pressure.  The kidneys are responsible for regulating blood pressure and with my failing kidneys and increasing blood pressure, my doctor had increased my blood pressure medication, apparently a little too much!  I had never fainted and after describing it, it sounds so melodramatic!  but that's what happened.
As my body continued to change with my CKD, there was one thing that stayed constant – my love for cooking.  It may sound silly, but I truly consider my cooking passion a tender mercy.
David A. Bednar describes tender mercies as "the very personal and individualized blessings, strength, protection, assurances, guidance, loving-kindnesses, consolation, support, and spiritual gifts which we receive from and because of and through the Lord Jesus Christ."  Tender mercies give us "the persistence and the fortitude that enable us to press forward with cheerfulness through physical limitations…The Lord's tender mercies do not occur randomly or merely by coincidence."
When I would walk through our door after work with little energy left (especially as my condition worsened), instead of sinking into the couch, the thought of creating in the kitchen would always energize my body and soul.   It gave me something to look forward to every single day!
I believe the Lord's tender mercies are all around us.  To me, they are like big bear hugs, filling me with warmth and peace as they remind me that an omnipotent God is in charge, and he knows me personally and is aware of my individual circumstances and needs.  They remind me that although we abandon him at times, he will never abandon us.  I am grateful he is always looking for opportunities to bless our lives through his abundant tender mercies.