In January 2013, I turned the big 3-0!  My, how time flies (especially now I am 31)!  I have lived almost as long with my donor lungs as I had with my diseased ones – incredible!  So much to be thankful for!  As part of the birthday festivities, my sister, Kimberly, gifted me a huge basket bursting with 30 of her favorite things – favorite books, favorite spices, favorite water bottle, favorite chocolate, etc. – which have now become my favorite things!  Little did we suspect that in less than a year she would be blessing my life with an even greater gift – and definitely one of my new favorite things – her/my kidney!!!!  Isn't my sister the coolest?!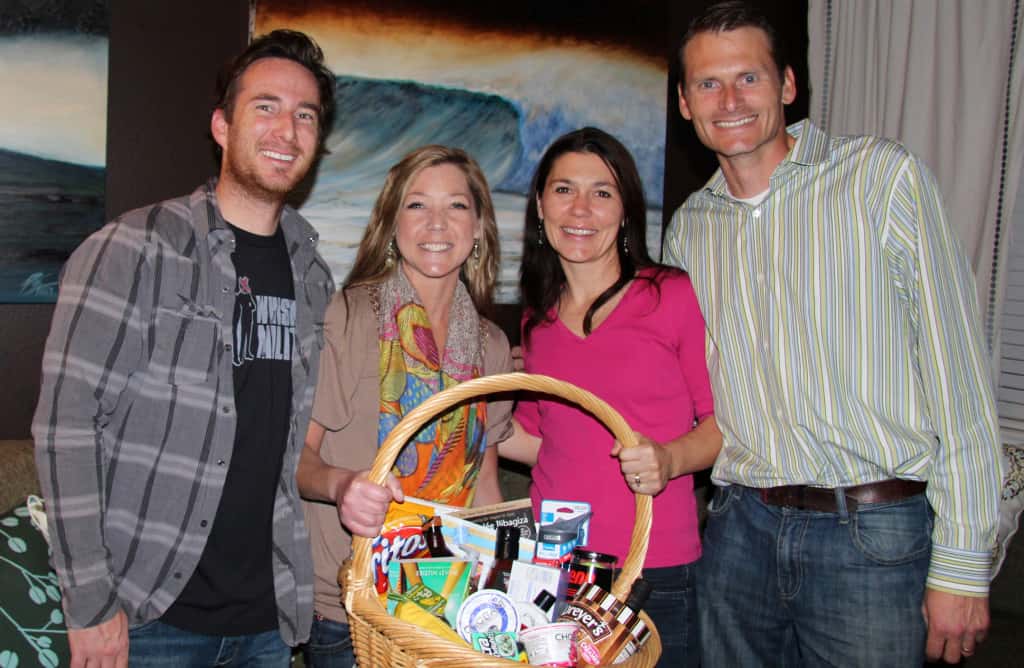 Patrick and I also had lots of fun riding our bikes…and so did Kiwi.  She is responsible for distracting many walkers, joggers and drivers alike with either her cuteness or her ugliness…really can't be sure.  As my dad says, "She's so ugly, she's cute."
We also bought a new couch which Kiwi loved…
…and we loved it because Kiwi could fit under the couch – no more lost toys!
Video: Kiwi plays fetch under the couch
In January, I also learned I was in the final stages of renal failure.  After I received my lung transplant, I always knew I would eventually need a kidney transplant.  The life-saving immune-suppressants I take twice a day to prevent my body from rejecting my lungs unfortunately cause damage to the kidneys over time.  I have tried to prolong the life of my kidneys by drinking over 3 liters of water a day and staying clear of colds/germs (also to prevent lung rejection and pneumonia) because a normal cold inevitably turns into a bacterial infection (because I am immune-suppressed and can't fight it) which I have to treat with antibiotics which further damage my kidneys.
When my lung transplant doctor referred me to a nephrologist (kidney doctor) for the first time  in January 2013, I didn't think my chronic kidney disease (CKD) was very severe because my blood creatinine levels (measures kidney function) had only risen slightly and I felt pretty much the same.   In fact, kidney damage usually doesn't cause any noticeable symptoms until about 75% or more of kidney function is lost.
As I was discussing my forthcoming nephrology appointment over the phone with my brother, (a 3rd year medical student at Dartmouth at the time), he asked what my creatinine level was so he could determine my Glomerular Filtration Rate (GFR).  GFR is based on a scale of 1-100 and is the best measure of kidney function.  A person with a GFR greater than 90 has normal kidney function and a person with a GFR of less than 15 is in Stage 5 of CKD or End Stage CKD/renal failure. He calculated my GFR at 17.
As He told me I was close to end stage CKD and would need a kidney transplant soon, I was surprised, but calmly accepting.  My kidneys had been the focus of my doctor's appointments year after year, and they were tired; and I was tired of always trying to prevent the inevitable.  To be completely honest, I was somewhat relieved it was time to surrender and invest in a different action plan that hopefully would yield much more rewarding results.  He continued to question me regarding my various symptoms of end stage CKD, and with each answer I could hear the concern in his voice intensify.  He was sweetly more worried than I was!
I was so grateful I was able to learn and accept the severity of my CKD by my own brother, in the comfort of my own home; otherwise, I would have had to weather the unexpected bombshell that I would need a transplant in less than a year and dialysis in the near future at my very first nephrology appointment (by myself).  The tender mercy of finding out from my brother was a sweet reminder of how much my Father in Heaven is mindful of me.  It was now time to trust him and press forward with faith.
There have and always will be things to worry about in my life – even as weighty as life or death—but I have learned not to let my concerns paralyze me or rob me of my joy; what a waste of precious time and happiness that would be!  As someone once said, "You can't tell me worrying doesn't help because most of the things I worry about never happen."
Instead, I try live by D&C 123: 17: "Let us cheerfully do all things that lie in our power; and then may we stand still, with the utmost assurance, to see the salvation of God, and for his arm to be revealed."
I know there will still be difficult times and times of gut wrenching sorrow, but with the promises of the Savior, we can live in hope instead of fear as we trust him and fill our lives with people and things we love – like cooking!