---
Easy Baked Cinnamon Crisps (AKA Churro Chips) magically transformed from flour tortillas dusted with cinnamon and sugar to MEGA YUM that you won't be able to stop munching!  
---
This Cinnamon Crisps recipe is one of the easiest AND most delicious snacks you will ever make.   They are addicting all on their own as a snack or are fabulous with ice cream, dipped in chocolate or fruit salsa dip.   No matter how you sere them, these Cinnamon Crisps will disappear in a flash!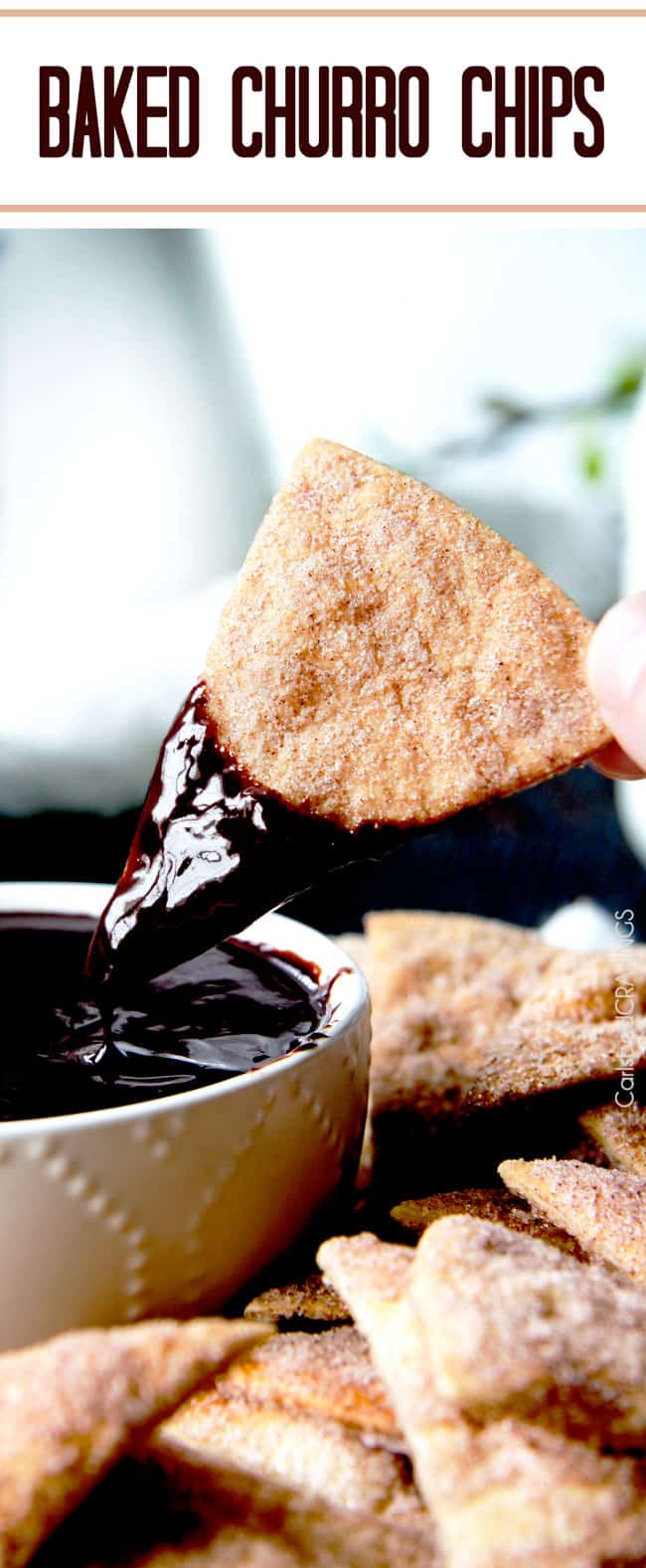 The first time I made these Cinnamon Crisps as a kid, I was in awe of their ugly duckling transformation – from plain, bland, flat, white flour tortillas…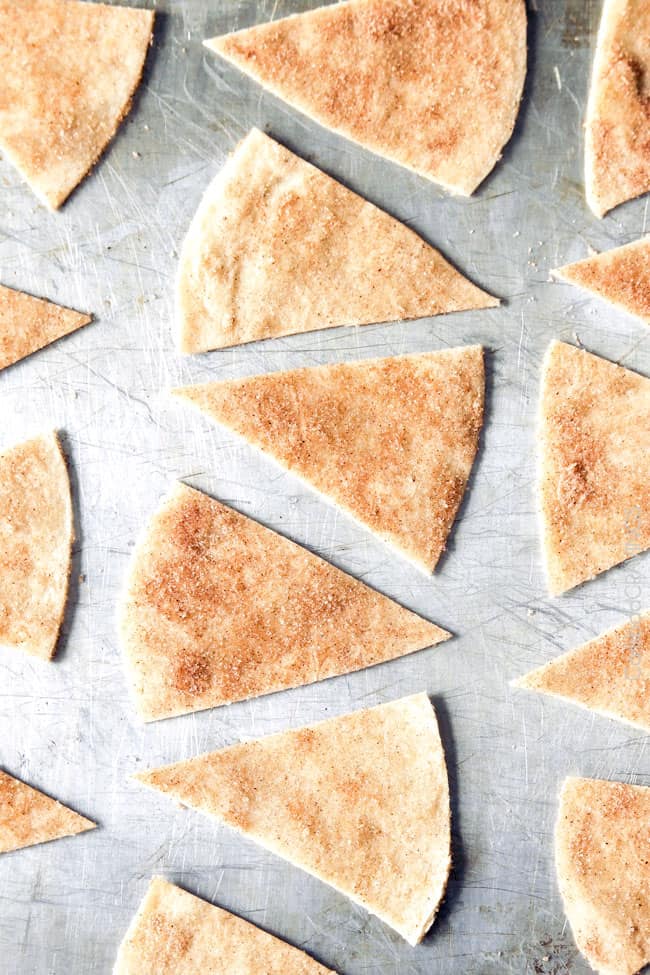 To bubbled, crispy, Cinnamon Crisps bursting with cinnamon and sugar in every can't-stop-eating-bite.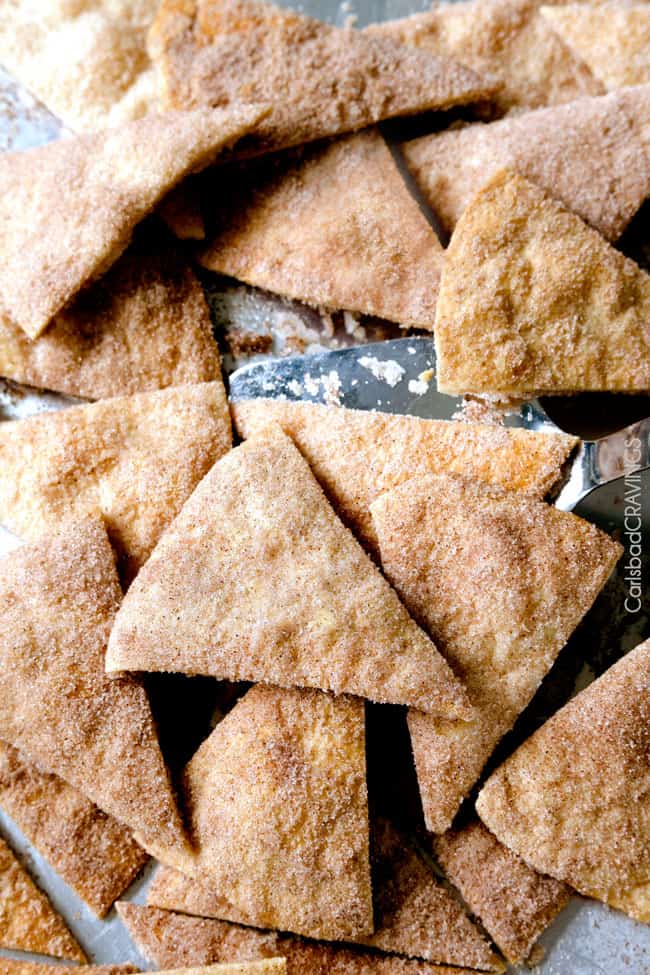 I'm still in awe.  And want to eat them all.

Magic alone as a snack/healthier dessert.   Magic with fruit salsa.  Magic with White Chocolate Chip Berrylicious Cheesecake Dip.  Magic with 5 Minute Silky Chocolate Sauce.   But in my opinion, the most magic as an appetizer with  Easy, Creamy Caramel Sauce.  Bring those chips and dip to the 4th of July or any party, get together and you will always be the first on the invite list – in all all caps, bold letters.  And did I mention how easy they area?  1000000x easier than homemade churros and and addictinly delicious.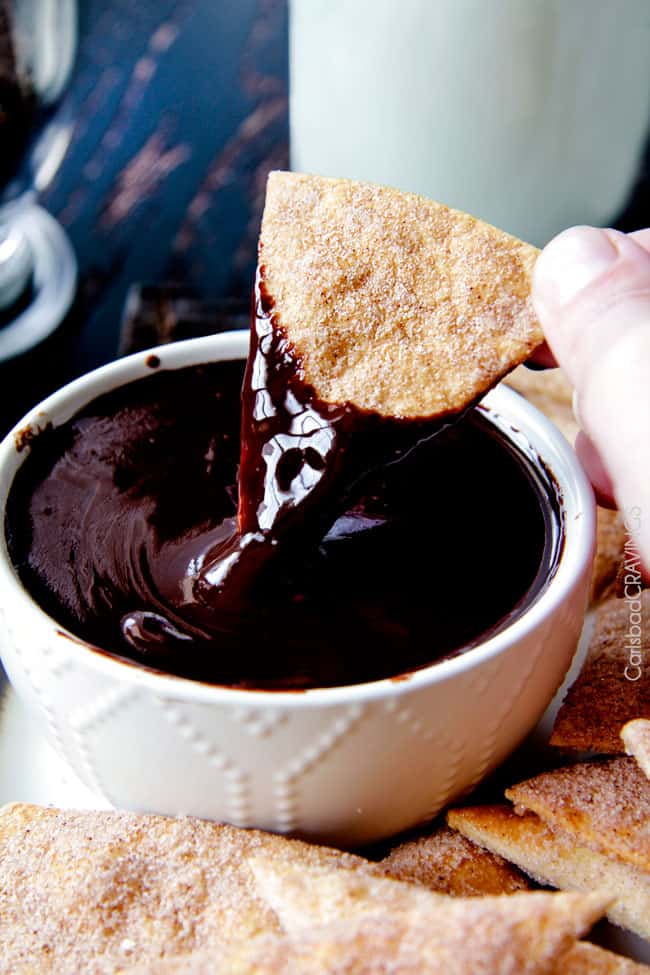 This Cinnamon Crisps recipe is magically delicious any way you bite it.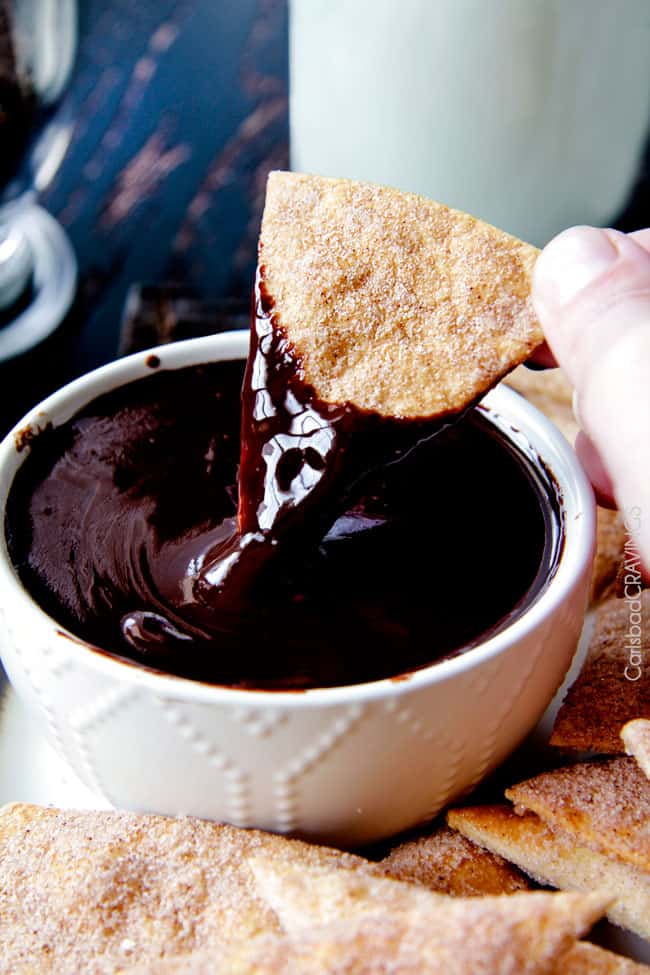 7-8

10"

flour tortillas

1/2

cup

sugar

1/2

tablespoon

cinnamon

Cooking spray

Serve with:
7-8

10"

flour tortillas

1/2

cup

sugar

1/2

tablespoon

cinnamon

Cooking spray

Serve with:
Preheat oven to 350F degrees.

Mix sugar and cinnamon together in a pie tin (or similar dish) until well combined.

Working one at a time, spray both sides of tortilla with cooking spray. Press tortilla in pie tin to cover with cinnamon/sugar then flip and press the other side. (I like to use my hands afterwards and massage extra cinnamon/sugar into tortillas).

Stack 2-3 "sugared tortillas" together at time and cut with pizza cutter or sharp knife into 12 wedges (each). Repeat with remaining tortillas.

Arrange wedges in a single layer on multiple baking sheets and bake at 350 for 10-14 minutes or until golden. Broil if desired for extra crispiness. Remove from oven and let rest 15 minutes to set before removing.
Want to try this Cinnamon Crips Recipe?
Pin it to your CINNAMON, MEXICAN or DESSERT BOARD to SAVE for later!
Find me on Pinterest for more great recipes!  I am always pinning :)!
Carlsbad Cravings© Original
NEVER MISS A CARLSBAD CRAVINGS CREATION: