This is Apple Juice & Dijon Cheesy Chicken, Broccoli, Rice Skillet is crazy craving good!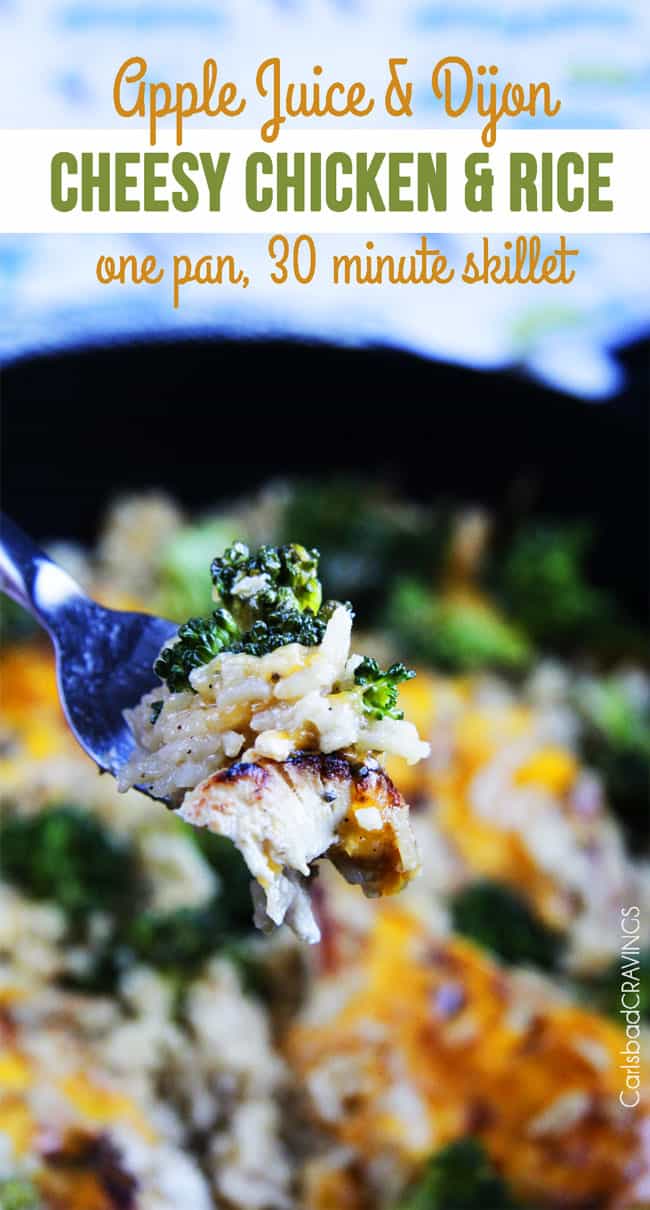 In the past I have usually been pretty good at keeping quick releasing sugar tabs on me at all times in case I get low blood sugar (due to diabetes), but after the "Pass Out Park"scare, I stocked up on more sugar tabs, squeezable sugar pops (Patrick was so sweet, he ordered a bizzillion of these online without me knowing it), and apple juice, lots and lots of Costco size apple juice.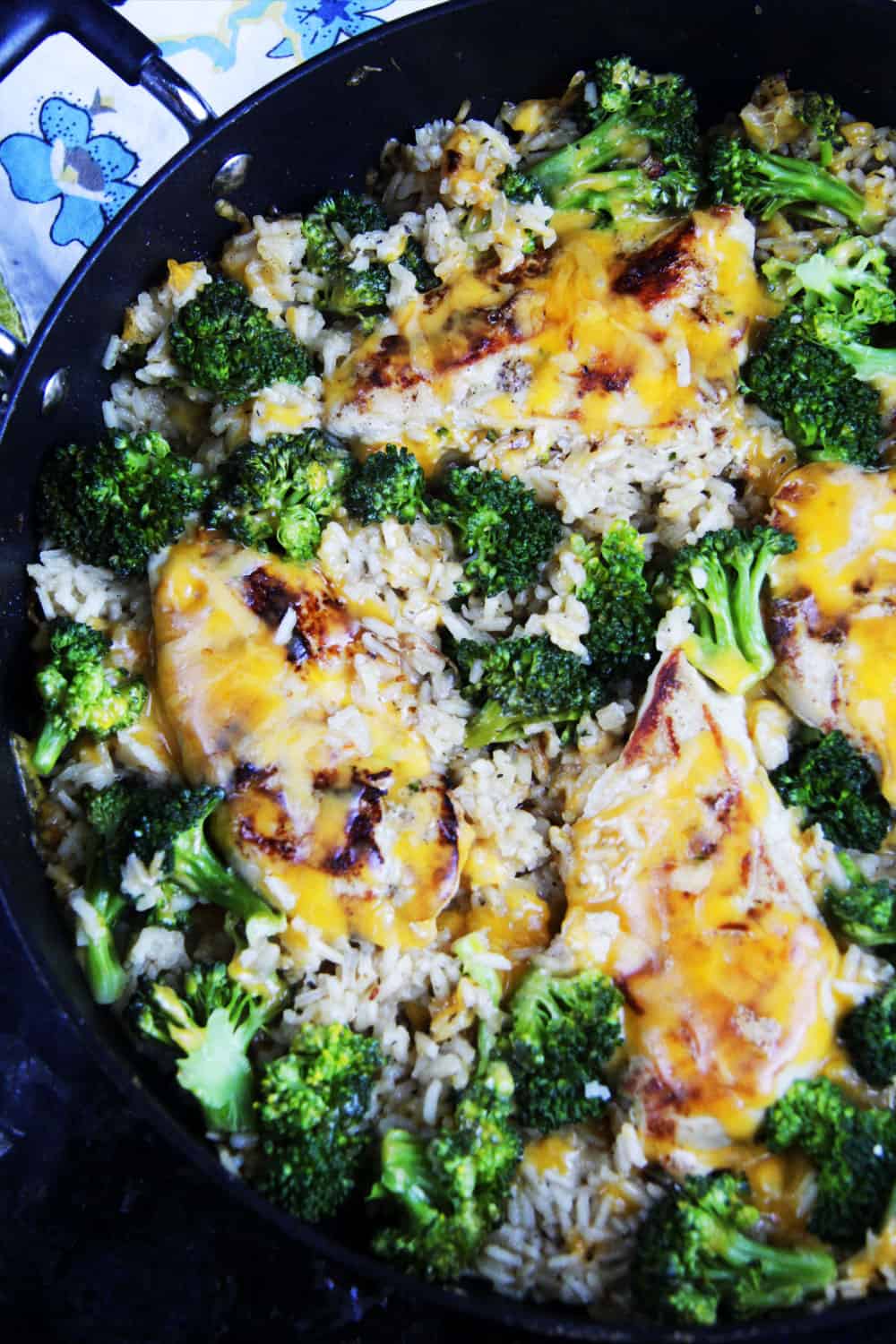 I've simmered rice and chicken in salsa, enchilada sauce, lemon juice, etc., and I've seen chicken (never rice) braised in apple cider – so as I was looking at my all my apple juice, I thought, why not chicken and rice in apple juice?
I am so excited to share that braising chicken and then simmering with rice in apple juice, chicken broth, Dijon, garlic, oregano, and thyme is SO RIGHT! It turned out to be one of my favorite flavor combinations ever!
It is simply delicious! And what's even better its both simple and delicious!
The chicken is rubbed with Dijon, salt and pepper and then seared until golden. The rice simmers with onions and garlic in apple juice, chicken broth and Dijon mustard, so it soaks up every last sweet and tangy tantalizing taste. The rice simmers in a little more liquid than usual, so it becomes a little creamy, almost risotto style (my fav!). The chicken and broccoli are added to the simmering rice half way through, so they also soak up the Dijon, apple flavors and you don't need to dirty an other pan!
Finally, cheddar cheese is melted atop the skillet so each and every bite is tangy, slightly sweet, creamy, and cheesy.
If you want to make this an oober healthy meal, you can even leave off the cheese – it is that good. But let's be honest, cheese makes everything better!
Oh yes, that bite is for you because chances are you might have everything to make this in you house right now! – or at worst, need to buy 1 or two ingredients for this simply delicious, 30 minute, 1 pot skillet meal.
I can pretty much guarantee this is going to be a family favorite and one of your favorites meals to make, and that you are going to be stocking up on Costco size apple juice so you can make this at any time because this simply delicious Apple Juice and Dijon Braised Cheddar Chicken Broccoli and Rice Skillet is crazy craving good!
Apple Juice & Dijon Braised Cheddar Chicken, Broccoli, Rice Skillet
Save This Recipe To Your Recipe Box
You can now create an account on our site and save your favorite recipes all in one place!
Ingredients
Chicken
4

boneless

skinless chicken breasts (1 ½ lbs.)

1 1/2

tablespoons

Dijon mustard

1/2

teaspoon

salt

1/4

teaspoon

pepper pepper
Skillet
1/2

yellow onion, chopped

1 1/2

cups

long-grain white rice

2

cups

low sodium chicken broth

1 1/2

cups

apple juice

2

tablespoons

Dijon mustard

1

tablespoon

apple cider vinegar

1/2

teaspoon

oregano

1/2

teaspoon

salt

1/4

teaspoon

pepper

1/4

teaspoon

dry thyme

3

cups

broccoli florets

1

cup

cheddar cheese
Instructions
In a small bowl, mix 1 ½ tablespoons

Dijon mustard

, ½ teaspoon salt and ¼ teaspoon pepper. Heat 2 tablespoons olive oil over medium high heat in a large skillet. Coat chicken with Dijon/salt/pepper mixture and add to sizzling skillet. Sear chicken until golden, approximately 3-5 minutes per side (its okay if some of the Dijon comes off), remove to a plate. (Chicken will finish cooking with rice)

Heat an additional 1 tablespoon olive oil in the skillet. Add onion and saute for 3 minutes, scraping up any seasonings that may have come off the chicken. Add garlic and rice and saute for an additional 2 minutes.

Stir in chicken both, apple juice, 2 tablespoon Dijon, apple cider vinegar, oregano, salt, pepper and thyme. Bring to a boil, then cover and reduce heat to low. Simmer for 12 minutes.

After 12 minutes, stir the rice then add the chicken, nestling it into the rice. Add the broccoli on top. Recover the pot and cook on low for 10-15 minutes longer, or until rice and chicken are done and broccoli is crisp-tender, taking care skillet isn't cooking too hot or else it will burn on the bottom. Once rice and chicken are done, sprinkle with cheese. Recover until cheese melts. Serve!
Did You Make This Recipe?
Tag @CarlsbadCravings and Use #CarlsbadCravngs
Leave a Review, I Always Love Hearing From You!