Hawaiian Waffles bursting with fresh pineapple, roasted macadamia nuts and sweet coconut flakes smothered in Pineapple Coconut Syrup!
Cold weather leaving you dreaming of Hawaii lately?
I had been dreaming of Hawaii – in food form – for some time and finally couldn't wait. It was 8:30 at night and I had to make our second dinner.
Reality exceeded my dreams.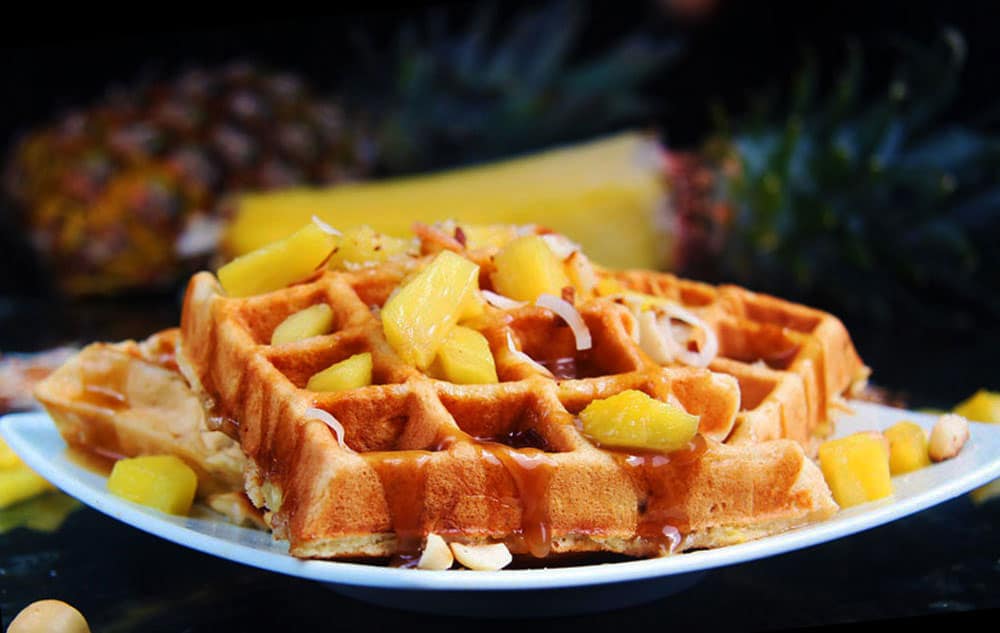 Coconut Waffles
These Hawaiian Coconut Waffles are bursting with fresh pineapple, roasted macadamia nuts and sweet coconut flakes all throughout the coconut milk waffle batter – every single bite will make you want to do the hula. And if you have never roasted macadamia nuts before, they are insanely good! I seriously could eat them by the handfuls. The batter is also mixed with Greek yogurt which adds the perfect contrast to the sweet pineapple and makes the waffles super moist!
After devouring most of the waffles, I saved a few so I could take pictures of them the next morning…it was pure torture! (these aren't those pictures – I'll explain below – wish I would have eaten them all that night!)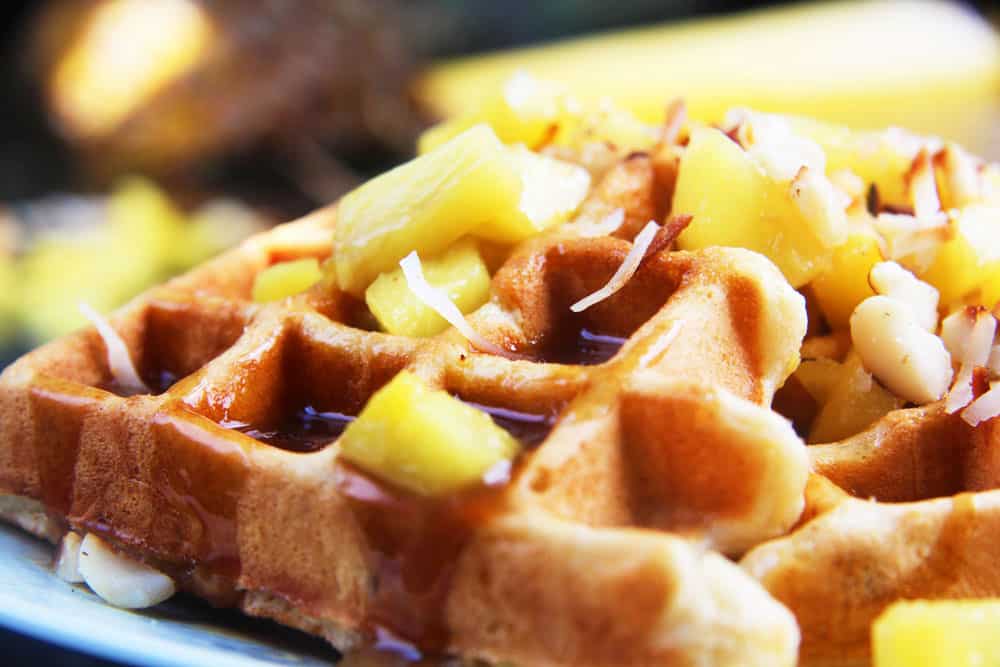 Coconut syrup Recipe
And the syrup. Pineapple Coconut Syrup – every bit as delicious as it sounds – rich, creamy and sweet; made with coconut milk, brown sugar, granulated sugar and pineapple – pure ingredients, purely delicious taste. You are going to want to put this on everything!!! (including these crepes – crazy good!)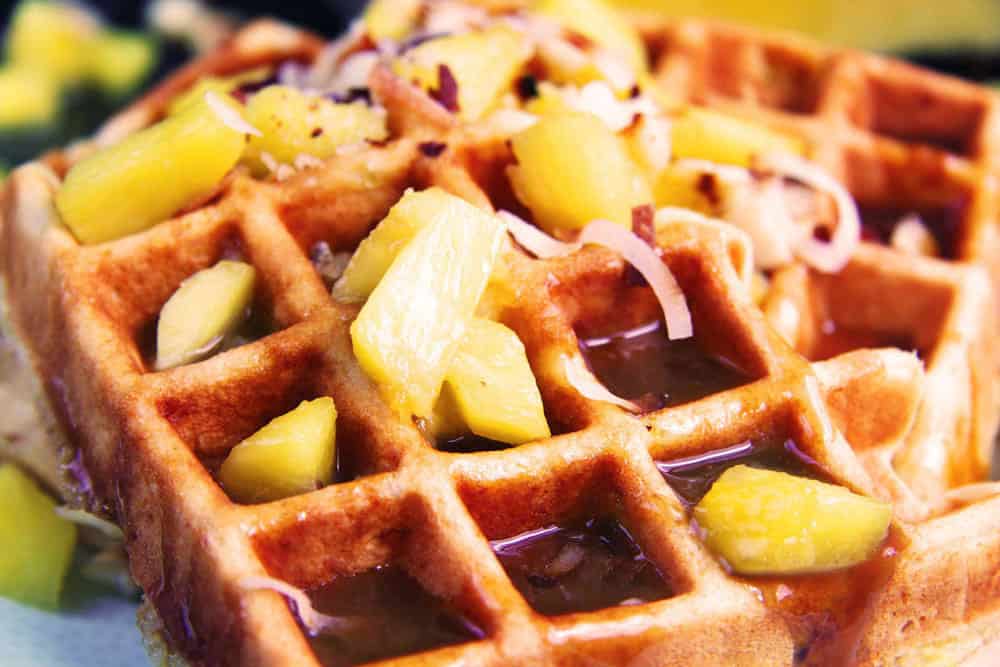 If you like coconut, pineapple and macadamia nuts, then sit back, relax and let every bite of these Hawaiian waffles transport you to paradise. Aloha!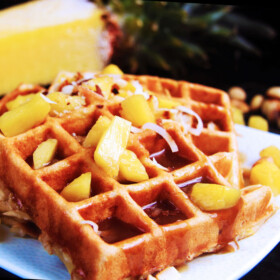 Hawaiian Waffles
Save This Recipe To Your Recipe Box
You can now create an account on our site and save your favorite recipes all in one place!
Ingredients
Dry Ingredients
2

cups

AP flour

1

tablespoon

baking powder

1

tablespoon

brown sugar

1/2

teaspoon

salt

1/4

teaspoon

ground ginger

1/3

cup

sweetened shredded coconut

1/3

cup

macadamia nuts
Wet Ingredients
3

eggs, beaten

1

cup + 2 tablespoons

quality coconut milk

(I like Chakoah)

1/3

cup

Greek yogurt

or sour cream

4

tablespoons

butter

melted and cooled (or coconut oil)

1

teaspoon

vanilla extract

1

cup

finely chopped fresh pineapple
Pineapple Coconut Syrup
1

15 oz. can

quality coconut milk including cream

(not lite)

1

teaspoon

vanilla extract

1/2

cup

brown sugar, packed

1/2

cup

granulated sugar

1 ½ – 2

cups

chopped fresh pineapple

1/3

cup

sweetened shredded coconut
Additional Topping (optional)
Alternative Toppings to Pineapple Coconut Syrup
maple syrup

fresh pineapple

optional: caramelize with brown sugar and butter

whipped cream

toasted coconut

roasted macadamia nuts
Instructions
Add Pineapple Coconut Syrup ingredients to a medium saucepan. Cook over medium high heat, stirring occasionally, until the sugar dissolves and the mixture comes to a boil. As soon as mixture boils, reduce heat to medium low and simmer for 10-15 minutes, uncovered, or until it thickens into syrup consistency, stirring occasionally. Syrup will continue to thicken as it cools. Set aside. (Note: Syrup bubbles up quite high while cooking)

Meanwhile, dry roast macadamia nuts (for waffles and topping) in a skillet over medium heat, stirring occasionally until toasted. Remove to a cutting board (or food processor) and chop when cool enough to handle. Don't skip this step – this MAKES the macadamia nuts!

Mix the dry ingredients in a medium bowl. Mix the wet ingredients in another medium bowl, stirring in the pineapple last. Gently whisk wet and dry ingredients together until barely combined. It will have a "pebbled" look. Add additional coconut milk if consistency is too thick (will depend on coconut milk you use).

Proceed to cook waffles in waffle iron (sprayed with non-stick cooking spray) per manufacturer's directions.

Top waffles with Pineapple Coconut Syrup and toasted macadamia nuts.

Alternatively, you can top with whipped cream, maple syrup, toasted coconut, fresh pineapple and macadamia nuts.
Did You Make This Recipe?
Tag @CarlsbadCravings and Use #CarlsbadCravngs
Leave a Review, I Always Love Hearing From You!