Your favorite jalapeno popper dip but in cheese muffin form- Jalapeno Popper Cheese Muffins!  
These cheese muffins are super moist with an intense cheesy flavor and a cream cheese jalapeno center with the perfect hint of spice. Your potluck/BBQ friends will thank you! if you decide to share…
I love jalapeno poppers so much so that I've made Jalapeno Popper Dip (a MUST), Jalapeno Popper Beef Taquitos an now these Jalepono Popper Muffins! There is just something about the ooey, gooey, cheesy spiciness that can't be beat.
Sometimes I have grandiose visions for recipes but the reality doesn't live up to my expectations. Those recipes don't make it onto my blog because YOU deserve the very best. And sometimes I have a vision for a recipe and it far exceeds my expectations. I call that vision Jalapeno Popper Cheese Muffins.
More often than not cheese breads and muffins can be both dry and greasy at the same time (not sure how they manage that) while also lacking in cheese flavor so when I set out to create these Jalapeno Popper Cheese Muffins, I turned to the master – Cooks Illustrated Cookbook. I adapted their quick cheese bread method of using milk and sour cream to create a creamy flavor and rich, moist texture with just enough butter to add richness without greasiness.
I then added small chunks of sharp cheddar cheese rather than shreds to create muffins speckled with rich, cheesy pockets throughout – because cheese muffins needs bursts of cheese in every bite. For an additional depth of cheesiness, I stirred in shredded Parmesan cheese and topped the muffins with Parmesan to create a bold cheesy crust.
And that's not even the best part. After you've made your easy cheese muffin batter, you reserve ¼ cup and mix it with cream cheese and additional jalapenos then layer 1 heaping tablespoon cream cheese between your batter. The cream cheese sets slightly due to being combined with the reserved batter while still remaining soft and melty so you can enjoy its jalapeno popper creaminess cocooned in every cheesy Parmesan crusted muffin bite.
Easy moist, rich, bold Jalapeno Popper Cheese Muffins. Arguably some of the most addictively delicious savory muffins you will ever devour.
Want to try these Jalapeno Popper Cheese Muffins?
PIN THEM TO YOUR SIDE OR BREAD/MUFFINS BOARD TO SAVE FOR LATER!
FIND ME ON PINTEREST FOR MORE GREAT RECIPES!  I AM ALWAYS PINNING :)!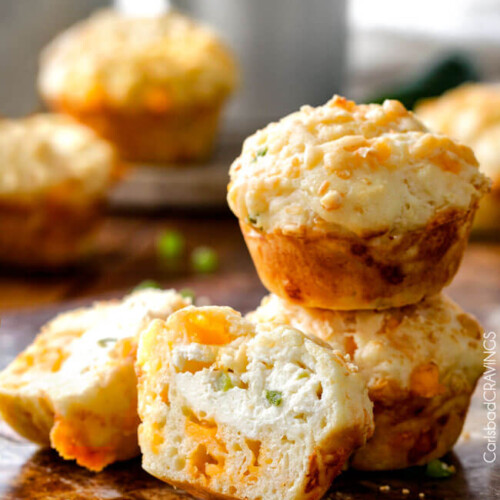 Jalapeno Popper Cheese Muffins
Save This Recipe To Your Recipe Box
You can now create an account on our site and save your favorite recipes all in one place!
Ingredients
Muffins
Nonstick cooking spray with flour

2 1/2

cups

all-purpose flour

1

tablespoon

baking powder

1

teaspoon

salt

1/4

teaspoon

garlic powder

1/4

teaspoon

onion powder

1

jalapeno, seeded, deveined, diced

4

oz.

sharp cheddar cheese

chopped into 1/4" cubes (approx. 1 cup)

2

oz.

Parmesan cheese

grated on the large holes of grater (approx. 2/3 cup), divided

1

large egg

1

cup

milk

1/2

cup

sour cream

4

tablespoons

butter, melted and cooled*
Cream Cheese Filling
8

oz.

cream cheese, room temperature

1/4

cup

Reserved Batter

(in directions)

1

jalapeno, seeded, deveined, diced
Instructions
Spray 12 cup muffin tin with nonstick cooking spray with flour (or grease and flour tin). Set aside.

In a large bowl, whisk together flour, baking powder, salt, garlic powder and onion powder. Add 1 diced jalapeno, cheddar cheese and ⅓ cup parmesan cheese and toss until evenly combined.

In a separate medium bowl, whisk egg then add milk, sour cream and butter; whisk just until combined. Gently fold wet ingredients into dry ingredients – don't overmix (it will be very thick). Remove ¼ cup batter to be used in cream cheese filling.

In a separate bowl using a handheld mixer, beat cream cheese until very creamy. Add ¼ cup reserved batter and continue to beat on medium high speed until smooth (don't worry about the cheese chunks). Stir in 1 diced jalapeno.

Add a heaping tablespoon batter to each muffin cup and spread out slightly, followed by a heaping tablespoon cream cheese mixture then top with remaining batter. Sprinkle evenly with remaining Parmesan cheese.

Bake at 375 degrees F for 20-25 minutes. Let muffins cool in tin on wire rack for 5 minutes then gently remove from tin and continue to cool on wire rack.

Store any leftover muffins in an airtight container at room temperature for 5 days. I like to reheat leftover muffins in the microwave for 10 seconds or so.
Notes
*if using whole milk then decrease butter to 3 tablespoons
Did You Make This Recipe?
Tag @CarlsbadCravings and Use #CarlsbadCravngs
Leave a Review, I Always Love Hearing From You!
Carlsbad Cravings© Original