Thank you Swanson® for sponsoring this post. All opinions are my own.
Today is a special day. One of my favorite pastas, Cajun Chicken Pasta, is getting a makeover into a comforting, cozy, palate pleasing soup bursting with everything you love about the traditional pasta: Cajun spiced chicken, bell peppers, tomatoes, mushrooms and peas… all swimming in more creamy, Cajun sauce!
Somehow in my mind, any food in a bowl – or any food I can slurp – magically feels more indulgent and comforting. Maybe its because I get to cradle the warm bowl in between my hands or maybe its because soups are "hot" and so I'm forced to savor every last drop…. and in the case of this Creamy Cajun Chicken Pasta – that's a very good thing.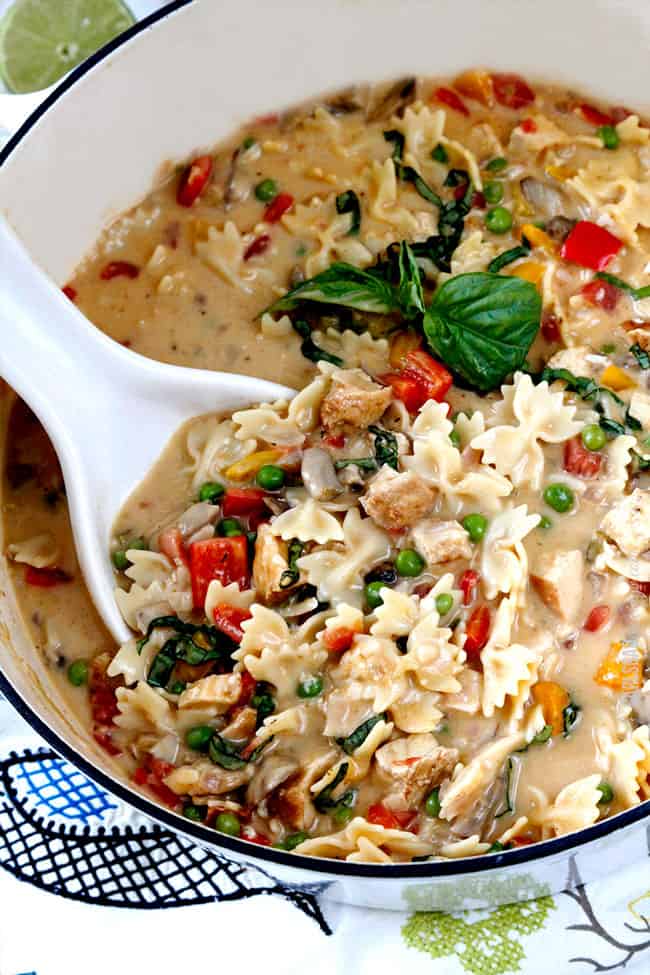 I have always loved Cajun food. It tastes so vibrant with its cayenne pepper, paprika, onion powder, garlic powder, oregano etc. In my original Cajun Chicken Pasta recipe, I used a lot of these spices. But then I was introduced to the new Swanson® Louisiana Cajun Flavor Infused Broth. It is already packed with the robust flavors of Cajun seasonings, green bell pepper, celery, onion and garlic, so it eliminates the need for a lot of extra spices. The first time I used this flavor infused broth, I was expecting the end soup to still need some spices, but it didn't need a thing!
With the help of Swanson® Louisiana Cajun Flavor Infused Broth, this soup comes together in less than 30 minutes once you start cooking (this isn't counting the time the chicken sits with the rub) and is full of accessible ingredients – you probably have most of them on hand.
To make this Creamy Cajun Chicken Pasta Soup, first, melt butter and saute onions and mushrooms for a few minutes…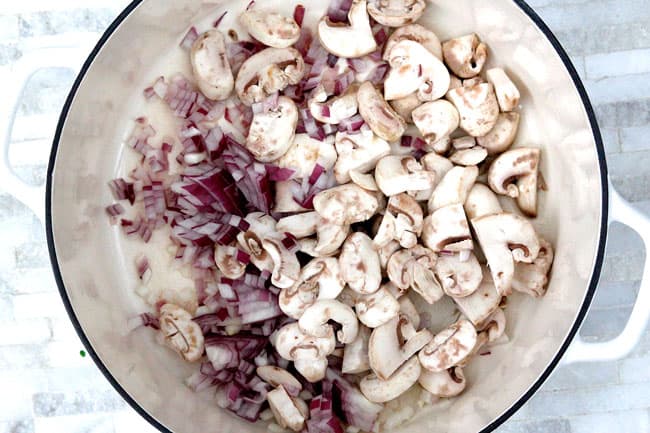 Add bell peppers and garlic, sauté for 30 seconds then add flour and cook for a few minutes…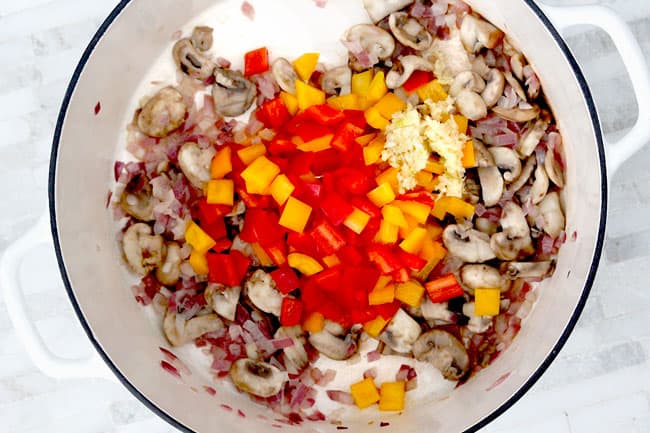 Add Swanson® Louisiana Cajun Flavor Infused Broth…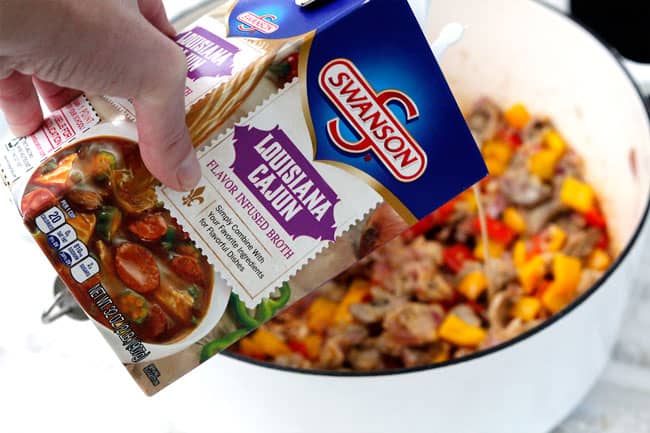 Along with some chicken broth and cream and simmer until thickened…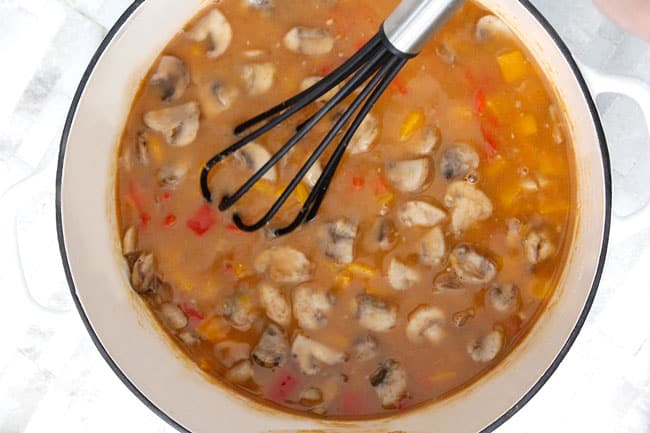 Add cooked mini bowtie pasta, cooked chicken, peas and tomatoes with green chilies and heat through…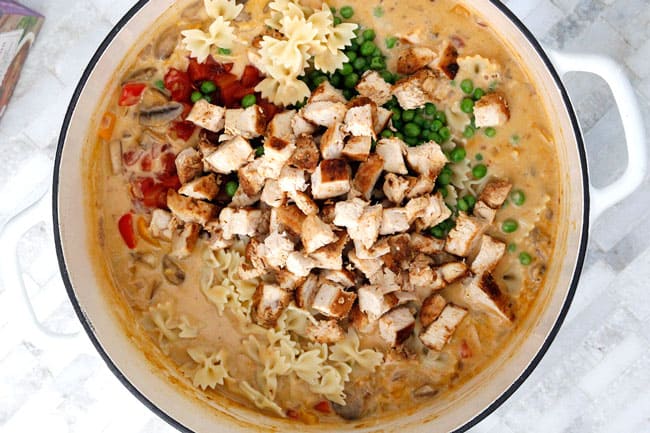 Stir in Parmesan cheese, lime juice and fresh basil …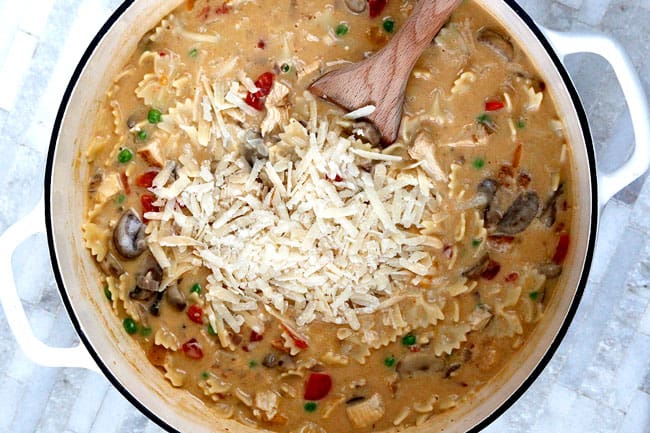 And easy, creamy Cajun Chicken Pasta Soup is served! Grab a bowl, its rich, cozy comforting indulging time!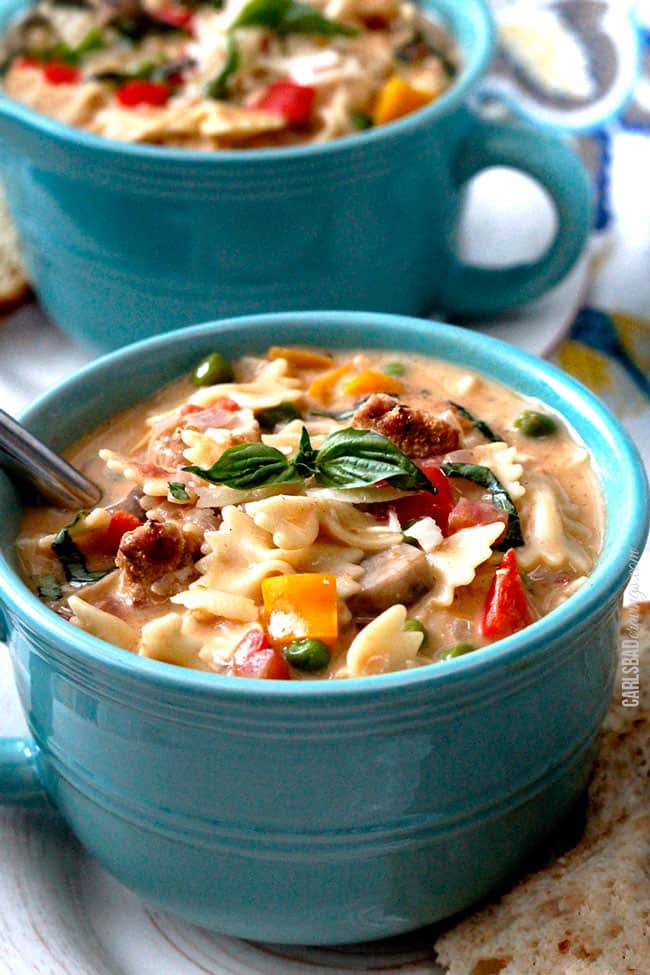 Creamy Cajun Chicken Pasta Soup
Save This Recipe To Your Recipe Box
You can now create an account on our site and save your favorite recipes all in one place!
Ingredients
6

ounces

mini Farfalle pasta or Rigatoni

1

pound

boneless skinless chicken breasts, pounded thin

2-3

teaspoons

Cajun seasoning (3 for more spicy)

3

tablespoons

butter

8

oz.

mushrooms, sliced

1

small red onion, chopped

1

red bell pepper, chopped

1

yellow bell pepper, chopped

1

teaspoon

salt

1/4

cup

flour

1

32 oz. carton

Swanson® Louisiana Cajun Flavor Infused Broth

1

14.5 oz. can

Swanson® Chicken Broth

1 1/2

cups

heavy cream mixed with 2 tablespoons cornstarch

1

cup

frozen petite peas, thawed

1

10 oz. can

tomatoes with green chilies, drained

1

cup

freshly grated Parmesan cheese

2

tablespoons

lime juice plus more for garnish

1/4

cup

fresh basil cut into thin strips

chopped bacon for garnish

(optional)
Instructions
In a large bowl, whisk together 1 tablespoon olive oil and Cajun Spices. Add chicken and coat. Refrigerate for 30 minutes (time permitting) as you prep the other ingredients.

After 30 minutes, heat 1 tablespoon olive oil in a nonstick skillet over medium high heat. Add chicken and cook, undisturbed for 2-4 minutes, or until nicely browned on one side. Turn chicken over, add ½ cup Cajun Broth, cover and reduce heat to medium. Cook for approximately 6-8 more minutes (depending on thickness of chicken), or until chicken is cooked through. Remove to a cutting board and let rest 5-10 minutes before dicing into bite size pieces.

Meanwhile, cook pasta al dente in generously salted water. Rinse and set aside.

Melt butter in large stockpot over medium heat. Add mushrooms and onions and cook until onions are tender, about 5 minutes. Add bell peppers and garlic and cook for 30 seconds. Sprinkle in flour and cook, stirring constantly for 3 minutes.

Gradually stir in remaining Cajun Broth, chicken broth and heavy cream. Bring soup to boil, then reduce to a simmer, stirring frequently until thickened to desired consistency, approximately 3-5 minutes.

Return chopped chicken to the pot along with peas, tomatoes, and cooked pasta. Simmer until heated through then stir in Parmesan until melted followed by lime juice and basil.*

Taste and add additional salt, pepper cayenne/hot sauce to taste.

Garnish individual bowls with fresh lime juice and bacon (optional).
Notes
*For a less "chunky" soup, simply add more chicken broth and/or heavy cream.
Did You Make This Recipe?
Tag @CarlsbadCravings and Use #CarlsbadCravngs
Leave a Review, I Always Love Hearing From You!
Carlsbad Cravings© Original