Corn Beef Brisket Pitas is a meal-in-one bursting with easy corn beef, Parmesan Potatoes, and Cabbage all smothered by Creamy Radish Dressing!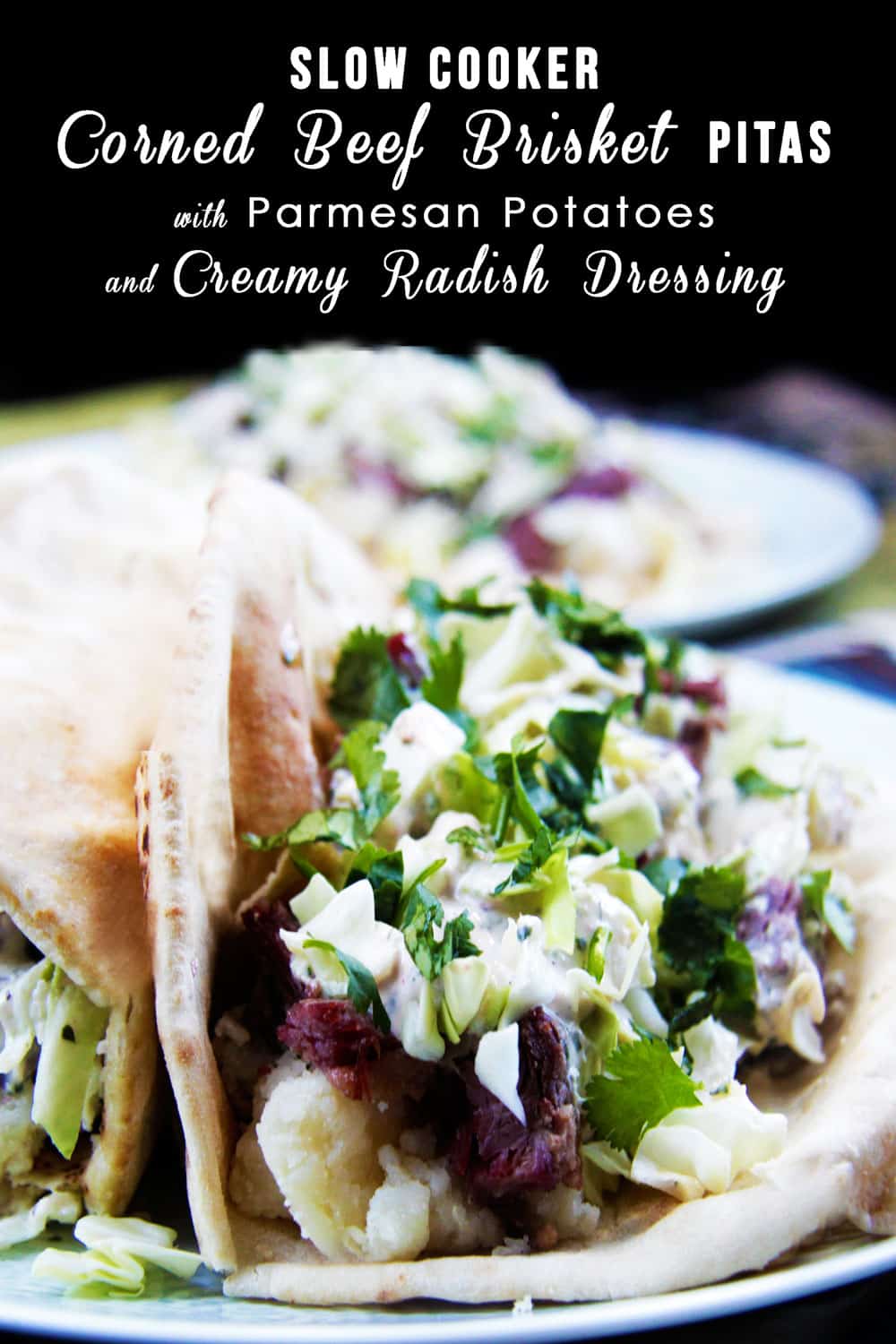 Celebrating St. Patrick's Day is one of Patrick and my favorite traditions. Aside from the fact that Patrick share's the same name as the green holiday, Patrick's ancestor's are from Ireland so it's only right we celebrate in the best way we know how – with food!
Last St. Patrick's Day we had a celebrity guest share in our Irish festivities (you can read about it in my March 2013 Part 2 Flashback), but this year, with no Jeff Clark, the food is going to have to be the star of the show. So I did a test run…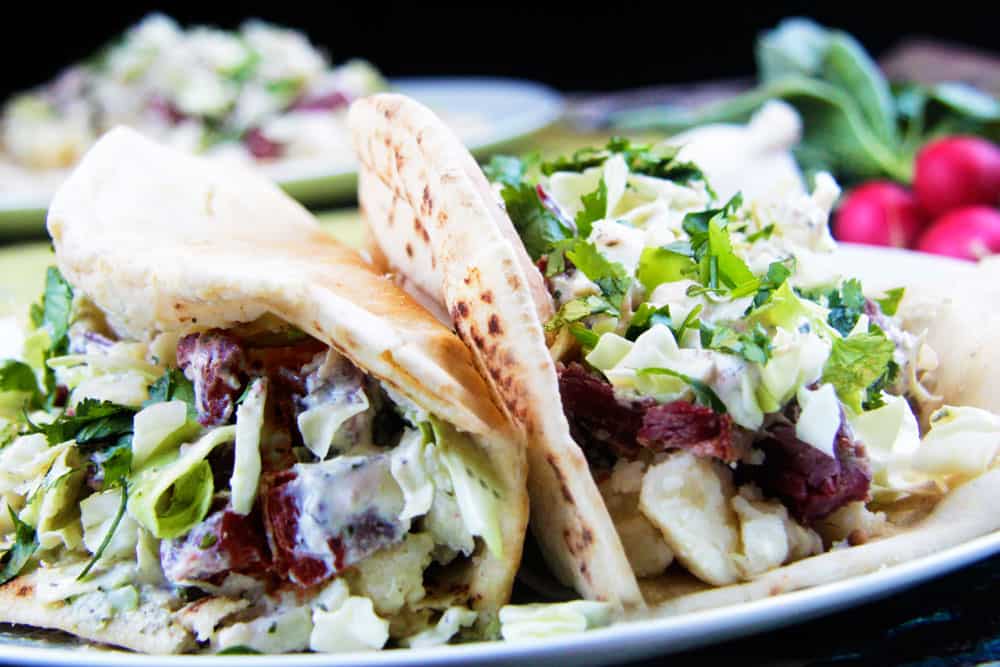 I think I succeeded.
These Irish corned beef pitas are "amazing!," "SO good!" and a fun spin on traditional corned beef and are one of the absolute easiest meals to make! Your family will love this new tradition! We serve them with a green drink made up of green sherbet and sprite.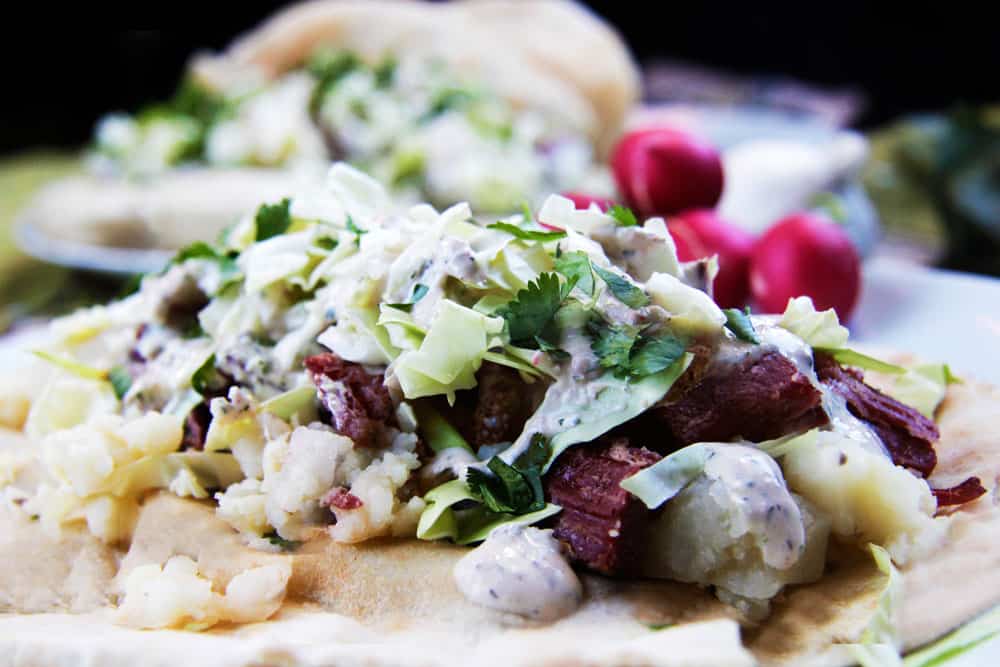 Corned beef brisket is so beloved at our house that we have it multiple times of the year. We buy Bill Bailey's Irish Brand from Costco that comes coated with spices. I am the first one to add extra spice to everything but this brisket doesn't need anything! All you have to do is place it in the slow cooker, cover it with water and let it brew. When its done cooking, you are left with perfectly spiced, tender corned beef. The potatoes are also slow cooked along with corned beef, so they soak up all the spices and then are mashed with Parmesan cheese – yummy!
As flavorful as the potatoes are and as fall-apart-tender as the corned beef is, you might surprise yourself when the radish dressing is your favorite part of the meal. It is rich, creamy, tangy and enhances the flavors of all the other components of the pita – and again, it's so easy! Simply place all of the ingredients in a blender, push your blend button and you're done! So when its finally time to unearth the food behind the tantalizing smell that's been tickling your nostrils and teasing your taste buds all day, you simply toast the pitas, mash the potatoes, slice the meat and that's it!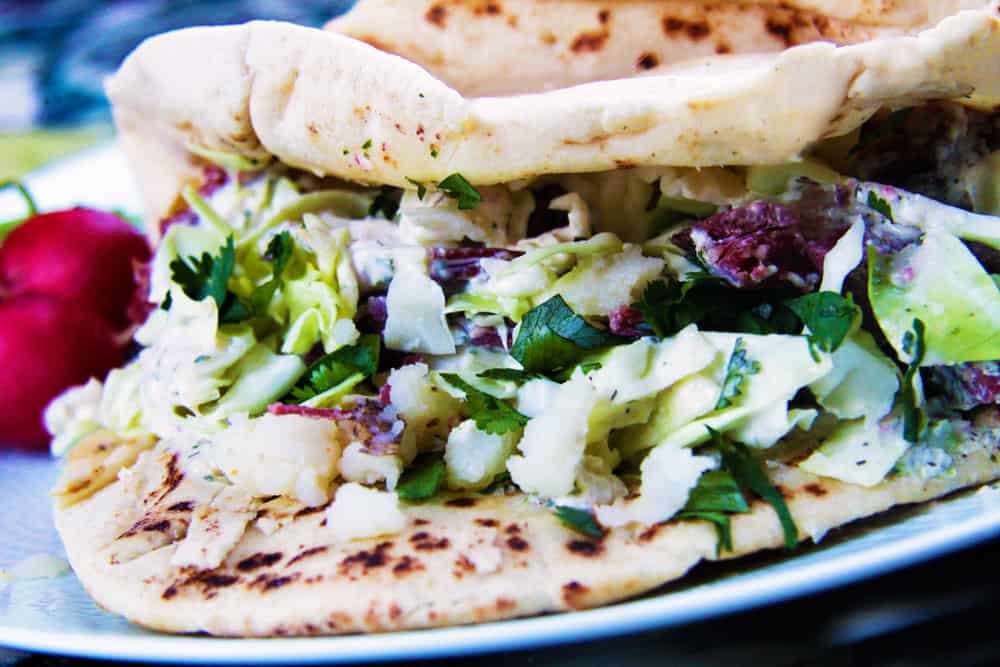 The layers of toasted pita, spiced corned beef, Parmesan mashed potatoes, crunchy cabbage and creamy radish dressing make every bite a savory dream! This feast of flavor might just have to be one tradition that happens more than once a year.
Enjoy and may the luck of the Irish be with you!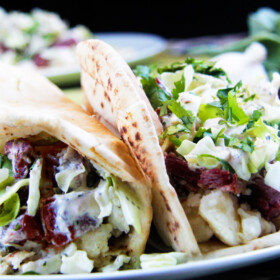 Irish Corned Beef Brisket Pitas
Save This Recipe To Your Recipe Box
You can now create an account on our site and save your favorite recipes all in one place!
Ingredients
Slow Cooker
4

lb

Corned Beef Brisket

coated in spices (I use Bill Bailey's Iris Brand from Costco)

4

medium russet potatoes, quartered
Pitas
1/2

head cabbage, chopped

10

pitas

(I use garlic and sesame wheat)

1/2

cup

grated Parmesan cheese

(for mashed potatoes)
Instructions
Cook brisket according to package directions (leave fat on, trim after it is cooked).

Meanwhile, add radish dressing ingredients to a blender or food processor. Blend until smooth. Store in refrigerator.

When ready to serve, remove brisket from slow cooker and scrape fat off. Cut across the grain into 1/2″ strips. Transfer corned beef to a plate and cover tightly with foil while you prepare the potatoes and pitas.

Strain potatoes from the slow cooker and reserve ¼ cup of the slow cooker spiced water. Add potatoes to a large bowl (peel first if desired) and mash with ½ cup Parmesan cheese and the ¼ cup reserved slow cooker water. Cover with foil.

Toast pitas by heating a drizzle of olive oil in a skillet over medium heat. Cook approximately 1 minute per side, or until warmed and golden.

Assemble pitas by layering mashed potatoes, corned beef, cabbage then drizzling with dressing.
Did You Make This Recipe?
Tag @CarlsbadCravings and Use #CarlsbadCravngs
Leave a Review, I Always Love Hearing From You!