I was honored to be invited as the keynote speaker at the Poway Stake Relief Society annual woman's workshop in March 2013.  I was asked to share some of the life lessons I have learned through my experiences with cystic fibrosis and my double lung transplant.  The following is my talk and testimony (minus the PowerPoint 🙂 )
It was over 13 years ago that many of you gathered together in a stake fast as I prepared for my double lung transplant.  It is a blessing to have a platform to thank you these many years later for all that you have done for me!  I am so humbled and honored to speak to you today about the lessons I have learned in my life.
Like all of you, I have experienced quite a few storms.  Yet, I have learned that no matter the winds and the tempests that rage, I am eternally filled with peace and hope because of the great plan of salvation – knowing where I came from, who I am, why I am here and where I am going.  This knowledge is my lighthouse.  It is my beacon of hope and peace in this dark world.  It illuminates the path home and it brightens my sometimes weary and heavy heart as it reminds me that because of the atonement of Jesus Christ all of our sorrow, sickness and pain will not follow us in the next life.  If we follow the Savior, His light will guide us back to our loving father in heaven where we all came from and where we all ultimately belong.
I have learned this life is a time of proving our faithfulness to our Father in Heaven.  
Before this earthly life we participated in the grand council in heaven where the plan of salvation was presented to us.  We learn from Job 38: 7 that when this plan was presented, that we shouted for joy!  We were excited at the chance to obtain a physical body, walk by faith, learn obedience to God's commandments and try to become more like Christ.  Still, we weren't naive to life's difficulties.
Rather, Elder Richard G. Scott tells us, "In the premortal life we were taught and prepared for the circumstances we would personally encounter in mortality. [O]ur memory of premortal life would be kept from  [us] to assure that it would be a valid test, but there would be guidance given to show [us] how to live."
We knew this life would be hard.  We knew some of us would be born with health problems, a challenging family life, poverty, or any other difficult situation.  I believe we each knew of our personal circumstances and we all—every single one of us—still shouted for joy to come to earth!
We knew each of us would have the capacity to "bear our challenges in life because of who we are, who God is, and who we are together."  We had the eternal perspective to know that proving ourselves true and faithful on earth, no matter what, was all going to be worth it in the end.
For, as we read in Doctrine and Covenants 58:4, "For after much tribulation come the blessings. Wherefore the day cometh that ye shall be crowned with much glory; the hour is not yet, but is nigh at hand."
Now that we are here on earth, the trials and disappointments of life can discourage us, break our hearts and even fill us with fear.
This life is a test of our faith and a test of our obedience.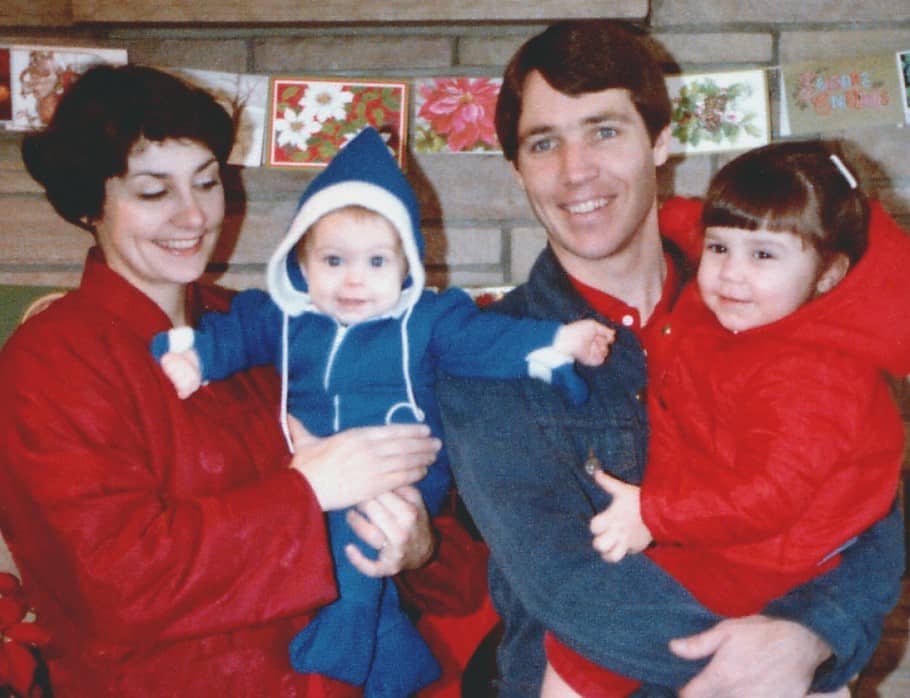 A lifelong test for my parents began as my older brother Justin was diagnosed with the chronic disease, cystic fibrosis.  Although devastated by the prognosis, my parents were determined to move forward decisively with hope and learn all there was to know about the disease.   They learned that CF is a disease which mainly affects the lungs and digestive system.  Individuals with CF produce extra thick, sticky mucus that blocks the airways, pancreas and other organs, causing individuals to eventually suffocate to death.
After my parents visited the CF clinic in Salt Lake City my dad recorded in his journal:
"It was hard for me to go up there and see the frail, thin children getting treatments.  They looked as though they were from a concentration camp.  I thought my heart would break for my special little son who is always so happy.  Twelve years ago the average life expectancy was 6 years old and now it is 19, so they are making progress.  I pray that they will continue and find a breakthrough soon."
My dad notes, "There was nothing I could do, so I prayed and I hoped."
Learning your child has a chronic disease is probably one of the most difficult situations a person can encounter.  Instead of becoming embittered, and asking the often unanswerable and always destructive questions such as, "Why us?"  "Why me?"  My parents chose to draw strength from their eternal perspective.
Even though we can't control all of our circumstances, we can control our faith.  All the waves of anger, heartache, guilt, doubt, despair, and loneliness cannot drown us unless we let them.
We are always free to choose faith, trust and hope in Jesus Christ and the glorious plan of salvation.
As each of us face mortal tests and trials – away from our heavenly home and away from our perfect perspective – I hope we can all find peace in Elder Scott's apostolic promise that we were prepared for the situation we may be finding ourselves currently in and in any possible situation to come.
I love the scripture in Jeremiah 1:5 that reads, "Before I formed thee in the belly I knew thee; and before thou camest forth out of the womb I sanctified thee, and I ordained thee a prophet unto the nations."
The same is true for us. Heavenly Father knew us before we were formed in the belly and he provided a plan to help bring us back to Him.
We are divine beings having a mortal experience.
In addition to knowing where we came from, I have learned it is important to remember who we really are.
Sometimes we can get discouraged.  We can see ourselves as weak or helpless or compare ourselves to others around us who seem to have it all.  But we must remember who we really are because how we see ourselves affects every aspect of our lives.  As President Uchtdorf said, "Much of confusion in life comes from not understanding who we are…"
A few years ago, a greeting card with a profound message caught my eye. On the cover sat a fluffy, white kitten gazing in the mirror.  Staring back in the kitten's reflection was a statuesque lion crowned with a gorgeous main. The caption read, "What matters most is how we see ourselves."
Sheri Dew expands:
"It affects the way we behave, the way we respond to uncertainty, the way we see others, the way we handle pressure and disappointment, the way we feel about ourselves, and the way we make choices.  In short, it determines how we live our lives.  So the question we might all do well to ponder is not only who we are but who we have always been."
I believe we will never be happy or feel peace…and we will definitely never live up to who we are as women of God until we overcome our "mortal identity" crisis by understanding who we really are.
Understanding who I really am –that I am a daughter of a King, my Heavenly Father, He who controls this universe – and how loved I truly am – has blessed me with peace, comfort and hope beyond measure.
At age thirteen my full, deep breaths had been replaced with the wheezing of tightened, obstructed airways.  Over the years as my health involved more and more challenges, I was increasingly brought to my knees in prayer, seeking both strength and comfort.  Many nights I would feel reassured simply after confiding in my Father in Heaven, knowing He was there, listening, caring.  But on a handful of occasions as I called on my Heavenly Father with my shallow breath, He answered me with His deep, infinite and tangible love. There was no room to doubt what I already knew:  God is real.  God loves me.  I had nothing to fear.  I had every reason to hope.
True to Sheri Dew's statement, the knowledge of who I really am – and how loved I really am – has shaped my entire life.  It has allowed me to trust my Heavenly Father and his will perfectly because I know He loves me perfectly.
I know God's arms of fatherly love are waiting to embrace every single one of us. We are all His literal spirit daughters with infinite worth and glorious potential!
Unfortunately, Satan, the master of deceit, will do everything he can to keep us from comprehending the majesty of who we are which leads to feelings of inadequacy, discouragement and defeat instead of confidence, hope and happiness.
Sheri Dew states "He offers an array of seductive but sorry substitutes—everything from labels and logos—titles and status—hoping to preoccupy us with the world's artificial identifiers."
But the truth is:  We cannot buy happiness. We cannot buy peace.  We cannot buy hope.
Sheri Dew continues: "Satan, however would have us see ourselves as the world sees us, not as the Lord see's us.  The world would tell us that our roles as women and nurturers are not enough.  That we have to do more, be more, have more, juggle more.  That we have to be smarter, thinner, prettier just to feel a little bit good about ourselves.  If we live by the world's standards, we will NEVER be enough.
"The world's mirror is like a circus mirror in which five foot, ten inch woman appears two feet tall, distorted and minimized.  Satan wants us to believe there is no status or significance in being a mother.  He wants us to believe that the influence of women is inherently inferior.  And that is a lie. That is an evil lie."
 Family is eternal.  Careers, cars, clothes and cosmetics are not.
I believe that if we could catch a glimpse of the divinity of our roles, we would be so proud of ourselves and we would be kicking ourselves for being preoccupied with things that don't matter and never will!  Family is what matters.  Family is eternal.                                      
God who knows us perfectly – both our weaknesses and our strengths- reserved us to come now, when the opposition would be strongest – When he would need fearless woman who would fulfill their divine callings as woman and mothers.
We need to trust, be obedient and be content in the knowledge that we have been placed where we can have the most impact and simply do the best we can, standing steadfast and immovable against all the lies and temptations Satan would challenge us with.
I will forever by grateful for my own mother who persevered every single day in hope and kindness as she fulfilled the divine role as our mother.  She knew that as long as she did her best everything would work out – whether in this life, or the next.
Starting when we were just babies, my mom would wrap my brother and I up like little peanuts in a large towel, pinning our arms alongside our ears in order to clap our chest on all sides and loosen the mucus.  And every day since we were old enough to be strapped into a high chair, my mom would start and stop our multiple aerosols…and every day my mom would diligently administer our oral medications and later our IV antibiotics.  Our fridge and shelves were frequently stocked with IV antibiotic sacks or syringes housed in the veggie drawer, next to the milk and nestled in the egg compartment.
I cherish many groggy glimpses of my mom starting and stopping my IV medications in the early hours of the morning.  She would hold the almost empty IV medicine sac high in the air, forcing gravity to pull every last antibiotic drop down the long tubing into my arm, as if each precious drop added time to my life.
At the time, these seemingly monotonous, mundane acts must have not seemed like much.  But there is no way to count how many months, weeks or years my parents added to the lives of their children.
Just as my mom's daily ministering and nurturing must have seemed monotonous at times, it is our small and seemingly inconsequential actions and our steadfast examples that will have profound effects upon generations to come.
I pray that we won't forget who we really are and the divinity of our roles.
If we get lost or side-tracted along the way, we are like the 1 month old baby whale I read about off the shores of Sydney who got separated from her mother and confused a yacht for her mom.  The exhausted baby whale repeatedly tried to feed from the yacht, and obviously came up empty handed.  Wildlife rescuers commented, "The outlook is not good.  We can't feed it…"
Like the whale, If we mistakenly look to the world to feed our identity, we will spiritually starve.  We will never be enough.  In contrast, when we feast upon the teachings of Christ, we will come to know Jesus Christ is our personal Savior and God is our Father in Heaven who love us unconditionally.  The knowledge that we are beloved daughters of God with infinite worth and glorious potential allows us to love ourselves as ourselves. We will not only have the desire but also the determination to live up to our potential, full of hope and confidence instead of defeat and discouragement.
When we understand where we came from, who really are and why we are here, we have every reason to hope for a glorious conclusion of our mortal test when God will reward the faithful in a perfect way.
This is a glorious day to anticipate in the future but sometimes we unnecessarily postpone so much of the happiness that can be ours right now.  As President Gordon B. Hinckley said:
"Life is to be enjoyed not merely endured."
I learned this great lesson from Justin who exemplified the quote, "Pain Is Inevitable but Misery Is Optional."
As Justin's health grew worse, he required oxygen while he slept.  Still, he continued to his senior year in his typical optimistic fashion.
His dear friend Justin Petersen recounts:  "Justin and I both enrolled in physics during our senior year. To keep a good grade in the class, or at least my grade, we partnered in a competition to build and race a cardboard boat in the high school swimming pool. Of course, we waited until the last night to build it. We both worked frantically into the late evening to throw our haphazard design together. Even with his diminished health, his determination exceeded my fatigue. I fell asleep on a floor mat while he finished the boat through the night."
In the morning, I sheepishly arose and borrowed a hat. We loaded our vessel into the truck and headed to school, still wet with fresh paint. Since he weighed less, Justin volunteered to row our flimsy boat to the finish. Our wedge shaped craft shined with bright red paint and the title "USS Slacker."  With a fire in his eyes, he paddled that slowly sinking boat down the lap lane with a strong yet desperate resolve. He remarked afterwards that he knew he had to make it to the other side because he 'didn't think he would have enough strength to swim.'  The boat ended up half sunk but Justin reached the finish."
As always, although this time quite literally, Justin was determined to swim as opposed to sink.
The name of the "U.S.S. Slacker" embodies Justin's sense of humor – the paddling of the U.S.S. slacker embodies Justin's courage, determination and zeal for life.  He was determined to keep paddling despite whatever waves came his way and despite his half sinking ship.
At age 18, Justin was a young man who knew his situation was precarious.  He could have spent all his energy indulging in self-pity, worry or resentment, counting every breath as his body slowly decayed.  Instead he spent his days uplifting others….
…playing volleyball with one hand to make a friend feel more comfortable whose arm was in a cast, joking that not everyone has both an "innie and and outie" when he had to have a gastro intestinal feeding tube inserted above his belly button or joking with his friend just three days before he died about how much fun they would have together "cruising the hospital halls looking for good-looking nurses"….never once mentioning the gravity of his health.
We often like to blame our circumstances for our state of happiness but we are all ultimately self-determining. We have the power to choose our thoughts, and therefore the power to choose our hope and happiness.  As Abraham Lincoln aptly surmised, "People are just as happy as they make up their minds to be" and William Ernest Henley penned in the poem, Invictus, "I am the master of my fate: I am the captain of my soul."
Justin was a model of quiet dignity.  In all our talks, Justin never uttered a negative word about having cystic fibrosis.  How often we pity ourselves and even parade our pity over matters that aren't life or death.
Justin's attitude was born from his testimony of His Savior.
In Ether 12 :4, we read:  Wherefore, whoso believeth in God might with surety hope for a better world, yea even a place at the right hand of God, which hope cometh of faith, make an anchor to the souls of men, which would make them sure and steadfast always abounding in good works, being led to glorify God…;
Justin's hope not only encouraged him to endure all with dignity and a sense of humor, but allowed him to do so.
­­­­­­­­­­­­­
At age 19, Accompanied by angels, Justin met God face to face.  There is no greater accomplishment than that.
My dad's journal records:   "It was on April 22 that the phrase 'In God We Trust' was placed on the U.S. penny, the same day Justin passed away [April 22].  How true this is.  It is the only way to continue on."
Although we all pleaded for Justin's survival, it was not part of God's plan for him.
One of the hardest lessons to accept is that despite our prayerful pleadings, not all of our struggles will be resolved soon, or in the way we want, or even in this lifetime.  But we can have peace and hope that they will be resolved.
EVERYTHING will be made permanently right through Christ if we are faithful.
In Romans 8:28 we are promised, "All things work together for good to them that love God."
Bruce C. Hafen: "All things working together for our good is very different from all thing working together for our apparent success or excellence  as measured by the standard of this world.  Because his making us perfect enough to enjoy eternal life is our ultimate goal, we may need all things to work "for our good' in such a way that there are growing pains, tests, afflictions and the purification by fire. 'As many as I love, I rebuke and chasten.' (Revelation 3:19)….We may have had encounters that are harsh, painful, and beyond our ability (let alone the ability of other people) to understand."
He is making of us something more than we would choose to make of ourselves.  We might be content to merely be "a nice person."  He wants us to be like Him and accept and qualify for our inheritance.
Struggles are part of the test we willingly and enthusiastically shouted for joy for.  They give us opportunities to prove ourselves and become who we were sent here to become.
Our Trust In God's Plan Determines Our Personal Peace
As struggles threaten to topple us, our peace and hope largely depends on if we choose to continue to exercise even greater faith and trust in our Heavenly Father's love, wisdom and plan for us – or if we choose to fall victim to Satan's feelings of anger, bitterness, discouragement and helplessness.
As Elder Oaks stated, "Faith means trust—trust in God's will, trust in His way of doing things, and trust in His timetable."
One of my favorite quotes:  "The only reason I am upset is because I had the audacity to think I should know what should happen next."  – Anonymous
Only God knows what should happen next.  We are not smarter than God nor we do love ourselves or even our family members more than God loves us or them.  We do not see the whole picture like our loving Father in Heaven. He knows the end from the beginning.  He knows what we need for our eternal progression despite our pleas for what we want at this mortal instant.
As President Brigham Young (1801–1877) taught:
"We talk about our trials and troubles here in this life; but suppose that you could see yourselves thousands and millions of years after you have proved faithful…during the few short years in this time, and have obtained eternal salvation and a crown of glory in the presence of God? Then look back upon your lives here, and see the losses, crosses, and disappointments, the sorrows … ; you would be constrained to exclaim, "but what of all that? Those things were but for a moment, and we are now here. We have been faithful during a few moments in our mortality, and now we enjoy eternal life and glory…enjoying the smiles and approbation of our Father and God, and of Jesus Christ our elder brother."

Because of Christ, we have nothing to fear now and every reason to hope for the future.
We must strive to see our challenges with an eternal perspective and remember that our struggles and heartache will not continue in the next life. Instead we can have faith and rejoice that because of the Father's merciful plan of providing a Savior for us, all will be made right through Christ if we are faithful.
I like to remember the Savior on that sacred night in Bethlehem. President Uchdorf said, "When Jesus was born, the joy in heaven was so great it could not be contained, and angelic host parted the veil, proclaiming unto shepherds 'good tidings of great joy…praising God and saying, Glory on God in the highest, and on earth, peace, good will toward man.' "
We were all there. Looking down upon that humble stable and shouting for joy again. That someone would love us enough to come to earth to save us all.
Verse 4 of my favorite hymn, "I Believe In Christ," reads:
I believe in Christ; he stands supreme!
From him I'll gain my fondest dream;
And while I strive through grief and pain,
His voice is heard: "Ye shall obtain."
I believe in Christ; so come what may,
With him I'll stand in that great day
When on this earth he comes again
To rule among the sons of men.
I love this hymn because it so clearly defines the challenges of this life: "I believe in Christ; so come what may," or as Joseph B. Wirthlin expressed, "Come what may, and love it."  Because of Christ, we have nothing to fear now and every reason to hope for the future.
Christ's Infinite Sacrifice Has Given Him Infinite Empathy To Succor Us
As we go through the trials and struggles in life that are surely to come, I have come to know that as we put our faith and trust in Christ, he will be there for us every step of the way.  He cannot and will not let us down.
As I mourned Justin's passing, I often felt helpless.  I chose to turn to my Savior, He who knew what I was experiencing firsthand.  There is no physical pain, mental anguish, heartache, weakness, or infirmity that we experience that the Savior has not already experienced.
As He bled from every pore and wet His face with our tears, we literally became part of Him.  He declared in Isaiah 49: 15-16, "Yet will I not forget thee. Behold, I have graven thee upon the palms of my hands…"
Because Christ suffered for us individually, He understands us completely, loves us unconditionally, and knows how to succor us perfectly.
In Alma 7:11-12, we read, "[A]nd he will take upon him their infirmities, that his bowels may be filled with mercy, according to the flesh, that he may know according to the flesh how to succor his people according to their infirmities."
And in Matthew Christ said, "Come unto me, all ye that labour and are heavy laden, and I will give you rest.  Take my yoke upon you, and learn of me; for I am meek and lowly in heart: and ye shall find rest unto your souls." Matthew 11:28-30
 It is up to us to knock
Christ wants nothing more for us to utilize His grace in our lives because that is why He gave His.  Why would we strive to endure our challenges on our own when He has already given His life for us so that we don't have to?
As Elder Jeffrey R. Holland so eloquently stated, "I am convinced that none of us appreciate how deeply it wounds the loving heart of the Savior of the world when he finds that his people do not feel confident in his care or secure in his hands."

Instead, if we come unto Him and let Him ease our agonizing and grieving, I know we will be encircled in the arms of His love as He cares, comforts and carries us.  I have a testimony this is true as Jesus Christ my Savior, has become Jesus Christ my Savior as I have fallen at his feet and wept again and again and again.  I could not have made it through my challenges without Him; and now I feel I can make it through anything because of Him.
A year after my brother's death, my sophomore year of high school, the end stages of lung destruction brought on by cystic fibrosis put me in a downward spiral. I was on constant oxygen, constant IV antibiotics, throwing up constantly and barely had the energy to brush my teeth in bed.
My day-to-day routine was not so bad; but some days, the accumulative effect of not seeing any improvement and not being able to do anything for myself, would cause me to cave.  I tried not to let my family see me cry so it was often late at night when the tears would quietly and freely flow, bringing me to my knees…in bed.  With swollen eyes, I would call on the powers of heaven, the very same powers that created this universe.  I would plead for strength—in both mind and body.
For "He giveth power to the faint; and to them that have no might he increaseth strength…they that wait upon the Lord shall renew their strength, they shall mount up with wings as eagles." Isaiah 40:29,31
I know the utterence of "My Heavenly Father" can have a profound effect upon our lives. 
He really does hear our prayers – no matter how big OR how small.
Before we came to earth, I am sure we sorrowed at leaving our Father in Heaven.  I am sure we must have covenanted to always seek Him through prayer and to listen to His voice.  Now we are here.  We have forgotten those things we supposed we could never forget.  But Heavenly Father has not.  He is always waiting for US to knock.
Sometimes when life gets hard, we feel paralyzed, we want to give up.  But it is only by staying the course, exercising even greater faith, repenting and crying unto our Savior that we will learn that He is truly mighty to save.
As Alma tells us (Alma 36: 17-19):
"And it came to pass that as I was thus racked with torment…,I cried within my heart:  O Jesus, thou Son of God, have mercy on me, who am in the gall of bitterness, and am encircled about by the everlasting chains of death.  And oh, what joy, and what marvelous light I did behold;  yea, my soul was filled with joy as exceeding as was my pain!  Yea, I say unto you, my son, that there could be nothing so exquisite and so bitter as were my pains.  Yea and again I say unto you, my son, that on the other hand, there can be nothing so exquisite and sweet as was my joy."
As I struggled for breath and as I struggled for life, it was confirmed to me again and again that God was my companion.
His spirit and this knowledge filled with sweet and exquisite joy.
I cannot comprehend a greater blessing in life – to be filled with peace, hope and joy, every step of the way.  To have nothing to fear, even death!
I was too ill to wait for a cadaveric lung transplant and so a living donor lung transplant was pursued.  Everyone has five lobes – three on the right side and 2 on the side of a heart.  In a living lobar lung transplant, all 5 lobes are taken out of the patient and replaced with the bottom lobe from two donors.  When all of my family members and three friends who were tested were disqualified, 2 family friends  –Graham Bullick and Jim Davies – stepped forward to offer me lobes of their lungs.  I am breathing today, alive today, and forever grateful today because of their tremendous sacrifice.
After I was taken off the ventilator after my transplant, the weight of my donor's sacrifice became even more real as I sat inhaling and exhaling with lobes from their lungs, all the while not feeling like I was breathing at all.
When they visited me at the ICU and I gazed at their smiles through the glass, I was overcome with awe and tremendous gratitude for their sacrifice.  It is indescribable to express what it feels like when you are helpless, can do nothing for yourself and someone steps forward and says, "Let me help you, I will do that it for you."
They have given me a greater appreciation for the atonement.  They exemplify one of the reason we are here on earth:  to become like Christ.
As Amulek tells us: "This life is the time for men to prepare to meet God."
Most of us won't have the chance to physically save someone's life.  But we do have the opportunity, whether we know it or not, to save individual's emotionally and spiritually everyday simply through our small acts of kindness.
We pass people everyday who are literally and metaphorically hungered, naked, and homeless.  I believe Satan wants desperately for us get caught up in own selves – either or our own problems, pride or insecurities – that we fail to see these individuals as the sons and daughters of God that they are -and that they are in need of our help.  Or he tries to discourage us—that no matter how hard we try, we'll never make much of a difference  – because Satan knows the beautiful truth that we all have the potential to change each other's lives through service and love.
I know my life has been forever changed by love.  From loving parents who dedicated their waking hours to preserving my health, to selfless home teachers who have given me countess blessings, to friends who have brought me meals, to you, my stake who fasted for me, to my donors who offered up the ultimate act of love by risking their own lives to save mine. To the Ottesens who delivered a life size cardboard cutout of Stone Cold Austin to my ICU room after surgery to other loving sentiments such as letters, posters, stuffed bears and emails.
It is truly profound the healing, both physically and emotionally, that small acts of kindness bring.
As Emily Dickinson so eloquently stated, "If I can stop one Heart from breaking, I shall not live in vain."
At the end of our lives, we will not be judged by how many diplomas we have received, how much money we have made, how clean our house is, what car we drive or how many great things we have done in the eyes of the world, we will be judged by "I was hungered and you gave me to eat.  I was naked and ye clothed me.  I was homeless and you took me in."
President Uchdorf reminds us: "Don't focus on the insignificant at the expense of the profound."
I love the following story Elder Bruce R. McConkie relates about his mother which emphasizes this point:
"Mother was president of the [ward] Relief Society. … [A family in the ward had several children; now they had a new baby. They were very poor and Mother was going day by day to care for the child and to take them baskets of food. … Mother herself was ill, and more than once was hardly able to get home after doing the work at [this family's] home.
"One day she returned home especially tired and weary. She slept in her chair. She dreamed she was bathing a baby which she discovered was the Christ Child. She thought, Oh, what a great honor to thus serve the very Christ!  As she held the baby in her lap, she was all but overcome. … Unspeakable joy filled her whole being. She was aflame with the glory of the Lord. It seemed that the very marrow in her bones would melt. Her joy was so great it awakened her. As she awoke, these words were spoken to her, 'Inasmuch as ye have done it unto one of the least of these my brethren, ye have done it unto me' "
Do we see serving others as a chore or do we view it as serving our very Savior?  King Benjamin said, "When ye are in the service of your fellow beings ye are only in the service of your God."  Mosiah 2: 17
Last Sunday, my husband saw someone who looked familiar sitting in a bench at church.  He said, "Jen, is that the maintenance guy for the park?" Finally, he realized who it was: surfing royalty: big wave surfing legend Jeff Clark.  My husband was starstruck.  He said, "I wish I would have said "Hi" when I first saw him.
Would we be more willing to "Say Hi" if we could view everyone as Christ does – as the "royalty" that they truly are– divine sons and daughters of God?
I believe, as Truman G. Madsen said:
"The cruelest thing you can do to a human being is to make him forget that he or she is the son or daughter of a king."
Every single person is in need of our love.  Feeling loved and appreciated is probably the greatest human need after food and sometimes before it.
President Eyring said, "Treat everyone as if they are in serious trouble, and you will be right more than half the time."
No one knew the paralyzing pain I was in for months and months after Justin's death. No one knew the hours I would spend every morning before high school doing home IVs, breathing treatments, and fighting fevers.  When I would arrive late to school after  third period, no one know how hurtful their comments such as  "you are so lucky,"  "its so not fair," and "I hate you."  were.
No one knew of Justin's situation as they gawked at his coughing and no one knew of his health condition as they derided him about his weight. How guilty the ridiculers would feel if they knew these were their last words to him before he was to meet his Maker.
None of us should have illusions about our right to evaluate others or about our time here on earth. We are all going to die someday….or as I once heard it said, "none of us are going to make it out alive."  It is so important to be loving while we are alive!
O. A. Battista said:  "The greatest weakness of most humans is their hesitancy to tell others how much they love them while they're still alive."
Most of us have had promptings or good intentions that we've put off doing until later because "we don't have time."  But we should never suppress a generous thought.  Often we say "I don't have time." But time is a created thing.  To say, "I don't have time" is like saying " I don't want to …"
It is the simple gestures of kindness that make a difference.
We are told in Alma 36: 6-7 : "By small and simple things do great things come to pass."
Christ loved and served all those who came in his path.  He never withheld his love for ANY reason.
When the women was taken in adultery and brought before the Lord – Jesus did not ask if it was true, about the details, the circumstances, the gossip, he simply stated, "if any of ye are without sin, let him cast the first stone."
Too often we are guilty of withholding our love because we have judged the individual or their circumstances as not worthy of all of our love. As Mother Teresa said, "If you judge people, you have no time to love them."  But, like Christ, we should never withhold our love for ANY reason.
The Savior loved and served everyone unconditionally, from the leper to the sinner, from the blind to the believer.  Even as the crown of plated thorns pierced his head, even as his flesh was aching and tearing, Christ said of his murderers and mockers, "Father, forgive them; for they know not what they do."  (Luke 23:34)  He was crucified for the sins of the world.  Yours, mine, theirs.  All he asks of us is to follow him, trying in our own small way, to love as he loved.  This includes forgiving.
 Holding a grudge is like drinking poison and waiting for the other person to die.
Some months ago after I had been ill, someone at church commented to my husband in front of me, "You need to feed your wife more."  Months later, after he learned of my health situation, he came up to my husband with tears in his eyes and apologized for his statement.
We never should judge but we should always assume that every person has the best intentions and they too would have tears in their eyes if they knew the whole situation or if they knew they had hurt us.  We should always give others the benefit of the doubt.  Even when we know we are in the right, we still need to forgive.  Its been said, "holding a grudge is like drinking poison and waiting for the other person to die."
How we treat the weakest of us is how we are to be judged in the end.  Let us avoid the shame of standing before our Maker, knowing that we have either demeaned, refused to offer a kind word or helping hand, or refused to forgive the sons and daughters of our King: those for whom He gave his very life to save.  Instead, with Christ like charity, we can do as Christ, recognizing every interaction we have as an opportunity to minster and nurture, compliment and encourage: leaving others better off than when we first met them.
When love becomes the guiding principle in our care for others, our service to them becomes the gospel in action and not just scriptures we read.  
We will be sanctified and become true disciples of Christ, worthy to claim the promises in 2 Nephi 31:20:  "Wherefore, ye must press forward with a steadfastness in Christ, having a perfect brightness of hope, and a love of God and of all men. Wherefore, if ye shall press forward, feasting upon the word of Christ, and endure to the end, behold, thus saith the father: Ye shall have eternal life."
As we put off the natural man and strive to serve others, we become more like Christ, developing the Character beautifully surmised in one of my favorite quotes by Elder David A. Bednar:
"Character is revealed…in the power to discern the suffering of other people when we ourselves are suffering; in the ability to detect the hunger of others when we are hungry; and in the power to reach out and extend compassion for the spiritual agony of others when we are in the midst of our own spiritual distress. Therefore, character is demonstrated by looking, turning, and reaching outward when the instinctive response of the 'natural man' (Mosiah 3:19) in each of us is to turn inward and to be selfish and self-absorbed."
As we strive to become like Christ, we become closer to Christ, and our faith and hope in his promises will become sure.
God's Commandments Are A Road Map To Happiness In This Life And The Next
Today, 13 years after my lung transplant, I have surpassed the survival statistics.   Each time I develop pneumonia or go into rejection, I am forcefully reminded that my time on earth is more limited than I like to admit.  Still, I have as much peace and hope today as I did at age 16, when I arrived at Children's hospital just a couple days before my scheduled lung transplant and told my dad, "Dad, I think this surgery will be fine, but if not, don't be sad because I'll still be fine.  I will either wake up with new lungs or wake up on the other side.  Both would be great."
I have learned firsthand that faith and trust in the Lord is power and peace and the fastest way to increase faith is by personal righteousness.  I know as I strive to follow the commandments, I am filled with His spirit and a perfect hope that all will be made right – in this life – or the next – and when we have a perfect hope – the timing of resolution really doesn't matter because WE KNOW everything will be fine.  We know we are doing all we can and the rest is in God's omnipotent, loving hands.
God has promised, "[H]e who doeth the works of righteousness shall receive his reward, even PEACE in this world, and eternal life in the world to come." Doctrine and Covenants 59:23
It my absolute confidence and trust in the Savior and my great hope of what is to come that leads me to follow his commandments.
Elder Boyd K. Packer said, "In morality men are free to choose, and each choice begets a consequence."
President David O. McKay said: "If you want peace, yours is the responsibility to obtain it."
And Breck England said, "Our destiny is entirely our choice.  We can choose to hearken or not.  We can choose as Nephi did to listen to the Lord and be preserved by his power, or to choose as Laman and Lemuel did to harden their hearts.  Both paths are hard, but one leads to darkness and futility , the other leads to light.  The path that leads to the Savior, although challenging at times, is ultimately the path of 'simpleness and easiness,' and our labor is to look to Christ and live (1 Nephi 17:41)"
If we wish to spiritually live  – to be filled with peace and hope, we must choose to follow the Savior every single day.  As we sail through life – and sometimes doggy paddle – following the commandments is our life vest.  They keep us from sinking and give us peace and protection.
When we were paddle boarding last week, our dog, Kiwi fell in…she can't swim.  Thankfully she had a life vest that kept her afloat and kept us from panicking.
Now, imagine if you were in a ship and a storm were to come and you didn't have a life jacket, vs. the peace of being secured in a life preserver and knowing you would float.
The live vest of following the commandments keeps the consequences of sin from drowning our hope and from drowning us – from drowning our opportunities and our blessings. It is when we lose our eternal perspective and give into Satan's ensnaring traps of gossip lying, envying etc. that we are dragged down to suffocating depths of dark water where we cannot see clearly, think clearly or feel the warm rays of hope.
For quite simply, we cannot do wrong and feel right.
The commandments keep us afloat so we can hear the captains voice beckoning to us, encouraging us, guiding us and giving us direction.  As we follow the commandments and seek to follow our savior, our lives will not be perfect, but I know we will be better able to traverse any storm that comes our way with faith, peace and a perfect brightness of hope.
Finally, I have learned we can only be as happy as we are grateful.
I am grateful every single day to be alive. I am grateful to breathe deeply.  I am grateful to have found my sweetheart and I am so grateful I still get to spend time with him.   The other night as I was restlessly lying in bed, I mused, "In seven years I'll be 37. If I can live seven more years, then Patrick will be 41 when I die…that's not that bad…"
Instead of focusing on dying, I was (and am!) grateful for living. As Tom Payne so eloquently expressed, "The thought of losing rekindles the joy of having."  Being grateful chases away despair, negativity and hopelessness and instead transforms "what we do have into enough and more."

It can be so easy to focus on what's wrong or on what we don't have, that we no longer appreciate what we do have.  This leads us to get discouraged and feel helpless and even hopeless.  The ironic truth is that happiness does not come from the accumulation of our wants. It comes from wanting what we have. Until we choose to be grateful for everything we have, accepting there will always be a gap between our real circumstances and our "ideal" circumstances, we will never be content and therefore we will never be happy.
A favorite ancient proverb of mine reads, "I complained because I had no shoes until I saw a man who had no feet."
Even when it seems we have lost everything, when everything is going wrong, we still have all that matters.  We have an infinitely loving and merciful Savior who suffered for our sins so that we can repent and be made clean again, worthy to live forever with our families in the kingdom of our Father.
Always remembering and being grateful for this exquisite gift makes superficial wants fade away and eternal wants made right when viewed with an eternal perspective.
We always have Christ to be grateful for, we always have the reason to hope.
As we exercise the power of the atonement in our lives, and strive to follow Christ, I know we will be endowed with peace, power and hope.  We will have no reason to fear any storms in our path.  We will be assured that we are safe in our savior's loving arms and come to know that with the Lord at our side, we will never feel alone or confused, helpless or hopeless, weak or overwhelmed.
May we live everyday with a perfect brightness of hope,
In the name of Jesus Christ, Amen.