---
Honey Lemon Chicken that is baked – not fried – then slathered in an amazing 5 minute glaze of honey, lemon, ginger and garlic for better then Chinese takeout Chicken!
---
This Chinese Honey Lemon Chicken is one of those meals that is so amazingly delicious I would love to eat its leftovers 7 days a week. But that would never happen because there are NEVER any leftovers of this tantalizing, sweet, tangy, ginger-kickin' Chinese Honey Lemon Chicken! It is better than your favorite Chinese takeout but made healthier in the same amount of time it takes for you to drive to the store!
Easy Honey Baked Chicken Recipe
Patrick couldn't even wait for me to finish taking pictures before he had polished off almost the entire meal of Honey Lemon Chicken.  This is a 100% candid shot of him caught in the act…
And I don't blame him when Sticky Honey Lemon Chicken means a sweet honey sauce with a splash of citrus and a slight zing from the fresh ginger smothering crispy, spiced and breaded baked chicken morsels. It is SO good, my sister-in-law texted me pictures of her family licking their plates clean! So this is officially "lick-the-plate-delicious!" Chinese chicken!
It joins the ranks of my takeout fakeout Chinese recipes like Beef and Broccoli, Mongolian Beef, Sweet Fire Chicken, General Tso's Chicken, Mongolian Chicken, Cashew Chicken, Sweet and Sour Chicken and Kung Pao Shrimp that are BETTER made right in the comfort of your own home while wearing your slippers.
Honey Lemon Chicken is only as good as the sauce and this honey lemon ginger sauce is epic!  It's sweet and tangy all balanced by zingy ginger and just plain drinkable delicious It's also SO easy made with garlic, ginger, honey lemon juice, lemon zest, rice vinegar and sriracha to taste.   You will love it so much, I promise you'll be making up your own recipes so you can smother this honey lemon sauce on everything!
Honey Lemon Chicken Ingredients
The ingredients list for this honey ginger chicken is fairly short. Here's what goes into this dish:
Chicken breasts: Need to be pounded thin and cut into even-sized pieces.
Eggs: The chicken is dipped in an egg wash first so the breading sticks to it easily.
Coconut oil: You can use olive oil if desired, but I think coconut oil complements the honey lemon flavor nicely.
Flour: If stir frying, use extra cornstarch rather than flour.
Cornstarch: Makes the chicken super crispy.
Spices: I used a blend of garlic powder, paprika, ground ginger, and more to flavor this dish!
Garlic: Just three cloves flavors the sauce nicely.
Ginger: I used a combination of fresh and ground ginger in the honey chicken sauce.
Honey: Sweetens the sauce and complements the sour lemon flavor.
Lemon: Lemon juice and zest goes into this recipe.
Rice vinegar: Cuts through the sweet honey and sour lemon.
Asian hot chili sauce: Something like Sriracha would be perfect.
How to Make Honey Lemon Chicken
Prepare Baking Sheet. Line a baking sheet with aluminum foil (for easy cleanup) and place a cooking rack on top; lightly spray cooking rack with cooking spray.   If you don't have a cooking rack, then line your baking sheet with foil then place it in the oven.  This allows the baking sheet to get piping hot so you can add your chicken directly to it and it will crisp up immediately instead of getting soggy.
Make Flour Breading. Whisk together flour, cornstarch, ground ginger, onion powder, garlic powder, paprika, salt and pepper.  All the seasonings round out the flavor of this Honey Lemon Chicken recipe so it isn't just one note but instead multi-dimensional yum.  You will be eating the seasoned, juicy chicken morsels plain!  The spices also cut through the sweetness of the honey.
Bread Chicken.  Dip the chicken pieces in the egg wash (2 eggs whisked with 2 tablespoons water) , let excess drip off (I like to dab with paper towels) then place chicken in the flour breading mixture and shake until evenly coated. I like to use one hand to dip the chicken and the other hand to bread the chicken so your hands don't become a gooey mess.  After the chicken has been shaken, I like to use a dry hand and rub any pieces in the breading that might not be evenly coated evenly.    Next, evenly space chicken on cooking rack and lightly spray chicken with cooking spray.  The cooking spray helps the chicken crisp up.
Bake Honey Lemon Chicken.  Bake at 375 degrees for 10 minutes then move baking sheet 8-10 inches away from broiler and broil to desired crispiness (approximately 3-5 minutes). For extra crispiness, flip chicken over and broil the other side of chicken to desired crispiness, being careful not to burn chicken.
Make Honey Lemon Sauce.  While the chicken is baking, heat 1/2 oil in a small saucepan over medium heat. Add garlic and ginger and saute for 30 seconds, Add the remaining Honey Lemon Ginger Sauce ingredients EXCEPT for the sriracha and whisk to combine. Bring sauce to a boil, then reduce heat and simmer until sauce thickens (approximately 2 minutes). Taste and stir in sriracha if desired. 
Coat Chicken.  In a large bowl, toss baked chicken with Honey Lemon Ginger Sauce using a spatula until evenly coated. It will seem like not enough sauce, but keep mixing until it covers all the chicken.
Can I Stir Fry Honey Lemon Chicken?
Yes! Just be aware that if you stir fry Honey Lemon Chicken, it will not get crispy. It will only become crispy if baked or fried.
If you stir fry the Honey Lemon Chicken, swap the ratio of cornstarch and flour so you will have 1 cup cornstarch and 2 tablespoons flour. You can see my Honey Coconut Cashew Chicken as a reference (in that recipe I use a marinade and in this recipe we use an egg wash for the breading to stick).
To stir fry: Heat 1 tablespoon olive/coconut oil over medium heat in a large nonstick skillet. Add chicken and sauté for 5-7 minutes, or until golden and cooked through.
Can I Fry Honey Lemon Chicken?
Yes! Here's how:
Add enough vegetable oil to a large nonstick pan to cover 1/4-1/2 inch up the sides.
Heat over medium high heat.
Working in 2-3 batches (don't crowd pan so chicken can get crispy), add chicken to pan and pan fry until golden and cooked through, about 3-5 minutes per side.
Remove to paper towel lined plates/baking sheet. Repeat.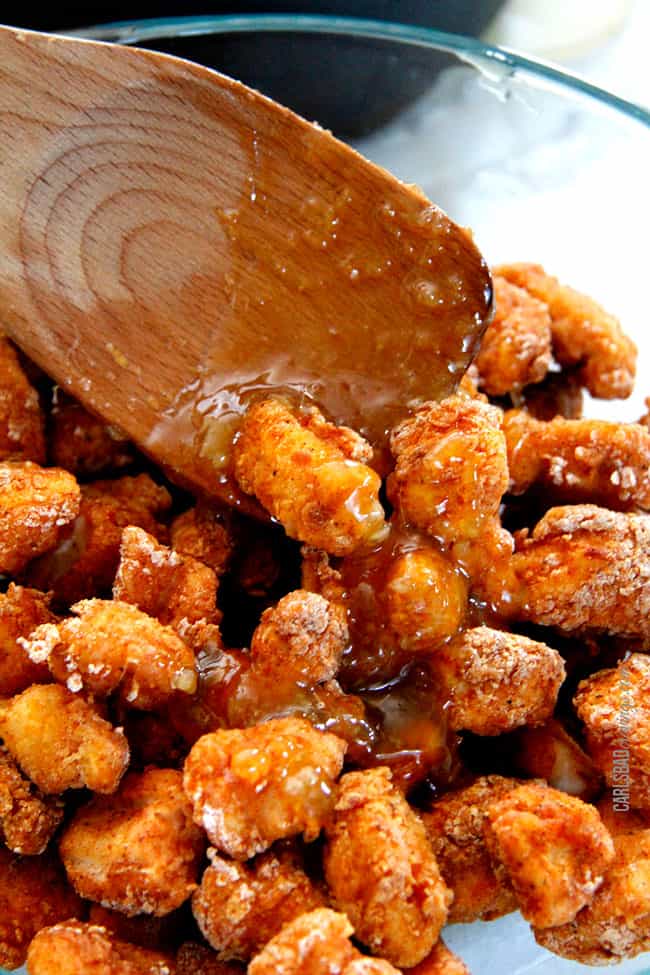 TIPS TO MAKE THE BEST HEALTHY HONEY LEMON CHICKEN
Chicken:  You can substitute the chicken breasts for chicken thighs if you prefer.
Ginger:  the one tablespoon ground ginger might sound like a lot but please don't skimp!  It is needed to cut through the sweetness of the hone lemon sauce.
Cornstarch:  Cornstarch helps the chicken breading crisp up so please don't replace it with flour.
Garlic:  You can add more garlic if you love garlic
Lemon Juice:  Use freshly squeezed lemon juice for the best flavor.  You will need one large lemon.
Lemon Zest:  The lemon zest is a must, please don't skip it or your sauce will be way too sweet.
Sriracha:   I personally don't add any sriracha to this Honey Lemon Sauce but if you feel the sauce is too sweet, then add sriracha to taste to cut through the sweetness.  You can also use any other favorite hot sauce like Frank's Hot Sauce.  
Can I Prep Honey Ginger Chicken in Advance?
Even though this homemade honey lemon chicken is quick to make, you can still prepare it in stages if that works better for you.
Honey Lemon Sauce:  Whisk the sauce ingredients together but do not simmer/thicken.  Store it in an airtight container in the refrigerator. 
Breading:  Whisk the flour breading ingredients together in a Ziploc freezer bag.  You can store the breading for weeks or proceed to dredge chicken then refrigerate.
Chicken:  Prepare chicken through dredging and place on a greased cooking rack placed on a baking sheet. Cover the chicken tightly with foil or plastic wrap.  Let sit at room temperature for 20 minutes before cooking.  
HOW TO STORE Honey Lemon Ginger CHICKEN 
This honey lemon chicken recipe is best served fresh because it is at peak crispiness, sauciness and the chicken is the juiciest.  You will find leftover chicken is not quite crispy or as flavorful.  However, leftovers can be stored in the fridge for up to 5 days.
HOW TO REHEAT Honey Baked Chicken
How to reheat on the stove: Leftovers are best reheated on the stove, even if they are small portions. To reheat, heat a drizzle of vegetable, canola or peanut oil over medium heat. Once hot, add the chicken, stirring occasionally until warmed through.
Reheating in microwave: Microwaving leftovers is not advised as the chicken can become rubbery and the breading will definitely not be crispy. It is better to reheat in the skillet.
CAN I FREEZE Honey Lemon Chicken?
If you are making honey ginger chicken specifically to freeze, then I recommend freezing the chicken and sauce separately so the chicken doesn't get soggy. 
TO FREEZE CHICKEN WITHOUT SAUCE:
Cook chicken according to directions.
Let chicken cool to room temperature (on the baking sheet) then transfer baking sheet to the freezer.
Let freeze for 1-2 hours or until the chicken is solid. This prevents the chicken from clumping together.
Add chicken to a freezer size bag, squeeze out excess air and label.
Add sauce to a separate airtight container.
When ready to use, defrost chicken and sauce in the refrigerator overnight.
How Much Honey Lemon Sauce is there?
The Honey Lemon Chicken recipe makes just enough sauce to coat the chicken. If you want more saucy chicken or if you are going to toss in some stir fried veggies, the you might want to double the sauce.
WHAT GOES WITH Healthy Honey Lemon Chicken?
We like to serve this Honey Lemon Chicken with white or brown rice but you can also serve it in lettuce wraps, with zoodles, or cauliflower rice.
This Honey Lemon Chicken is also a blank canvas to add any veggie you want! You can add them directly to the chicken (you may want to double the sauce as previously discussed) or serve them stir fried on the side. Here are a few veggie ideas:
broccoli
bell peppers
snap peas
zucchini
celery
water chestnuts
bok choy
mushrooms
carrots
cabbage
asparagus
If you're looking to serve this Honey Lemon Chicken a part of a complete Chinese buffet, you'll also love my Asian Salad, Potstickers, Chinese Chicken Egg Rolls and Asian Chicken Lettuce Wraps!
LOOKING FOR MORE ASIAN RECIPES?
Want to try this Honey Lemon Chicken Recipe?
Pin it to your Chicken, dinner, or Asian Board to SAVE for later!
Find me on Pinterest for more great recipes! I am always pinning :)!
©Carlsbad Cravings by CarlsbadCravings.com
Carlsbad Cravings Original
Never miss a Carlsbad Craving Creation:
You might also like these Asian recipes:
Sesame Chicken Egg Rolls with Hoisin Sweet and Sour Sauce
Sweet and Spicy Skinny Caramelized Cashew Ginger Chicken Stir Fry